The Ultimate Guide to Best Ice Creams in Singapore: Where to Get Gelato, Froyo, and Soft Serve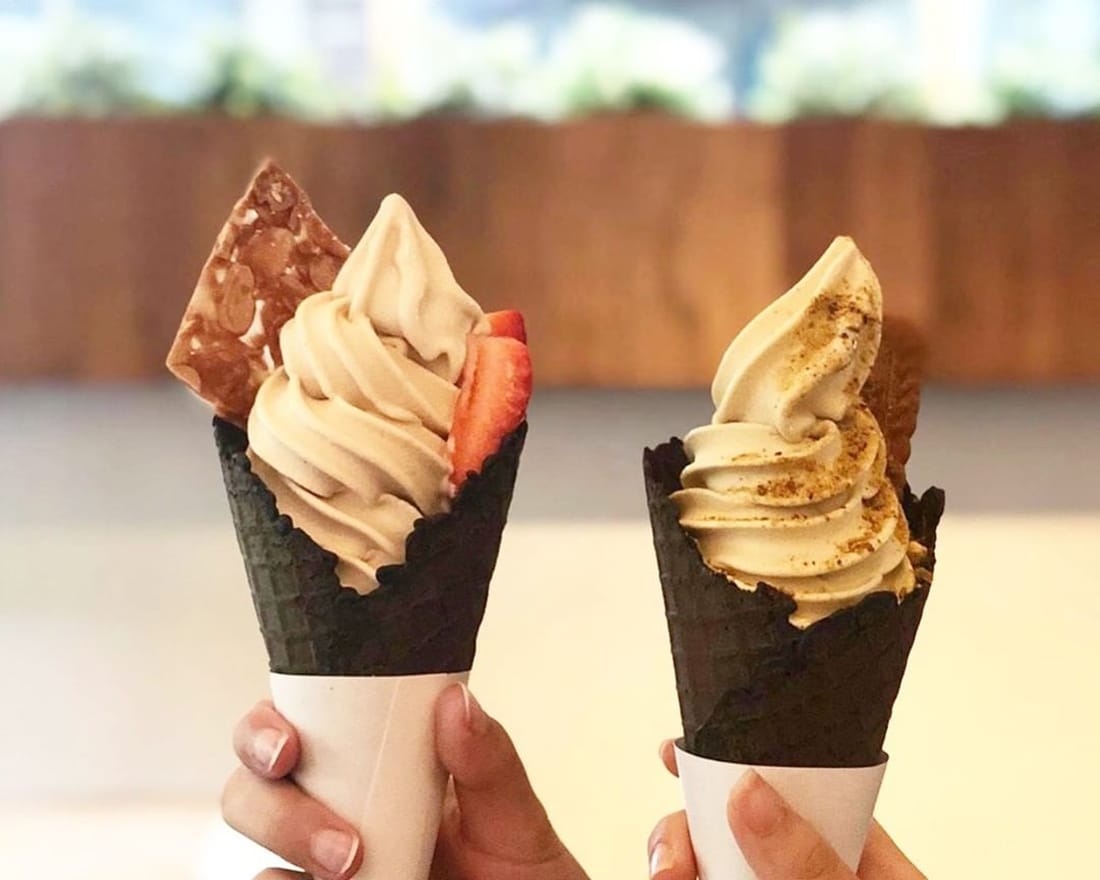 PUBLISHED March 23rd, 2020 05:00 am
Ranking alongside the wheel as one of humankind's greatest inventions, ice cream has left an indelible mark on our world. Since we're such suckers for the stuff and with tropical heat being the perfect excuse to indulge, we want to share our cheat sheet with the rest of you. Here's where to get the best ice cream in Singapore, (sticky) fingers crossed!
Soft-Serve and Froyo
Soft serve ice cream is generally smoother and less milky than regular ice cream due to an introduction of air during the freezing process. Then there's Froyo (frozen yoghurt), which technically isn't ice cream, but is nonetheless equally satisfying in Singapore's sweltering climes. Now, enough of the boring talk.
Little Damage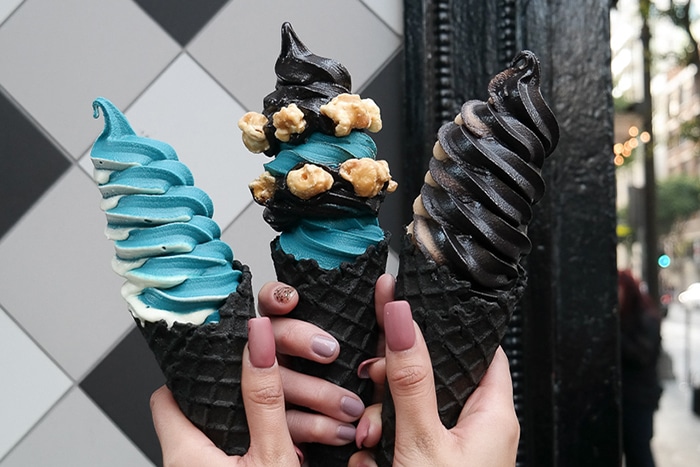 Made for the gram', this soft serve joint from Los Angeles was popularised by their iconic black waffle cones that are guaranteed to make your feed stand out. Dyed with activated charcoal, these cones are hand-rolled daily to ensure freshness. Go full goth with a black salted caramel soft serve to match the cone or try other exciting flavours like the vivid blue Unicorn Tears or Vegan Chocolate and Peanut Butter Banana, coupled with all the toppings your heart desires.
Little Damage is located at 2 Haji Ln, Singapore 189195, p. +65 6291 4041. Open daily 11.30am – 10pm.
Sunday Folks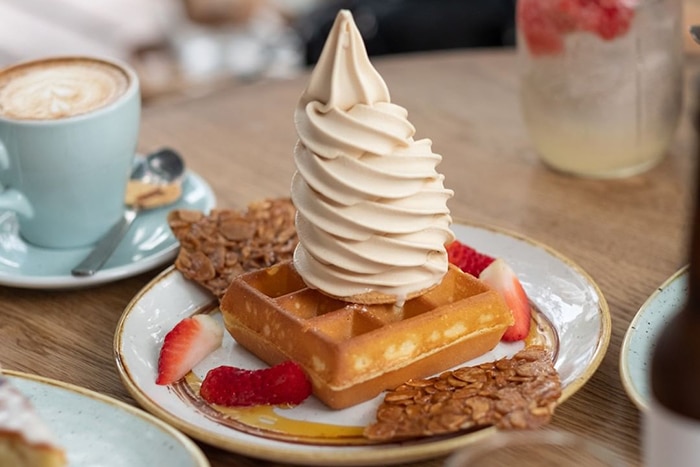 Hop on the express train to dessert heaven at Sunday Folks, where delicate swirls of soft-serve ice cream are gently scooped onto crisp layers of fluffy waffles. Customers can choose from flavours such as Summer Strawberries, Roasted Pistachio, and Earl Grey Lavender, as well as take their pick from a collection of drool-worthy cakes.
Sunday Folks is located at 44 Jalan Merah Saga, Chip Bee Gardens #01-52, Singapore 278116, p. +65 6479 9166. Open Tue-Thu 1pm – 10pm, Fri-Sat 12pm – 11pm, Sun 12pm – 10pm. 
Tsujiri Tea House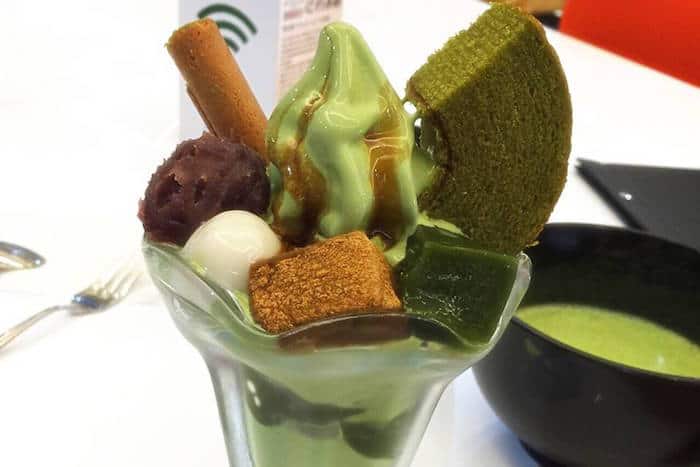 An excellent producer of matcha desserts in Singapore, this Kyoto tea house is a well-established brand in Japan and a popular hangout spot for all who love green tea. Their soft serve green tea ice cream can be served on its own, as a drink topping, or in a parfait. Whichever you choose, it's going to be matcha heaven.
Tsujiri Tea House is located at 176 Orchard Road #01-101 The Centrepoint Singapore 238843, p. +65 6238 8224. Open daily 11am – 10pm. See here for other outlet details.
Matchaya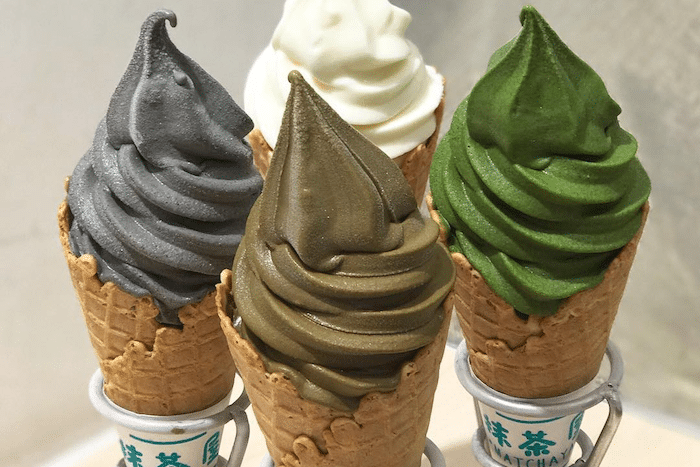 You can never have enough Japanese soft serve in Singapore, especially when it's to beat the heat. At Matchaya variety of flavours are available like Hokkaido Milk, Goma, and Houjicha, and of course, the classic Matcha. These are just like the authentic ones you'll find all around Japan.
Matchaya is located at The Cathay #01-08, 2 Handy Road, Singapore 229233, p. +65 9837 3187. Open Sun-Thu 11am – 10pm, Fri-Sat 11am – 10.30pm. 
Llao Llao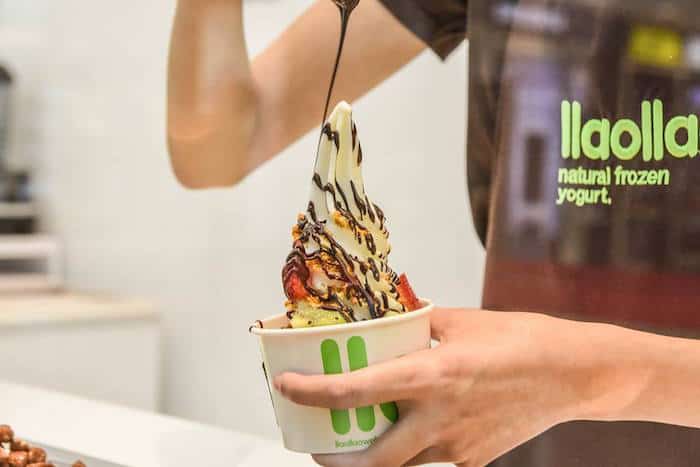 No introduction needed: this Spanish dessert giant pulled a Gong Cha-esque stunt and returned as promised to Singapore with its successful blend of sliced fruits, sugary toppings, yummy sauces, and frozen yoghurt, in June 2018. And to the delight of their loyal fanbase, this time, they are here to stay.
Click here to see outlet details.
Yolé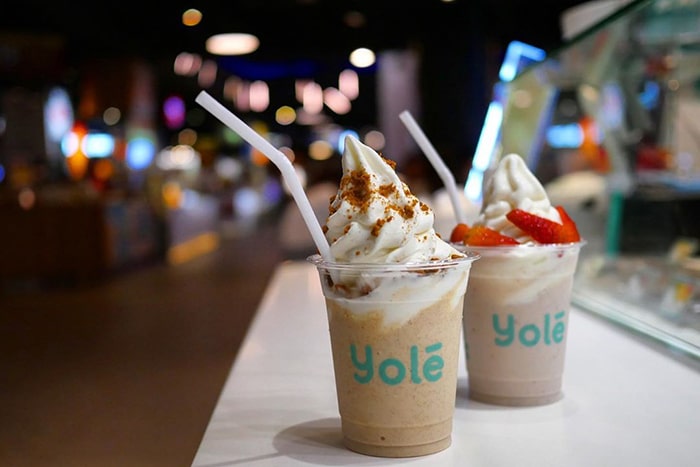 When Llaollao abruptly exited the market, Yolé, another European frozen yoghurt brand, was quick to take its place. As strikingly similar both the chains are, Yolé is distinguished by its constantly updated product offerings that feature new flavours and toppings (think Bandung froyo with a generous scoop of creamy durian topping). Apart from the regular natural frozen yoghurt, you can try their low calories ice creams, yoghurt smoothies and boba shakes with fruit-flavoured pearls that pop in your mouth for an added flavour burst.
Click here to see various outlets.
Gelato
Italians prefer a lower fat content in their ice cream by increasing the proportion of whole milk to cream. With less air content and served at a lower temperature, it results in added richness and an intensified flavour profile. Doesn't mean it's healthier tho', sorry!
Dopa Dopa Creamery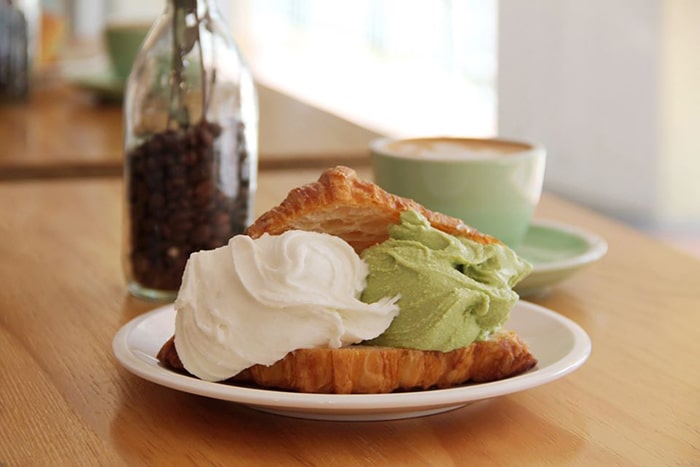 You know it's the real deal when the gelato is stored in separate, closed metal Pozzetti tubs, just like how the Italians do it. Dopa Dopa churns their gelato from scratch and folds in natural ingredients like nuts, fruits, and tea leaves to create premium flavours like Hojicha, Dark Chocolate and Home Roasted Nut. There's more — instead of the plain ol' wafer cones and have your gelato sandwiched in a flaky Butter Croissant to elevate the indulgence.
Dopa Dopa Creamery is located at 29 South Bridge Rd, #01-01, Singapore 058665, p. +65 6535 3539. Open Mon-Thu 12pm – 1opm, Sat 12pm – 11pm.
Birds Of Paradise
Oriental flavours like Spiced Pear and Vanilla Fig make this Katong hotspot stand out from the rest. Their expert use of herbs and flowers to create flavours like White Chrysanthemum, Lemongrass Ginger, Strawberry Basil, and even Pandan goes unrivalled. For the full experience, Birds of Paradise's signature crispy thyme cone adds a lovely touch.
Birds of Paradise is located at 63 East Coast Road #01-05, Singapore 428776, p. +65 9678 6092. Open Tue-Thu, Fri-Sat 12pm – 10.30pm,  Sun 12pm – 10pm.
Alfero Artisan Gelato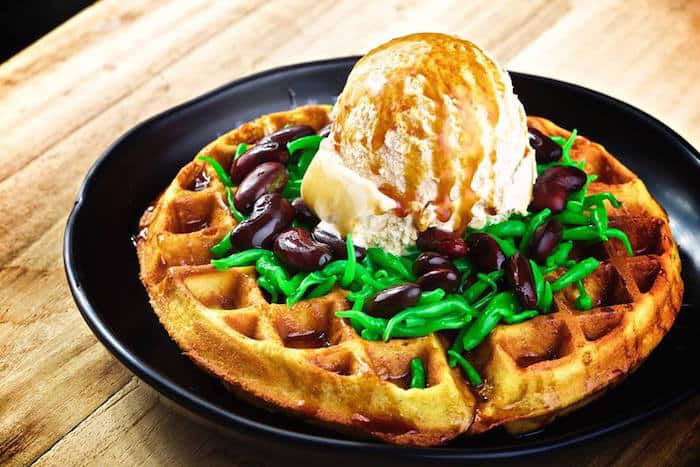 As seasoned flag bearers of Singapore's artisanal gelato movement, Alfero Artisan Gelato consistently dishes out marquee servings of high-quality ice cream. Their flavours might not be the most innovative, but does it really matter when all you're looking for is a solid scoop of gelato?
Alfero Artisan Gelato is located at 81 Macpherson Lane #01-37 Singapore, p. +65 6848 4269. Open Tue-Sat 12pm – 9pm, Sun 12pm – 6pm.
Milk & Honey Gelato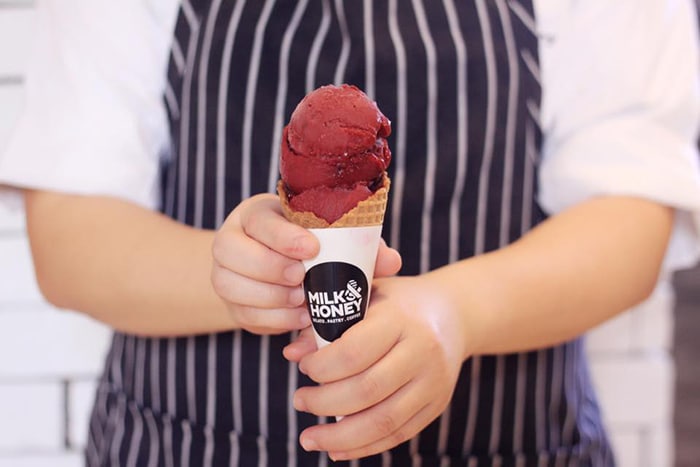 Part of the recent heartland café craze, Milk & Honey Gelato is a modest ice cream parlour that has outlets in the east and west of Singapore. They specialise in handcrafted gelato and waffles but also offer plated desserts and baked delights for good measure.
Milk & Honey Gelato is located at 86 Bedok North Street 4, #01-179, Singapore 460086, p.+65 9822 5043. Open Mon-Wed 3pm – 12am,  Thu, Sun 12pm – 12am, Fri-Sat 12pm – 1am.
Momolato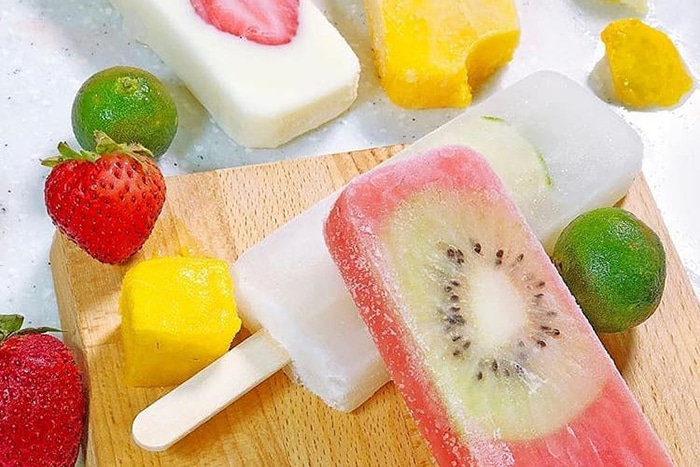 If you're looking for local flavours in your gelato, Momolato might just be what you're looking for. This gelato brand rejigs the traditional Italian style of ice cream with Singaporean-esque flavours such as Mount Mao Mao (Mao Shan Wang durian) and Shiok! (coconut gula melaka). Their Instagram-worthy popsicles are also a great way to combat the heat. Read our review here.
Visit the Momolato website for more information. 
Molecular
Molecular gastronomy is basically the fantasy world equivalent of cooking, where culinary experts utilise all the fundamental principles of science to develop innovative and unique food dishes – and in this case, ice cream!
Fatcat Ice Cream Bar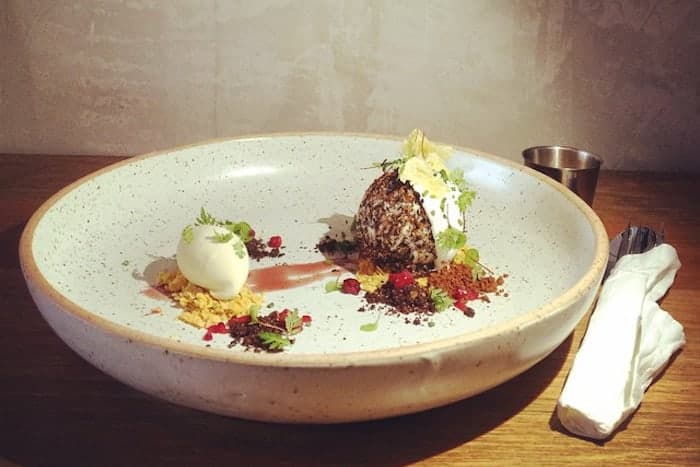 With constantly revolving dessert choices and an emphasis on gastronomic ingenuity, Bedok North's FatCat Ice Cream Bar may just be the number one aristocrat in the heartlands. Their plated dessert menu offers different variations of amuse bouche such as a Mojito Cocktail Sphere and Deconstructed Strawberry Cheesecake. For a safe option, their fluffy Charcoal Waffles topped with Ice Cream and drizzled in salted egg yolk sauce is always a good bet.
Fatcat Ice Cream Bar is located at Blk 416 Bedok North Avenue 2 #01-25, Singapore 460416, p. +65 6241 0830. Open Mon, Wed-Thu 1pm – 10pm, Fri 1pm – 11pm, Sat 12pm – 11pm, Sun 12pm – 10pm. 
Vegan/Vegetarian
Smoocht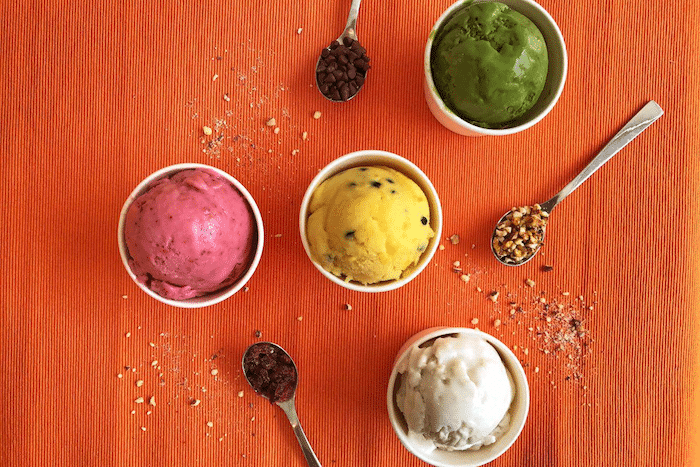 Vegans and lactose-intolerant people no longer have to deny themselves this cold sweet treat with Smoocht's (previously known as Brownice) dairy-free rice creams. All 18 flavours offered are made using organic brown rice milk, evaporated cane juice, fresh fruits, and nuts. Expect a cross between ice cream and sorbet in terms of texture – they still pack a full flavour punch!
Smoocht is located at 319 Jurong East Street 31, #10-58, Singapore 600319, p. +65 6266 5691. Open Sun-Thu 12pm – 9pm, Fri-Sat 12pm – 9.30pm; 8 Sin Ming Road, Sin Ming Centre #01-03, Singapore 575628, p. +65  6456 6431. Open Sun-Thu 12pm – 10pm, Fri-Sat 12pm – 10.30pm.
Kind Kones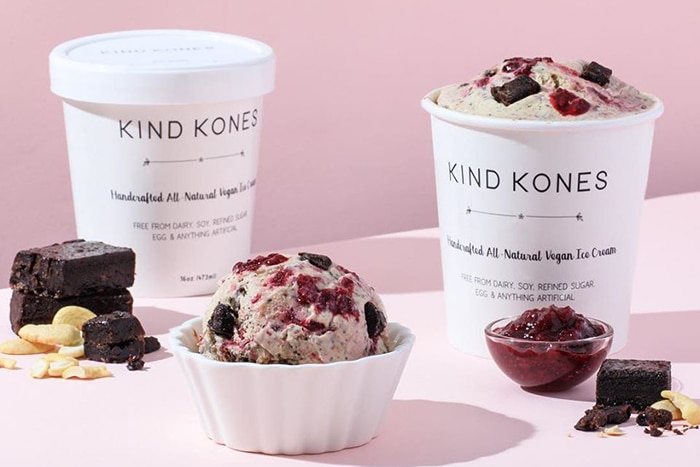 In an attempt to make vegan ice creams, most ice cream brands often compromise on the texture and creaminess that regular ice creams are adored for. Well, not Kind Kones. This Malaysian-born dessert shop has managed to whip up frozen delights that are as velvety and luscious, using all-natural ingredients. Favourites on the menu include Blue Planet, comprising a baby blue ice cream interspersed with matcha cake bits to resemble Earth and the decadent Almond Brittle Fudge.
Kind Kones is located at  B1-27, Forum The Shopping Mall, 583 Orchard Rd, 238884, p. +65 9010 8557. Open daily from 10am – 10pm.
WOAH!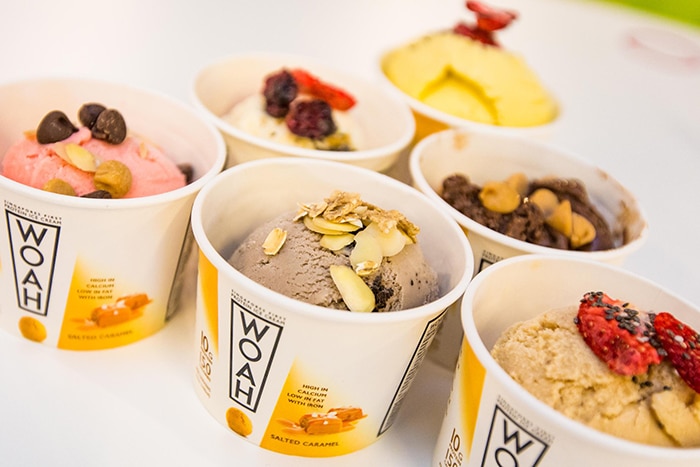 If you want to indulge in ice cream without the guilt that it usually entails, Singapore's first protein ice cream brand, WOAH!, has got your back. Compared to a 250ml soy milk packet, which contains 10 grammes of protein, WOAH! packs a whopping 12 grammes in each 100ml serving. Not only is it high in protein, but it is also low in fats, calories, sugar and not forgetting — vegetarian and gluten-free. Out of the six flavours, only three (strawberry, chocolate and salted caramel) have been launched islandwide.
WOAH! is located at #B2-17, Marina One The Heart, 5 Straits View, Singapore 018936; #B1-19, Raffles Place MRT Xchange, 5 Raffles Place, Singapore 048618, p.+65 6282 3889. Open Mon-Fri 11am – 7pm.
Other Quality Stores
Just a need a dose of regular ice cream? Here are some solid places to check out.
Creamery Boutique Ice Cream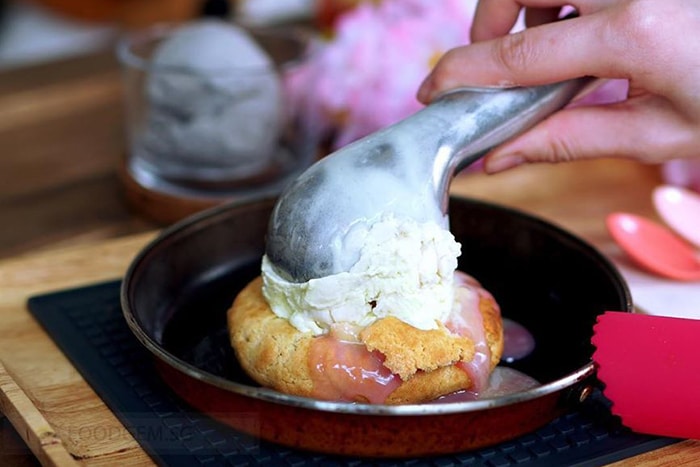 You may have seen videos of the popular exploding molten lava cookies and ice cream from Bangkok. Thanks to Creamery Boutique you don't have to travel to Bangkok to experience these delicious explosions firsthand. Originating from Bangkok, Creamery Boutique has a total of six outlets in Kuala Lumpur, Johor Bahru and now Singapore. Their selection of lava cookies include Red Devil, a red velvet cookie that oozes cream cheese, and Monster Matcha with a rich matcha filling, amongst other seasonal flavours. These freshly baked cookies are then topped with a generous scoop of homemade ice cream of your choosing from the bevy of unique flavours available such as Piko Piko (Tiramisu with Kopiko candy), Black Dog (Guinness Stout), and Ca.Le.Ho.Yo served with honey.
Creamery Boutique Ice Cream is located at 139 Tyrwhitt Rd, Singapore 207557, p.+65 8133 1250. Open Mon-Wed 12.30pm – 10pm, Fri 12.30pm – 10.30pm, Sat 12pm – 10.30pm, Sun 12pm – 10pm.
Apiary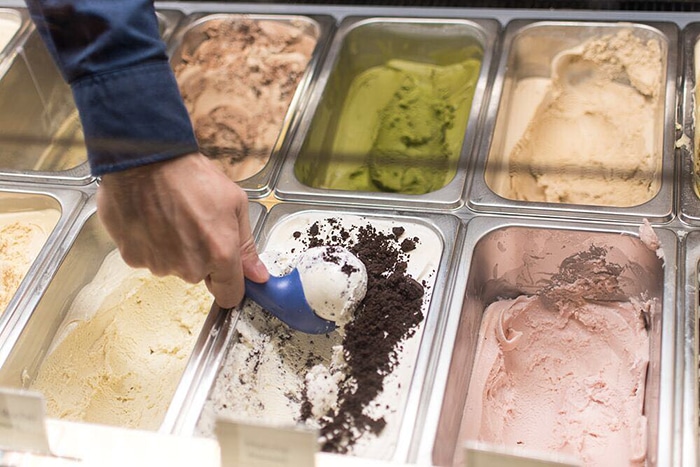 Apiary is one ice cream place that has nailed both simple and complex flavours alike. Swing by for unique concoctions like Blue Milk, tinted with butterfly pea flowers, and fragrant spicy Pink Peppercorn. Or their signature flavour, the Apiary Honey, comprising honey ice cream with fold-in ingredients such as bee pollen and cacao nibs. Choices are aplenty with 18 flavours on rotation – two to three of which are alcoholic flavours – at any given time.
Apiary is located at 84 Neil Rd, Singapore 088844, p.+65 6493 7273. Open Sun-Thu 12pm – 10pm, Fri-Sat 12pm – 11pm
Island Creamery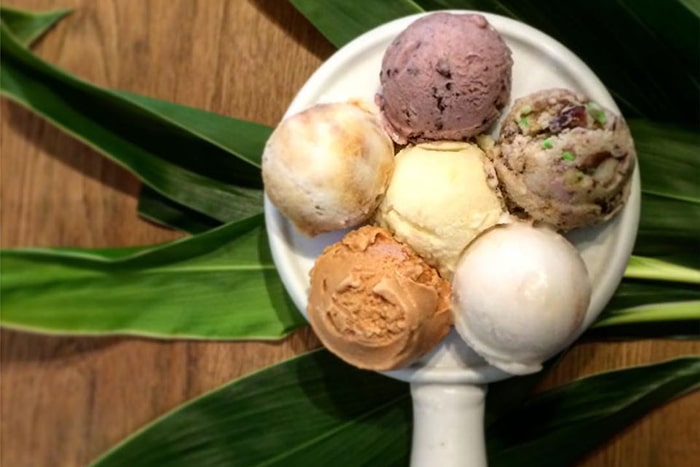 Island Creamery is the proud brainchild of Stanley Kwok who wanted to start no-frills ice cream parlour. Unlike other ice cream cafes, Island Creamery serves artisanal ice cream inspired by Singaporean flavours. We're talking exotic flavours like Pineapple Tart, Teh Tarik, Pulut Hitam and Kahlua Latte. It's no wonder that this humble ice cream spot has garnered fans across all generations.
Island Creamery is located at #B3-K1 ION Orchard, 2 Orchard Turn, 238801. Open daily from 10am – 10pm; #01-01 King's Arcade, 559 Bukit Timah Road, 269695. Open Sun-Thu 11am –10pm, Fri-Sat 11am – 11pm; Holland Village, 19 Lorong Liput Singapore 277732, p.+65 6468 8859. Open Mon-Thu, Sun 11am – 10pm, Fri-Sat 11am – 11pm.
Udders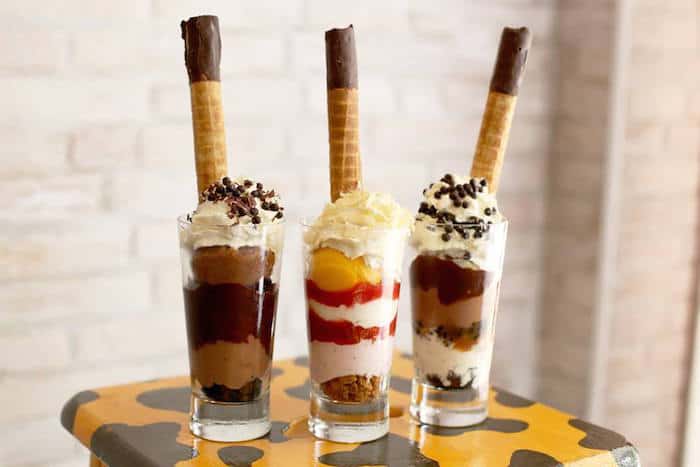 With an emphasis on adult flavours, it comes as no surprise to see Udders evolve from a humble artisanal outlet to one of Singapore's biggest household names. The multi-chain ice cream giant specialises in numerous alcohol-infused treats, with Bailey's & Bourbon, Rum Rum Raisin, and Butterscotch Whisky good examples of how these folks love their desserts.
Click here to see outlet details.
Tom's Palette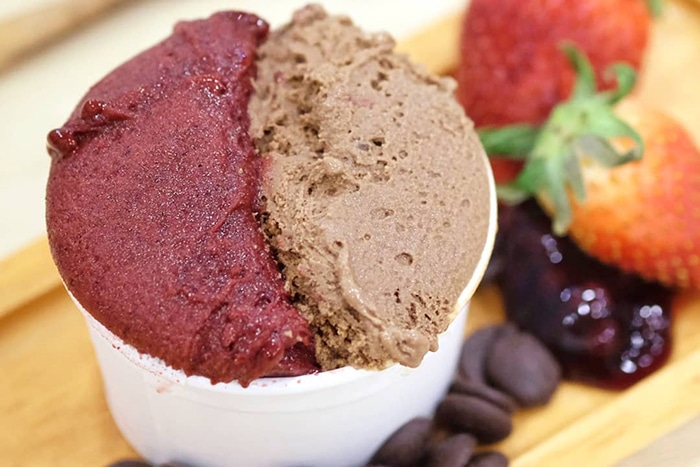 Having been scooping ice cream since 2005, Tom's Palette is an old-timer in Singapore's dessert scene and a definite pioneer in pushing the boundaries of ice cream flavours (think Tofu & Dates and Wasabi Lime). If you're not the adventurous sort, these guys also offer quality servings of your regular chocolate and vanilla.
Tom's Palette is located at 100 Beach Rd #01-25, Singapore 189702, p.+65 6296 5239. Open Mon-Thu 12pm – 9.30pm, Fri-Sat 12pm – 10pm, Sun 1pm – 7pm. 
Creamier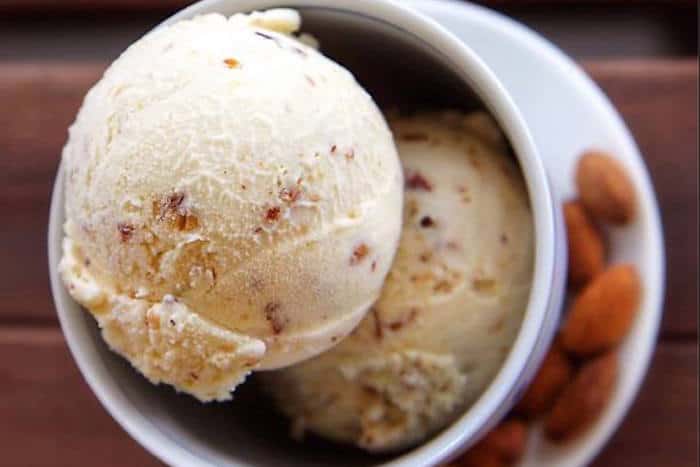 Located in one of Singapore's oldest estates, Creamier is an unpretentious café with a knack of dishing out supreme servings of high calibre ice cream. Once you're done mopping up their frozen bits of goodness, wash it all down with freshly roasted coffee.
Creamier is located at Blk 131 Lor 1 Toa Payoh, #01-02, Singapore 310131, p. +65 6250 1476. Open Tue-Thu 12pm – 10pm, Fri-Sat 12pm – 11pm, Sun 12pm – 10pm. Click here for other outlets. 
The Daily Scoop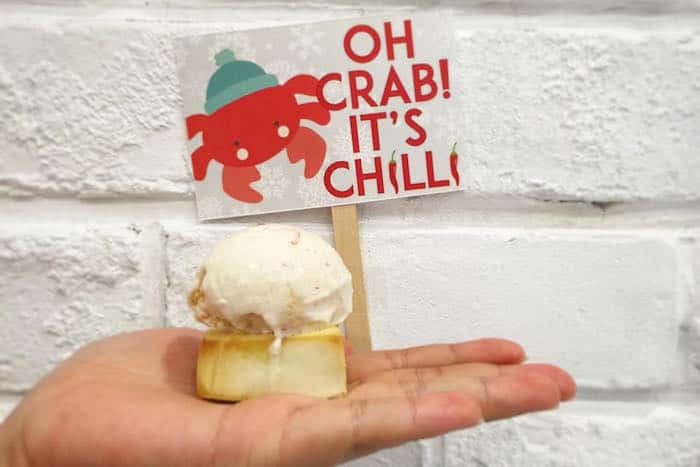 Passionate craftsmen and dedicated professionals, The Daily Scoop has been churning out freshly made ice cream every day since 2004. With more than 45 different flavours available to pick from, we're not exaggerating when we say you're spoilt for choice. Best of all? If you've missed out on a particular flavour, just hit these guys up on their online store and they'll deliver it straight to your doorstep.
The Daily Scoop is located at Sunset Way,#01-04 Clementi Arcade, Singapore 597071, p. +65 6463 3365. Open Mon-Thu 11am – 9pm, Fri-Sat 11am – 10pm, Sun 2pm – 9pm. Click here to see other outlets.
Holy Cow Creamery
Residents of Yishun, we apologise for revealing your neighbourhood's best-kept secret. An honest-to-goodness ice cream parlour in the north of Singapore, Holy Cow Creamery has become a hot hangout spot for café hoppers with its fail-safe recipe of tasty desserts and thirst-quenching milkshakes.
Holy Cow Creamery is located at 292 Yishun St 22 #01-291, Singapore 760292. Open Tue-Thu 11.30am – 10pm, Fri-Sat 11.30am – 11pm, Sun 11.30am – 10pm. 
The Dark Gallery
Head down to The Dark Gallery for the ultimate artisanal treat. Churned in small batches daily, their deliciously rich ice creams only contains high-quality ingredients. Their signature Single-Origin Chocolate ice cream makes for a delectable dessert any time of the day.
The Dark Gallery is located at Millenia Walk #01-K5, 9 Raffles Blvd, Singapore 039596, p. +65 6255 0368. Open daily from 11am – 10pm. Click here for other outlet details.
Merely Handcrafted Ice Cream
Merely is an institution at Sunshine Plaza known for its interesting authentic flavours prepared without artificial flavourings and additives. One of the creamiest handcrafted ice creams around, their Pistachio ice cream uses premium pistachios from Italy while their classic Dark Chocolate is made with premium Valrhona Cocoa Powder. Not a mere ice cream shop, Merely is a must!
Merely is located at Sunshine Plaza, 91 Bencoolen Street #01-13 Singapore 189652, p. +65 6238 0890. Open Mon-Thu 12pm – 10.30pm Fri-Sat 12pm – 11pm; Our Tampines Hub, 1 Tampines Walk B1-52, Singapore 528523. Open daily 12pm – 10pm. 
2am: dessertbar
Almost too beautiful to eat, the exquisite creations served at 2am: dessertbar are as much a treat for the eyes as the taste buds. Expect a good mix of sorbet and ice cream flavours that can be enjoyed either individually or as part of a dessert ensemble like the Chocolate H2O and Cacao Forest.
2am: dessertbar is located at 21a Lorong Liput, Holland Village, Singapore 277733, p. +65 6291 9727. Open Tue-Fri 3pm – 2am, Sat 2pm – 2am, Sun 2pm – 12am. 
Top Image: Sunday Folks