Mediterranean Restaurants in Singapore: Where to Find The Best Greek, Turkish, Lebanese, and Israeli Food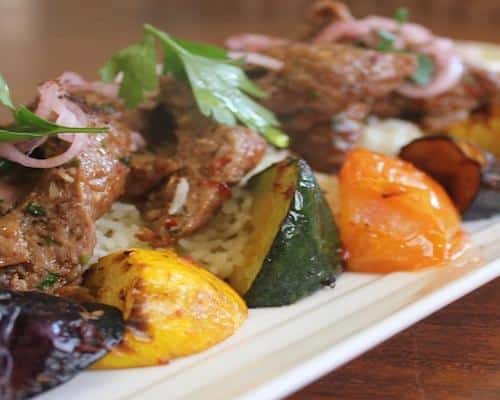 PUBLISHED October 2nd, 2013 01:23 am | UPDATED August 1st, 2017 10:41 pm
Being practically breastfed on Mediterranean and Middle Eastern food myself, it was a source of great upset to me, the many restaurants that pass for the cuisine here in Singapore, many of them in the Kampong Glam area. So where can one get a good hummus, baba ghanoush, kebab, and falafel in the city? Here is a list of 10 dining establishments in Singapore which, in my opinion, are by far the best in cuisine from the Med and the Middle East.
By way of a disclaimer, the criteria encompass all cuisines from the broader region. Think of it as the land of wine, olive oil, feta cheese, grilled meats, dips and freshly baked bread.
Blu Kouzina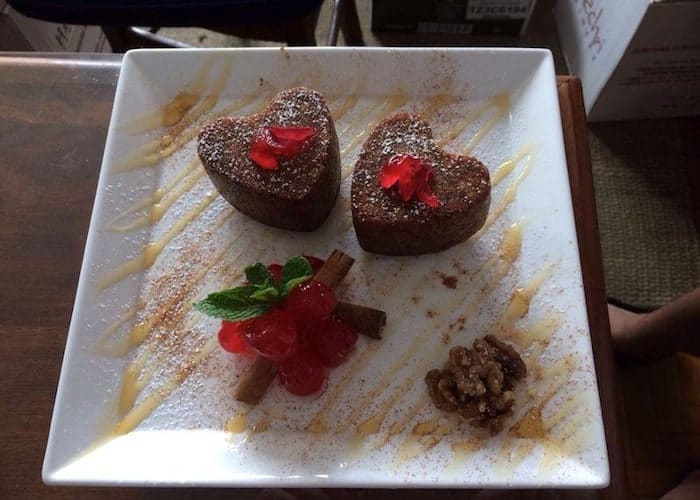 Blu Kouzina is essentially the only Greek restaurant in Singapore you'll ever need to know about…and it's a shining example of the country's wonderful cuisine. I must have dined at Blu Kouzina at least 10 times now and I've never had an even slightly average meal. Their food is wonderful across the board. Though I must admit, I find it very difficult to not order their dolmades (stuffed vine leaves), taramasalata (cod roe dip), bifteki (grilled beef patty) and saganaki with figs every time! Also, be sure to check out their wine list as it's super reasonable in price. Read our review here.
Blu Kouzina is located at 893 Bukit Timah Rd. Opening hours are Friday – Sunday 12pm – 2.30pm for Lunch and Monday – Sunday 6pm – 10pm for Dinner.


Beirut Grill/Magic Carpet Lounge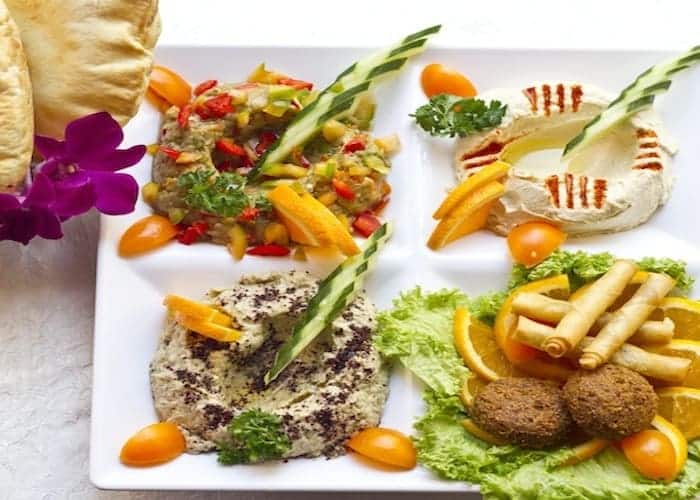 Definitely one of the lesser known Middle Eastern restaurants in Singapore, and probably the only Middle Eastern restaurant worth visiting in the Kampong Glam area. Food across the board here is pretty solid, with the hummus, moutabal and baba ghanoush tasting authentic (if perhaps a little heavy on the salt). Kebabs are also decent with juicy meat portions. If you're a non-drinker, the downstairs kitchen is halal while there is a more party atmosphere upstairs at the Magic Carpet Lounge where alcoholic beverages are served.
Beirut Grill/Magic Carpet Lounge is located at 72 Bussorah Street, 199485. Opening hours are Monday – Thursday 11am – 11pm and Friday – Sunday 11am – 1am. For reservations please call: 6341 7728
Pita Pan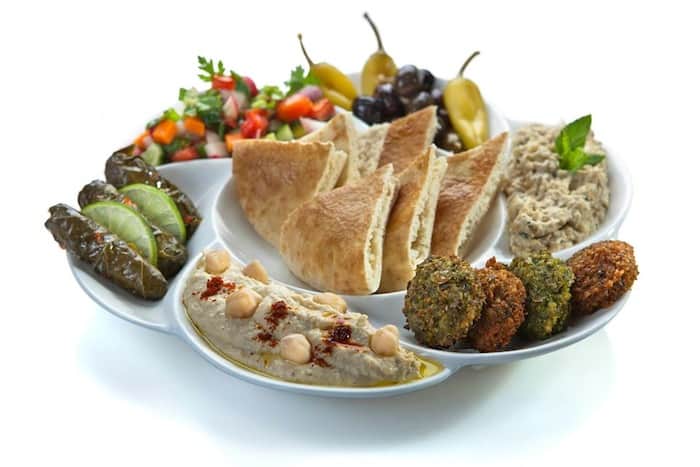 Located just opposite The ArtScience Museum at Marina Bay Sands, Pita Pan dishes up delicious, fat pockets of pita bread stuffed with falafel, salads, tahini, hummus and spicy zhoog (Israeli chili sauce). If you've got a heavy night of drinking ahead at the Sands, this is the perfect place to stop off and line your stomach first. Aside from, in my opinion, making the best falafel and pita bread in Singapore, their shakshouka is also excellent if you have some time to sit back, eat and enjoy the scenery. Oh yes, and Pita Pan is the only vegetarian restaurant in this list. For an amazing, off menu drink, ask for 'Limonana'. They'll know what it means. Read our review here.
Pita Pan is located at 10 Bayfront Avenue, Marina Bay Sands Shoppes, 018956 with Opening hours are 8am – midnight daily, and at Marina Square Shopping Mall, 6 Raffles Boulevard, Marina Square, Singapore 039594, #02-183A with Operating Hours Sunday – Thursday 11am to 11pm ,Friday and Saturday 11am to midnight. No reservations, but you can reach them on: 6688 7450 (Marina Bay Sands) and 6337 2587 (Marina Square).
Kazbar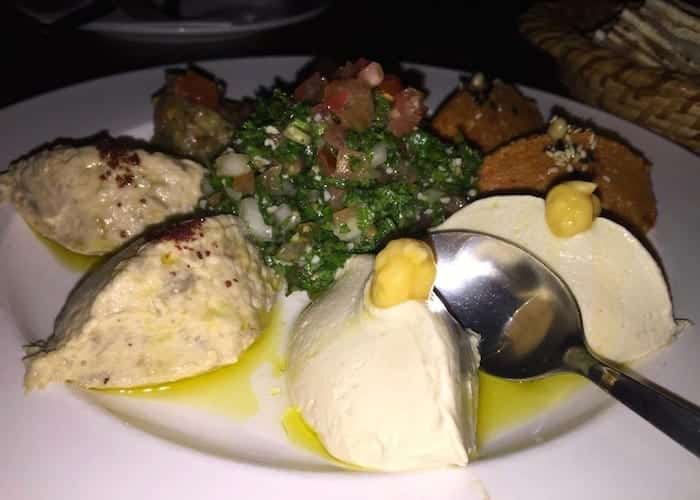 When it comes to Lebanese food in Singapore, Kazbar is king. Their dips are the best, portions are a good size, and you can also enjoy a beautiful bottle of Lebanese wine like Chateau Kesara with your meal. Their standards are well maintained and their service is definitely on the up. Read our full review here.
Kazbar is located at 25 Church St, 049482. Open Monday – Friday 12pm – midnight and Saturday 6pm – midnight.


Arkadas Café (Turkish)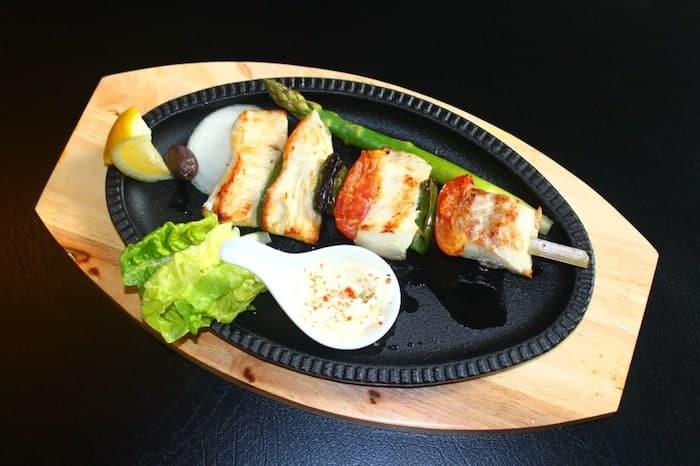 Arkadas has actually been around for a couple of years, yet seems to be known by very few. This is probably due to the fact that it's located on the 3rd floor of Conexis at Fusionopolis. Not exactly the most romantic setting for Mediterranean charm. Nor is the decor of the café. However what is excellent is the most important thing – the food. Delicious, chunky, tender chicken kebabs, fresh-baked fluffy Turkish bread, and hummus so good I actually dapao'd two containers on my last visit. A real hidden gem. Read our review here.
Arkadas is located at 1 Fusionopolis Way, #03-02, 138632. Open daily 11am – 9pm. For reservations please call: 6466 9918
Urban Bites
Eating at Urban Bites offers one of the best value Mediterranean meals in Singapore. Their set lunch is at an impressive $10, and even their a la carte isn't too pricey. Although at Urban Bites, I've never been too impressed with the meats – their selection is tasty, just a little dry and small portioned for my liking. However, everything vegetarian I've had has always been excellent, especially their Fatoush and Tabouleh salads which are superb. Have these dishes with some labne, hummus and their soft Lebanese bread and you'll be more than satisfied.
Urban Bites is located at 161 Telok Ayer St, 068592. Open Monday – Saturday 9am – 9.45pm. For reservations please call: 6466 9918
Esmirada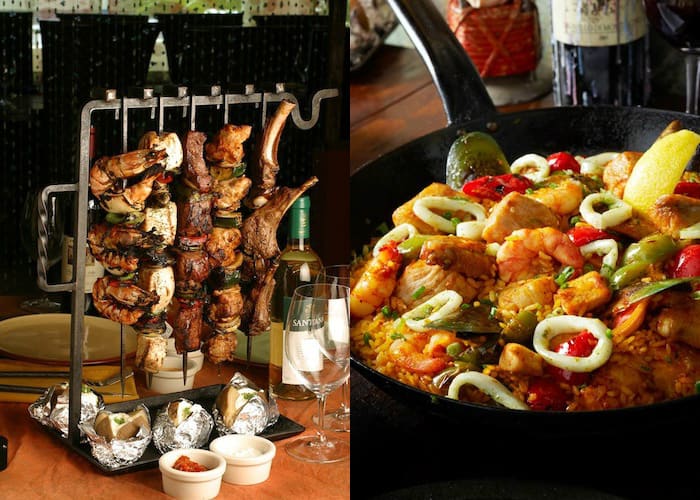 There are two dishes specifically which makes me have to include Esmirada. Their Moroccan Couscous and their signature meat skewers win me over every time. These beautifully presented swords of meat are tender, juicy and wonderfully chargrilled giving a fabulous balance of soft meat and crispy exterior. They've just launched a new menu with some other delicious treats like Duck Moussaka which is pretty, bloody tasty if a little rich. Read our review here.
Esmirada is located at Orchard Hotel Singapore, Orchard Rd, 238879. Open Monday – Saturday: 12pm – 1am, Sunday 12pm – 12am. For reservations please call: 6735 3476
Pita & Olives
Probably the most unglamorous dining venue on this list. However, if you manage the wait (service can be very slow), their food is delicious. Schnitzel, hummus, the best tahini in Singapore and baked eggplant. It's also very reasonably priced and you can get take out, which is something you will probably want to do after trying their superb hummus.
Pita & Olives is located at 03-10, 100 Tras St, 079027. Open daily 11am – 9pm.
Sofra Turkish Restaurant & Cafe
I've been to Sofra a couple of times over the past few years. Despite its somewhat dated interior and service staff 'issues', I have to admit that the food here is pretty good…and excellent value to boot. The meat kebabs are tender and well seasoned and their mezze is portioned just how it should be, generously.
Sofra Turkish Restaurant & Cafe is located at 02-42/43/44, Shaw Towers, 100 Beach Road, 189702. Open Monday-Thursday for Lunch 11:30am – 2:30pm, Dinner 6:00pm -9:30pm, Friday for Lunch 11:30am – 2:30pm, Dinner 6:00pm -10:00pm, Saturday 12pm to 10pm, and Sunday 12pm to 9:30pm. For reservations please call: 6291 1433
Special mentions to the following whose food is also noteworthy on the Middle Eastern front, though just doesn't make our top 10:
Turkish Cuisine – whilst their East Coast branch is a little disappointing, their dining spot at Suntec is pretty decent, especially their stuffed cabbage. Nom nom nom.
Shiraz – an old boy in Clarke Quay. Don't bother with their Laziz stalls if authentic Persian is what you're after. It's about as authentic as an Ah Beng rapping about the hood. As for Shiraz restaurant itself, it definitely hits the spot. It's just a shame it's so expensive.
Artichoke– founded by the fantastic Chef Bjorn. Artichoke has a great, vibrant atmosphere but authentic Middle Eastern or Mediterranean cuisine in my book it is not.
Medzs – somewhat of an unsung hero. The food here is actually pretty decent and well priced.
Alaturka – An old boy from the Arab St area. Food here is decent, just not spectacular.
So what are your favourite Mediterranean restaurants in Singapore? Let us know in the comments below.