Bottomless Brunch in Singapore: FOC PIM PAM's La Boqueria Market Brunch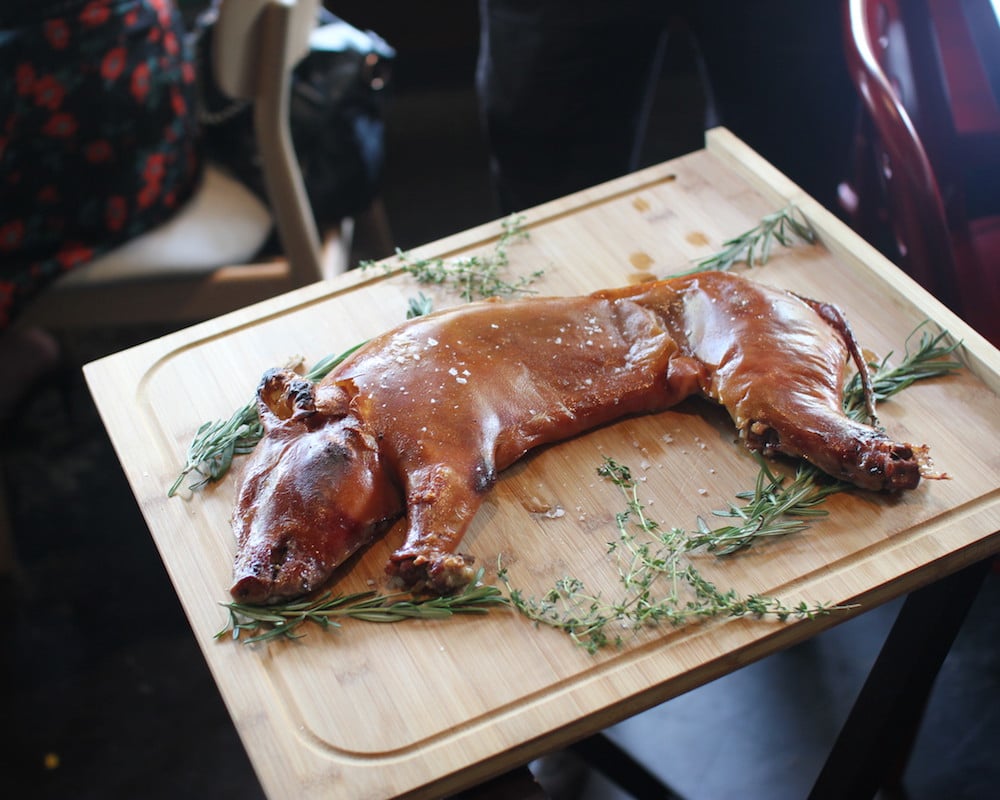 PUBLISHED May 31st, 2018 04:00 pm | UPDATED August 7th, 2019 03:38 pm
The folks at FOC Pim Pam are setting pretty high standards for themselves by naming their relatively new Sunday brunch after La Boqueria Market, the world-famous market of Barcelona and probably one of the most exciting places to eat in Spain. Our verdict? While the food quality is not as good as the a la carte menu (it's understandable that restaurants that don't do buffets will find it operationally difficult even if it's twice a month at the moment), there aren't that many Spanish restaurants around in Singapore doing brunches, so this is still a good option should the craving hit since they've got all the bases covered for both food and drink.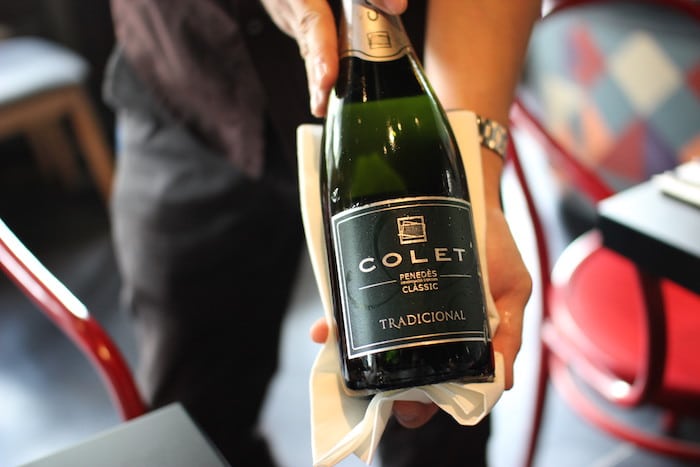 Priced at $88++ for food, soft drink and juices, it's an additional $40++ per person for those looking at the bottomless alcohol option, which includes all the cava, wines, FOC Sangria, and Spanish G&Ts that you can drink. The cava, Colet Tradicional Extra Brut NV Classic Penedès, is produced in Catalunya and is a blend of 55% Xarello, 35% Macabeu and 10% Parellada. Dry with a fruity complexity, the bubbles are quite restrained. This is a cava we would actually drink on its own, so much so that we skipped over the Australian white and red wine available, though the savoury Gin Mare G&T is worth a whirl.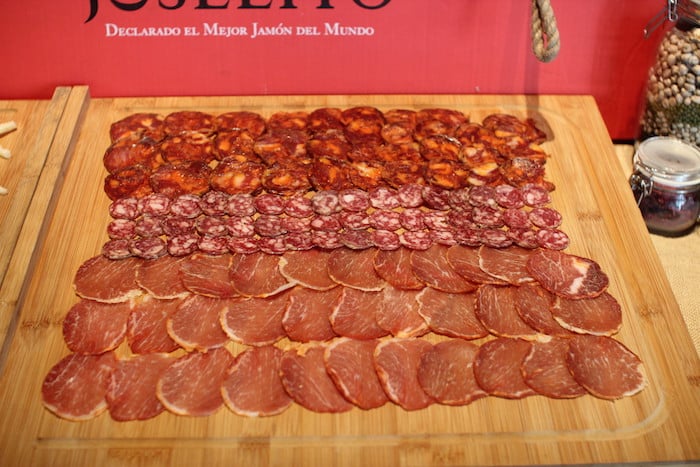 The spread by the bar is a great showing of Spanish produce. To whet the appetite, we suggest starting with a spherical olive – a display of molecular gastronomy a la El Bulli – that you can pop in your mouth immediately at the buffet or a cold gazpacho. Follow up with a DIY platter of their signature crystal bread topped with tomato paste and anchovies, cheese, and the Iberico cold cuts (in particular the lomo for its lovely marbling). Other things worth snacking from the buffet are the pork balls and octopus and the various types of churros that are also FOC PIM PAM's signatures. The salmon tartare was good too, though not outstanding.
Brunch items that were served a la minute include FOC specialities – three types of croquettes and the Patatas Bravas. The latter feature thin sheets of Agria potatoes that are layered and steamed, before being deep fried. Served with creamy aioli and salsa brava, there's no question why this dish has remained unchanged since its inception. It's that good.
As for the croquettes, we (surprisingly) enjoyed the mushroom croquette the most, which almost came across like deep fried fritter of thick mushroom soup. The crab croquette was well-stuffed with crab topped with a flavourful bisque reduction, but the ham croquette was too heavy on the cream to be enjoyable. The pork and octopus skewers with cauliflower purée was, thankfully, not overcooked, with the octopus still retaining a good bite.
At about 1.30pm, the moment we had all been waiting for arrived. The food parade started with two different types of paella – vegetarian and squid ink with prawn. We've ordered the latter on a previous visit since it's available on their a la carte menu and the quality is upheld, especially since they've brought out more prawns to distribute equal servings to all diners. The next dish was the Market Fish. Though still firm and moist, the sea bream didn't have much flavour; that fell to the accompanying chunky tapenade that was equal parts tart and sweet.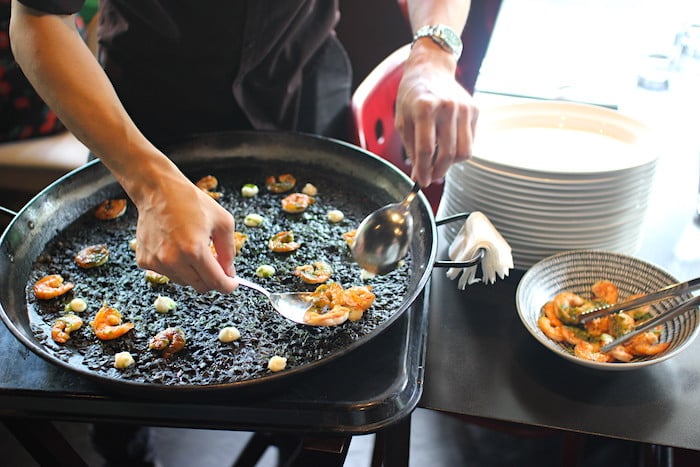 The pièce de résistance is, of course, the suckling pig. So tender that it's carved up using a regular plate, the crispy crackling leads you to a good layer of fat and juicy flesh. Portions are relatively generous as well, so pace yourself during this meal! For those who think this might be a nice, quiet brunch spot on Orchard Road, be warned. The preceding procession before the piglets enter the fray has the staff making plenty of noise with plates and spons. And as soon as the pork is distributed, the plate is smashed on the floor – a Spanish practice meant to ward off bad luck.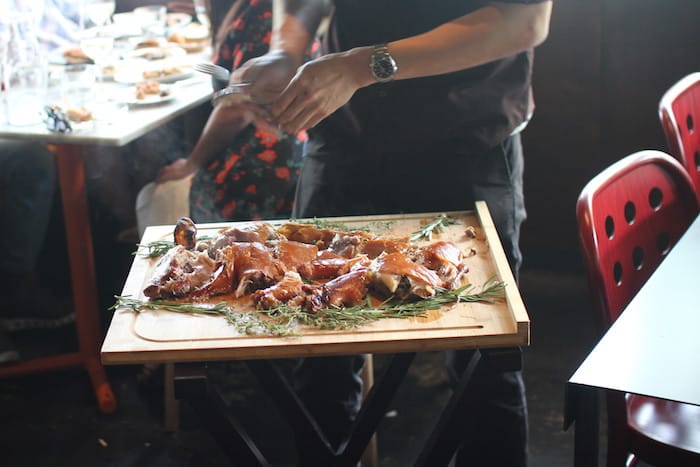 With the La Boqueria Market brunch happening only twice a month so far, it's clear that the folks at FOC PIM PAM are still finding their footing – and the extra manpower – in hosting this extravaganza. In a town of an incredibly competitive Sunday brunch scene, the La Boqueria Market Brunch doesn't have the best value proposition, not when there are cheaper free flow prosecco brunches to be found. We hope all that plate smashing means we get lucky too, and the experience improves if it continues to be at this price point.
FOC PIM PAM is located at 442 Orchard Rd, Singapore 238879, p. +65  6100 4242. The La Boqueria Market Brunch takes place 11.30am-3pm on select Sundays.