Kitchen by Food Rebel: Healthy Food Doesn't Mean Boring Food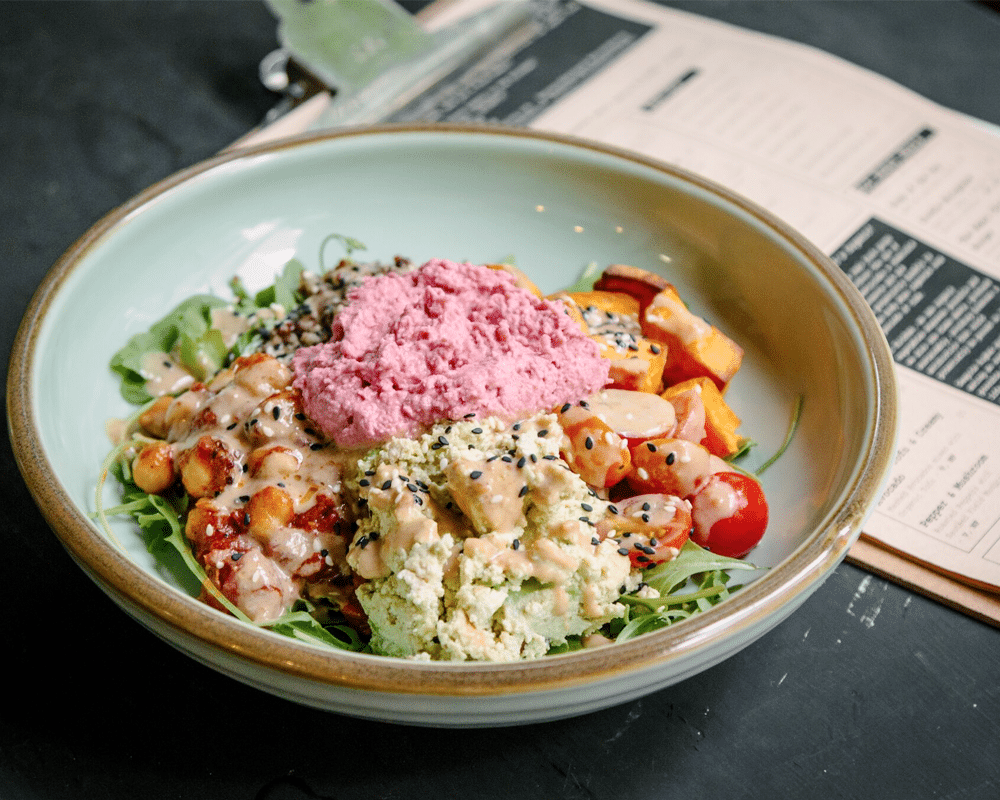 PUBLISHED August 18th, 2016 06:00 am | UPDATED March 26th, 2019 05:50 pm
Do you often wonder about what goes into your food? Or perhaps you're perpetually getting an upset stomach or an allergic reaction, or simply feeling sluggish? If so, you're in luck – there's a new bistro in Singapore's CBD that brings you clean, organic, and healthy-fusion cuisine without any of the bore.
The 40-seater Kitchen by Food Rebel was founded earlier this year by Elika Mather, who adapted a more holistic style of living after poor health choices from her time in the corporate world. Here you'll find vegans, vegetarians, gym-goers, people with food intolerances, and general eat-cleaners as they dig into imaginative, delicious, and 'real' foods – all cooked from scratch, including sauces and salad dressings.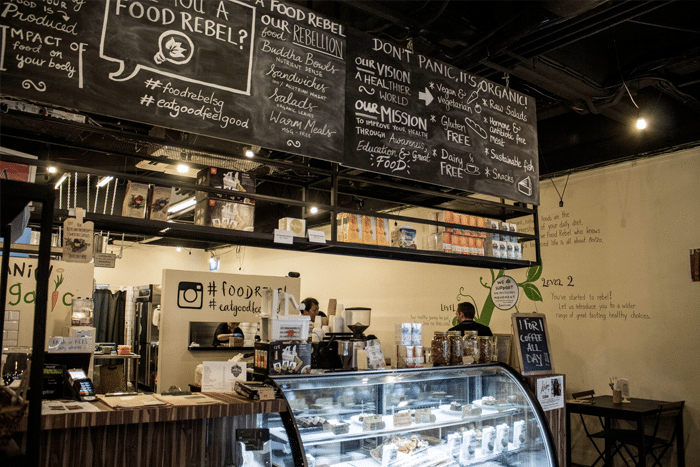 Adhering to the old adage "food is medicine", Food Rebel ensures that all of its ingredients are either organic, hormone-free, sustainable or locally sourced. The attractive menu, itself a collaboration between Elika and Head Chef Yuliya Tyschenko, downright dispels the myth that salads or eating healthy has to be boring or bland.
In fact, the impressive list simply fizzes with energy-inducing goodness – think the signature Buddha Bowls, chock-full of nutrient-dense food, whether its fats, carbs, or proteins; 100% Austrian wheat-flour sandwiches; guilt-free cakes; and even super smoothies that pack a tasty punch.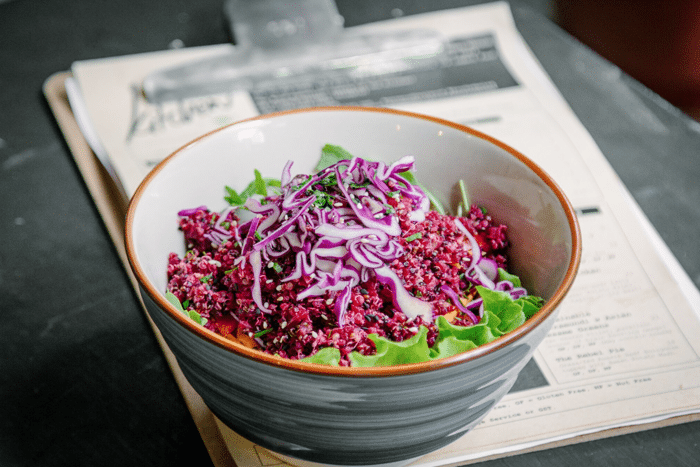 For instance, take the all-encompassing Chicken Protein Bowl ($19), a generous helping of hormone-free chicken, hummus, avocado, pumpkin, and creamy tahini dressing. Those who don't eat meat can opt for the Vegan Sweet Potato & Chickpea Bowl ($19) which comes with a beetroot hummus, quinoa, tofu-avocado mix and tahini. Both Buddha Bowls are delicious and comes in a massive bowl, so small eaters can pack the leftovers up for a late afternoon snack.
Alternatively, try the Thai-Inspired Quinoa ($16) – South American seeds infused with lemongrass & lime leaves, coloured red with beet. It's a surprisingly hearty option that fills you up quick.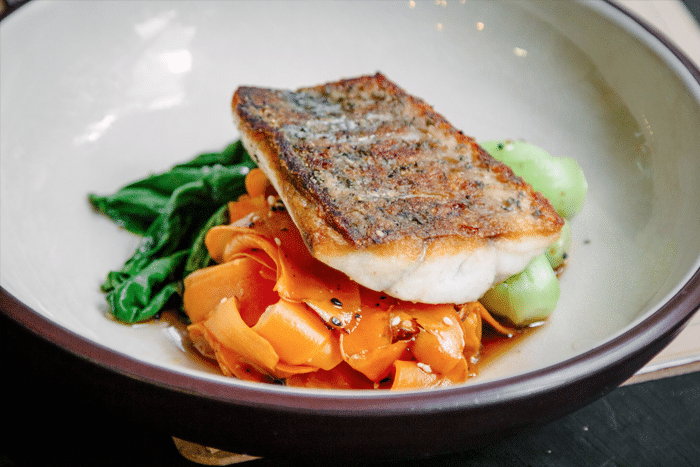 Kitchen by Food Rebel tries to use as much local produce as possible, such as the sustainable Barramundi with Asian Sesame Greens ($21). Sourced from Kühlbarra, the delicious pan-seared fillet imparts its flavours onto the carrots and bok choy. Talk about an excellent source of brain boosting Omega-3.
Dirty eating never comes so clean as the Rebel Chicken Burger ($21), featuring a hormone-free homemade patty with addictive (you've been warned!) baked sweet potato fries. This really makes us wonder why we need cheese in our burgers at all.
Go a step futher and swap carbs and gluten for Zoodle Bolognese ($18) – which is basically noodles made from zucchini (yes, we know), topped with a fragrant meat sauce.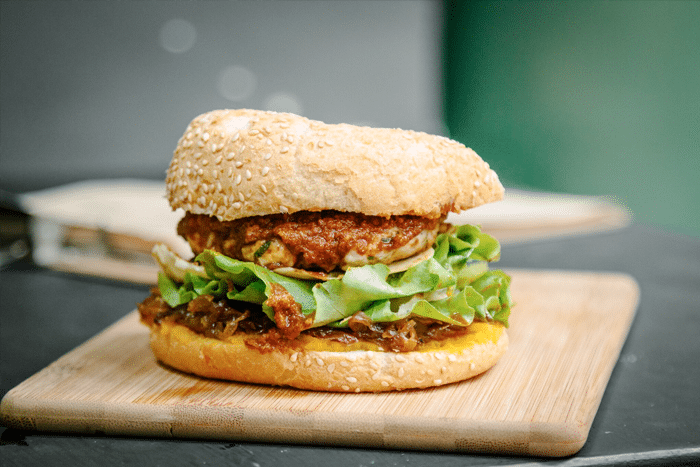 Don't leave before the Chia Seed Pudding ($6.5), a simple but satisfying dessert of sorts, comprising organic chia seeds and coconut milk in three flavours: mango, dragonfruit, or chocolate.
Kitchen by Food Rebel is a much-needed healthy dose of delicious in the void of clean-eating spots in Singapore – something like a relaxed health cafe that one might find in San Francisco, without any of the pretensions. It might be expensive to eat organic nutritious food every single day, but for your weekly 'detox', this is one place to check out.
Kitchen by Food Rebel is located at 28 Stanley St, Singapore 068737, p. 6224 7088. Open Mon-Fri 8am – 6pm.