La Barca – Tuscan cuisine with a modern twist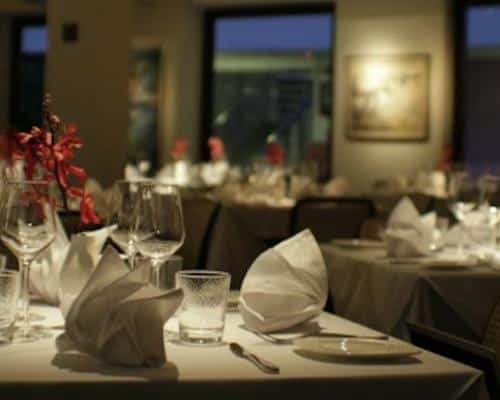 PUBLISHED August 7th, 2012 09:21 am | UPDATED June 6th, 2016 12:10 pm

This July celebrated La Barca's first anniversary, and seeing as how we'd been spending so much time recently checking out the happenings of the Goodman Arts Centre, it seemed a waste not to make a little lunch detour and try Michelin starred Chef Michele Sorrentino's Tuscan creations.
Settling down for lunch, you really get the feeling for the detail that went into the design of the restaurant. It's very airy and bright which is always pleasant and it's spacious, so you're not crammed up against other tables while you dine.
After being led to our table we perused the menu and decided to be a little indulgent and go for a-la-carte, despite their very nice looking set lunch at $35++ (Set lunch menu changes daily – to find out what the set lunch is that day, check their facebook page)
Arriving first was a very sexy looking Veal Tartare with truffle shavings and a sliced salted egg as garnish, served with some olive oil and fine chopped parsley…
This was fabulous! I just wish there was more of it (or that I didn't have to share, haha!) The crunch of the truffle, the saltiness of the egg and the sheer freshness of the veal, made this superb and very unique at that.
Up next, one of my old favourites, the Melanzane Parmaggiano arrived. Baked eggplant with mozzarella cheese and tomato sauce. This is something that I pretty much have to order in every Italian dining establishment I go to. It's one of my favourite dishes and a staple test for how everything else will be.
The rather interesting twist that Chef Michele does here, is a garnish of thick fresh basil pesto, which needless to say worked perfectly with the lush eggplant. My only complaint would be that that the serving was a bit on the small side, but then I was sharing with two others.
Moving on to a pasta dish, the crab gnocchi arrived. Honestly, this dish was pleasant but not explosive. The gnocchi had a full texture, the sauce was pleasant and the crab was fresh. I think the whole dish just could have done with a bit more seasoning. It was a little bland in my opinion.
And of course, we had to order a pizza vegetariano….
As it arrived, I said to myself "Yes, this is how a pizza should look". Perfect slightly raised crust, a soft yet firm base and a good balance of tomato sauce and cheese. As for the taste, it certainly didn't disappoint. However, I'd be lying if I said it was the best pizza I'd had in Singapore. Still, if you're at La Barca and you're hankering for a pizza pie, this is not a bad option at all.
Finally, something truly delicious arrived. Thinly sliced beef fillet coated in slippery fried mushrooms. A great textural and taste contrast while chewing the beef.
Sadly at this point, our stomachs were rather full so there was no time for dessert.
Overall I'm very pleased we ended up at La Barca. I'm always a bit nervous about going to a Michelin starred chef's restaurant (and not just because Michelin is originally famous for making car tires). They're usually over-priced for small plates of food and honestly not that great.
La Barca managed to counter this prejudice I hold. The portions definitely aren't massive, but the prices are quite reasonable and the quality of the food is there for sure.
So if you do happen to be in that neck of the woods for some cool artsy-fartsy performances, pay La Barca a visit for some fine Italian cuisine.