Meet Petrina Loh: The Chef With A Penchant for Fermentation and Medicinal Chinese Herbs
PUBLISHED March 22nd, 2018 06:00 am | UPDATED February 6th, 2020 09:26 pm
Petrina Loh isn't your typical head chef. Small and slender with short violet hair swept to the side, she's a rarity in an industry that, like many others, is dominated by men. There is also the fact that she's been cooking professionally for just seven years, after dissatisfaction with a lucrative career in banking led her to switch paths – towards the culinary arts, no less.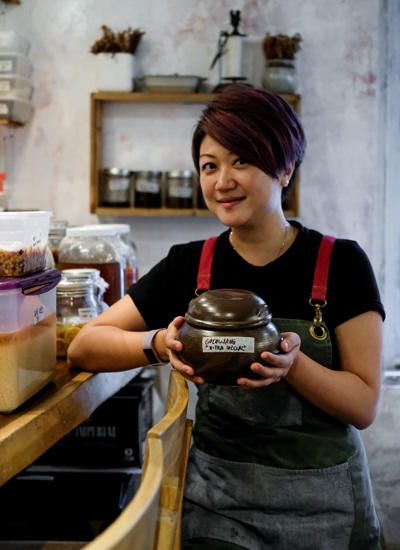 But it's not like food hasn't always been a huge part of her world. Stemming from a family of prolific home cooks, Petrina's exposure to food came as early as five years old, when she would accompany her father to the wet market on Sundays to search for produce. Although Hokkien in descent, her mother's cooking was influenced by a Cantonese relative, and Petrina grew up drinking soup with every meal along with an assortment of dishes such as tau yew bak (braised pork belly), salted duck, and kiam chye soup.
"I was introduced to things that kids wouldn't eat, like celery and ginger. My dad always taught me that you cannot pick out stuff from your plate. It's always good to try every and decide if you like it or not", she said. But it was her father's tendency of using Chinese herbs that eventually contributed to the unique menu at Morsels – Petrina's restaurant that now sits on Dempsey Hill in Singapore. Due to her sickly disposition as a child, her family would have visited old Chinese medicine halls aplenty, where she learned about all sorts of medicinal ingredients used in Chinese cooking.
At her cosy 40-seater space, Petrina dishes out creative ingredient-driven Asian fusion plates to a discerning crowd, and one of her star dishes is a fig chicken broth with steamed venus clams and yu zhu that has been on the menu since Morsels' first location in Little India back in 2013. She also does some lamb ribs that's sous vide with more than 12 herbs, including angelica root, dang gui, and dang shen. If you're lucky, you might come across a fantastic duck kway chup with an intense herbal broth on her rotating noodle bowl menu.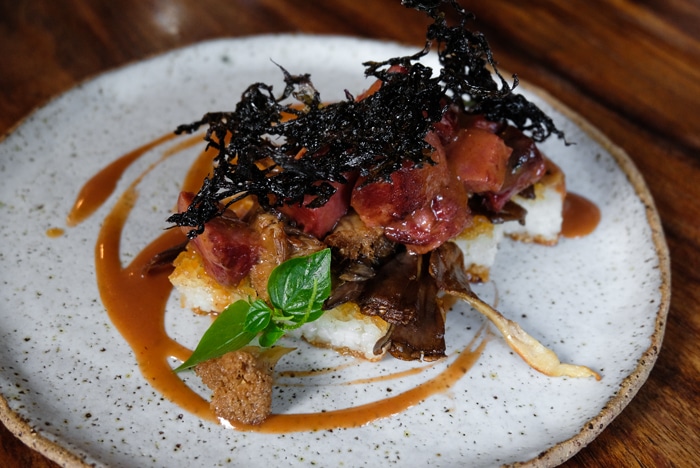 Though Petrina has been cooking her entire life, sometimes at family and church gatherings, and during her overseas college days for homesick roommates, her formal culinary training only came at the age of 30, when she left her banking job (and an expensive government bond) to enrol in California Culinary Academy's Le Cordon Bleu programme in San Francisco.
"I already knew I wanted to do something once I left banking, but I didn't know at what point in my life I would leave."
"It was in 2009 or 2010, and I decided that banking was in a stage where it was unreal," she said. For a whole year – including a three-month internship, or stagiaire, as it's called in the industry – Petrina trained together with 19 other aspiring chefs, all of them American men. "Most of them were half my age. My head chef was my age, and a lot of them started waitering when they were 16 or 17, washing dishes, and they started as a commis [chef] when they were 18".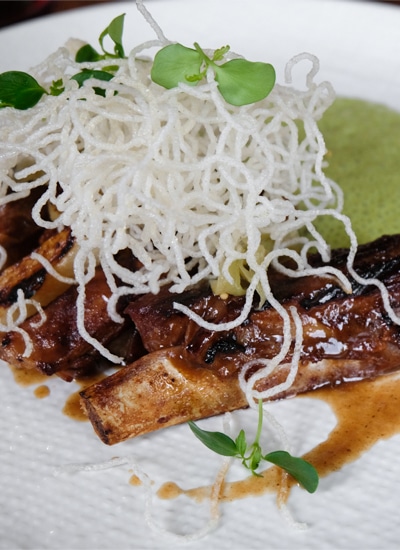 To catch up, she went to work in kitchens around the city, sacrificing sleep for experience in a demanding industry. Her break soon came in the form of a job offer at Spruce, a Michelin-starred restaurant in Pacific Heights – one of the Bay Area's snazziest neighbourhoods, where she trained under seasoned chefs with pedigrees from other established spots. They would take her to help out at Dominique Crenn's (World's Best Female Chef 2016) kitchen in Atelier Crenn, as well as at Stuart Brioza's State Bird Provisions – courtesies that would later become formative of the culture at Morsels.
"For me, I think the city and country you end up going to school at will influence your style of cooking and your inspirations".
Before the idea of opening her own restaurant came about, Petrina just wanted to learn to cook. Choosing San Francisco was not based on a whim either. "[In California], there are a lot of immigrants, so many cultures to learn from, and there's not one particular cuisine type" she explains. "You need to understand produce, and California has great produce, and understand seasons, and culture, before you learn hybrid cuisine."
Today, most of her new hires arrive straight from school, or from an Italian or French hotel restaurant. The idea? To expose them to a multitude of ingredients and techniques – the same way she herself was taught. But first, they'd have to pass the interview process. "I make them identify spices, herbs, and spices. Fenugreek is one thing that they always get wrong. Caraway, cumin, and fennel are always mixed up." Petrina runs a very tight ship, and having a good palate means that she can do wine tastings and develop dishes together as a team.
"I do slow food here, I don't do fast food. If you want fast food, don't come to me."
Petrina overhauls her menu every half a year, switching up dishes every three months according to the northern hemisphere's seasons. "We don't use granules or synthetic products. Every stock is made in-house, and time is needed to do those things." It's not an easy thing to do, and the intense workload and long hours meant a high turnover rate for the restaurant. Since opening Morsels in 2013, she's already been through four sous chefs, but she has also won 'Restaurant of the Year', as well as 'Chef's Choice (Western Cuisine)' at the World Gourmet Summit Awards of Excellence 2017.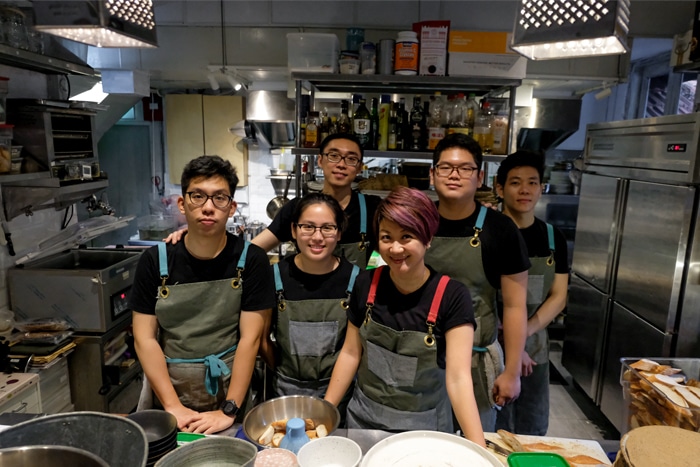 If there's one thing Petrina's dishes stand out for, it's the ubiquitous use of fermented and pickled ingredients. More than straight up acid, she uses the technique to add flavour and balance her dishes – something she picked up during San Francisco's vibrant kombucha outburst in 2010. She frequently travels to other parts of Asia to learn from the chefs there, and just recently learnt to make gochujang from a Korean grandmother. But while it's traditionally made with white glutinous rice, Petrina uses the black variety for the nuttiness. "I have a lot of ideas, but what we start now may be one year in the making. Gochujang, soy sauce, and miso are all at least a one-year-process." And in a place with weather as erratic as Singapore's, it's all the more tricky. "You have to check it every day, hot months are faster, and cool weather takes a bit longer, so you need to do a lot of tasting."
Typically, each of Petrina's dishes have a sweet, sour, salty, umami, and bitter component layered with different textures. Petrina does a fascinating squash toast, that is more exciting than it sounds. Confit sous-vide style in extra virgin olive oil with thyme, she makes a jam by blending fermented tomatoes and kimchi. Then, it's topped with a three-month-old Manchego gratin and some alfalfa. In another dish, she cures Korean mekajiki (swordfish) belly with Ford's Gin, rooibos, kampot red pepper, coriander seed, and Sichuan peppercorns – one of her favourite spices. Petrina then serves this with mustard-pickled shimeji mushrooms and sea cucumber that's been marinated in ponzu, grain vinegar, and black tea.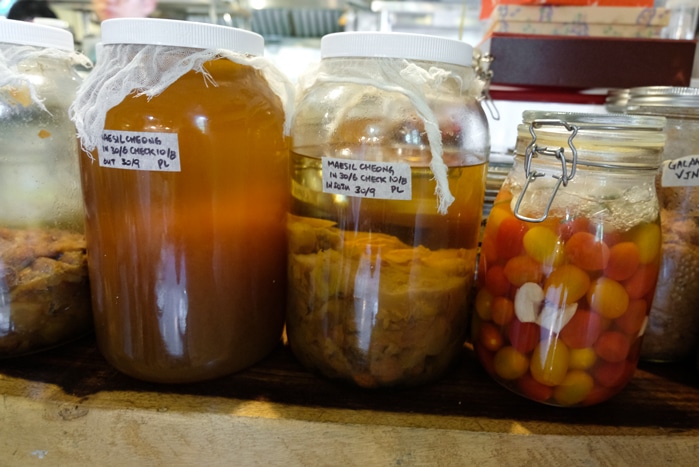 This year, she's been nominated for 'Chef of the Year' as well as 'Restaurateur of the Year' at the World Gourmet Summit Awards, and the results will be announced in April. Years in the making Petrina seems ready to rack up more awards, and the coveted Michelin star is, of course, there in her sights. And you know what, we could always do with more female power in the culinary world.
At the end of our interview, she muses. "A Michelin star is good, but that's not why you cook. I feed people because I enjoy seeing happiness, big smiles, and seeing people satisfied. I cannot be stuck in the old me. I need to evolve as a chef. I've evolved so much since 2013, as I travel and learn from other people, and that's how you build your experience and learn. That's what makes a good chef."