What To Do Around Kampong Glam, Singapore, at Night: Chill Out, Music, and Cocktails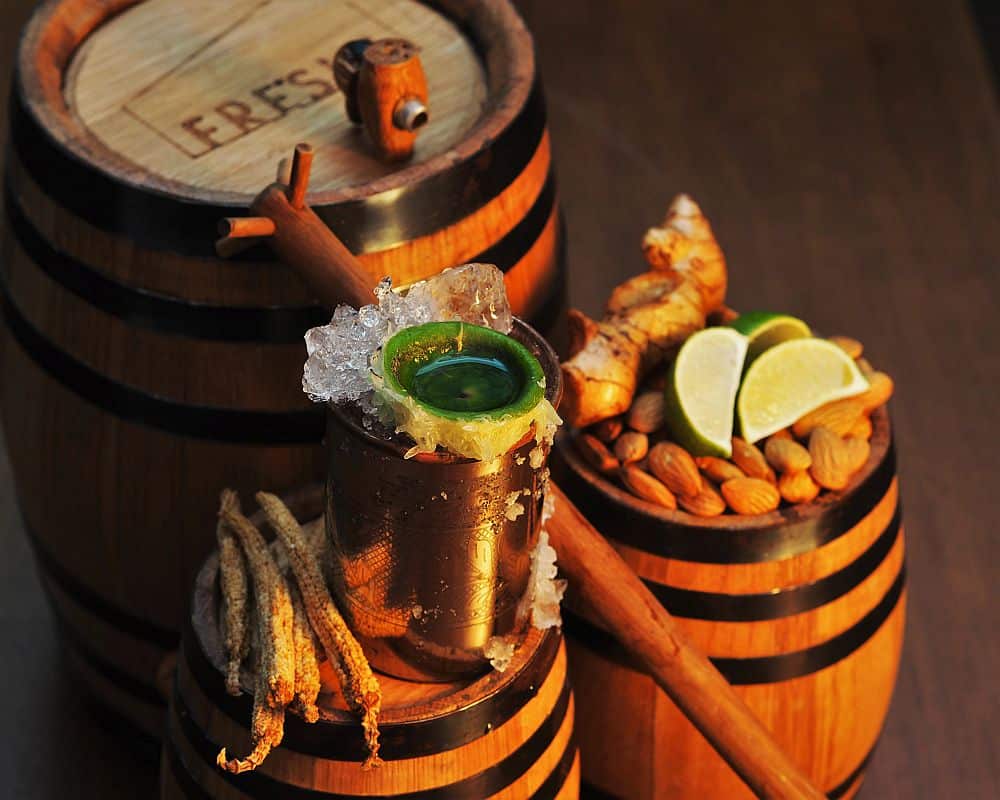 PUBLISHED August 2nd, 2016 01:00 am | UPDATED May 18th, 2020 04:26 pm
A typical night out at Kampong Glam, Singapore, will see a complete rojak (mix) of people from all walks of life. You'll find the mat rempit rubbing shoulders with backpackers, 20-something hipsters riding their fixie bikes down Haji Lane, and even a few bankers and lawyers thrown into the mix. Since the early 2010s, the area around Kampong Glam has really taken off as a nightlife destination. And in our books, a night out around has three main themes (since the sale and use of shisha is now banned in Singapore): bars and cafes to chill at, good music, and cocktails.
Chill Out
Walk around Arab Street, Haji Lane, and Bali Lane etc, and you're bound to experience a riot of colourful sights and sounds inevitably painting in your mind a side of Singapore that is usually unseen. To begin, let us take a look at some pretty cool places to just sit down and relax.
Going Om

Going Om is somewhere your best friends and yourself can head to on a weekly basis. This veritable hippy-fest of a bar/lounge is a great place to hang out in a casual environment, soak up some Buddha Bar beats or have a play on one of their house instruments. Open mics, great drinks and a vibrant ambience are all plus points that spell chilled out.
Going OM is located at 63 Haji Lane, Singapore 189256, p. 6396 3592. Open Tue-Thu 5.30pm – 1am, Fri 5.30pm – 3am, Sat 3.30pm – 3am, Sun 3.30pm – 1am. Closed on Mondays.

Magic Carpet Lounge
Hidden away on the second floor of Beirut Grill on Bussorah Street, the Magic Carpet Lounge offers a chilled out lounge venue away from the street. This is somewhere for you to take off your shoes, find a comfortable position on the floor seating and chill out.
Be warned however, after about 10pm on Friday and Saturday night, the Magic Carpet Lounge transforms into a small club packed with friendly regulars! Expect a whole weird and wacky arrange of music as private parties, local DJs and enthusiasts get the party going.
Magic Carpet Lounge is located at 72 Bussorah Street, Singapore 199485. Open Mon-Thu 6pm – 1am, Fri-Sat 6pm – 3am, Sun 6pm – 1am.
13% Gastro Wine

Tucked away on the second level of a shophouse on Aliwal Street, 13% Gastro Wine open rather quietly earlier this year. The vision of its founders (Bruno Vaillant and Geoffrey Weckx) was to create a spot for wine and gourmet food lovers to chill out. Well, they certainly succeeded; the cosy ambience and the personal attention of Bruno in picking an affordable bottle catered to your tastes makes you feel right at home. Read our detailed review here.
13% Gastro Wine is located at #02-01, 14 Aliwal Street, Singapore 199907, p. 6291 6816. Open Tue-Fri 5pm – 1am, Sat 12pm – 1am.


Cocktails
If getting a little dressed up and having a posh night is more your thing, then you should probably check out the cocktail bars in the area which offer some of the best in Singapore.
Bar Stories
One of the first cocktail specialist bars in Singapore, Bar Stories still pulls a very loyal crowd. Since their bespoke cocktail days, they now have a menu but you can still prepare to be wowed by a wicked looking (and tasting) cocktail. Drinks at Bar Stories cost in the range of $22-30. Read our review here.
Bar Stories is located at 57A Haji Lane, Singapore 189248, p. 90044543. Open Sun-Thu 4pm – 1am, Fri-Sat 4pm – 2am.

Maison Ikkoku
Opened in 2012, Maison Ikkoku was founded by Singaporean owner Ethan Leslie Leong, a gentleman frequently cited as one of the original progenitors of the Singapore bar scene. With that in mind, it's no surprise that drinks here are expertly made.
Not a rowdy place by any stretch of the imagination, Maison Ikkoku plays smooth Jazz or 1950s French tunes to set the mood. Very sexy interior and style overall, this is a great place to bring dates. Drinks start at $25. Read our full review here.
Maison Ikkoku is located at 20 Kandahar Street, Singapore 198885, p. 6294 0078. The bar is open Sun-Thu 6pm – 1am, Fri-Sat 6pm – 2am.
(Closed) LongPlay

LongPlay has always served great cocktails and recently brought their food menu up to par. After our visit, they've launched a cocktail menu inspired by South American spirits. Countries like Peru, Brazil, Venezuela, and Argentina are represented on the menu with 3 cocktails each; the first one a native classic, the second a native classic with a twist, and the last is LongPlay's take of the country, as a cocktail. Cocktails are $18 to $20.
LongPlay is located at 4 Haji Lane / 33 Arab Street, Singapore 189197, p. 6291 3323. Open Tue-Wed 6pm – 12am, Thu-Sun 4pm-12am.
FRESH!

Step into FRESH! and you'll find yourself inexplicably back in the 90's. Hear familiar tunes from the likes of Britney Spears and NSync playing in the background as you peruse the impressive menu of cocktails. Expect creative reinventions of old favourites as well as inventive concoctions. Cocktails range from $12 to $20. Read our full review here.
FRESH! is located at 101 Jalan Sultan, #02-01 The Sultan, Singapore 199002, p. 8828 7084. Open Mon-Thu 8pm – 1am, Fri 9pm – 3am, Sat 10pm – 3am. Closed Sun. 
Shin Gi Tai

Shin Gi Tai is another place with a bevy of classics incorporated with a twist. They relocated to Haji Lane from Waterloo Street last year and have been on our Arab Street night crawl list ever since. Somewhat of a secret bar, you have to climb a set of darkened stairs (look for the door with a samurai) in order to indulge in the cocktails and Japanese-inspired bar bites that we know and love.
Shin Gi Tai is located at 9 Haji Lane, Singapore 189202, p. 9768 4132. Open Mon-Sat 6pm – 12am.
Music
The Arab Street area has a reputation for being something of a musical centre, catering to the non-mainstream party crowd. There are a few venues that really draw a crowd and offer some great live musical performances or DJ nights:
KOI Bangers + Izakaya

Located below Shin Gi Tai, KOI promises to be a raucous get together complete with munchies and drinks. Weekly performances by local underground DJs is the main crowd drawer, especially on the weekends.
KOI Bangers + Izakaya is located at 9 Haji Lane, Singapore 189202, p. 9790 7535. Open Tue-Thu 3pm – 12am, Fri-Sat 3pm – 2am, Sun 1pm – 12am.
Blu Jaz
Blu Jaz is one of the most well-known venues in the area having set up almost 10 years ago in 2006. Blu Jaz occupies three large floors and has a sizeable al fresco area.While the 1st floor usually plays host to local Jazz and Funk bands, the second floor is frequently taken up by local DJs playing anything from 90s Hip Hop to Reggae.
On the top floor, expect a quieter lounge catering to their frequent spoken word and poetry performances by local troops.
Blu Jaz is located at 11 Bali Lane, Historic Kampong Glam, Singapore 189848, p. 62923800. Open Mon-Thu 12pm – 1am, Fri 12pm – 2am, Sat 3pm – 2am. Closed on Sundays.
Singjazz Club
For the Jazz purists, this is a place you MUST know about as it is likely the most authentic Jazz bar in Singapore. Almost nightly performances by maestros from Singapore and the region, you can expect a more mature crowd to be found here. A good whisky selection and cigars are on offer as well. Read our full review here.
Singjazz Club is located at 101 Jalan Sultan #02-00, Singapore 199002, p. 8481 3034. Open Wed-Sun 8.30pm – 1am. Closed Mon-Tue.

All About Eve

For the fans of more mainstream music genres, All About Eve offers a varied live music selection comprising mostly rock and pop with the latter in English, Mandarin or Cantonese. The cozy atmosphere makes it perfect for kicking back with a drink in hand to soak in the music.
All About Eve is located at 144 Arab Street #02-01, Singapore 199829, p. 63963780. Open Mon-Thu 6pm – 1.30am, Fri-Sat 6pm – 2:30am, Sun 6pm – 1.30am.
From its beginnings as a purely shisha/coffee area, Kampong Glam and Arab Street has transformed into a veritable nightlife destination in Singapore. For the hipsters among us, this is your place. For those who aren't, you can still look forward to a good time at night around Arab Street.