Restaurant Review: Hong Kong's Social Place Makes Its Debut At Forum Mall, Singapore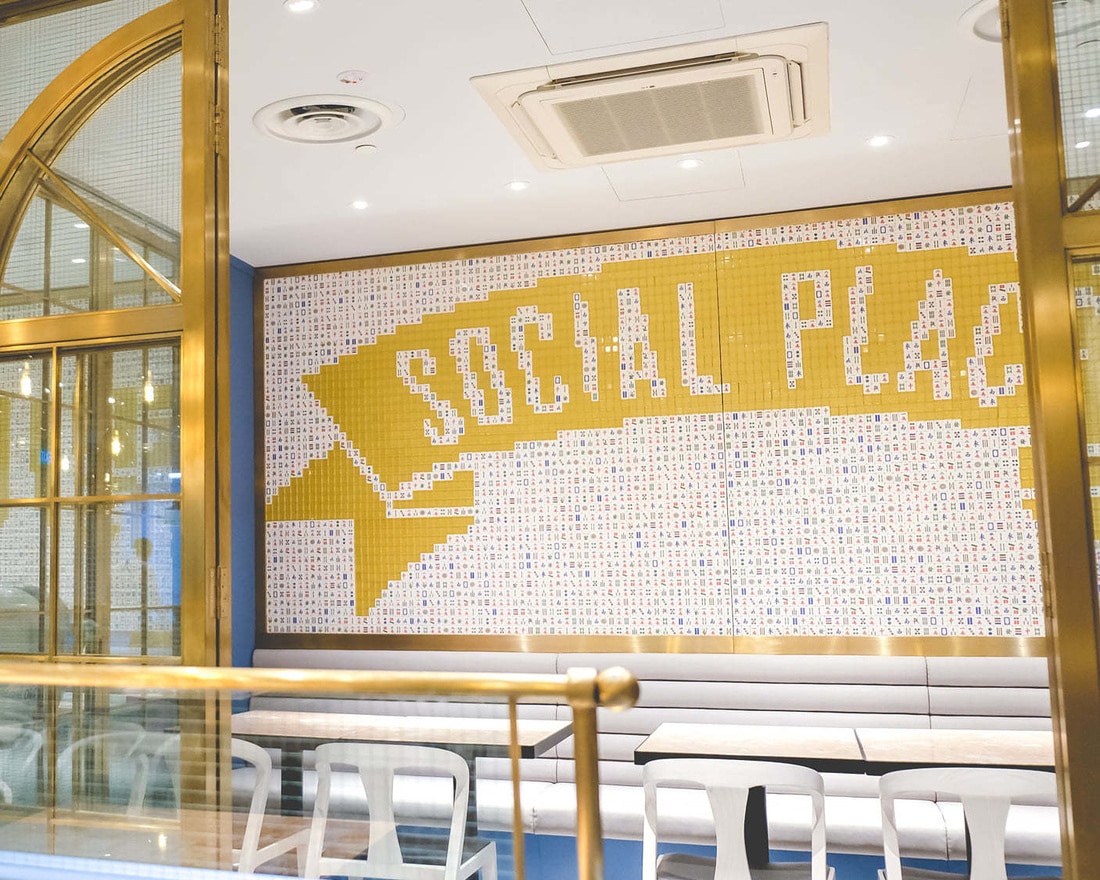 PUBLISHED November 29th, 2019 06:00 am | UPDATED February 6th, 2020 05:37 pm
Think of dim sum and Cantonese cuisine and the first thing that springs to mind is a restaurant with a warm and homely atmosphere, but Hong Kong's Social Place, established in 2014, differs itself. Pushing the envelope and offering contemporary Chinese cuisine in a chic, vibrant, and cosy setting, Social Place is breaking out of the Hong Kong market with the launch of its first Southeast Asian outlet in Singapore's Orchard shopping district, taking up a spot at Forum The Shopping Mall.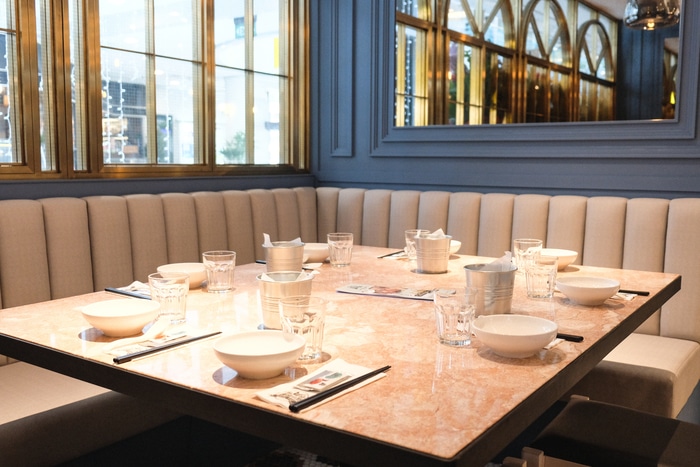 The ambience here evokes old Hong Kong sensibilities with a contemporary flair. Mahjong, a popular game played in Hong Kong, is featured here in the form of a glossy feature wall made from mahjong tiles – a first for any Social Place outlet. The interior is characterised by marble-topped tables, elegant gold and blue-grey features, as well as vintage patterned flooring gives off an Art Deco vibe, and these elements embody the restaurant's marriage of tradition and modernity.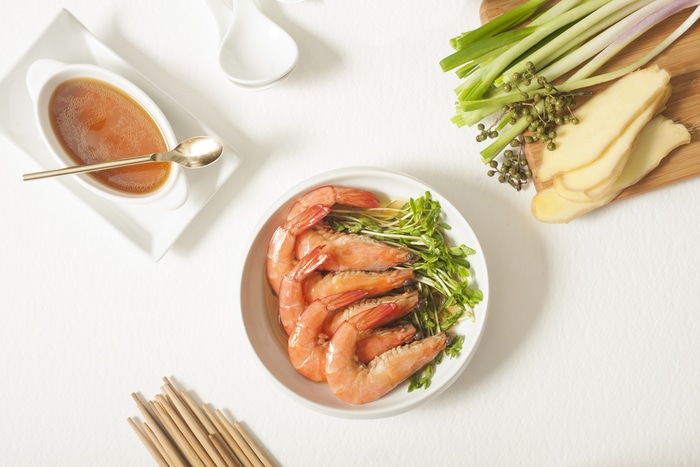 Small plates and appetisers are a great way to kick off a meal at Social Place. The Iced Okra (S$6.80) and Shrimps in Chinese Wine (S$16.80), both cold dishes, are perfect for Singapore's constant heat. Blanched okra is given a shock bath of ice to retain the bite, before being topped with an addictive mass of fragrant chopped garlic deep fried in butter and drizzled with a signature blend of condiments. The shrimps are a light take on a classic restaurant favourite, with steamed prawns steeped in a marinade of fragrant Hua Diao wine and fish sauce. The restaurant's use of Sichuan pepper in this dish adds an interesting twist of spice and numbness without being too intense.
For something different, have the Cold Foie Gras in Special Fermented Rice Wine (S$16.80). The addition of goji berries brings a balance of sweetness to the strong flavours of the foie gras, resulting in a lighter dish that'll whet your appetite.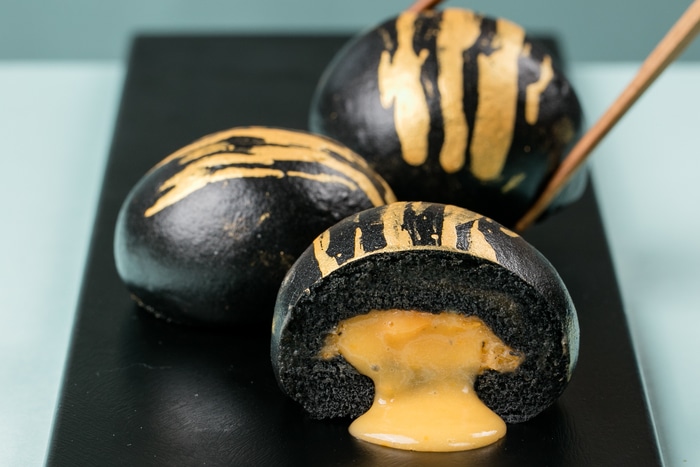 Taking centrestage on the dim sum menu is the Charcoal Custard Bun (S$8.80), a gorgeous Social Place original. The warm charcoal bun's ebony sheen is artfully adorned with visually striking gold brush strokes. When broken into, an enticing bright yellow custard greets you with its savoury-sweet flavours. Other popular options include the Truffle Shiitake Buns (S$6.80) that look like huge mushrooms with a realistic streaky 'cap' at first glance, and the Deep Fried Lobster Glutinous Puffs (S$7.80), shaped like mangosteens. A surprising filling of crab meat cooked in a heady lobster broth awaits you within the crispy purple glutinous rice shell. To sample a variety of these gorgeous creations, go for the Dim Sum Platter (S$12.80), made up of five different dim sum.
Heavier mains on the menu include Social Place signatures such as the original Flamin-ple' (S$28) and the exquisite Sweet & Sour Pork on Ice (S$24.80). Both creations are stunning, with the former consisting of pineapple morsels and aromatic curry beef brisket served in a flaming pineapple, and the latter the classic sweet and sour dish topped with mini spheres of melons and blueberries served atop crushed and cubed ice.
The Eggs (Ain't) That Simple (S$22.80) is another playful dish that offers an unexpected take on the traditional Sichuan spicy fried chicken, presented with two mango pudding 'yolks' nestled within egg shells. For a more hands-on dish, try the Roasted Quail (S$9.90), braised in a proprietary concoction infused with more than ten different herbs and spices before being roasted for that crisp, glimmering finishing enveloping a succulent and flavourful interior. The restaurant offers disposable gloves so you can work your way into the meat when utensils fail.
End off your dining experience at Social Place with the adorable Small Pig Pudding (S$6.80), a custard-based treat moulded in the shape of an anthropomorphic pig resting in a pool of delicious coconut cream, and tiles of Mahjong Jelly (S$6.80) for a fun and quirky finish.
With its signature twist on contemporary Chinese classics and inviting interior, we can see why it's so popular in Hong Kong, and we're glad that there isn't a need to travel so far to enjoy their fare anymore.
Social Place is located at #01-22, Forum The Shopping Mall, 583 Orchard Rd, Singapore 238884, p. +65 8870 2288. Open daily 11.30am – 2.30pm, 6pm – 10pm.