Restaurant Review: Michelin-Starred Labyrinth's New Menu is Chef LG Han's Locavorist Homage to Singapore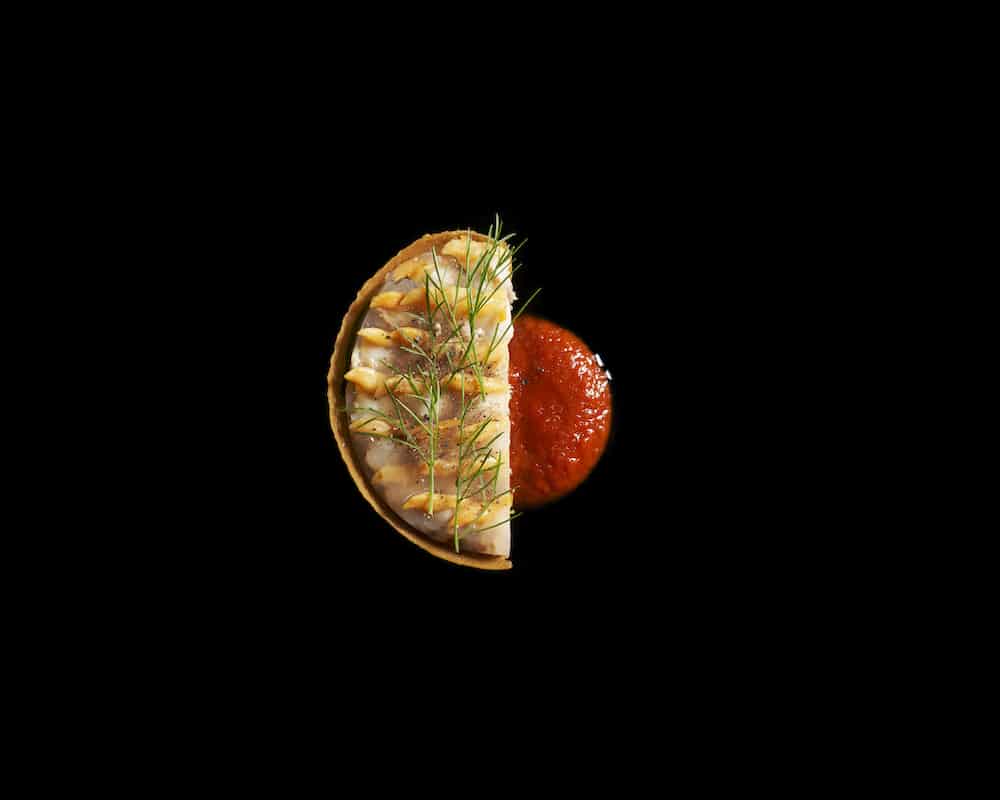 PUBLISHED August 6th, 2018 02:00 am

Chili crab ice cream, coffee pork ribs, chendol xiao long bao – these were just a few dishes that propelled Chef Han Li Guang to the forefront of the Mod Sin movement when it emerged about five years ago. Today, Labyrinth has earned its spot in the Michelin Guide two years in a row, and there's no doubt that its culinary philosophy has evolved to reflect a more nuanced take on modern Singaporean cuisine.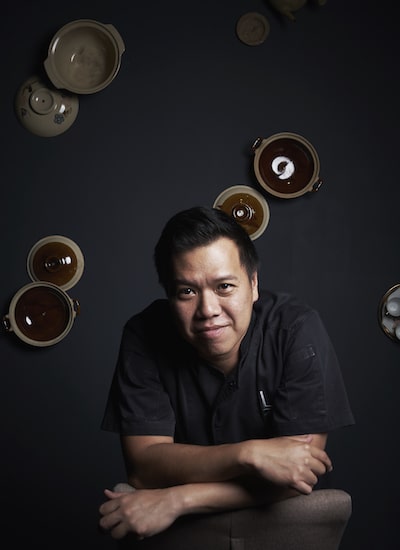 Still inspired by local flavours, Chef Han's new lunch (four courses, $68++) and dinner (ten courses, $178++ menu focuses on the meaningful ingredients grown and produced in Singapore, rather than using luxurious ingredients – think wagyu beef, scallops, and sea urchin – in the deconstruction and reconstructing a hawker dish or showcasing elaborate techniques. We plunged right in with the pre-appetiser snacks, a quartet of oolong tea egg, "nasi lemak" cheong fun, braised baby abalone in a black moss basket, and heartland waffle.
Everything is labour intensive; the quail tea egg takes three days and stands out with an injection of tea into the egg while the yolk is still runny. The cheong fun skin is made from scratch with rice flour, tapioca flour, and coconut milk infused with lemon grass, pandan leaves, garlic, and shallots, but it's the pandan waffle that's most nostalgic. Almost the same what the heartland confectionary shops in Singapore popularised, this one's served with local duck liver pate made with aged Shaoxing wine and goji berry jam.
At this point, it makes sense to mention that if you're unfamiliar with Singaporean cuisine, Labyrinth has helpfully produced a series of illustrated postcards to provide context and Chef Han's backstory and inspirations for the dishes served on the dinner menu. There's also a map of Singapore to show where the farms from which Labyrinth sources ingredients, including Toh Thye San for poultry, herbs from Edible Garden City, and shellfish from Ah Hua Kelong.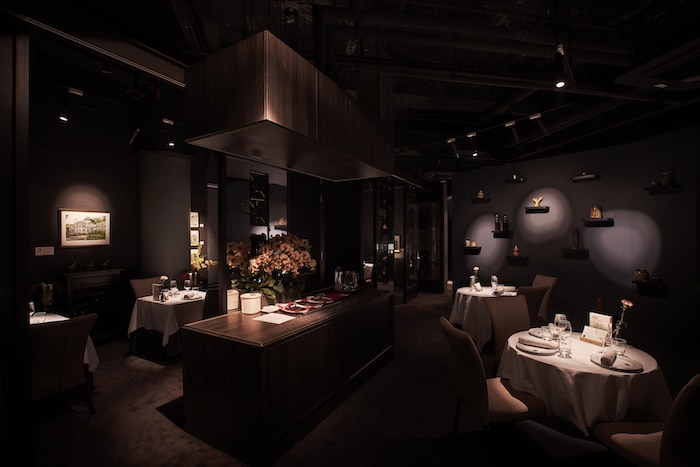 The last makes an appearance in our first course. Grown naturally at the farm, the essence of Ah Hua Kelong Lala Clams is extracted via steaming and the juices are set as a layer of jelly over lalas that have been removed from the shells. When service starts, it's steamed again and laid over a thin bed of stir fried Chinese spinach, which is then layered into a deep-fried wanton shell. Topped with dog fennel (which resembles dill), the accompanying XO sauce is smooth unlike the typical. Made in-house with Jing Hua ham and dired shrimp, the slightly spicy umami proffered complements the crustacean sweetness of the lala tart.
Next, the Labyrinth Rojak is mostly an aromatic pile of herbs and greens featuring both the nectar and petals of the white and the blue pea flower, red and green wood sorrel, Indian borrage, Mexican tarragon flowers, ginger flower, Okinawan spinach, and sweet potato leaves. The fruitiness comes from a cempedak and jackfruit sorbet, while stingless bee honey from Batam (less sweet and supposedly more nutritious than regular honey) and fermented shrimp paste ties everything together. A sprinkle of ground peanuts add texture.
Taking a leaf out of his grandmother's recipe book, the "Ang Moh" Chicken Rice is a major throwback to the colonial times, where the dish was Westernised to suit the palate of his grandmother's Caucasian employers. And it's not as filling as it sounds: diced chicken folded into ginger sauce and sesame oil wrapped in a rice flour skin before being cooked in chicken rice stock, which is also used to make the roux for the white sauce.
If you were a fan of Labyrinth's signature chili crab ice cream, not to worry. It makes quite a comeback in the Local Wild Caught Crab. Steamed and de-shelled by hand, the flesh of the live flower crabs wild caught from Ah Hua Kelong are seasoned with salted fish powder. The ice cream and crab meat is plated with ribbons of egg white (achieved by pan-searing egg whites at very low heat) and an emulsion of Shaoxing wine and chicken fat – making a delicious marriage of Singaporean and Hong Kong-style styles of cooking crab.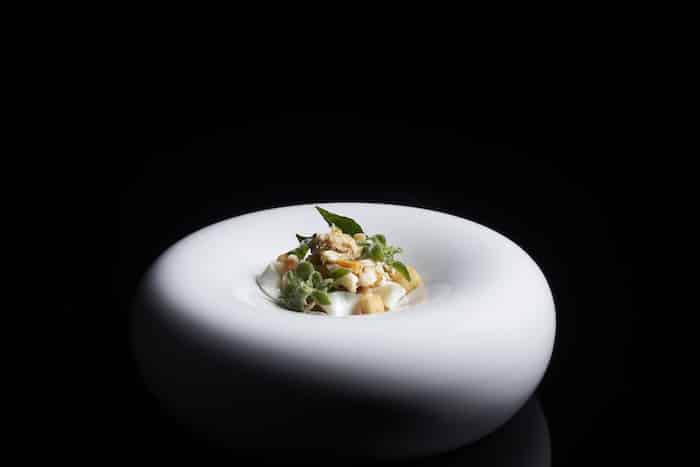 The vessel of Chef Han's spin on bak kut teh is a fillet of Nippon Koi Farm Silver Perch. Cured with Jing Hua ham, the fish is simply basted with hot oil several times. The punch lies in the intense black garlic puree on the bottom of the plate, and the herbal fish bone broth infused with 16-year aged mandarin peel. For texture, there's a you char kway (dough fritter) puff and fish lard while the ulam rajah flower provides some acidity in between spoonfuls of soup.
Much to my surprise, between the Toh Thye San Farm Farm Poulet and the Indonesian Pork Collar as options for the main course at lunch, I preferred the latter. It might have been because we already had a chicken dish earlier but the pork collar char siew was flavourful and wonderfully cooked on the charcoal grill. The embellishments of rice crispies, barley, local grown deep-fried kale, pickled bak choy, and crispy lard weren't too heavy compared to the chicken cooked two ways (one a roulade stuffed with glutinous rice).
The palate cleanser of roselle meringue, grapes, fresh pomegranate seeds, and oyster plant (aka Moses in the cradle plant or boat lily) snow was effective but didn't trigger any memories for me like it did my dining companions. The dessert of Cristal De Chine Caviar, however, is one that we all related to. This extravagant take on the kaya toast where caviar takes the place of salted butter features toast from the old-school Sin Hon Loong Bakery, housemade kaya ice cream, and egg yolk sauce. Sugar is sprinkled on the toast and chargrilled with coconut charcoal, giving it an unprecedented aromatic smokiness to the well-loved breakfast item.
Chef LG Han certainly relocated Labyrinth to the right spot from its original digs on Neil Road years ago. The newly revamped space is like a theatre where he shows off his visually stunning and thought-provoking menu that aims to expose people on Singapore's best produce, one diner at a time. It's not cheap for sure, but hey, it's education you can buy and be satisfied by, so why not?

Labyrinth is located at #02-23, Esplanade – Theatres on the Bay, 8 Raffles Avenue, Singapore 039802, p. +65 6223 4098. Open for lunch Tue-Fri 12pm-2.30pm (last order 1.45pm), pre-theatre menu Thu-Sat 6pm (last order 6.30pm), and dinner Tue-Sun 6.30pm-11pm (last order 8.45pm).
Top Image: Ah Hua Kelong La La Clams