Restaurant Review: Michelin-Starred Northern Spanish Flavours at Basque Kitchen by Aitor on Amoy Street, Singapore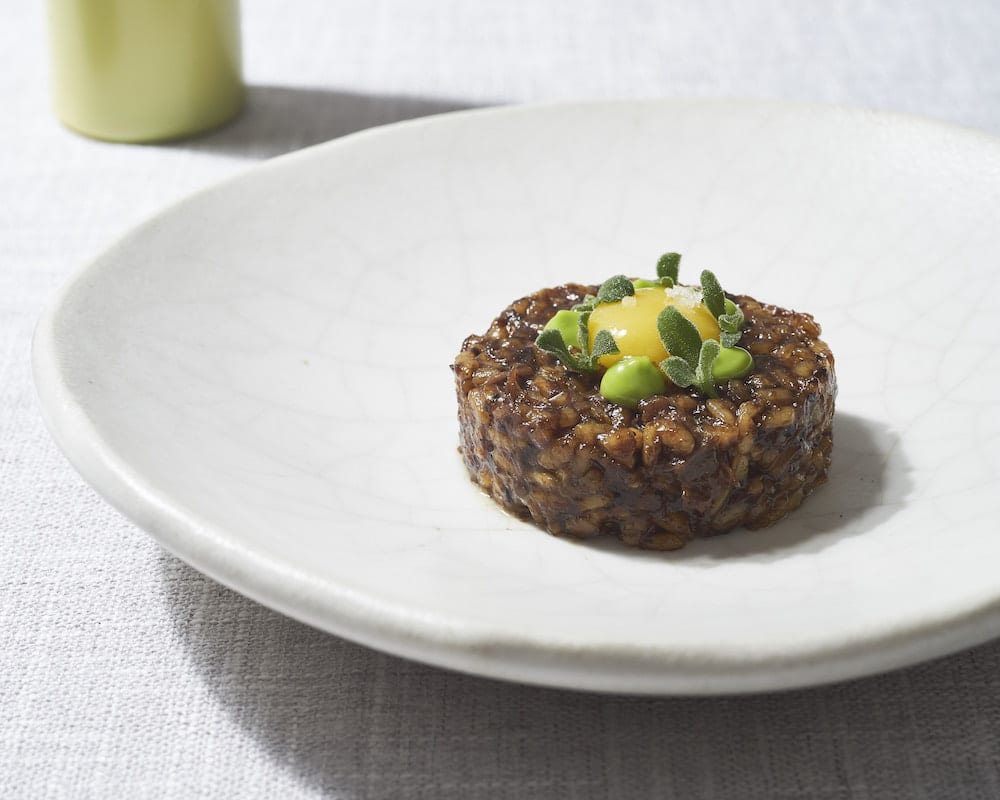 PUBLISHED January 4th, 2019 06:00 am | UPDATED February 9th, 2020 07:32 pm
The shuttering of Unlisted Collection's modern Australian restaurant Blackwattle barely a year into opening was shocking; after all, its sister restaurant Automata – also an Unlisted Collection restaurant by the same Chef Clayton Wells in Sydney – has continued to do rousingly well. When announcing its closure, the hospitality group also made a point to mention a new concept was coming…and we were mighty pleased to see Head Chef Aitor Jeronimo Orive (whom we met previously from Iggy's Singapore), who was probably just as excited to introduce his interpretation of Basque cuisine to us.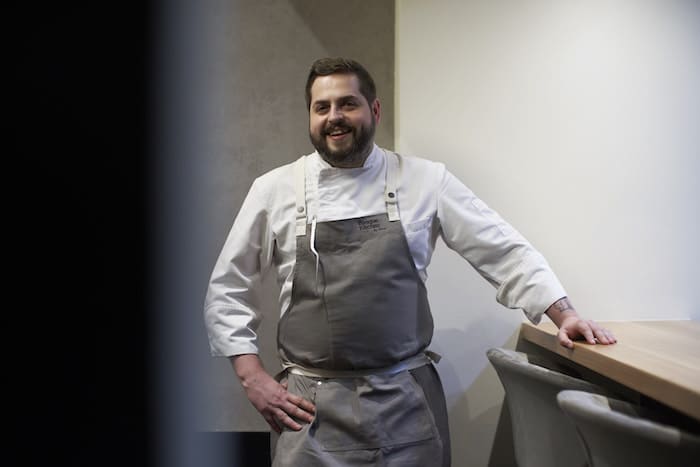 The Madrid-born chef, whose family hails from Basque country in Spain, cut his culinary chops in some of the best kitchens in the world including The Fat Duck and Mugaritz; and it shows in his seven-course tasting menu ($115++ per person) that's available during both lunch and dinner.
A tribute to Chef Dani Garcia (a leader of modern Andalusian cuisine who also developed the culinary use of liquid nitrogen at -196ºC in collaboration with Professor Raimundo García del Moral), the cold, velvety Cherry Gazpatxo sees cherries added on top of the usual veggie mix of peppers, tomatoes, and garlic for an extra fruity sweetness. Topped with pickled watermelon and cottage cheese snow that add texture, it certainly helps to whet the appetite again after all the umami snacks. A take on the traditional one-pot tomato-based fisherman's stew in Basque cooking, Chef Aitor replaces tuna with bonito crudo in the Marmitako, so it's refreshing, yet still comforting.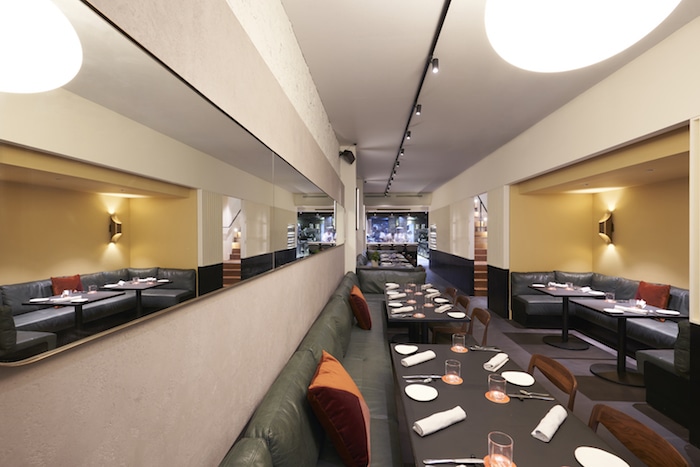 The next dish was a unanimous favourite at our table. Inspired by the Japanese gyudon that we all (even Chef Aitor) know and love, the Oxtail "Bomba" features 12-hour braised Angus oxtail cooked with Spanish bomba rice, onions, mushroom, and chicken stock. The confit quail egg yolk adds another veneer of richness to each spoonful of that delicious, delicious rice. It's followed by a battered Black Grouper paired with sweet peas. The fried fish itself is not the most remarkable, but it makes firm flesh and crisp batter make a great vessel for the smooth, airy puree made with grouper bone stock, sautéed onions, butter, cream, and potato sweetened withpiquillo peppers, which also give it a bright vermillion hue.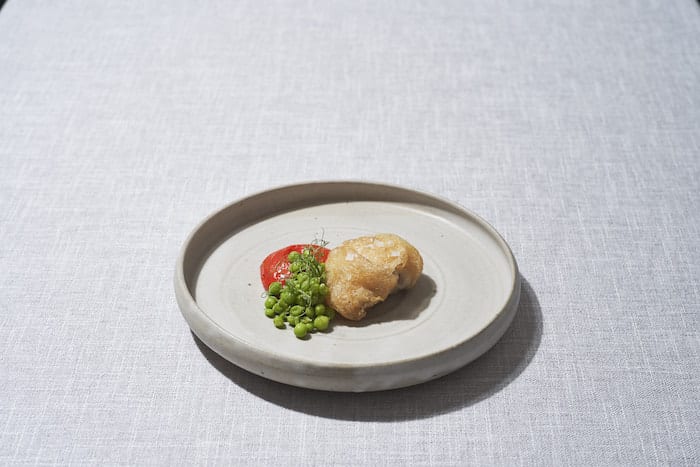 Course number five sees another typical Basque Country dish, a leek broth called Porrusalda. Instead of cooking everything in the same pot, the clean but flavourful dashi-style broth is the result of leeks, carrots, and onions being chargrilled and sous vide in olive oil and salt individually before being used in making the vegetable stock alongside daikon, chickpeas, white wine, and parsley. The secret here is the addition of katsuobushi(similar to bonito flakes) and smoked leeks, which makes for a more complex broth.
When it comes to the classic combination of beef and mash in Txuleta, it seems that Chef Aitor stand is that the traditional cooking method is best. The Angus prime rib is grilled over the charcoal till it's charred and crisp on the outside while retaining its rare and juicy insides. There's a wonderful depth to the beef jus too; it comes from reducing roasted beef bones and marrow with wine and mirepoix of leeks, onions, and carrots for 12 to 16 hours.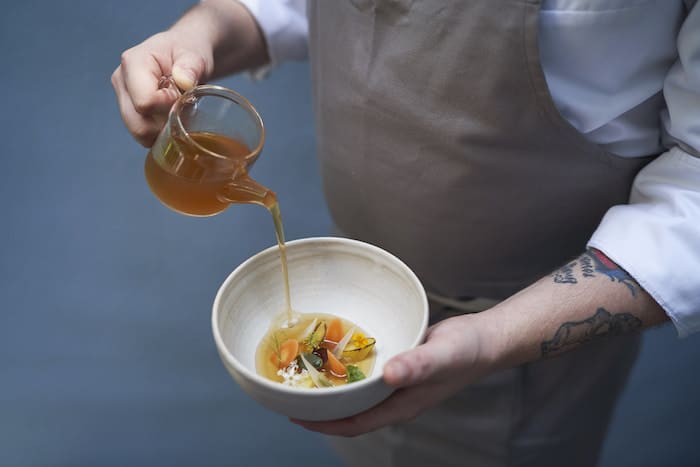 Dessert is simple and satisfying affair of strawberries – macerated then glazed – and a house-made vanilla milk cream. What sealed the deal for us further at Basque Kitchen was getting to try sagardoa, a cider produced in apple growing regions of the Basque region in Spain. Non-carbonated, it's earthier in flavour and a lot less sweet compared to cider as most of us know it. And this is (apparently) the only place in Singapore that serves sagardoa!
Difference in cuisine aside, Basque Kitchen by Aitor is a lot more accessible compared to its predecessor, in terms of both pricing (a two-course lunch starts from $38++ and three-course dinner from $85++) as well as flavours and ingredients. The menus might not be the most thought-provoking, but everything is well executed and we left happy, so you probably would too.
Basque Kitchen by Aitor is located at 97 Amoy Street, Singapore 069917, p. 6224 2232. Open Mon-Fri 12pm-2.30pm, 6.30pm-11pm, Sat 6.30pm-11pm. Closed Sun.
Top Image: Oxtail Bomba Rice