Singapore Staycation Spotlight: The Great Madras in Little India is A Cute Place For Wes Anderson Fans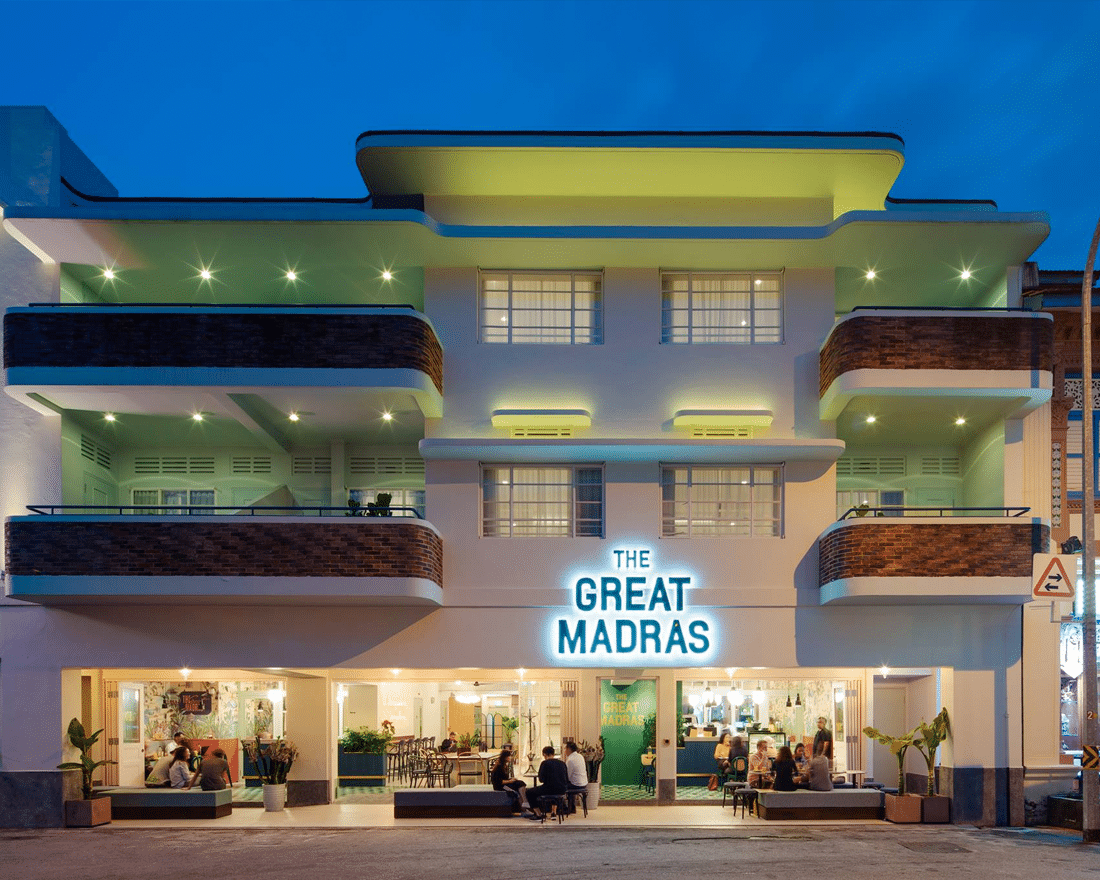 PUBLISHED March 13th, 2018 06:30 am | UPDATED March 28th, 2019 11:18 am
If Wes Anderson – the film director whose unique stylistic flair has won him countless awards – ran a small boutique hotel, it'd look something like The Great Madras in Singapore. And is it a coincidence that its name bears resemblance to The Grand Budapest Hotel? I think not.
The three-month old brand is a result of a lengthy refurbishment of what used to be Madras Hotel Tekka, a budget property that has been around in the backpacker quarters of Little India since the 1990s. It is now owned by the same group behind The Daulat, another boutique establishment just a few units down. But while the latter is an amalgamation of modern contemporary design, this 35-room hotel is as whimsical as they come.
The Space
From the get-go, The Great Madras doesn't pretend that it's a luxury hotel, because it is not. Its ambience much closer to a poshtel than the Four Seasons; more Darjeeling Express than the Tenenbaum House. There is a large lighted sign outside that draws you in, and as you get closer, you might notice the loud neon flamingo at the side – one of many nuggets of fancy inside the property.
From the first-floor lobby and cafe to the hotel corridors, the interiors are furnished in various hues of pastel pink (or millennial pink, as I like to say), green, and blue. There are all potted plants in the common areas, much of the floor is laid out in clean terrazzo or herringbone, and part of the walls are decked in colonial-inspired illustrations. All three floors of the building are completely open-air, save for the rooms, of course.
The Rooms
Considering its provenance, it's no surprise that the rooms here are on the small side. There are six types of room to choose from, ranging from 9m² to 28m², and depending on which you pick, you might just be able to enjoy the sweet outdoors with a shared balcony or courtyard space.
I got the mid-tier Balcony Room, which measures about 18m² and fits two guests fine; albeit cosily. For what it lacks in size, it makes up for in general quirkiness. Equipped with a basic cerulean tile bathroom (consisting a toilet and rain shower), you'll find the room decorated with a fun floral wallpaper and a couple of stylish warm lamps. There is a multi-purpose table next to the bed with a cool red sink, a fancy hemispherical mirror, and some basic amenities – a kettle for boiling water, tea and coffee packets, and a novelty phone that could be from decades ago. One thing noticeably missing though, is a box of tissues in the room.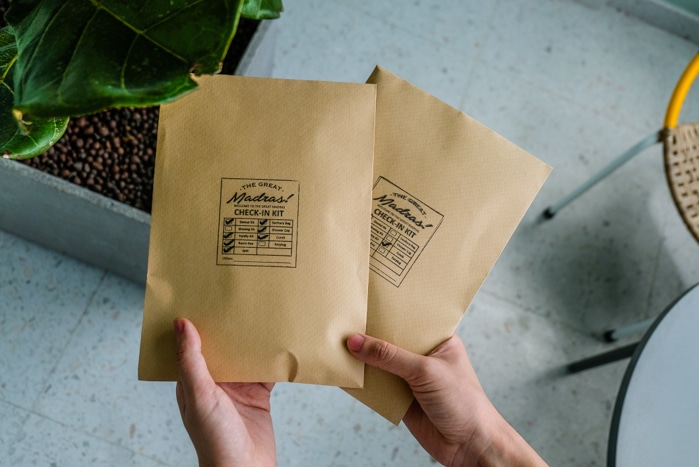 A door at the side extends straight into a little balcony that overlooks the rooftops of Little India's many heritage shophouses, something I'd never get to experience at a large upscale hotel. On the downside, live music from the Prince of Wales bar just opposite will seep in till after midnight, but I suppose that's part of the area's charm.
Facilities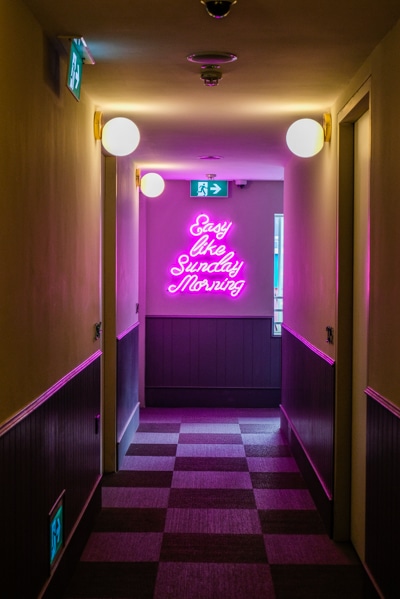 When you're done taking your new Instagram profile photo with the hallway's numerous neon signs (no judgement there), make your way to the cute outdoor pool on the second floor, filled with a number of playful elements. Need a quick haircut or shave? The men get it good with an on-site barbershop courtesy of The Golden Rule Barber, where a full cut and wash starts from $48.
There is a small deli cafe on the ground floor, which is where I get my complimentary buffet breakfast. Granted, the selection is not large (three types of fruit juice, white bread with basic spreads, assorted cereals, fruits, and a live egg station), so don't expect a feast. During the day though, you'll be able to order a la carte tapas bites off their menu, from Patatas Bravas Trufadas ($8, fried dice potatoes drizzled with truffle oil) to the Pollo Al Ajillo ($10, fried chicken cooked in housemade garlic sauce).
And there you have it. The Great Madras is arguably one of Singapore's most Instagrammable hotels at the moment, and if you're looking for a quick getaway that puts you at the fringe of the city centre, this is a good one. Plus points too if you're a Wes Anderson geek, because all that colourful retro detail isn't going to appreciate itself.
The Great Madras is located at 28 Madras St, Singapore 208422. Rates start from SGD$90 per night. For reservations, please call +65 6914 1515 or email to [email protected].