SKAI Restaurant & Bar: Dine in the Sky at Swissôtel The Stamford's New Contemporary Grill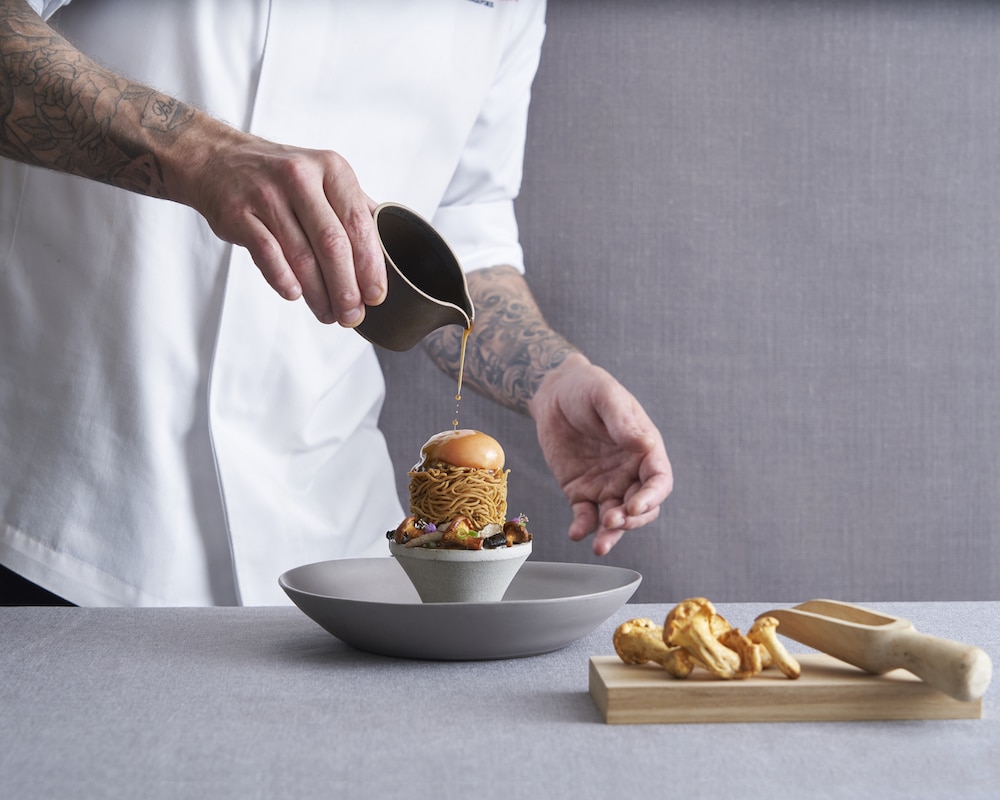 PUBLISHED September 11th, 2018 06:00 am | UPDATED August 8th, 2019 12:17 am
The 70thfloor of Swissôtel The Stamford has been home to some of the most iconic restaurants in Singapore, with the shimmering views of the city skyline always a part of the dining experience. This month, they've pulled off yet another winning concept with new restaurant and bar, SKAI.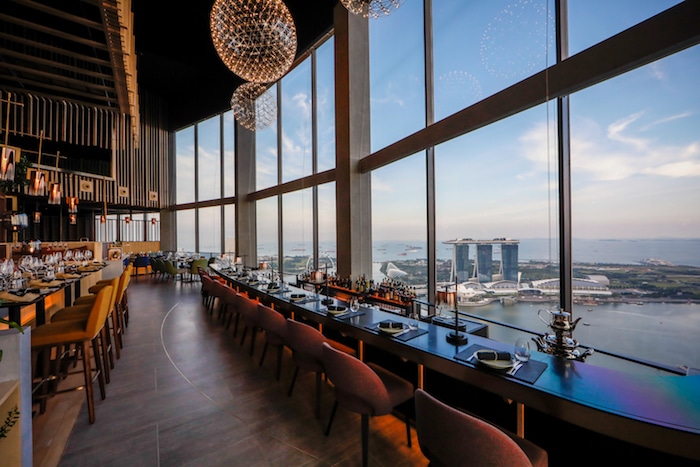 ChopeDeals: Save up to 25% off at SKAI
Unlike the formal, fine dining settings that have inhibited the space before, SKAI was created with a residential design aesthetic that realises that dream of sky high living. The bright and airy contemporary grill takes inspiration from modern Nordic and Japanese simplicity; light maple wood and clean lines meet vertical design features and organic textures amidst the natural hues and warm tones of the 130-seater restaurant. The Japanese influence doesn't stop with the interiors either, it also lends itself to Executive Chef Paul Hallett's carefully crafted menus across lunch, dinner, and weekend brunch.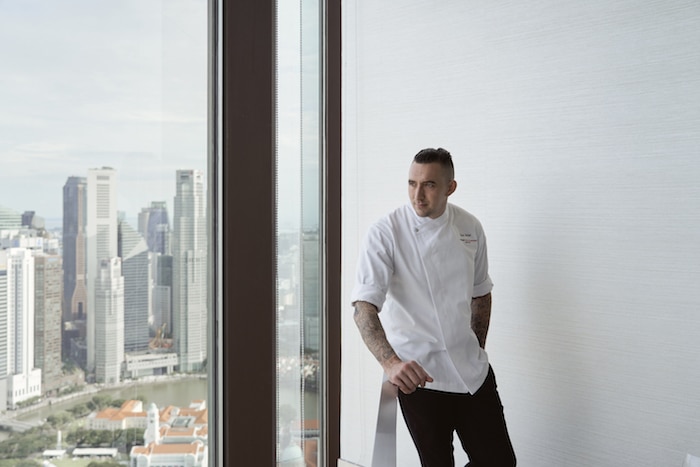 Set lunches at SKAI are straightforward and easy to navigate. Available in two ($39++) and three courses ($45++), refreshing appetisers and tasty mains include Yellow Fin Tuna with kohlrabi remoulade, Snapper with clams, ginger butter, and tomato salsa, and the Stanbroke Wagyu Petite Tender. The evening meal, conversely, features an a la carte menu of small plates, fresh fish and seafood, and meats – including SKAI's selection of artisanal beef specially sourced from Australia, America, Japan, and Ireland.
Grilled in the Josper, an elegant grill-oven multitasker that turns out perfect medium rare steaks, the A5 Saga Wagyu Tenderloin ($170 for 160g) is bound to be a hot favourite with its buttery texture and aromatic char. Those who prefer beefier flavours that don't compromise on the marbling can opt for the Snake River Wagyu New York Strip ($170 for 300g), while fans of bone-in steaks can look to the Stanbroke Black Angus T-Bone ($110 for 500g) and Porter House ($150, 700g) cuts from Australia. Look forward to sides such as Savoy Cabbagewith roasted peanut and organic egg and Hand Cut Chipswith tosaka – a type of Japanese seaweed – salt and to dressing up your steak with sauces of green peppercorn and black truffle.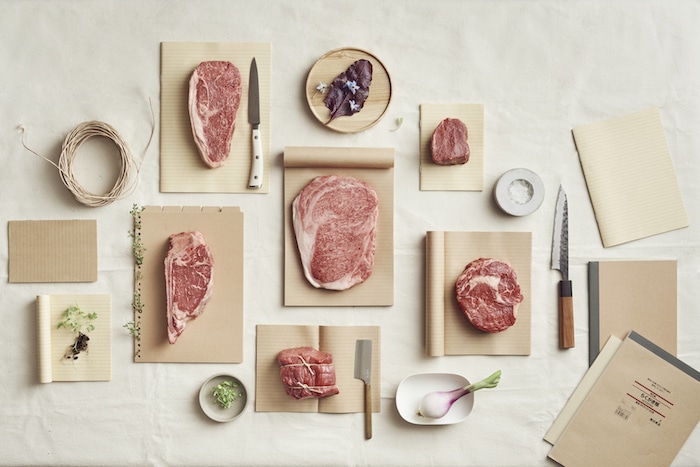 The steak selection might have SKAI coming across like a steakhouse, their bangin' small plates menu says otherwise. The Chopped Angus Beef ($28) and Yellow Fin Tuna ($24) are very much model examples of modern comfort food. Topped with caviar and a confit egg yolk, the former gets a hint of umami from the fermented shiitake; the latter comes layered with diced apple for crunch and acidity and a light soy and ginger dressing. The surprise amongst them is the classic Heirloom Tomatoes ($22) and burrata combination, where the tomatoes interact with cheese, shiso, and olive oil as a gazpacho instead.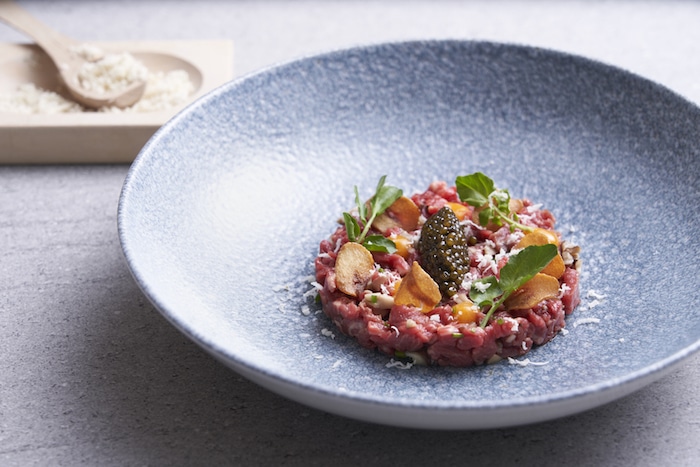 Two of Chef Paul's signature are definitely the scene stealers at SKAI. The Crispy Rye Noodles ($35) is a vegetarian hat tip to sang mee, a common Singaporean dish of crispy noodles and gravy at local coffeeshops. This version, however, involves truffles, wild mushrooms, mushroom dashi, and a topping of onsen egg. The aromatic Uni Saffron Risotto ($38) is the other star. Despite the permutation of cream and cured egg yolk, the dish never gets overly rich with the al dente rice and a touch of Japanese citrus.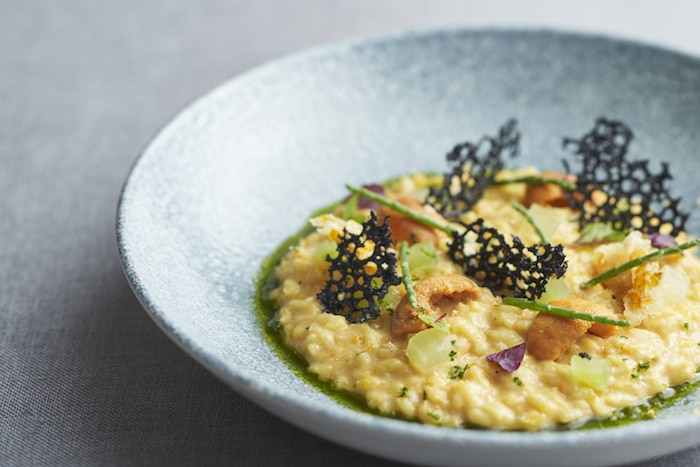 Don't write off the main courses that aren't beef either. Miso Black Cod ($70) might sound like it's been done to death, but SKAI's version is almost flawlessly executed, with green peas and braised leek playing off against the miso-kissed cod flesh and a refreshing coconut-lime espuma. For something hearty and heart-warming, try the Dingley Dell Pork Belly ($56). This alternative surf and turf is headlined by melt-in-your mouth British pork belly and fresh tempura soft shell prawn on charred miso eggplant. Topped with celeriac ribbons, pickled konbu, and crispy pork skin, a roasted celeriac and chicken consommé is poured over the dish at the table.
Hand to heart, the desserts at SKAI are too pretty to eat. Certainly a crowd pleaser, the Yuzu White Chocolate ($22) comes in two white-chocolate spheres masquerading as the fruit on a chocolate painted plate. Crack them open and you'll find yourself digging in to blissful spoonfuls yuzu custard and curd, lychee coulis, and yuzu sponge. For more adventurous, the luscious Caramelised Soy Bean Cheesecake ($22) is adorned with sweet-savoury miso fudge, citrus jelly, lemon sorbet, and a dusting of kinako powder. Did we mention it's torched tableside for a bit of post-dinner theatrics?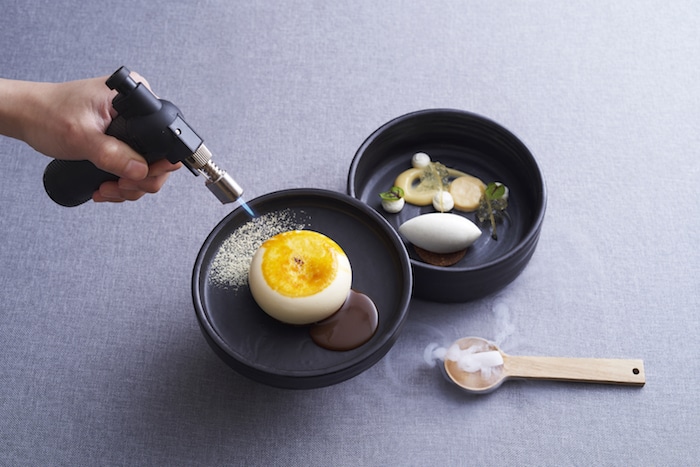 Fun times at SKAI don't stop here. They've already started doing weekend brunches at $78++ per person; an additional $40++ per person gets diners free flow red wine, white wine, and moscato, an additional $80++ includes the above and free flow Champagne Taittinger. We're also holding on to our hats for their soon to be launched SKAI Bar one level up, helmed by Rusty Cerven, previously of private members' club 1880 and The Gibson London.
SKAI is located at Level 70, Swissôtel The Stamford, 2 Stamford Road, Singapore 178882, p. +65 6837 3322, e. skai@swissotel.com. Open Mon-Fri 12pm-2.30pm, 6pm-10pm, Sat 12pm-3.30pm, 6pm-10pm, Sun 11.30am-3.30pm, 6pm-10pm.
This post is sponsored by Swissôtel The Stamford.
Top Image: Crispy Rye Noodles