Spicy Humour and a Mesmerizing Masala – Curry Tales by Rasa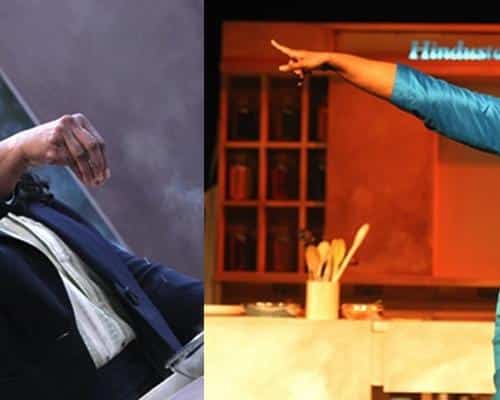 PUBLISHED May 27th, 2013 02:24 am | UPDATED January 21st, 2016 07:05 am
If there's one topic that's close to Singapore's heart, it's food.  We are a nation of foodies.  Just ask someone about his or her favourite hawker stall and they'll wax lyrical about the merits of stall A vs. Stall B. etc.  Mention curry, and you'll get a myriad of responses from where to find the best fish head curry to the famous (infamous?) flare-up between neighbours that led to the 'Cook A Pot of Curry Day' on 21 August 2013.  The word 'curry' is a strange one as it unknown in the Indian vocabulary.  The closest word is 'kari' a word from Tamil, which was already in use in 1500B.C.  It was used to describe animal meat stewed with spices and liquids. Hardly appetising… and a far cry from the Masalas, Kormas, Vindaloos, Mussamans, Rendangs, Green and Red curries that we know and recognise today.
But whether or not you are a keen chef or just a fan of curry in all its forms, come and be entertained by Rasa's production of Curry Tales.  This one-woman show starring actress Rani Moorthy, who is the founder of Rasa, is bound to entertain you. Rani plays six different characters who give their perspective on curry, while cooking onstage! The individual stories are both humorous and touching and Rani uses her razor-sharp observations and wit to give life to each character.
Stylistically, Curry Tales draws from Kutthu theatre of South India, where an intimate and immediate relationship is created between performer and audience through ritual, interaction, song and dance. Rani actively engages the audience in the production via requests to peel, stir, taste and even give recipe suggestions. There will also be video projection from India, Malaysia and the UK placing the characters in their geographical and cultural contexts, and close-up live feed cameras let the audience in on what's cooking away.  Taking a journey around the world, Curry Tales will reveal surprising influences on curry like the role of the British in the spread of curry via trade, the colonies, all of which ultimately lead to the migration and settlement of the South Asian Diaspora.
Performer Rani Moorthy is no stranger to Singapore.  She was born in Malaysia, graduated from the NUS and was a regular performer on the Singapore stage and hosted the 'Ra-Ra Show' on television.  She left for the UK in 1996 and is currently based in Manchester.  In 1996, she founded Rasa Theatre to artistically celebrate the enduring migrant experience.  The word 'Rasa' means taste or feeling in Malay, the essence or the sap of life in Tamil and the 9 'rasas' or emotions that an artist evokes in Sanskrit theatre.
A multitalented person, with numerous TV appearances under her belt, as well as being a playwright, writer and presenter, Rani has lately ventured into filmmaking. Her short film 'Incense' has been shown in major national short film festivals and in Berlin, Cannes and New York. However we really wanted to ask her about the upcoming production of Curry Tales, and she kindly agreed to a chat!
Q) Welcome back to the Singapore stage!  When was the last time you performed in Singapore?
Two significant productions come to mind. It was really in the Theatreworks production of 'Longing' in 1994, out doors at Fort Canning. I didn't realize at the time that it would be my last performance with Theatreworks but as it turned out, it was quite fortuitous because I had almost all my actor friends with me in that production captained by the mighty Ong Keng Sen. And then the production of Haresh Sharma's 'Top of the World' with the generous and wonderful Necessary Stage and the eternally talented Alvin Tan. I also was engaged in a work-in progress with the late Kuo Pao Kun. Happy times.
Q) You moved to the UK in 1996.  What are the biggest changes you notice between the theatre scene in Singapore then (when you were living here) and now?
When I left, it was quite a tense time for Singaporean theatre; some controversies that could have stifled true experimentation and new writing. But, judging from a distance I am so heartened by the thriving arts scene especially with young talent and in other languages. I think social media has democratized critical thinking and made bloggers of us all and that can only be a good thing because it's the instant 'word of mouth' reviews that help us artists.
Q) What made you start your company, Rasa?  What were your biggest challenges and successes?
I was very lucky when I got here because I got an acting agent within a few months and got my first part playing a doctor in a hit series called 'Cold Feet', shared a trailer and scenes with Helen Baxendale who had just done 'Friends'. Then I started to write and entered a sit-com writing scheme by the BBC.  They were going to do a pilot with Meera Syal (who was doing Goodness Gracious Me) but I was writing and rewriting it and then I realized that they were 'toning' down my original idea to probably make it acceptable for TV. I learnt a big lesson in keeping your head and integrity. In the meantime, I was slowly working on a one-woman show about growing up in a Tamil family in Malaysia, which was poignant and funny. I sent the script to the Arts Council and they gave me a grant to produce it and Rasa was formed. I had to overcome the fear of performing to a British audience.  It is my most personal writing. The play was a success and I took it to Edinburgh Festival and then it toured Sri Lanka. So while I still write for television and radio, theatre is my home. I have just done my 8th production, so while Rasa is successful, the challenge is still to write in a way that keeps my intention intact while making the work accessible to an eclectic audience.
Q) What was the inspiration behind this Curry Tales?
It's based on my observation about life in Britain. Chicken Tikka masala was named Britain's favourite food in 1997 outranking fish and chips and roast dinners. This intrigued me but also set me on a journey of discovery. One of my favourite starting points is to try and debunk people's general notions about something familiar. In this case curry would not be curry as we know it, if not for western travelers and colonizers taking ingredients from one continent to another and the confluence created unique cuisines, and not just in the sub continent. Think of the East India Company and the Spanish conquistadores.
Q) In this one-woman show, you play six different women.  Please tell us a little about each character.  Which one is closest to the real Rani Moothy?
I play a Delhi socialite, a Trinidadian gunning for revenge, a Tamil slum dweller, a British Asian businesswoman, an old Indo-Chinese woman and a transvestite. There is a bit of Rani in all of them.
Q) What will attract audiences in Singapore to 'Curry Tales'? What message do you want the audience to take home with them?
I think it's the joy of cooking, sharing and story telling that is the most universal of all human activity. Curry tales will take you on a journey, a roller coaster of stories that will intrigue and make you laugh out loud. Spending time with some extraordinary characters that remind you that you are only human.
Q) Tell us more about the Kutthu style of theatre.
This is a uniquely Tamil style of theatre. I saw it first in 2003 when I toured my first play 'Pooja' in the war zone in Sri Lanka. It is the most liberating theatrical experience because the lines between the performer and audience are blurred, the audience feels free to participate, it's a mix of ritual and theatre in the most profound sense.
I researched the kuthu style in Chennai, working with a group call Kuthu-p-pattarai and then spent time in a kuthu school in Kanchipuram in South India run by an extraordinary couple. I also spent a week at the Kalamandalam in Kerala just watching the kathakali actors who seem to embody their characters even in everyday activities.
I cannot pretend to incorporate what kuthu actors take a lifetime to learn in Curry Tales but I think I bring that sense of freedom.
Q) You may have heard about the 'Curry Incident' that took place in Singapore last year (and the subsequent Cook A Pot of Curry Day on 21 Aug). What do you think about this incident?
I heard about this on Facebook last year. This is not so much about curry as an immigrant story and the eternal fear of the unknown. There could have been genuine communication between the neighbours where they could have tried each other's cuisine and not be mired by difference and prejudice. The Indian might be led into the nuances of the cartilage in chicken feet as the Chinese might have been with raita. Openness is all. Also, why make it an Indian issue as many have pointed out curry belongs to everyone.
Q) The blurb on Curry Tales mentions interaction with the audience – how are you going to get the audience involved (if that's not giving too much away!)?  Will the audience get to sample the curry afterwards?
Yes the audience will get to taste the curries cooked on stage. Only a taste, as I have very small portions. Please don't expect an all you can eat buffet!  I do 'enlist the help' of the audience!
Q) Are you a good cook?  Have you become a curry expert after 'Curry Tales'?
I am a good cook because I improvise like mad on stage and in the kitchen. I was invited by UKFOOD channel to cook laksa, which was great. I declined a spot on Gordon Ramsay's 'The F Word' out of fear. When I did Curry Tales in Mauritius some chefs from five star hotels held a competition that I judged for 'Best Curry'.
Are you planning to return to Singapore with your other plays, for example, Pooja?
If I am invited again.  I performed 'Pooja' at the Actors Studio in KL and Ipoh in 2002 and was hoping to do it in Singapore but there were no takers then. It's all in the timing, like everything in life.
What's next for Rani Moorthy and Rasa?
A holiday? Seriously, I go straight into a new production in London.
You can catch Curry Tales at the Esplanade Theatre Studio from 13 to 16 June 2013, Thursday to Sunday at 8pm, Saturday at 3pm.  For more information, visit www.sistic.com.sg and www.rasatheatre.co.uk