Sushi euphoria at Kaiho Sushi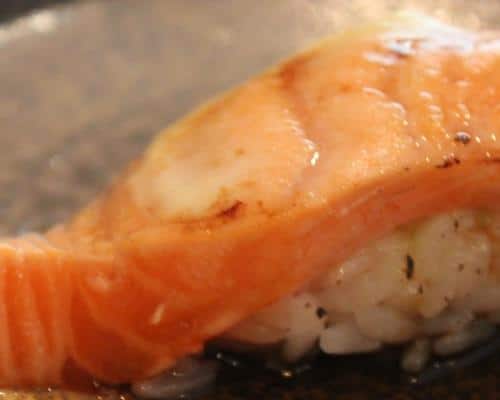 PUBLISHED March 15th, 2012 06:34 pm | UPDATED March 28th, 2016 12:36 am
Those in the know will already be aware that hiding away in Cuppage Plaza, just off Orchard Road, is a Japanese food-lovers paradise. And Kaiho Sushi is just one of the tenants of this unlikely foodie Eden.
Kaiho Sushi does not look much from the outside, but inside lies hides a superb dining experience.
On entering, the huge pieces of plump fish lying waiting on ice on the counter and the sweet smell of soy told me otherwise. I could sense that something very good was about to come my way.
I had heard good things about Kaiho Sushi but none of it really prepared me for the sushi euphoria that I was, unbeknown to me, about to experience. And others had clearly been there before me because it was Wednesday lunchtime and shortly after we arrived the place was packed out.
Being lunch time, my dining partner and I opted for the lunch sets, one Chirashi Set ($28) and one Salmon and Ikura Don ($28) with a couple of extra dishes thrown into the mix.
I have a super huge weakness for aburi sushi. We opted for a couple of pieces of the Salmon Aburi Sushi ($3 per piece). Words alone can not explain how good this was. It was seared just perfectly, with an outstanding softness to it. I have to say that this is as close to perfect as they come. We only ordered one piece each but my gosh that was enough to send us reeling with the perfect texture and incredible infusion of flavours. This was a true sushi WOW moment.
The other types of aburi sushi ranged from $7 to $25 a piece so the salmon is definitely the best value for this gastronomic experience. I couldn't help but wonder if the $3 one was this good, what the others would taste like!
Aside from our sets (which we'll come to soon) we also ordered the agedashi tofu. Now do please excuse me as we ordered off menu so I couldn't tell you how much it was, but what I can tell you is that it had a perfectly light crisp exterior and a soft, melt in your mouth interior.
Now onto the lunch sets. I am actually going to dedicate a whole line or two to the miso soup, because it is really, really good here. It's rich, hearty and delicious and rather than being a mere afterthought, could punch it's weight against the best of them. Finally a miso soup I actually WANTED, no LOVED to slurp on rather than mindlessly doing so out of some semi-obligation.
Wowzers with a start this good I was almost scared of what was going to happen when the main event came. I was worried I might just slide into some extreme sushi-pleasure-induced gibbering wreck and never come back.
So what did happen? Well….it wasn't far from that. As my friend tucked into her Salmon and Ikura Don she was more or less gone on the communication front it was so good. She couldn't take in anything I said – she was totally lost in the moment of pieces of exquisite pieces of salmon.
And what happened when my Chirashi Set came? Well, I had to remain compos mentis so I focused on savouring every morsel of fish and seafood – the thick and juicy pieces of tuna which took up your whole mouth (in a good way!), the sweet and succulent shrimp which practically melted away, the flavoursome hamatchi,the delicious mackerel, the sweet and juicy scallops and the tender snow crab leg. Every piece as good as the other.
It was a very generous portion, perfectly presented and seemed to go on and on – because don't you hate it when it's all over too early?  The most surprising part of all was that the tamago (a.k.a. the Japanese omelette) which was really juicy and flavoursome, not sad and dry like it sometimes can be.
By this point, we were so far into the clutches of sushi paradise that when the waitress came over to ask us about what flavour ice-cream we wanted as part of our set, we must have looked to her like aliens we were so far gone.
If you want the perfect ending to the perfect sushi experience, then I would highly recommend you get the chestnut flavour ice cream, which has little pieces of what I can only assume were candied chestnut pieces – delicious!
The meal came to $82 all in, complete with as much green tea as you care to drink, and for a feast like this with an effect like that, I'll definitely be hanging my hat on the Kaiho Sushi home again. But sushi chef Bernard Tang says shhhhh….don't tell too many people about this hidden gem ok?!
For more great sushi, check out the other great Japanese restaurants at Cuppage Plaza.