Tipple to tickle the tastebuds: Chefs with Altitude 2013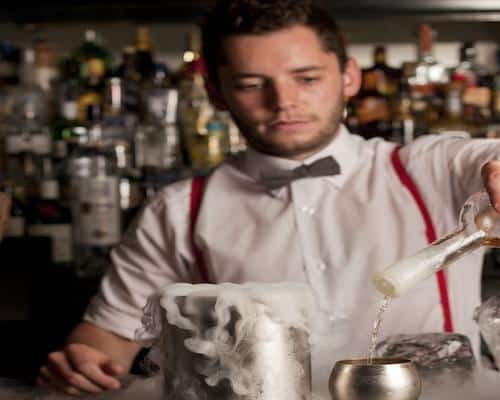 PUBLISHED November 14th, 2013 02:12 am | UPDATED May 18th, 2020 04:33 pm
If you are game for tipple to tickle your tastebuds, intriguing cocktails featuring the likes of popcorn syrup, basil frozen by liquid nitrogen and oolong tea, should do the trick. They are part of 10 cocktails concocted specially for Swissotel The Stamford's annual week-long gastronomic event, Chefs with Altitude, till this Saturday.
Every year, the hotel's chefs and bartenders come up with a wish list to work with prominent names in the culinary world. The bartenders at the hotel's City Space got their Christmas present early – by having a chance to learn from renowned British mixologist, Tristan Stephenson, who has a knack for reinventing cocktail classics with bizarre ingredients, such as milk powder.
Stephenson, who bartends and owns one of London's hippest watering holes, Worship Street Whistling Shop, deftly fuses cocktail science, molecular mixology and cutting-edge bartending techniques – and it shows in the bold, and sometimes enigmatic flavours of his cocktails.
The drinks (each at $28++) are created to pair with existing bar grub that City Space serves, on top of stunning panoramic views of close to half of Singapore from its swanky 70th storey locale. My favourite pairing was the Green Basil 'Cryo' Smash with margherita pizza. The refreshingly zingy mix shows notes of full-bodied grapefruit and citrus tang, from a mix of Tanqueray No. TEN gin, lemon juice, gomme, egg white and crushed basil powder – after being chilled by liquid nitrogen – for a more thorough infusion.
Eyebrows were raised with the Corn Bread – inspired when Stephenson was baking corn bread, no less. The American-inspired drink is redolent of caramelised buttery notes, from the melding of Maker's Mark Bourbon (corn-made whiskey), thyme, popcorn gomme, Angostura bitters and yes, strips of crispy bacon. It has an intense Sinaco-like sweetness that cuts through the meatiness of the mini beef burgers, though the saltiness from bacon seems quite lost.
The zesty Oil Be Back is a mishmash of Belvedere vodka, lemon juice, gomme, olive oil, egg white and vanilla salt. Topping it off are sprays of oolong tea emulsion, which injects a milky tea-like flavour to the frothy tipple. It teases the palate well, especially with the twirls of parma ham around the breadsticks.
The Peat and Melon is an invigorating mix of Talisker 10 single malt, sapid melon liqueur and dry vermouth and Spanish Bitters which brings out the subtle sweetness of the fresh sashimi that glistened in a boat-shaped ice bowl.
Experience Tristan Stephenson's cocktails at City Space, Level 70, Swissotel, The Stamford as part of Chefs With Altitude 2013 which runs until this Saturday, November 17 2013.
___________________
Written by Kenney Lornie
On this occasion the cocktails and photos were compliments of Worship Street Whistling Shop & Chefs with Altitude