Todamgol – Tanjong Pagar's Korean Restaurant gem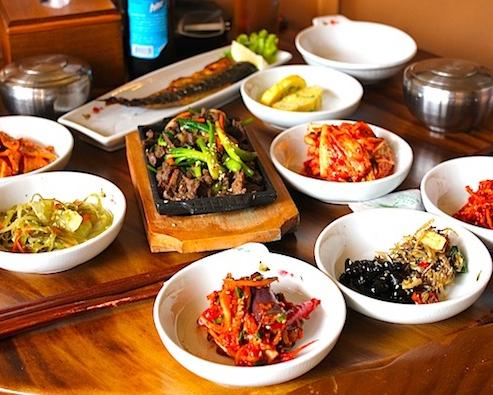 PUBLISHED February 15th, 2012 09:45 am | UPDATED March 27th, 2016 11:23 pm
For those of you who haven't ventured down Tanjong Pagar Rd, it is unofficially known as the 'Little Korea' of Singapore. The steet is literally lined with Korean eateries and businesses, and frankly if you're craving some bulgogi or bi bim bap, it can be a bit overwhelming deciding where to try. One of the must-try places in my opinion in Todamgol – with a very rustic and unique design which so many of the other eateries were lacking and a very well priced lunch menu, it was time to give it a try.
If you're not to familiar with Korean chow, here's a rundown (based on this humble Nomad's Seoul experience a few years ago): You order a main dish: sizzling beef, bi bim bap, steamed pork, kimchee soup etc etc and it should come with a massive, and very tasty assortment of side dishes. In this aspect, amongst many Todamgol was a shining beacon of authenticity.
Aside from this, the staff are all Korean, all the patrons minus a few were Korean…the background music was Korean and TV at the back was showing Korean shows….Catch my drift yet? It's pretty KOREAN! Oh…and the smell wafting through the restaurant…NICE!…a great blend of fresh steamed rice, sizzling meat, kimchee and that wonderful Korean chili paste which is used in almost everything!
So, down to the food, for lunch you can either get the $22++ set (minimum 2pax) which comes wither over 20 dishes – Holy Moly! Or you can take the slightly less challenging route and select one of their a-la-carte mains…In our case, we chose the Saury fish (grilled spanish mackerel), Bi Bim Bap (vegetarian stone rice bowl) & Bulgogi (sizzling beef)…Each of these was only $12++!!! Remember, they also come with rice and about 8 other side dishes which are included in this $12++..Double Holy Moly!!
So calming down and admiring the decor, the food very quickly started arriving at our table. The rice was accompanied by an incredible (and generously portioned) assortment of varying kimchee, cabbage, eggplant and tofu, anchovies with some delicious sweet egg and vegetables as well…And then out came the first of the three mains, the Saury fish:
A very simple-looking grilled mackerel, it was packed full of flavour and very well done. A light crispness to the fish skin complimented the tenderness of the fish-meat very well. Also, it was pleasantly light, not oily at all.
Second served up was the Bulgogi – Ok, honestly, not the best i've ever had but it certainly wasn't bad…just perhaps lacked a little tenderness. Having said that, towards the bottom of the dish where the juices gathered, it was very tasty. Coming back, I think I would still consider ordering it again…but along with other dishes too.
What was the winner for me is shown above, the Bi Bim Bap. Since going to Korea 3 years ago, this is without a doubt the best version I have had outside Seoul. Well done Chef! The bowl is massive and is brimming with ingredients, all fresh and well prepared. Mixed at the table, it was so warm and comforting. I can just imagine eating it cuddled up on a cold winter night.
All in all,  I was really impressed with Todamgol. The service was friendly and efficient, the atmosphere was unique and most importantly, the food was great and a very reasonable price. I'll be coming back here at my next craving for Korean..I'm curious to check it out at night. Prices are a little more expensive then ($30-45 for a main), but considering that all dishes come with 8+ sides it's still a bargain. And for lunch, how many places can you have such quality food for less than $15 a person and be totally stuffed at the end? Not many.
Have you been to Todamgol Korean restaurant? Let us know what you think in the comments?