Bar Review: Bangkok's #FindTheLockerRoom Presents a Journey through the Past, Present and Future of Classic Cocktails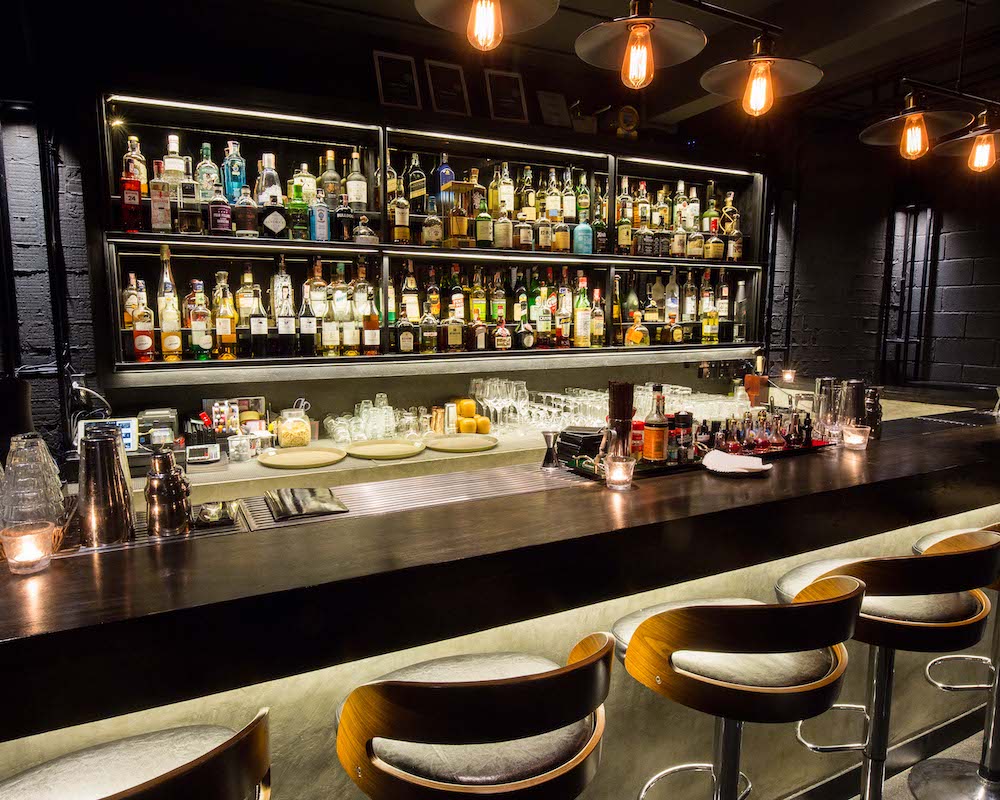 PUBLISHED July 12th, 2019 10:00 am | UPDATED May 18th, 2020 07:10 pm
As the sun starts sinking in the sky, my thoughts turned to an evening tipple. Options are aplenty in the hip district of Thonglor in Bangkok, but I have my eyes on the prize – #FindTheLockerRoom (#FLTR). Cocktail friends seem to be drawn to this speakeasy, deceptively hidden behind a row of gym lockers – and some find it hard to leave. Perhaps it's because it is brainchild of four of Asia's most prolific barmen. Or, that this non-descript shophouse is home to not one, but two distinct bars (and menus). My verdict? The cocktails are good.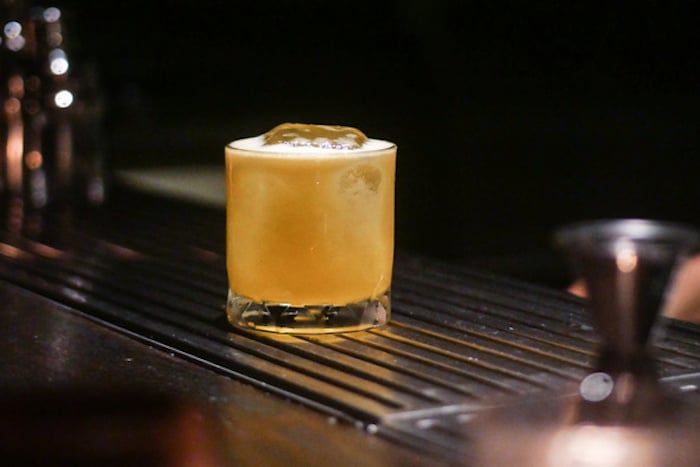 By Colin Chia (Nutmeg and Clove, Singapore), Hidetsugu Ueno (Bar High Five, Tokyo), Nick Wu (Bar Mood, Taipei) and Ronnaporn "Neung" Kanivichaporn (Backstage Cocktail Bar, Bangkok), #FLTR is a masterclass in combining the meticulous art of craft cocktails and an intriguing concept.
The menu at the main bar on the second level offers classic tipples in three renditions that are explorations of the past, present and future. Ueno, with his faithful recreations of classics, for "Past"; Chia and Wu giving guests a glimpse of the modern twists they're oh-so-famous for in "Present"; and Neung adding the final pizazz with curious infusions and new-age culinary touches in "Future".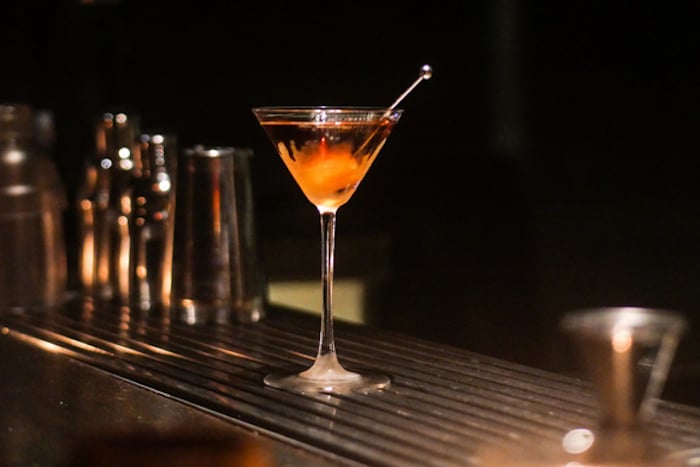 Like any bar worth its salt, the counter seats are where all the action takes place. There, a barman skilfully whips up my trio of Matadors with unflappable ease.
Ueno's Matador (THB390) is a showcase of pure skill, marrying zesty pineapples with herbal notes in tequila. Dear Juan Gallardo (THB420) soon follows (chronologically, as per the menu) and ups the ante with mezcal. The burst of smoke, floral and spice is further accentuated with a pineapple cube garnish that's been fermented in rosemary, jalapeno and honey.
Taking the fruity concoction further is the Bullfighter (THB420), topped with delicate cloud of Ardbeg foam. It's an absolute standout with that hint of peat and salinity drawing out the underlying sweet and sour notes. It is a stunningly beautiful cocktail for the eyes and the palate.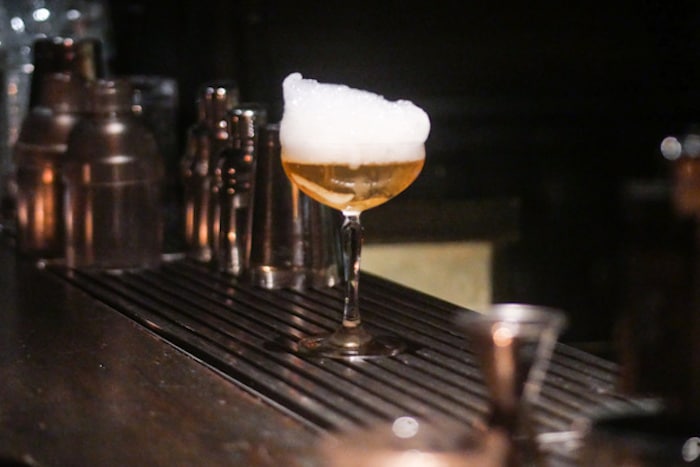 I can delve more into each trio, but the fun is in exploring and educating yourself on the seemingly endless list of cocktails. #FindTheLockerRoom aims to introduce other classics and their edgy renditions with each menu update. The nostalgic bunch wanting a taste of the previous offerings can still try their luck. Should the ingredients be available, they are always happy to dole out old favourites like The Harakiri, their well-loved futuristic take on the Bloody Mary.
Downstairs, on the other hand, is where you'll find their oft-overlooked "secret" bar. Boasting a more sophisticated vibe, it was previously home to the Remy Bar, which as its name suggests, is all about Remy Martin VSOP. The Botanist (artisanal Islay gin from Bruichladdich Distillery) is up next, and will follow the same format; a succinct menu that promises to be every bit as mind blowing as the main bar.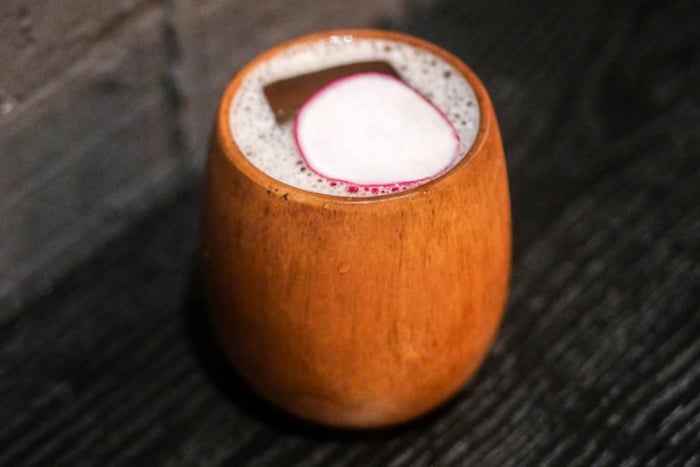 The quartet behind the establishment know what they are doing and do it incredibly well, earning its well-deserved must-try status for locals and travellers alike. Chances are, you won't find them there, but they've got a solid team churning out quality tipples to thirsty imbibers with class.
#FindTheLockerRoom is located at 406 Sukhumvit Soi 55, Thonglor, Bangkok, Thailand, p. +66 61 524 2689. Open daily, 7pm-2am.