10 Questions with Chris Hwang: The Brains Behind The Golden Duck's Worldwide Success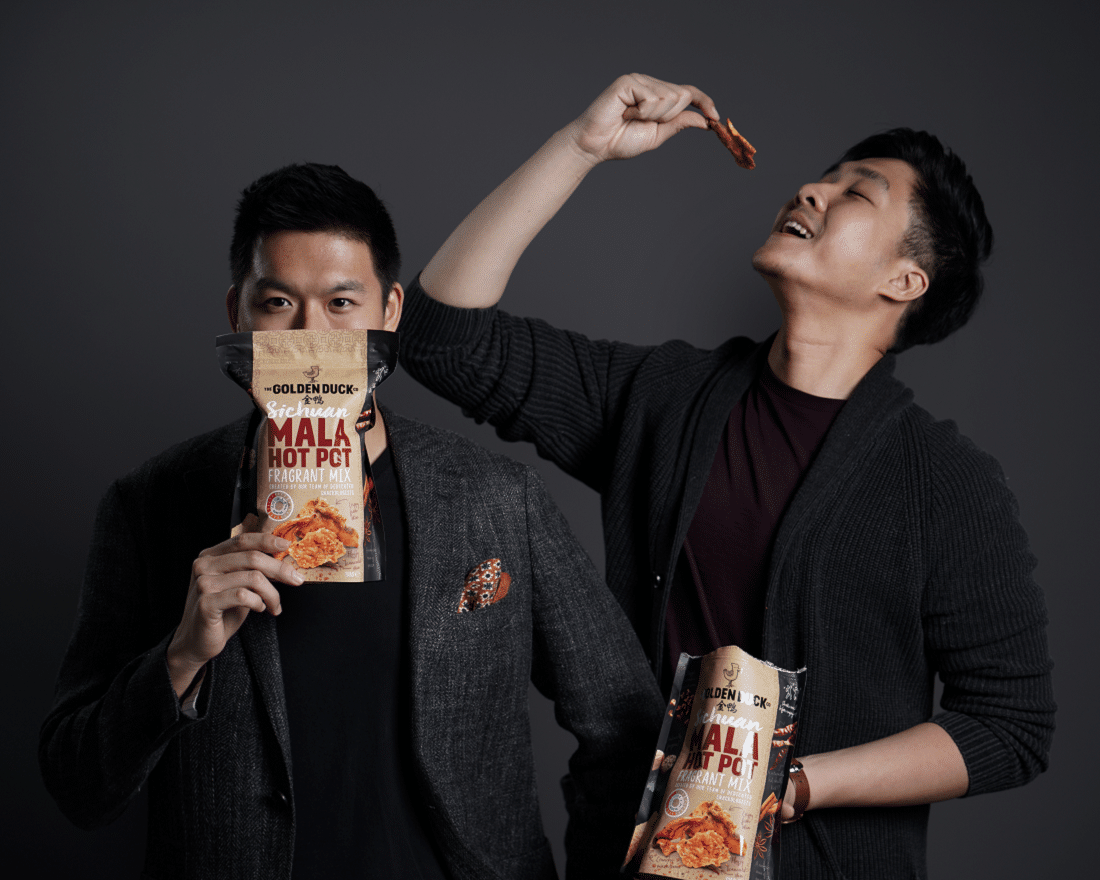 PUBLISHED July 12th, 2019 05:00 am | UPDATED May 18th, 2020 04:54 pm
From luxury popcorn, to salted egg fish skins, to diet-friendly desserts, we can't get enough of snacks. And because we love some posh nosh for TV time, especially when it's savoury, we sat down with Chris Hwang, one half of the iconic duo behind The Golden Duck, for an inside scoop with the creator and distributor of the latest salted egg snack sensation across the nation and beyond.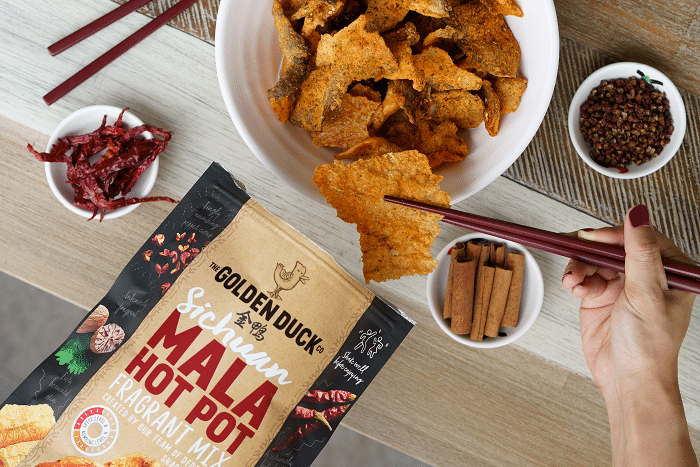 Hi Chris! Where'd the name "The Golden Duck" come from?
We went through multiple names but decided on The Golden Duck. "Gold" borrows from the rich Asian traditions that we build our flavours from, and we set out to be the leader in the gourmet snacks space from day one. We aren't afraid of shaking up the traditional snacks industry and really pushing the limits of what a snack can be. "Duck" actually comes from the eggs that are used for our salted egg snacks. The richest flavours can only come from salted duck eggs that have been cured to a beautiful golden orange. That's how we landed on the name.
Since then, we've continued to launch an assortment of other gourmet flavours like – Singapore Chilli Crab and Mala Hot Pot, we aim to be a brand that creates a selection of delicious, authentic snacks – a brand Singaporeans can be proud of.
You've dabbled in bar concepts in the past. Was your jump into snack foods somehow motivated by the need for the perfect bar snack?
The snacking industry called us as we explored concepts that were trendy – we found that in food, you can create staples for everyday consumption far more than that in entertainment outlets. For example, the best bars have to continually innovate and reinvent themselves, but the best-selling snacks have been around for more than 20 years!
We wanted to enter a business that could scale, since having run and invested in retail F&B outlets, we knew the pains of being limited by needing lots of cash to open and refresh such concepts.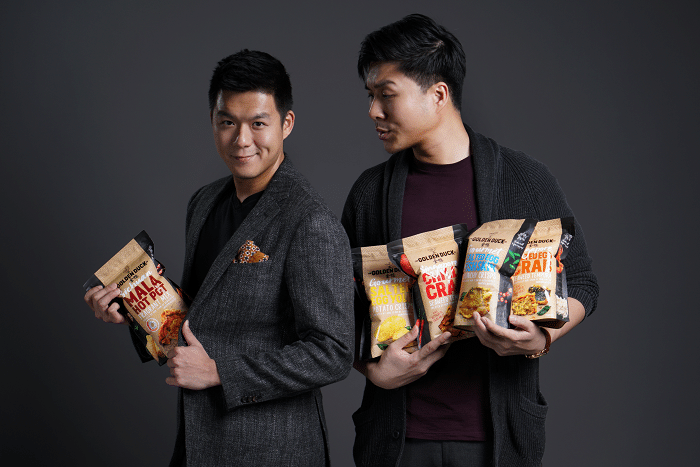 You must be a real snack connoisseur; what do you think are the characteristics of a perfect snack?
I wouldn't call myself a connoisseur but I do snack a lot. It's a job hazard nowadays that even eating normal meals I find myself asking if we could do this as a snack – or borrow on some of the flavours and mediums in elevating the next snacking experience. I always believe snacks shouldn't be viewed as a guilty pleasure, it should be viewed as soul food. I also believe the perfect snack will harness emotions, creating a sense of wonder, anticipation, surprise, and amazement, turning adults into kids.
But if I had to narrow down a perfect snack into a few key criteria, it would be: the initial smell when you open a pack, e.g. seaweed tempura smells like seafood and mala hotpot hits you with the Sichuan spices and peppers, that "food-porn" style look, perfectly balanced flavours – with the first few pieces leaving you wanting more, and the ability to let you get through half the pack without feeling jelat (a colloquial term describing overwhelmingly rich foods).
Just out of curiosity, what's your favourite childhood snack?
Probably Mamee Monster, and in my teens Lay's salt and vinegar.
Did you always love savoury snacks? Or do you also have a sweet tooth?
I'm definitely a savoury snacks guy! I had a sweet phase but grew out of my chocolates pretty quickly.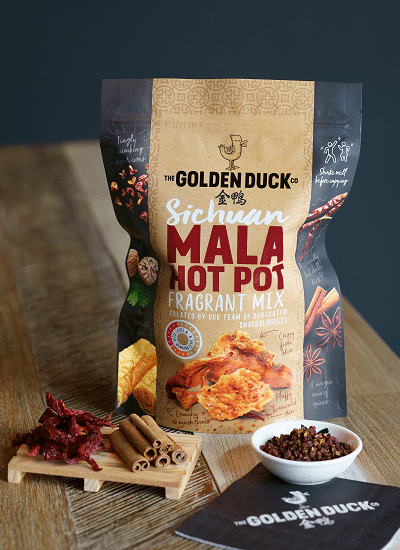 The Golden Duck now has a worldwide reach. Were the non-Asian markets apprehensive about such uniquely strong flavours?
We have a physical presence in five markets and deliver to twenty over markets via e-commerce. The flavours were uniquely Asian – as you can imagine both the flavours and the medium (fish skin – oh the horror!) were a little surprising to the non-Asian public, but we've seen uptake improve tremendously in the last year or so.
Westerners generally prefer our Chilli Crab Seaweed Tempura due to its mix of sweetness and spice. Meanwhile, Asian consumers remain drawn towards our salted egg range; but we also observe a big shift towards other flavours such as Salted Egg Crab Seaweed Tempura or Sichuan Mala Hot Pot Fragrant Mix as they are not your usual flavours commonly available.
From 50 packets a day to selling over 10,000 packets of snacks per week, what do you think makes Golden Duck so popular?
I think people really follow their taste buds. A simple mantra of uncompromising quality is what drives this brand forward, day after day. In addition to taking great care in building flavour in our chips, we constantly invest in showcasing TGD as a brand that contributes to the snacking culture in Singapore and within the region. Our entire company also has personality that comes through the way we engage with and take care of our customers.
Listening to what our customers want is key to our success. Our recent Sichuan Mala Hot Hot Pot Fragrant Mix snack was created as it came up as one of the top results in our customer polls and because our customers have always asked us to do a spicier snack. With The Golden Duck you're no longer buying into a functional snack to satiate your appetite but buying into a promise – a promise for better snacks.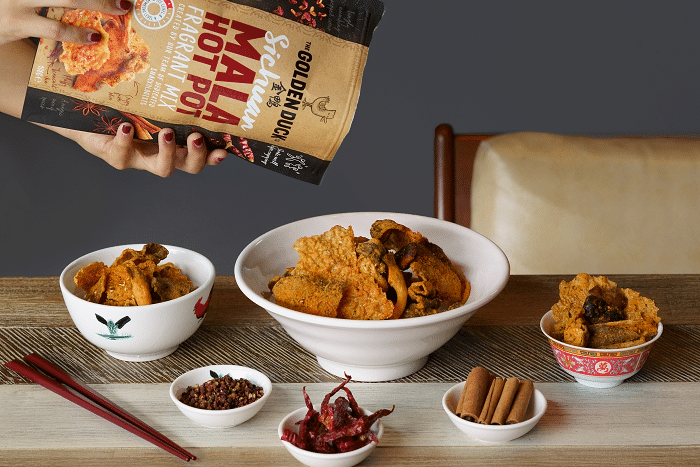 What makes it stand out from the competition?
Authenticity, definitely. We place a huge emphasis on capturing the flavour and essence of beloved dishes in our snacks. Our snacks are meticulously crafted using real ingredients sourced from around the region – one can find actual crabmeat, or shiitake and oyster mushrooms, or beancurd skin in our packs. Given that we started this whole snack movement in Singapore, we've had a lot more time to grow and develop as a company.
We're also always looking to perfect our recipes – honing our craft and using real ingredients to produce premium quality snacks. We place emphasis on fresh, quality and real ingredients, engage heavily in R&D and work with chefs to develop new recipes. We source hard for the freshest salted eggs and curry leaves.
We constantly find new ways to engage and excite with the perfect snacking experiences. Recently, we launched a secret snack amongst our community of fans that is you can only win by playing a game on our website. Saving the world from bland, boring snacks is our ethos and we always want to challenge the traditional model of the FMCG industry – we'll make sure we make it to be game-changing.
Any plans for new flavours any time soon?
You'll have to check out our Instagram to find out @thegoldenduck.sg! We're always looking to launch new flavours – but because we're so particular about capturing the accuracy of a dish in each flavour, trust me when I say that all good things come to those who wait.
The Golden Duck is available island-wide, and you can purchase them online here.