Bar Review: Vesper Is The Most Progressive Cocktail Joint in Silom, Bangkok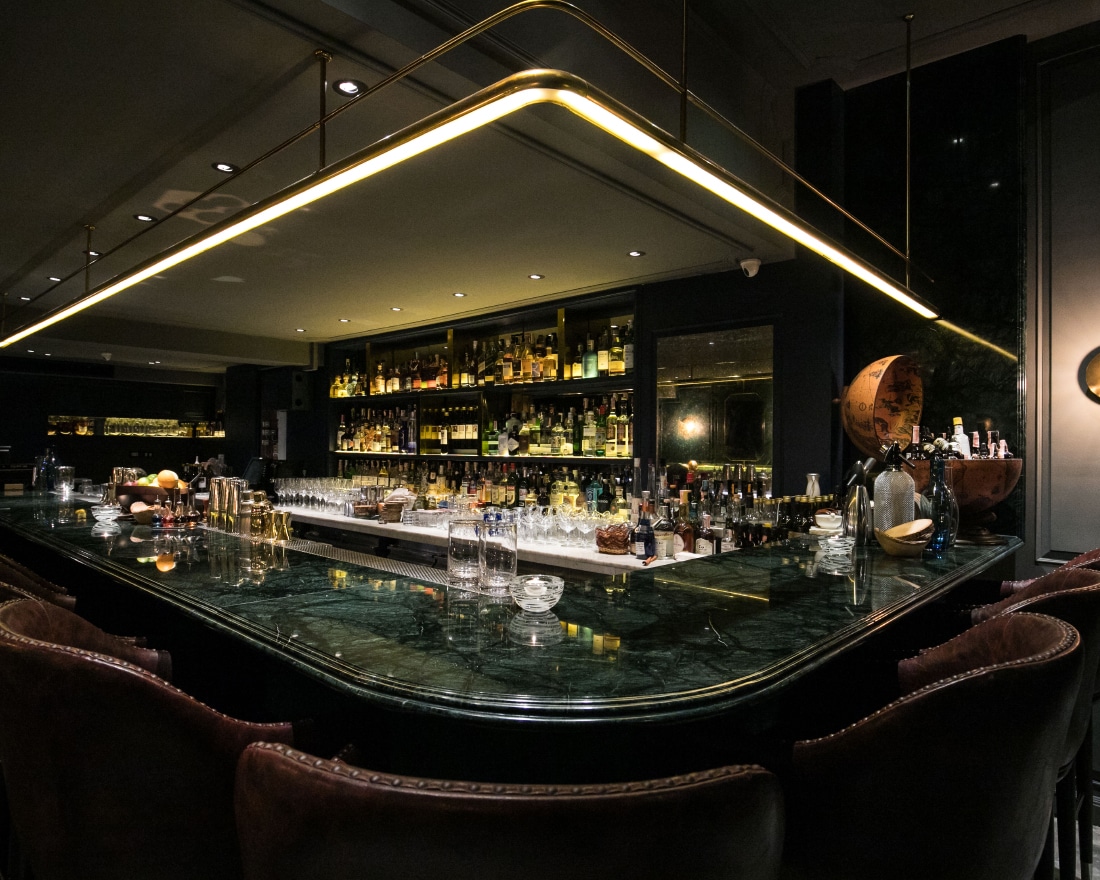 PUBLISHED May 16th, 2019 07:00 am | UPDATED May 18th, 2020 07:10 pm
When Vesper first launched its 'Art Book' series at the end of 2016, it was the talk of the Bangkok cocktail scene. Along with names like Rabbit Hole and Teens of Thailand — both of which opened earlier that year — it marked the maturity of the city's nightlife, and at the same time, the drinking tastes of the upper-middle class Thai population.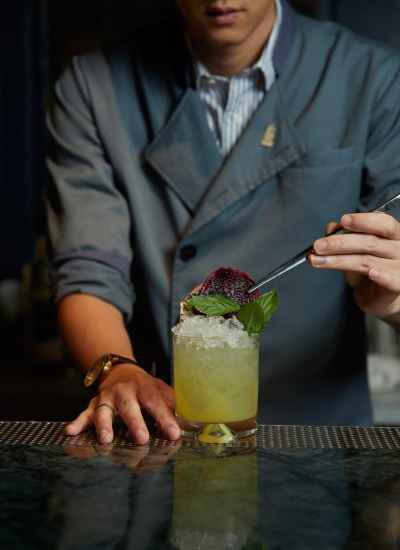 This suave destination in Silom takes its name from James Bond's favourite martini and comes inspired by the classiest bars in London, like Dukes. What used to be a sprawling space has now been halved, as owners Choti and Debby Leenutaphong dropped the restaurant section to become a full-fledged cocktail bar. There are daft punk lights, green marble, and pink chairs, like a retro bar in London's most eclectic neighbourhood — Notting Hill, we're looking at you.
The man behind the counter is 'Palm' Supawit Muttarattana, a recent winner of the Campari Bartender Competition 2018. He's also the Group Bar Manager of Foodie Collection, the people behind natural wine bistro Via Maris and 80/20, the market-to-table restaurant along Charoenkrung. Palm recently debuted 'East Meets West', which marks the third and final edition of Vesper's foray into the art world before the team embarks again on a new series.
What you have to know is that the Art Book series doesn't attempt to visually imitate the masterpieces themselves — that would be suicidal for the bartenders. Palm tells us that his drinks offer a new perspective into the meaning of each piece, and needless to say, his team has spent countless hours pouring over art books. This time, Palm opts for contemporary artists of the late 20th and early 21st century — think Will Cotton and Damien Hirst. What's more, the works of Asian artists are also incorporated.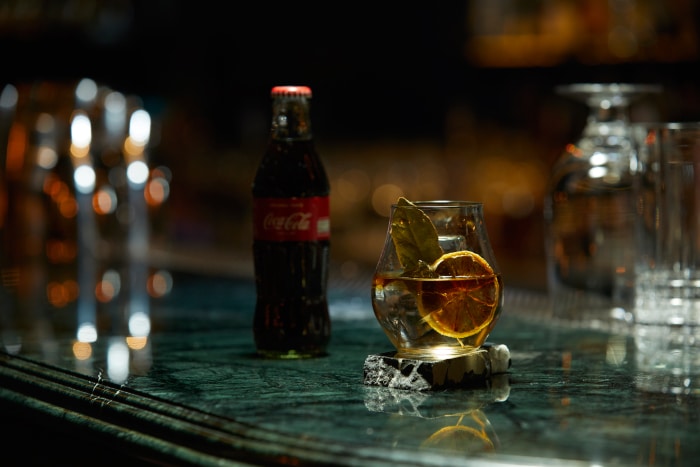 Ai Weiwei's anti-capitalist Coca Cola Vase (2011, THB400) is now a curious concoction of dark rum (Diplomatico Reserva Exclusiva) infused with monkfruit (luo han guo) and clarified Coke. A touch of Sichuan pepper adds amazing floral and citrus notes and some heat. From much further back, Hokusai's Fine Wind, Clear Morning (1805, THB390) expresses the natural beautiful of Japan with a crisp vodka (Ketel One), amping it up with grapefruit juice and bonito flakes for a hit of acidity umami. Palm then drops some Tabasco inside, because who doesn't like its hearty vinegar notes and spicy kick?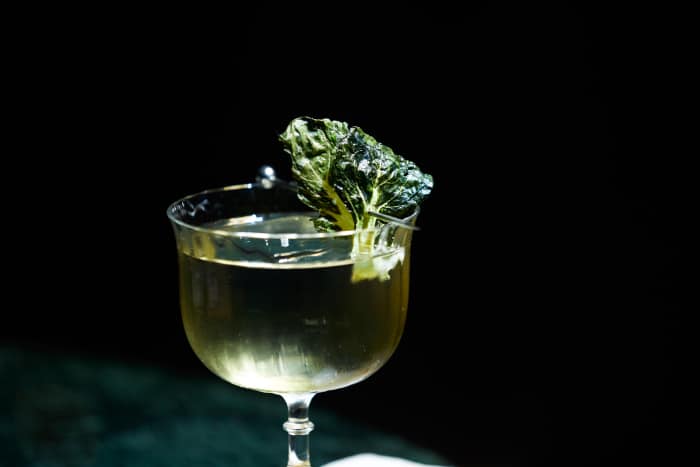 There's even a clever interpretation of the treasured Jadeite Cabbage(late 1800s, THB420) housed in Taipei's National Palace Museum, transformed into a crystal-clear drink of Four Pillars Dry gin, genmaicha, blended vermouth, and niam leaf — a Thai indigenous herb reminiscent of pandan. Likewise, Palm examines the motif of life and death in Damien Hirst's The Physical Impossibility of Death in the Mind of Someone Living (1991, THB440) in a spirit-forward mix of The Botanist Gin and oolong-fermented tequila (Jose Cuervo Reposado) rimmed with charcoal, and orange lime salt. It's strong but draws us in with every sip.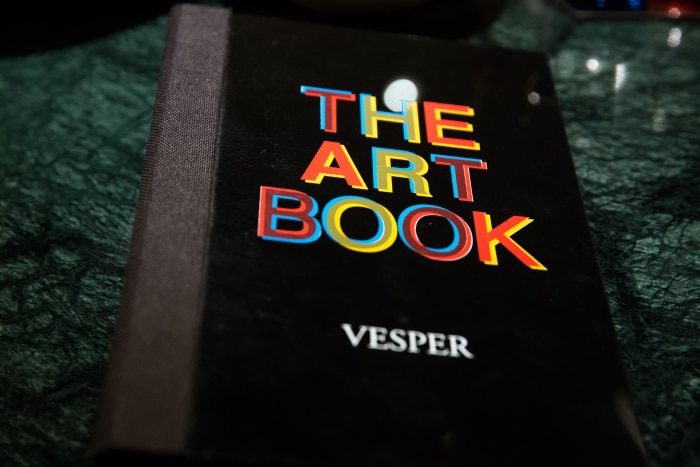 The new menu has been almost a year in the making — a result of Palm playing around with locally grown ingredients and the latest techniques from the culinary world. There are 12 glorious cocktails to show for it, and while they are daring and unconventional, it's unlikely they will appeal to everyone's liking. But in a place like Vesper, where the city's coolest drinkers gather to the background of disco Motown and cocktails being shaken, we don't expect anything less than adventurous.
Vesper is located at 10/15 Convent Rd, Khwaeng Silom, Khet Bang Rak, Krung Thep Maha Nakhon 10500, Thailand, p. +66 2 235 2777. Open Mon-Sat 5.30pm – 1am, Sun 5.30pm – 1am.