Best Bars in Taipei City: Where to Drink Cocktails, Wines, and Beers in Taiwan's Capital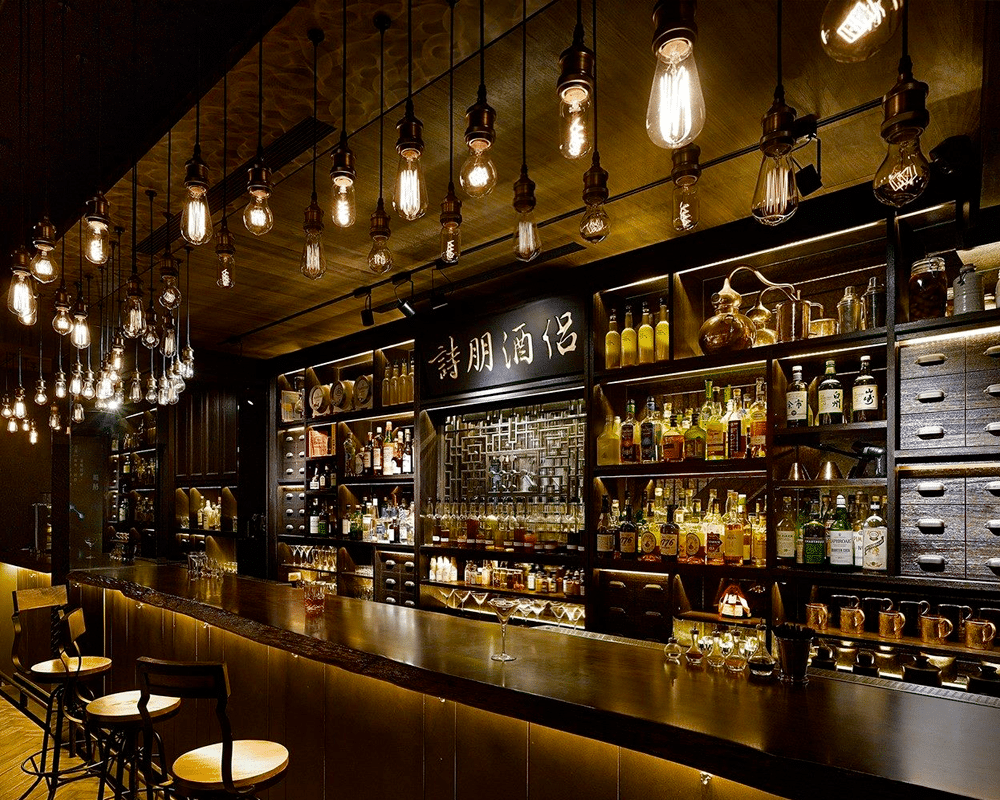 PUBLISHED June 6th, 2018 07:00 am | UPDATED May 18th, 2020 06:55 pm
None of the liveliness that permeates Taipei during the day is lost when dusk beckons. A different side to the city emerges as residents and vacationers alike switch gears for an endless night out, taking their pick from a vast variety of poolside lounges, rooftop bars, jazz venues and speakeasies. The city's thriving nightlife scene offers an experience not to be missed, and we uncover the highlights you need to check off your list.
For Cocktails
R&D Cocktail Lab

Don't be fooled by the nondescript exterior of R&D Cocktail Lab. Step in, and you'll be greeted by the sight of an Asian-themed bar complete with a wooden bar counter and medicine cabinets. Just like the food, the cocktails are thoughtfully prepared, using seasonal ingredients that are sourced locally. Tart flavours like strawberry and passion fruit feature strongly during the winter months, while mango-infused drinks are popular summertime flavours. The crowd favourite: Mango Agogo, a mango-rum beverage with mango sorbet and syrup.
R&D Cocktail Lab is located at No. 36, Jiaxing St, Da'an District, Taipei, Taiwan. Open Tue-Thu 7pm – 2am, Fri-Sat 7pm – 3am, Sun 6.30pm – 12.30am. Closed Mon.
Indulge Bistro

It wouldn't be justice if Indulge Bistro didn't get on this list – after all, it took second place on the Asia's 50 Best Bars 2018 list and ranks 28th on last year's World's 50 Best Bars. At Indulge's helm is three-time champion mixologist Aki Wang as he leads his team to shake up trendy concoctions marked by distinct Taiwanese ingredients and flair. Give the beloved Mar-Tea-Ni a try, which features a signature oolong-tea infused vermouth, or the Club Vieux Carre with fermented tea bitters.
Indulge Bistro is located at No. 11, Lane 219, Section 1, Fuxing South Rd, Da'an District, Taipei, Taiwan, p. +886 2 2773 0080. Open Sun-Thu 6pm – 2am, Fri-Sat 6pm – 3am.
Alchemy

A visit to Alchemy might fool you into thinking you've travelled back in time. Make your way past a vault door, followed by a hidden door made to look like a bookcase and you'll arrive at the intimate, low-lit interior of the speakeasy bar. With soothing jazz tunes playing in the background, the menu lists out a selection of unique cocktails made using Asian ingredients like chrysanthemum, sake and miso along with appetisers and mains.
Alchemy is located at 2/F, No. 16-1, Section 5, Xinyi Rd, Taipei, Taiwan, p. +886 953 585 759. Open Sun-Thu 8pm – 2am, Fri-Sat 8pm – 3am.
Marquee

With its glamorous golden interior, top-notch mixologists, and excellent curation of DJ and live music acts, it's unsurprising that Marquee draws in a trendsetting crowd – which often includes the city's socialites and celebrities. From the posh, Victorian-style decor, to themed nights and impeccably crafted beverages like a Lavender Whiskey Sour and Violet Sangria, you'll find that Marquee has all the right elements for a lavish night out.
Marquee is located at No. 16-1, Sec. 5, Xinyi Rd, Xinyi District, Taipei, Taiwan, p. +886 2 2729 5409. Open daily 11.30am – 2am.
For Beers & Wines
Driftwood
Looking for a unique venue to unwind in the evening? You've got to visit Driftwood, an aboriginal bar nestled amidst the alleyways behind the shopping district of Gongguan. Natural wood and materials feature heavily in the decor, creating an interior that feels cosy and inviting. The menu lists an extensive variety of beers and wines, along with a small selection of aboriginal dishes and snacks. Stop by during the weekends to catch live performances by aboriginal bands.
Driftwood is located at No. 46, Kunming St, Wanhua District, Taipei, Taiwan, p. +886 2 2388 3699. Open Mon-Thu 5pm – 11.30pm, Fri 5pm – 1.30am, Sat 3pm – 1.30am, Sun 3.30pm – 11.30pm.
Tipsy Taipei Cafe&BAR

Travelling solo, and seeking out a laidback venue to mingle with vacationers and locals? Tipsy Taipei Cafe&BAR may be just the place that checks off all the right boxes. The vibes here are casual and unfussy, and the location – adjoining a hostel – keeps a stream of travellers coming in. Apart from its varied selection of unique craft beers, what makes Tipsy Taipei stand out is its calendar of events, which includes festive parties, craft beer nights, and cultural exchanges.
Tipsy Taipei Cafe&BAR is located at 10045 Zhongzheng District, Taipei, Taiwan, p. +886 2 2370 5908. Open Mon-Tue 9am – 5pm, Wed-Thu 9am – 10pm, Fri 9am – 12am, Sat-Sun 9am – 11pm.
Le Zinc Café & Bar

Le Zinc Café & Bar is the sort of venue that hits all the right notes when you're in the mood for a relaxed evening filled with engaging conversations, tasty fare and excellent wines. Hidden away along an alley in the quaint district of Dadaocheng, the wine bar may not be the easiest venue to locate for first-time visitors – but its quiet, intimate ambience makes it well worth the effort. Highlights on the menu include a selection of imported wines from countries like Israel, Slovenia, and Moldova, mulled wine (available during winter), and gourmet platters featuring cheese, breads and cured meats.  
Le Zinc Café & Bar is located at No. 67, Section 1, Dihua St, Datong District, Taipei, Taiwan, p. +886 2 2552 1367. Open Tue-Sat 10am – 12am, Sun-Mon 10am – 7pm.
For the Vibes
WET Bar

The ultra-chic WET Bar boasts a modern decor, an immaculately landscaped poolside lounge, a heater outdoor pool and uninterrupted city vistas over the bustling Xinyi District (it's located at the tenth floor of W Taipei). It's the venue of choice for a hip and stylish crowd looking to chill out to live DJ acts, enjoy alfresco dining or sip sundowners while catching a spectacular sunset show.
WET Bar is located at 10 Zhongxiao East Road Sec. 5, Xinyi District, Taipei, 110, Taiwan, p. +886 2 7703 8888. Open Sun-Thu 7pm – 1am, Fri-Sat 7pm – 2am.
Blue Note

With a lineup of live gigs by local and international musicians on most nights of the week, Blue Note is the to-go venue for jazz lovers. The interior is cosy and inviting, with jazz albums and framed portraits of musicians adorning the walls. You'll also find a selection of beers, cocktails, whiskeys, wines and light nibbles on the menu. Due to the venue's popularity and intimate size, it's best to arrive early to snag a table before the crowds flock in.
Blue Note is located at No. 171, Section 3, Roosevelt Rd, Da'an District, Taipei, Taiwan, p. +886 2 2362 2333. Open daily 8pm – 12.30am.