Best Chinese Hotpot Restaurants in Singapore: Steamboat Spots with Sichuan Mala, Collagen, and Nourishing Broths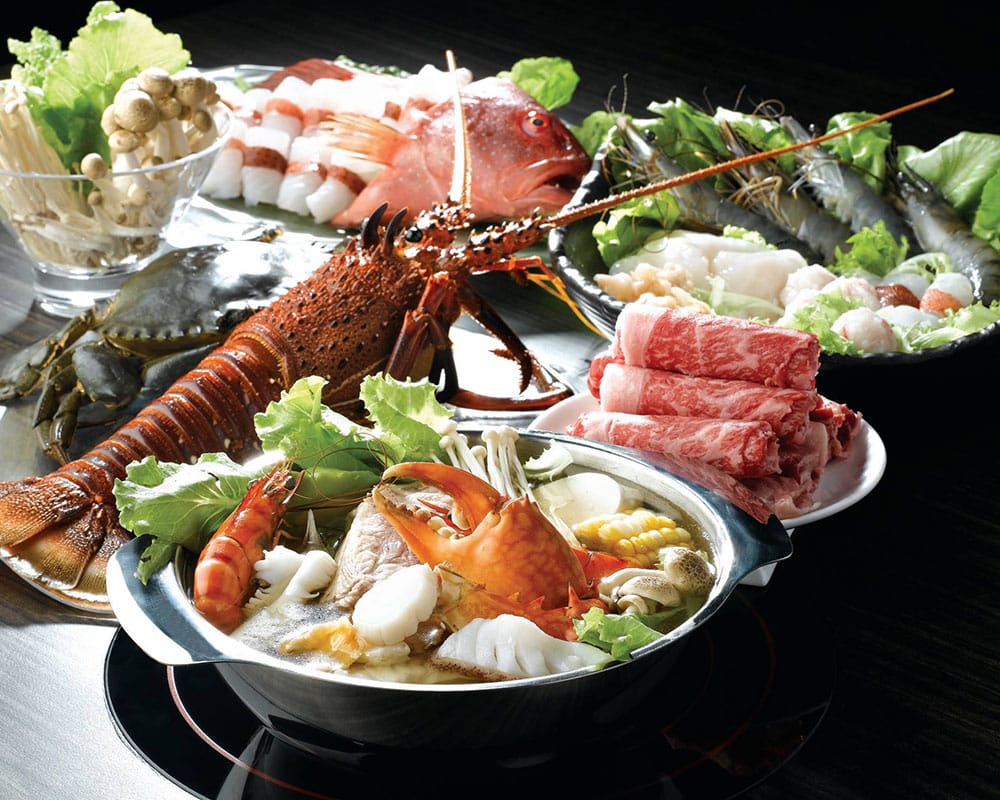 PUBLISHED February 27th, 2018 06:00 am | UPDATED March 2nd, 2018 01:25 pm
Despite our year-round tropical climate being more suited to frozen sweet treats or ice cold beer, our Singaporean propensity for all things soupy is hard to defy. There are just some days you just want to sit around a steaming pot of broth with friends and family, accompanied by fresh slices of meat, vegetables and other handmade goodies. From collagen-rich bases to the now-popular Sichuan mala, we narrowed them down to the best.
Beauty in The Pot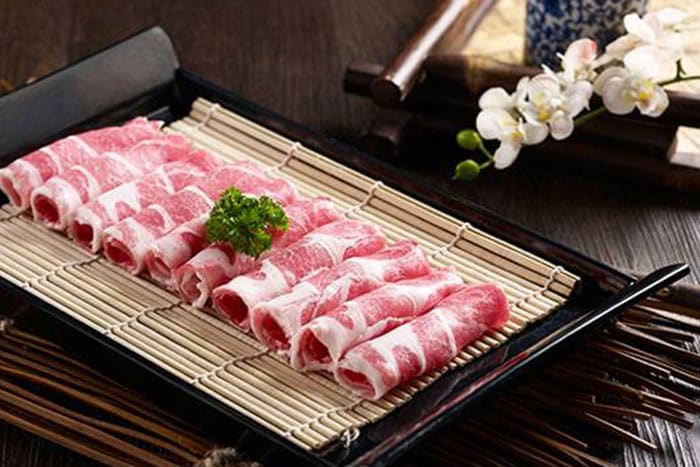 It's said that collagen is good for the skin – and that is in abundance at Beauty in The Pot, where their nourishing soups are served protein-rich with health benefits. Offering yin and yang soup bases Beauty Collagen Broth and Spicy Nourishing Broth free-flow, feast on handmade offerings such as Fish Tofu and Fried Beancurd Skin, accompanied by a wide selection of fresh vegetables, fish and meat.
Beauty in The Pot is located at #02-21 and #03-38 OneKM, 11 Tanjong Katong Rd, Singapore 437157, p. +65 6703 2542 and +65 6284 8820 respectively, as well as #05-14/16 The Centrepoint, 176 Orchard Rd, Singapore 238843, p. +65 6235 3557. See here for individual outlet opening hours.
Shang Pin Hot Pot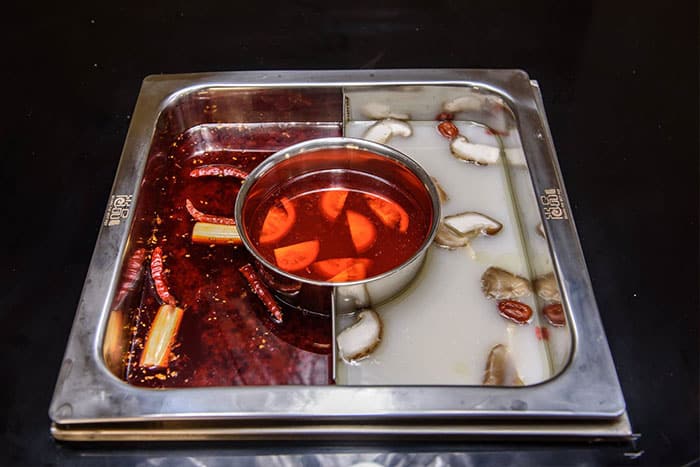 If two soup bases aren't enough, go for a trio of broths at Shang Pin Hot Pot, located in Rendezvous Gallery. Featuring assorted fresh meats and vegetables as well as over 20 condiments is available for you to customise your own sauces, they offer four bases, from the herbal Black Chicken and tangy Tomato to the rich Pork Bone and spicy Sichuan Mala that each bring out different nuances in the ingredients. Bring down a large group to share all three soups – Shang Pin is generous while being affordable at the same time.
Shang Pin Hot Pot is located at #02-02 Rendezvous Gallery, 9 Bras Basah Road, Singapore 189559, +65 6238 7666. Open 12pm – 12am daily.
Xiang Cao Yunnan Original Ecology Hotpot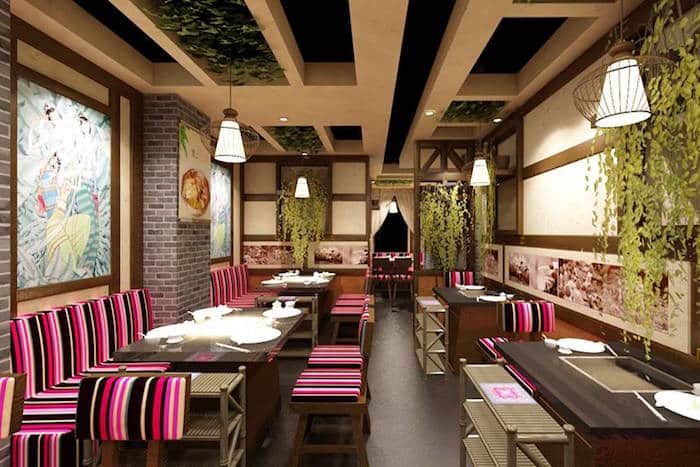 This one's for folks who like their soup bases to be neither oily nor overpowering. The name might be quite a mouthful, but it's one of the few places in Singapore that focuses on Yunnan cuisine, of which a big part is mushrooms. Some of mushrooms on the menu, we guarantee, you won't have heard about before eating at Xiang Cao (like Morchella and Dictyophora indusiata). The buffet option is affordable enough at $22.80++ and $25.80++ per person on weekdays and weekends respectively; however if you enjoy your premium meats, we recommend going a la carte.
Xiang Cao Yunnan Original Ecology Hotpot is located at 26 Liang Seah Street, Singapore 189047, p. +65 6635 8243. Open Mon-Thu 11.30am-1am, Fri-Sat 11.30am-2am, Sun 11.30am-1am.
JPOT
Under the same umbrella of restaurants as the popular Jumbo Seafood, JPOT features a wide variety of hotpot soup bases using local flavours and ingredients. From mild to very spicy, customise your hotpots – each guest gets their own pot to savour the various soups of Bak Kut The, Herbal, Laksa, Tom Yum and JPOT's very own Superior Broth. Cook up the fresh seafood and meat and enjoy a delectable meal matched with the various dips available at the condiments bar.
Jpot is located at 1 Harbourfront Walk, #01-53 Vivo City, Singapore 098585, p. +65 6273 3536; and 10 Tampines Central 1, #03-16 Tampines 1, Singapore 529536, p. +65 6532 3536.Opens Mon-Fri 12pm – 3pm, 5.30pm – 11pm, Sat-Sun 11am – 11.30pm (Vivo City); daily 11am to 11pm (Tampines 1).
(Vivo City)
(Tampine 1)
The Magic of Chong Qing Hot Pot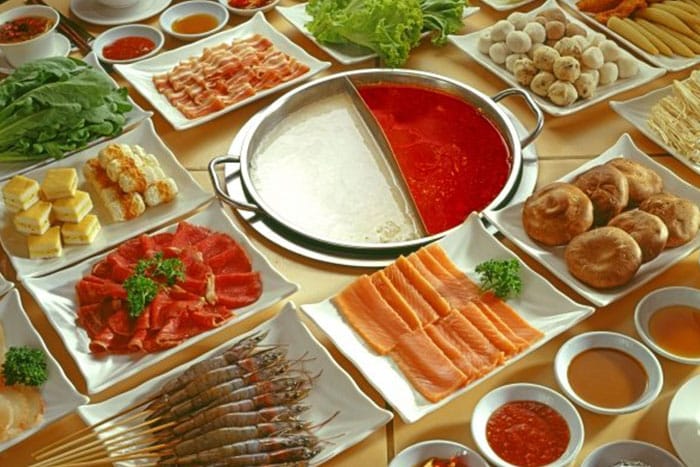 Tucked away in Tanglin Shopping Centre, the pioneer of Sichuan hotpot in Singapore has been going strong for over 20 years. Presenting the famed Ma La Tang and Old Faithful Chicken Stock since 1994, you'll receive an authentic hotpot experience when you dine here – in between drinking up the tongue-numbing broth, cleanse palates with small bites and slather the restaurant's signature sauce over the cooked bites for an enhanced flavor, as well as end of the meal with Eight Treasures Tea to reduce heat after the spicy meal.
The Magic of Chong Qing Hot Pot is located at 19 Tanglin Road, #04-06/07 Tanglin Shopping Centre, Singapore 247909, p. +65 6734 8135. Opens daily 12pm – 3pm, 6pm – 11pm.
Hai Di Lao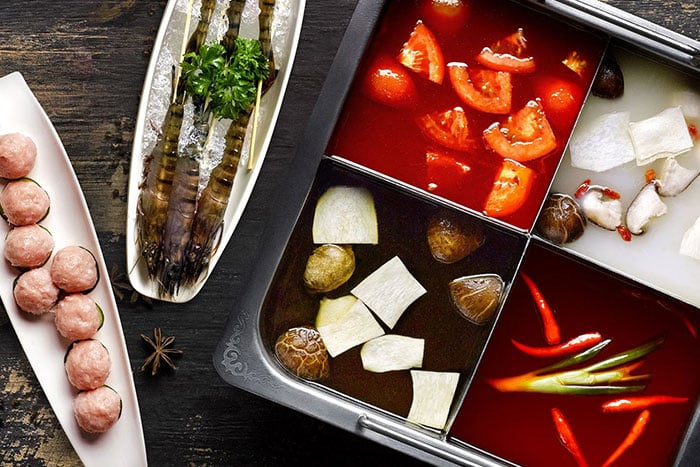 The popular go-to for mala hotpot with five outlets around the island, Hai Di Lao makes the addictive heat-laden broth as they do in China – the original Hai Di Lao opened in 1994 in Sichuan, and has since expanded to other cities in and beyond the country. Here in Singapore, they boast four soup bases of Tomato, Chicken, Mushroom and Seafood, along with a wide list of ingredients from meat and vegetables to soybean products and seafood to cater to all kinds of tastes. We recommend going for the specialties to spice up your dinner – in this, the Tofu Pudding and Handmade Cuttlefish Cakes come to mind.
See here for all outlet addresses and opening hours.
Imperial Treasure Steamboat Restaurant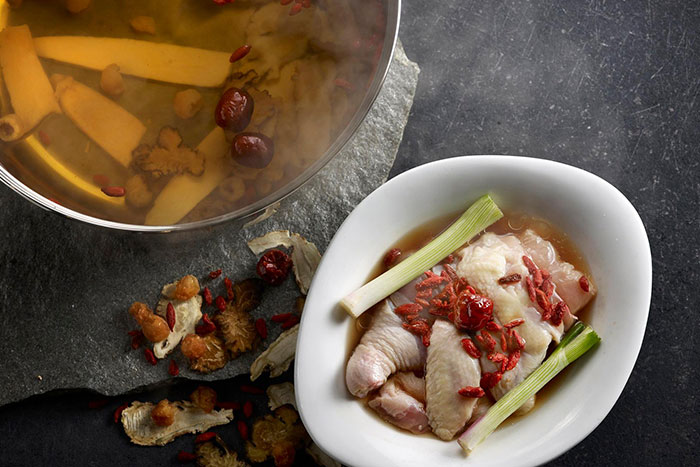 For a posh spot to dine, Imperial Treasure Steamboat Restaurant offers up signature soups and options perfect for indulging in steamboat. Situated in Ion Orchard and Great World City, premium produce such as tiger king prawn and abalone get their time to shine, and bases are made daily from scratch and simmered for hours to bring out the best in flavours. Have yourselves their Four Treasure Ball Platter, handmade from prawn, cuttlefish, pork and canton dace fish daily, in any of their six available soups, from Century Egg & Parsley Soup for a traditional taste to Satay Flavour Soup for something more local.
Imperial Treasure Steamboat Restaurant is located at 1 Kim Seng Promenade, #01-37 Great World City, Singapore 237994, p. +65 6235 6008; and 2 Orchard Turn, #04-09/10 ION Orchard, Singapore 238801, p. +65 6636 9339. Opens Sun-Thu 11am – 3pm, 6pm – 11pm, Fri-Sat 11am – 3pm, 6pm – 12am (Great World City); daily 11am – 3pm, 6pm – 11pm (ION Orchard).
Hua Ting Steamboat
Not a fan of spice? Unlike a myriad of meaty, Sichuan hotpot spots already on this list, Hua Ting in Claymore Connect is well-known for their fish-based soups that will warm you to your toes. For lunch, grab the mini Fragrant pots for a quick hearty meal of fish and glass noodles such as the Stir-Fried Sea Perch with Chef's Homemade Sauce, while dinner sees the bigger pots where you can watch the fish simmer as you add more ingredients in, like in the Superior Fish Soup with Wintermelon and Canopy.
Hua Ting Steamboat is located at 442 Orchard Road, #01-08 Mezzanine Level Claymore Connect, Singapore 238879, p. +65 6739 6628. Opens daily 11.30am – 2.30pm, 5.30pm – 10.30pm.
Hai Xian Lao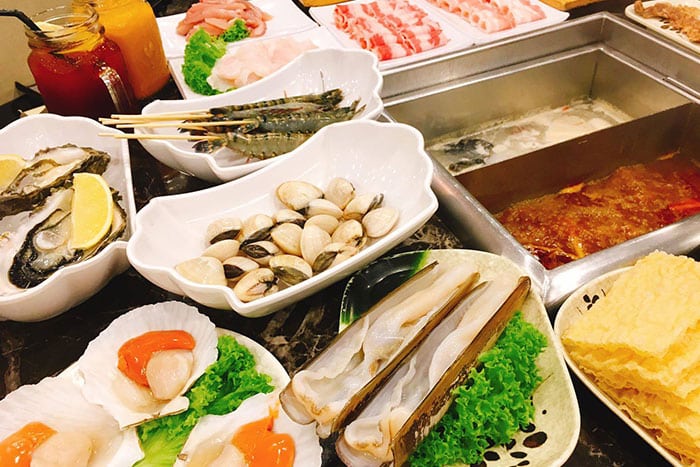 If you're not sure of what to go with your soups, a buffet not too hard on your wallet is Hai Xian Lao's dinner spread. For an affordable price of $34.80++, a diversity of soups, seafood, meat and other steamboat essentials are at your disposal within a two-hour time limit. Enjoy fresh picks of Spanish fruit-fed pork belly and collar, live tiger prawns, green mussels and housemade tofu in specialty broths such as Tomato, Laksa and Healthy Collagen (additional $3).
Hai Xian Lao is located at 8 Wilkie Road #01-21, Singapore 228095, +65 6509 6194. Opens daily 11am – 5am.

Top image: JPOT