Best Chinese New Year Takeaways and Goodies In Singapore To Bring Home In 2019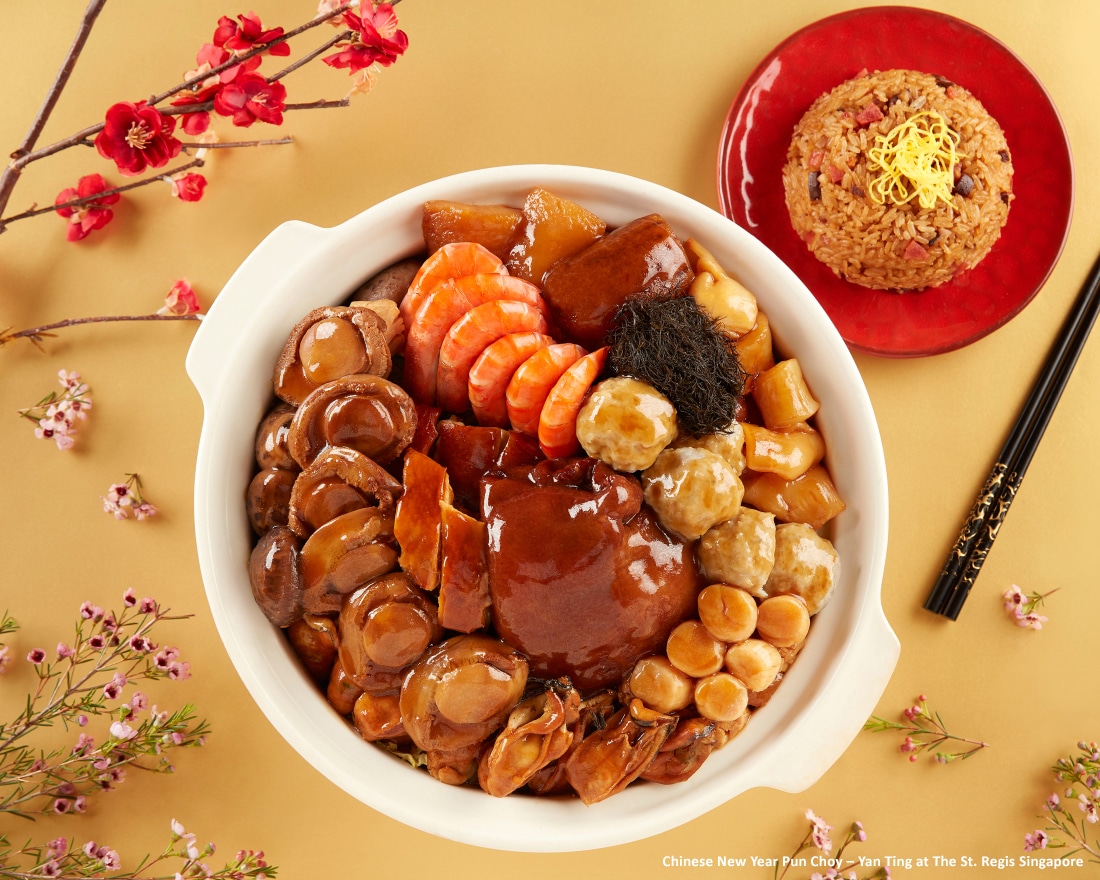 PUBLISHED January 14th, 2019 12:28 pm | UPDATED January 22nd, 2019 09:41 am
It mildly pains us to jump on the bandwagon of Chinese New Year puns, but is there a better time to pig out than the Year of the Pig? Whether it's bountiful platters of yu sheng and roast meats, pots chock full of luxurious ingredients, or goodies for when guests visit, hotels and restaurants around Singapore are already busy taking orders. Here are seven things (and more) you'll want to stock up on.
Hong Bao, Antoinette
$25+

An edible red packet? Yes, please. Antoinette's talented Chef Pang Kok Keong has reinterpreted the nian gao (glutinous rice cake) into the Hong Bao ($10+/small or $25+/large), an attractive bun made with French poolish and Japanese water roux methods. Confusing? All you need to know is that the delicious savoury cake is infused with dragon fruit juice and stuffed with pork floss, mochi, salted egg, candied yam, and fried shallots — yum!
What else: Just as showy, the Abundantly ($38+) is a purple sweet chiffon cake topped with endless goodness: black sesame peanut feuilletine, cream cheese, chocolate coins, ingots, yam cubes, and gold tapioca bubbles steeped in black sugar. Remove the plastic collar around the cake and the cream layer flows down dramatically.
Available from now to 19 February by pre-order. Reservations for the Abundantly and Hong Bao (large) are required at least 1 day and 3 days in advance respectively.
Salmon and Tuna Yu Sheng, Xin Cuisine Chinese Restaurant
$78

The award-winning Xin Cuisine Chinese Restaurant, run by Hong Kong-born Chef Chan Shun Wong and his team of master chefs, is what you'd call peak Cantonese. This year, enjoy their stunning creations from the comfort of your own home, including a new Salmon and Tuna Yu Sheng with Fish Skin and Kumquat Sauce (from $78) that's so tangy and addictive, it'll have you craving for more. And you know what they say about "more fish, more money and abundance".
What else: For the ultimate indulgence, how about going all out with the luxurious Supreme Braised Buddha Jumps Over The Wall ($388)? Vegetarians can also enjoy meat-free festive dishes like the Vegetarian Abalone Yu Sheng (from $40) and Vegetarian Deluxe Treasure Pot (from $168).
Available from now to 16 February 2019 via online order. Make your orders before 31 January to enjoy up to 20% off.
Ah Hoi's Kitchen Fortune Pen Cai, Hotel Jen Tanglin Singapore
From $128+

Ah Hoi's Kitchen has made quite the name for itself as a must-visit restaurant over the decades, and for the Year of the Pig, it's come up with two scrumptious Fortune Pen Cai pots (from $128+) filled with delicate treasures. Masterfully braised in a superior mushroom and scallop broth, the decadent mix includes top-grade sea cucumber, premium abalone, fresh tiger prawns, fish maw, dried oysters, and pork belly that melts in your mouth.
What else: Don't forget the quintessential Ah Hoi's Kitchen's Yu Sheng, a glorious platter stacked with all-time favourites: strips of white and green radish, carrot, red ginger, turnip, and a lofty helping of mesclun greens. Finished with crackers and a well-balanced plum sauce, toss to prosperity with two yummy variants – Norwegian Smoked Salmon ($48+) or Abalone ($68+).
Available from now to 19 February (two days lead time required). For orders, please call +65 6831 4373 or email to ahhoiskitchen.hjts@hoteljen.com. In collaboration with The Little Arts Academy, Hotel Jen Tanglin Singapore will be releasing the first-ever animated hong baos in Singapore, and 3% of the total proceeds from takeaway items will be donated to the Business Times Budding Artist Fund.
Imperial Treasure Pot, Imperial Treasure
$268++

Nothing impresses relatives like goodies from a Michelin-starred restaurant, and since Imperial Treasure has become synonymous with fine Chinese cuisine, it stands to reason that their festival takeaways taste just as splendid. The Imperial Treasure Pot (from $268++, serves six) is an impressive centrepiece, abundant with superior whole abalone, premium sea cucumber, Japanese dried scallops and more.
What else: There's also a Prosperity Yu Sheng for a memorable lo hei, available in Smoked Salmon, Abalone, and Vegetarian options starting from $32.80++. Of course, the restaurant's Pineapple Pastry ($30.80++) and Pineapple Cakes ($14.80++ for six pieces), generously filled with pineapple paste and encased in a butter pastry will never fail to please the crowd.
Available from 12 January to 19 February (Prosperity Yu Sheng), 21 January to 4 February (Imperial Treasure Pot), 19 January to 4 February (Festive Treats). Read more about Imperial Treasure's Chinese New Year offerings, or see the e-brochure here.
Signature Prosperity Cakes, Yan Ting at The St. Regis Singapore
From $42.80+

The exceptional Cantonese creations at Yan Ting Restaurant is coming to your home so you can celebrate with those who matter. In particular, their signature prosperity cakes have always been a big each year, and sees everything from a lavish Treasure Taro Cake ($42.80+) to the elegant Osmanthus Water Chestnut Cake ($42.80+) filled with wolfberries. And of course, nothing is more prosperous than a pair of Double Happiness Glutinous Rice Cakes shaped like kois.
What else: Epicurean classics you'll want for your dining table include Yan Ting's signature Crispy Suckling Pig stuffed with Glutinous Rice ($338+) and a Pun Choy ($488+) filled with the best of land and sea. For gifts that are sure to impress, choose from one of three premium Chinese New Year Hampers priced at $238+, $388+, and $628+ respectively.
Available from 15 January to 19 February 2019 (two days lead time required). For orders, call Yan Ting Restaurant at +65 6506 6887 or email to yanting@stregis.com.
Festive Crackers, Ah Mah Homemade Cake
From $11.80

Chinese New Year is all about the prosperity and fortune, and Ah Mah Homemade Cake has come up with brand new Fortune Crackers ($13.80) and Prosperity Crackers ($11.80) for a lucky New Year. The first is Ah Mah's take on the traditional savoury-sweet chicken wafer biscuits sprinkled with lots of black and white sesame seeds, while the latter is an extremely nutty snack that boasts fragrant almonds, sunflowers seeds, melon seeds, and roasted sesame seeds.
What else: Want some ong lai (pineapple)? Ah Mah's zesty Pineapple Cake ($13.80) sees fresh pineapple puree mixed into the cake batter before baking. Slice in and be impressed by a yellow centre bursting with dried pineapples.
Available from now to mid-February. All takeaway items available at all Ah Mah Homemade Cake outlets except for Paya Lebar and City Square Mall.
Harmony Takeaway Set, Blue Lotus
$188+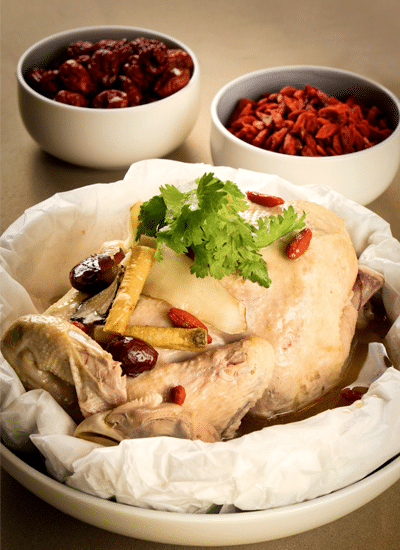 Contemporary Chinese cuisine takes the wheel at Blue Lotus, so you can expect their Chinese New Year offerings to be quite something too. The Harmony Takeaway Set is priced at $188+ and ideal for up to six people, comprising a Blue Lotus Yu Sheng (with smoked salmon, sakura ebi, and 10 herbs and vegetables), paper-wrapped Salt Baked Herbal Chicken, 48 hours slow-cooked Kurobuta Pork Belly, and fragrant Steamed Glutinous Rice with Chinese sausage and dried shrimp.
What else: How does a succulent slow-roasted Spanish-style Suckling Pig ($238+) slathered in preserved beancurd sauce sound as a table centrepiece?
Available from now to 31 January by pre-order at all Blue Lotus outlets. Reservations for the suckling pig are required at least 3 days in advance.