Best Wellness Retreats Around Asia: Yoga Journeys, Ayurvedic Programmes, and Holistic Healing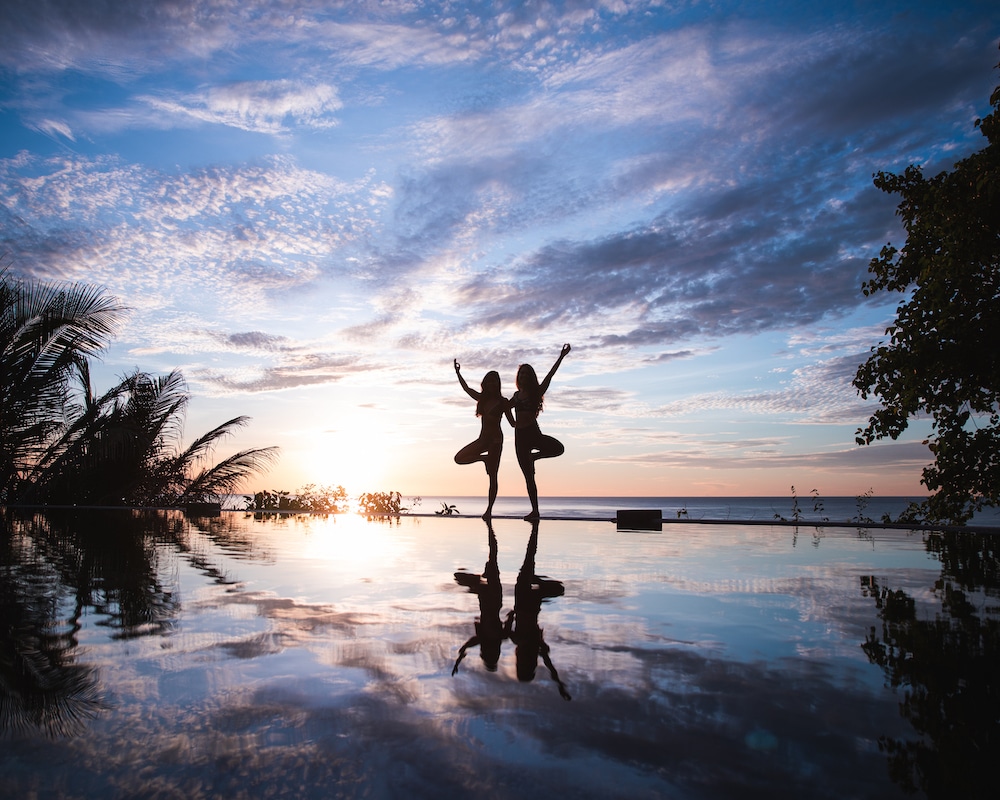 PUBLISHED September 24th, 2019 06:00 am | UPDATED May 18th, 2020 06:21 pm
The Asian continent isn't just home to some of the world's best cuisine. It also hosts an impressive number of wellness retreats, from island sanctuaries in Southeast Asia to private paradises further up. The choices are seemingly endless, so we've compiled what we think are the best ones in Asia – think extensive spa offerings and stunning scenery. Need some valuable 'me' time? Then you know what to do next.
Amanemu Resort
Ise Shima National Park, Japan

Aman owns some of the best properties on the globe, including 20 locations in Asia. But with the lack of luxury wellness retreats in Japan, Amanemu stands out for its ryokan-inspired premises, designed around a 2,000 sqm Japanese spa and two massive onsen bathing pavilions. Plus, it's located along the UNESCO-certified trails of Ise Shima National Park, overlooking the calm waters of Ago Bay. Aside from the resort's spa treatments and other therapy facilities, you can witness a prayer and dance session at Ise Grand Shrine, fish for sashimi with an expert angler, or take a boat ride out from the rugged coastlines to the islets of Shima Peninsula.
Retreat Packages: 3-Night Health, Beauty & Anti-Ageing Wellness Immersion (details here)
Amanemu Resort is located at 2165 Hazako Hamajima-cho, Shima-shi, Mie 517-0403 Japan, +81 599 52 5006. Packages start from US$6,970 per person.
Vikasa Yoga Retreat
Koh Samui, Thailand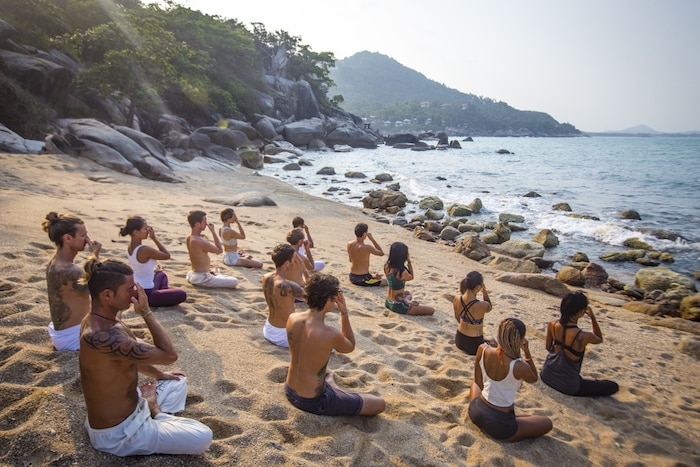 If you're shopping for a comfortable and supportive environment for yoga-centric personal transformation, look no further than Vikasa Yoga Retreat. Sprawling across the mountaintop to the coastline near Crystal Bay on Koh Samui, Vikasa is more than a retreat with world-class yoga pavilions and teachers. It's also a methodological system of yoga developed by founder Kosta Miachin based on individual evolution and spiritual development, so it's not surprising that all stays include unlimited group yoga classes, daily mediation, equipment use, and two healthy buffet-style meals. There are five types of eco-friendly accommodations, from simple rooms with shared baths to ensuite resort-style chalets. The open air Bliss Spa and the local favorite Life Cafe sport stunning views of the ocean too.
Retreat Packages: Signature Yoga Vacation (details here)
Vikasa Yoga Retreat is located at Moo 4 Tambon Maret, Koh Samui 84310, Thailand, p. +66 77 422 232. Signature Yoga Vacations start from US$90 per person per night.
Navutu Dreams
Siem Reap, Cambodia

Navutu Dreams's signature retreat is a four-day group programme for those wanting to de-stress and balance their mind and body. Think daily yoga classes, relaxing spa treatments, and organic meals to nourish your body. The retreat closes with a monk blessing to cleanse your soul, and well, reflect on everything you've experienced in the transformational four days. Elsewhere in the resort, take time to slow down by one of their three swimming pools before settling into one of 28 rooms and suites decorated with tribal art and unique textiles. It's a luxurious amount of space and privacy that you never knew you needed.
Retreat Packages: Detox of the Mind, Body and Soul (details here)
Navutu Dreams is located at Navutu Rd, 17251 Siem Reap, Cambodia, +855 63 964 864. Packages start from US$375 per person.
Anantara Peace Haven Tangalle Resort
Tangalle, Sri Lanka

If there's one person that holds Anantara Peace Haven Tangalle Resort together, it's resident Ayurvedic doctor Jayachandran Thampi, who's developed an extensive array of packages and activities to make this one of Asia's top wellness retreats. Embodying the Anantara philosophy of "without end" with countless Sri Lankan, Western, and other Asian treatments, discover the magic of Pinda Sweda rice massages or Shirodhara, where warm aromatic oils are poured over your head to clear your mind. Be sure to check out the resort's restaurant Il Mare for Italian fine dining with a breathtaking cliff view of the Indian Ocean, or Verele for speciality Sri Lankan-influenced teppanyaki.
Retreat Packages: Inner Harmony, Rebuilding Detox, Deep Sleep (details here)
Anantara Peace Haven Tangalle Resort is located at Goyambokka Estate, Tangalle 82200, Sri Lanka, +66 2 365 9110. Packages start from US$1450 per person.
Niraamaya Retreats Surya Samudra
Kerala, India

This Mr & Mrs Smith member hotel styles itself as a traditional beachfront property in Kerala, the wellness Mecca of South India. Niraamaya Retreats Surya Samudra is perched on a cliff over the Arabian Sea, preaching mindfulness and self-care to its guests. Naturally, Ayurvedic therapies are the key draw at the hotel's award-winning spa, and there's even a mindfulness personal coaching programme to help you escape the rigorous stress cycles in your daily life. Conceptualised by neurolinguistic programming practitioner M A Shaheerudheen, there's even a bit of psychotherapy to discover your emotional patterns, involving reiki healing and yoga nidra, or psychic sleep.
Retreat Packages: Niraamaya Wellness Moments (details here)
Niraamaya Retreats Surya Samudra is located at Poovar, Vizhinjam Rd Vizhinjam, Kerala 695521, India, p. +91 80 4510 4510. Rates start from US$155 per night.
Sangha by Octave
Suzhou, China

Sangha by Octave is all about providing a mindful space so you can harmonise your inner self and the outer environment. There are three sectors in this wellness sanctuary: At One Wellness Retreat, The Village community space, and Sangha Homes, a row of exquisite private residences available for purchase. But you're here for a retreat — programmes here range between two and seven days, running the gamut from Ayurvedic and Traditional Chinese Medicine treatments to lakeside yoga and sound healing. Be sure to check out the Finnish saunas, salt cave, and herbal steam room (from boiling herbs such as rose, bergamot, and angelica) at the spa before you leave.
Retreat Packages: Sound Healing Dome, Thought For Food (details here)
Sangha by Octave is located at 199 Yangcheng Ring Rd, Yangcheng Island, Suzhou, China, p. +86 512 6788 1804. Packages start from US$1,095 per person.
Ananda in the Himalayas
Uttarakhand, India

As its name suggests, Ananda is carefully nestled into the foothills of the Himalayan mountain range just beyond Rishikesh. With a nurturing team of expert Ayurvedic doctors, therapists, nutritionists, yogis, and spa cuisine chefs on board, you'll be hard-pressed finding a more holistic (or luxurious) retreat on this side of the Himalayas. A typical day covers things like nature treks to the Kunjapuri Temple or graceful Sai forests, morning stretches, traditional Hatha yoga, masterclasses, spa treatments, meditation and Pranayama sessions, and even culinary classes on how to cook gourmet Ayurvedic cuisine.
Retreat Packages: Holistic Detox Panchakarma, Rebalance, Dhyana Meditation (details here)
Ananda is located at The Palace Estate, Narendra Nagar Tehri, Uttarakhand 249175, India, p. +91 11 61210000. Packages start from US$740 per person.
V Integrated Wellness
Langkawi, Malaysia

It's not easy to find a world-class wellness resort in Malaysia, unless you're in Langkawi, that is. V Integrated Wellness is an island paradise radiating luxury and exclusivity from its shores, with five tenets of holistic wellbeing to its name: Spa, Fitness, Yoga, Beauty, and Food. Particularly popular is its Deep Relaxation programme, which takes you through five days and four nights of personal training, yoga, facials, scrubs, wraps, massages, and other luxurious activities. But these go far beyond pampering and indulgence — whether it's a chakra opening exercise or Udwarthanam dry herbal massage, everything is designed to deliver results.
Retreat Packages: Deep Relaxation, Ayurveda, Anti-Ageing, Soul Connection (details here)
V Integrated Wellness is located at Jalan Teluk Datai, 07000 Langkawi, Malaysia, p. +604 959 1088. Packages start from US$792 per person.
Top Image: Vikasa Yoga Retreat, Koh Samui