Bottomless Brunch in Singapore: The Knolls at Capella Jazzes Things Up With Roving Musicians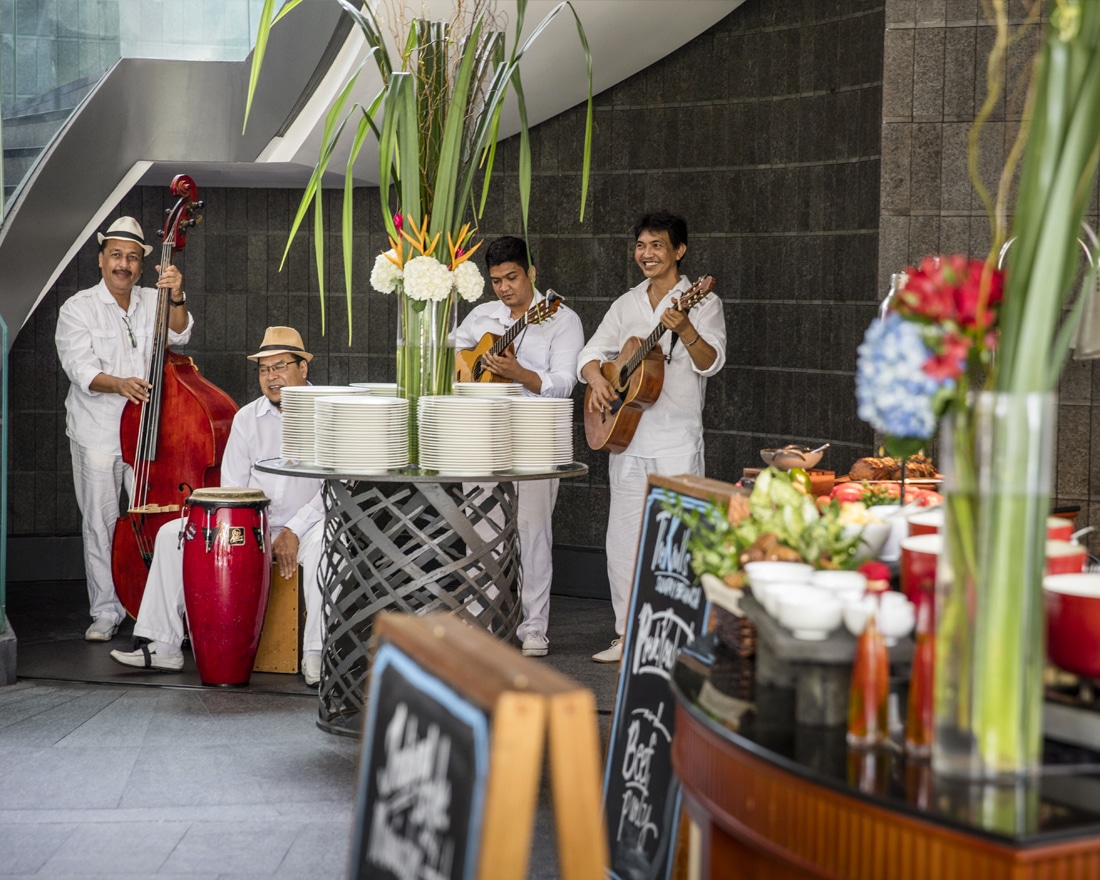 PUBLISHED December 20th, 2019 06:30 am
It's 1pm on a sweltering Sunday and we are digging in the ice bucket for the best looking lobster in the pile, when a sudden chorus of voices belt out the opening to Sweet Caroline. This isn't how we usually eat brunch. It's a luxury reserved for special weekends, and one reason why The Knolls at Capella Singapore has just become one of our top spots to enjoy everyone's favourite portmanteau meal.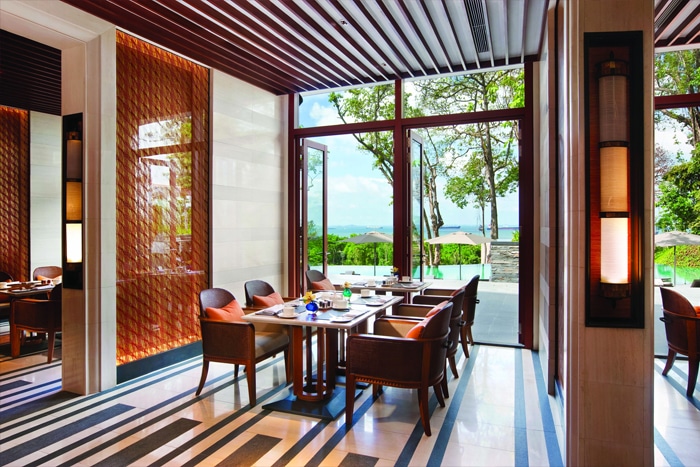 These guys do things right, and we suppose it's necessary; have you tried pulling someone out of bed and all the way down to Sentosa Island on Sunday morning? The Knolls is the hotel's all-day Mediterranean dining concept, and where hotels guests have their breakfast. On Sundays, they serve a mean boozy brunch with the effervescent fizz of golden champagne. Billecart-Salmon Brut Réserve NV, to be exact.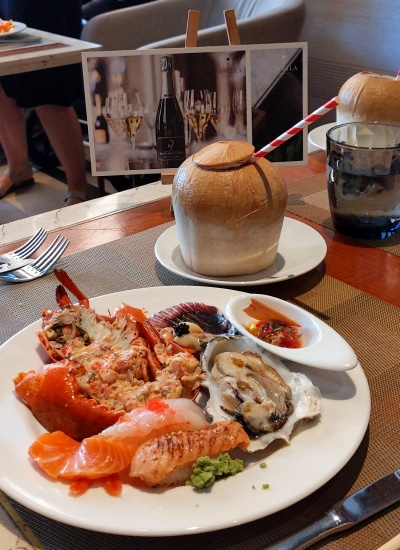 Starting at S$178++ for free-flow alcohol (S$128++ for specialty mocktails and fresh juices), this is a no doubt a pricey brunch for what some may consider a medium-sized spread. But quality beats quantity, and we have plenty to be impressed about. The food on offer ranges from roast meats to sushi and salads galore, all freshly prepared in abundance, and mostly Mediterranean in style.
Appetisers are a must, and each dish sounds as good as the other. There are cool Cuban potato salads and another loaded with chickpeas and asparagus, along with foie gras terrine on chia seed jam and house-cured saba with crispy capers. There is a good selection of sashimi, and the sushi line is the most impressive we've seen in a buffet: anago, scallops, seasoned baby octopus, salmon aburi, and more. Well-cooked lobsters, claws, and oysters from France and America (you'll want to load up on the former early on) complete the picture.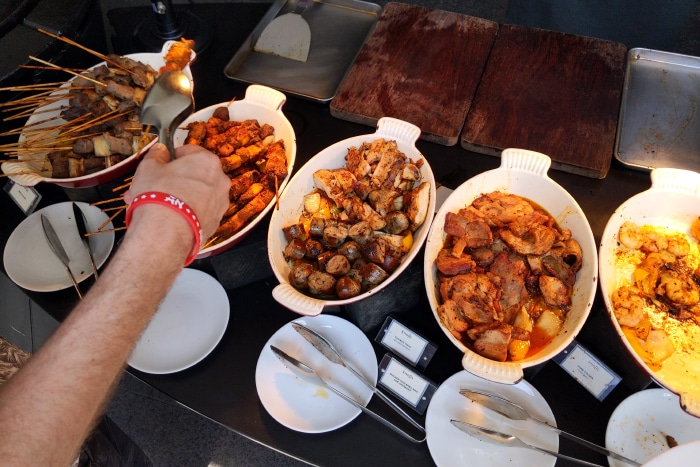 It's probably blistering outside, but force yourself to head out for the hot selection: roast beef and chicken, sausages, and more Mediterranean proteins include kebabs (with a tantalising garlic chilli sauce), paprika pork collar, and Cajun spice-rubbed chicken thighs. The outdoor zone also sees a nice bread corner (think sourdoughs, baguettes, and cheese rolls), and a la minute live stations for things like braised beef risotto stirred in a wheel of Parmiagiano and ricotta ravioli in lobster cream.
At interval, the ever-so-warm staff come by passing around things like salmon croquette with aioli and sweet lamb saddle (upon which Executive Chef David Senia shaves a generous amount of winter black truffle). Dangerously close to a full stomach, we considered skipping dessert, until the heaping sweets table at the back proved irresistible.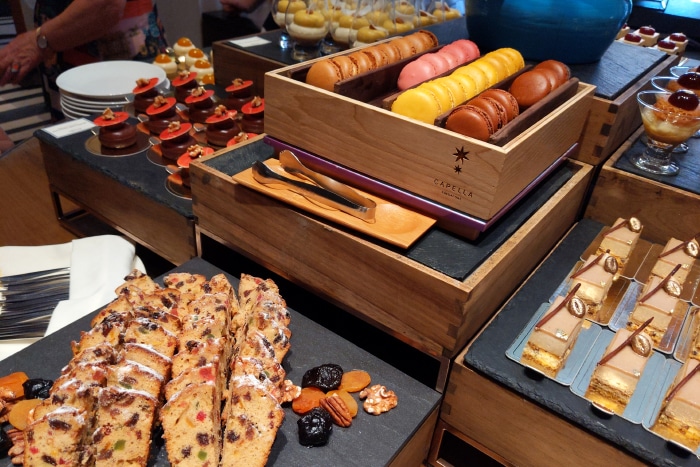 The Dark Chocolate Raspberry Tarts are a firm favourite, as are the Tiramisu and assorted macarons. Even the white chocolate fondue fountain — something we tend to avoid — deserves a mention for its fabulous fruit selection, including rockmelon and dragonfruit.
In some brunch places, you get frustrating loops of Top 50 hits blasting into your ears. Here, the music is the gold standard, supplied by a local mariachi band that goes table to table to sing to us. Who wouldn't want to be serenaded and transported to Havana like that? You'll feel as relaxed as if you were on holiday — best to leave the car at home for this one.
The Knolls is located at Capella Singapore, 1 The Knolls, Sentosa Island, Singapore 098297, p. +65 6591 5046. Sunday Brunch is priced from S$128++, or S$178++ for free-flow Billecart-Salmon Brut Réserve, wines, and specialty cocktails. Available Sundays 12.30pm – 3pm.