Hotel Review: EAST Hong Kong Has Stylish Harbour View Rooms in Taikoo Shing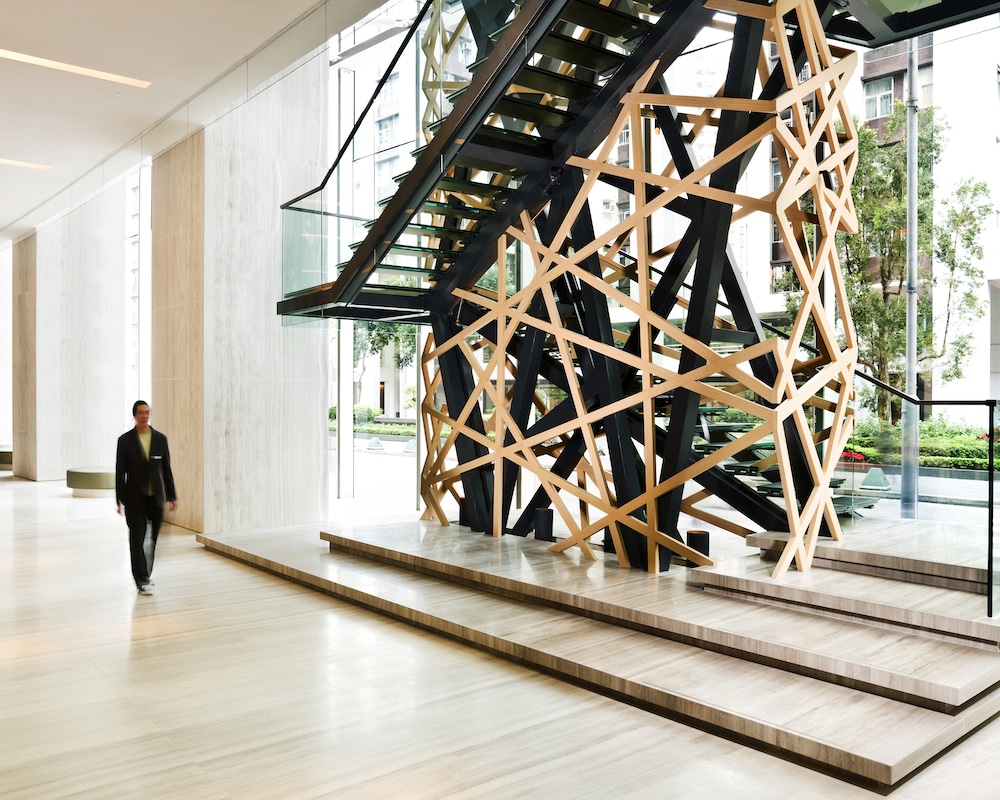 PUBLISHED December 21st, 2019 06:00 am | UPDATED February 6th, 2020 04:20 pm
Our first encounter with a Swire Hotel was EAST, Beijing in 2016. When we visited Hong Kong earlier this year for food festival Off Menu, we looked back on the experience fondly enough to check out its older sister located in Tai Koo. Despite the festivities happening the same weekend tensions escalated across the city, we never felt unsafe at EAST, Hong Kong. In fact, the mix of residential apartments, office buildings, and local eateries reminded us very much of Singapore's Tanjong Pagar, albeit with the SAR's rolling hills in the backdrop.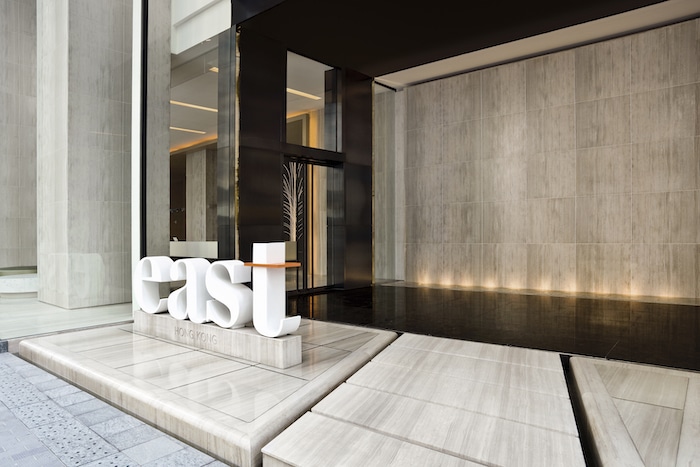 Location and Space
Eight stops from Central MTR on the Island Line, EAST is situated right outside the station and is within walking distance to office complexes Taikoo Place and Cityplaza, making it perfect for business and leisure travellers alike. Upon arrival, it's clear that this lifestyle hotel designed by architect and interior design company Studio CL3 is a well balanced one. The use of natural materials – think limestone, bamboo, and wood – and nature-inspired art pieces create a comfortable space for the well-being of the mind and body. Art here is even functional; the bamboo staircase resembling a bird's nest by artist Kum Chi Keung connects the ground floor lobby to FEAST, the hotel's all-day dining restaurant on level two.
Rooms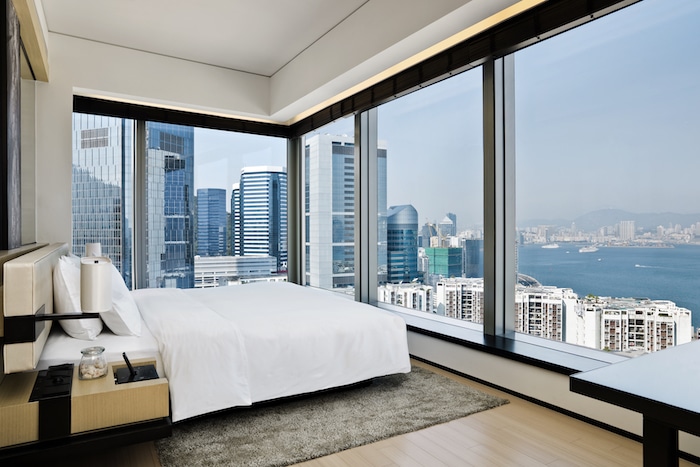 There aren't many hotels in Tai Koo and its surroundings, so it makes sense that EAST is relatively large with 339 rooms and six suites across five room categories. Like in Beijing, there are no handles on the doors of guest rooms, which might be a tad disconcerting but there were no issues in terms of functionality with our Harbour Corner room on level 28. At 30 square metres, it's large by Hong Kong's standards, and the nearly floor-to-ceiling windows gives a welcomed illusion of more space. And we don't have to tell you the view is spectacular, with a couple of sightings of Hong Kong's bird life.
The comfortable and neutral palette of the hotel extends to the well-maintained room with a walk-in rain shower; the only scarring we see is the black paint of the control panel chipping off. It was disappointing there weren't any USB ports for charging electronics by the bedside, we like that guests don't have to see the things they don't need, and when they don't need it. For instance, the television is hidden behind a sliding panel and the espresso machine (complimentary) and snacks (payable) kept in a separate closet next to the one for clothing. The compact bathroom sports a double vanity and walk-in rain shower, but one of the things we enjoyed the most was the water tap next to one of the vanities in the bathroom.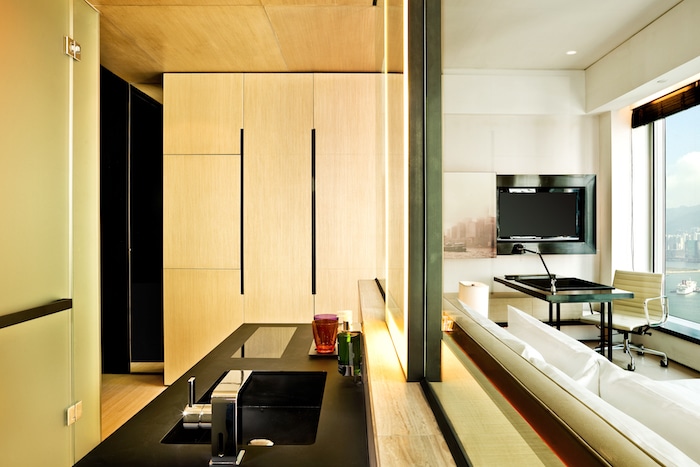 On Sustainability
Saying no to paper check-ins and single use plastic, EAST Hong Kong has worked with Coca Cola to install filters in-room to provide instant and easy access to drinking water instead of the bottled variety. Guests will also find luxury, Australian made APPELLES bath amenities in larger pump bottles that can be refilled; the brand is also known for their recyclable packaging. Bins in the room come in two compartments – waste and recyclables – and there's even a reusable shopping bag guests can utilise while going shopping. That's not all to the plastic-free lifestyle, the hotel has also joined the Water for Free initiative by providing free drinking water at FEAST to members of the public with their own water bottle.
Facilities and Amenities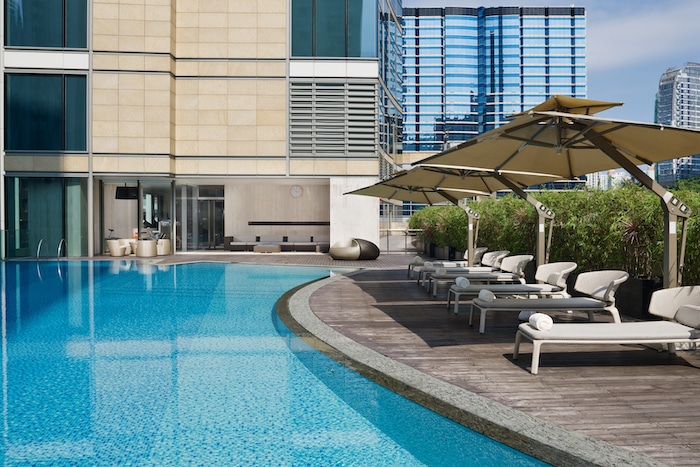 Hong Kong's subtropical climate means that it can get too cold to go swimming during the winter months, thus the large outdoor heated pool on level nine. Just a stone's throw away sits BEAST (Body by EAST), their 24-hour gym with a well curated set of fitness equipment included free weights, resistance machines, treadmills, and plenty of stretching space. For those who prefer to be outdoors, the hotel also offers complimentary bicycles to rent so guests can also see the neighbourhood on wheels. Do check out their little urban garden on level nine as well; chefs use herbs and vegetables grown here in their creations at FEAST.
With a fixed semi-buffet format across breakfast, lunch, and dinner, the property's casual all-day dining restaurant FEAST serves international cuisine and authentic specialties of Asia. It's popular with the white collared crowd for celebrations and communal lunch and dinners, as is Sugar, their rooftop cocktail lounge on level 32.
EAST Hong Kong is located at 29 Tai Koo Shing Road, Quarry Bay, Hong Kong, p. +852 3968 3968. Rates start from HK$980 per night in an Urban View Twin.