Bottomless Brunch of the Month: An Italian Feast by the bay at Monti
PUBLISHED May 11th, 2017 07:00 am | UPDATED August 7th, 2019 03:40 pm
There's no better reason to haul your lazy butt out of bed during the weekend than a three-hour long brunch, with good food, good vibes, and free-flowing alcohol. After all, it's why we started this monthly feature showcasing the best of Singapore's brunch scene. For May, we gladly headed back to Monti (see our review of their dinner menu here) to try their Italian semi-buffet brunch.
Priced at $160++ per person for free-flow Veuve Clicquot Yellow Label and wines – or $140++ for wines without the champagne – it's not the cheapest place for brunch on the block, but you do get an earnest service team, a view like no other in Singapore, and that beautiful platter of seafood served upon settling down at your table (the portion is adjusted to the number of diners).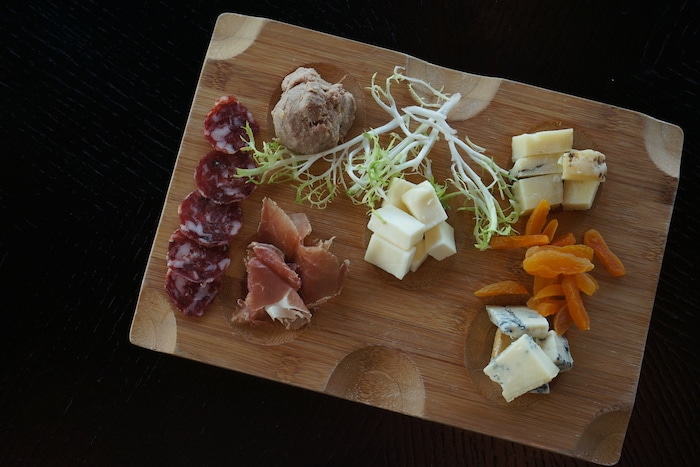 Piled with sweet, fleshy Alaskan king crab, cold tiger prawns, tuna tataki seared with sesame and yuzu, salmon sashimi, fresh Fine de Claire oysters, as well as juicy mussels and clams, this platter will definitely take you awhile to get through. Everything on the platter is available for ordering again except the Alaskan crab, mussels, and clams.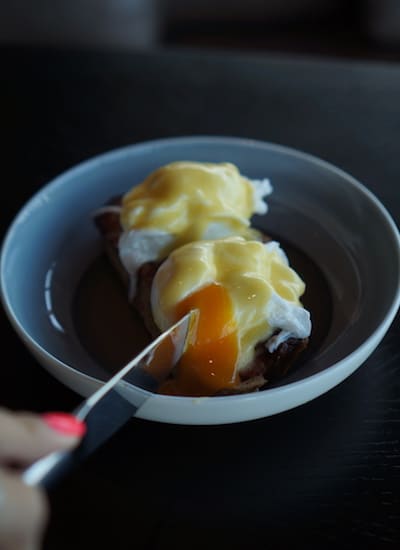 In the meantime, while you work on the seafood and start on the bubbles, peruse the menu and formulate your game plan for tackling the rest of the brunch since it is Italian food, which can be heavy on the carbs, cream, and cheese. That said, we put together our own charcuterie and cheese board next with gorgonzola, truffle pecorino, taleggio, prosciutto, salami, and duck rillette. The last was a highlight for its texture and that excellent ratio of fat and meat. There are more cold cuts and cheeses to choose from, such as chorizo, capocollo, pork rillette, provolone, and stracciatella.
What's brunch without eggs? The folks at Monti get that so they've put a few egg dishes on the menu even though they're not exactly Italian (nope, not even Eggs Florentine). Eggs Benedict is pretty much the litmus test and Monti's version was more than up to par. They didn't do anything fancy with it and all the elements – bacon, hollandaise, and English muffin – were present. Basically a good representative of the eggs benny category. If you love blue cheese, my DIY Omelette had ham, field mushrooms, and gorgonzola. Cooked on the outside and still runny inside, it was to die for.
Monti has made a signature of their Risotto Cacio e Pepe, aka black truffle risotto, and we're so glad it's available during brunch. Served tableside, the chef first flames the wheel of Parmigiana Reggiano cheese with white rum before adding the already cooked Italian Carnarow rice to get that final umami coat of rum-flavoured cheese. Topped with more cheese and cracked black pepper, it's al dente, well-seasoned, and not at all cloying (which can be a problem with truffle dishes).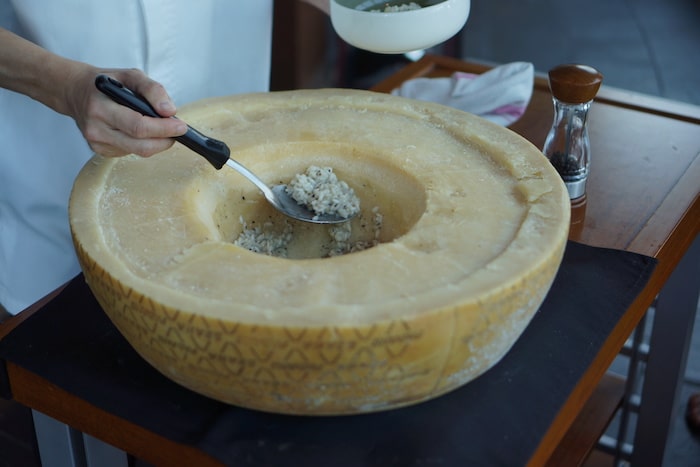 You have to have more pasta – simply because Monti does it so well. It's another DIY section of the menu where to get to mix and match styles and sauces like aglio olio, cream sauce, and pesto with different types of pastas, and other ingredients. Our first was a Strozzapreti with wagyu ragout without any additional ingredients. The sauce needed a touch of pepper and spice, but that pasta was perfect. We had another Tagliatelle with seafood sauce (which was more like a robust seafood stock) that we topped off with prawns, squid and mussels. The squid was a tad overcooked but the pasta and sauce are the real standouts here.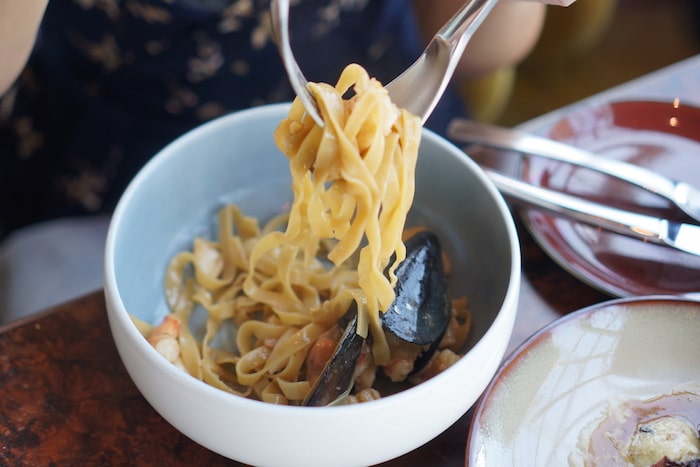 Pro tip: if you still have any of that Alaskan crab meat left from your seafood platter, feel free to add it to your pasta or egg dishes. It elevated the omelette as well as the seafood tagliatelle.
The last savoury section of the brunch menu is also the most challenging for Monti. The brunch portions are meant to be small so you can actually attempt to try everything; so when chefs are used to cooking most things in larger shapes and cuts, the grilling or frying can become rather inconsistent with the smaller pieces of meat and seafood. Served with polenta, anchovy butter, and red wine jus, the well charred Ribeye Steak was more of a medium-well than the medium rare that we requested upon ordering. The Pan Cooked Foie Gras on toast was also a shade overcooked but the balsamic reduction it came with was delicious.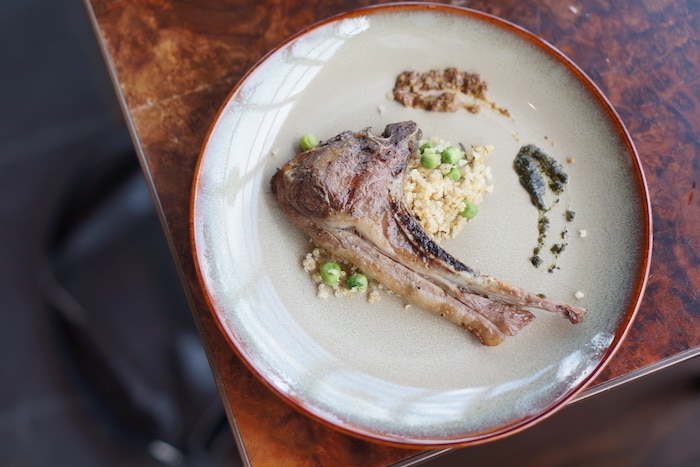 Accompanied by mint sauce and a tasty fig mustard, the Grilled Lamb Chop was the only piece of meat we ordered that wasn't overcooked, which makes it the best in our books. Comes on a bed of peas and quinoa. Other mains that appealed to us (but we were too stuffed to try) include the Charcoal Grilled Iberico Pork Jowl and Seabream with Saffron Sauce.
Desserts were set up in a pretty little corner so you can check it all at one go. Unfortunately, the Tiramisu was disappointing; it was too heavy on the coffee, too wet, and was a little too heavy on the cheese. The Chocolate Fudge Cake, however, was really moist and the chocolate frosting didn't make my teeth ache. The Apple Carrot Cake was fantastic and so were the little fried dough fritters with honey and chocolate; we just wished the presentation was better on the latter.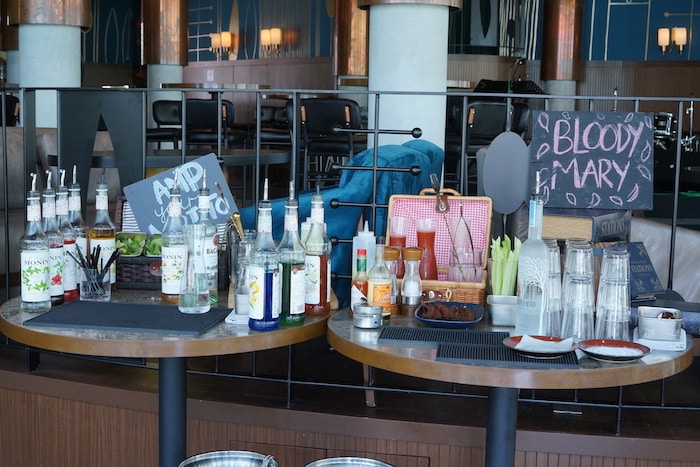 In between all the eating, don't forget to pop by the DIY Bloody Mary station or the Amp Your Mojito station for a cocktail. The folks at Monti have set out everything from ingredients to bar tools, and even garnishes like bacon for the two stations. We're also impressed with the number of syrups available at the mojito station so you can totally have an elderflower-vanilla mojito if you wanted to.
Like with all new menus, Monti might be suffering from teething problems with brunch but everything we've seen so far indicates that things will get better over time. They're also touting themselves as Singapore's longest brunch because they stay open, unlike other brunch places, though the free-flow will stop by 3pm. If you want, you could join the daytime party at their rooftop after brunch and stay for live jazz performances from 9pm to midnight.
Monti is located at 82 Collyer Quay, Singapore 049213, p. +65 6535 0724. Weekend brunch is available every Sunday 12pm-3pm.