Where to Eat Clean and Healthy in Singapore: Best of the CBD and Beyond the City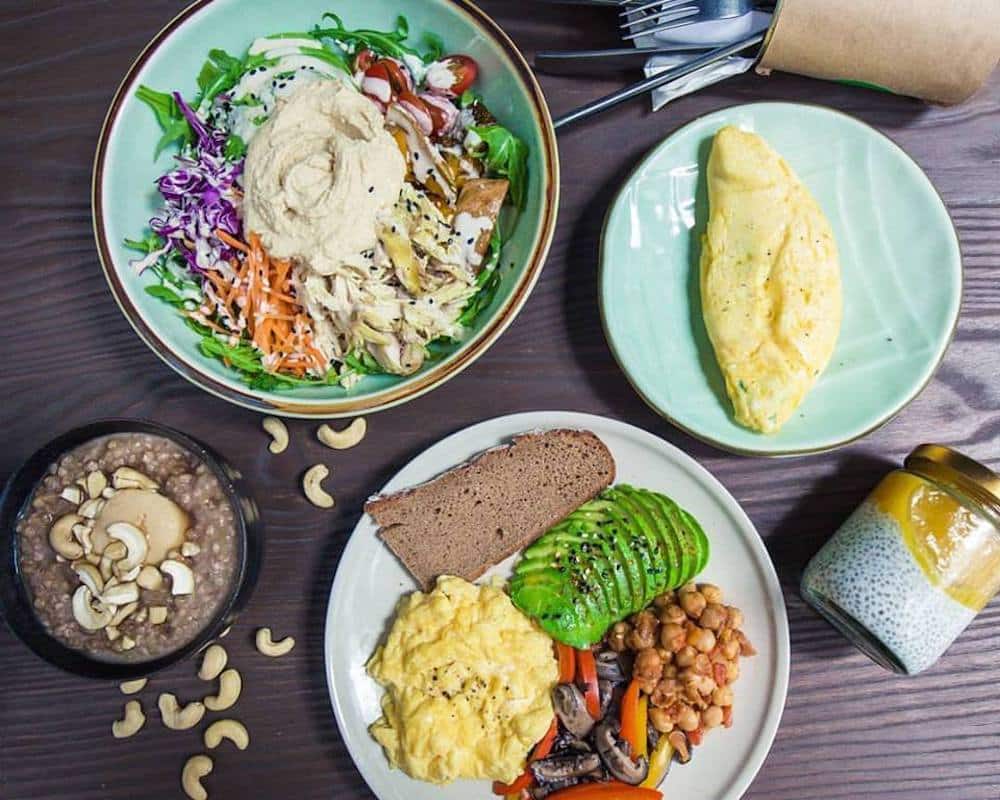 PUBLISHED August 21st, 2017 04:00 pm | UPDATED March 26th, 2019 05:27 pm
The clean and healthy eating trend in Singapore has absolutely exploded in recent years, leaving us spoilt for choice when it comes to hearty rice bowls, refreshing salads and nutritious modern cuisine. Here, we've rounded up our favourite clean-eating restaurants, eateries and cafes in the CBD and outside the city. So whether you're already a veteran well-versed in the ways of clean-eating or just someone who wants to start eating better, you'll want to hit up one of these spots on your next lunch break.
Central Business District
The Rabbit Hole Salad Bar
Located in One Raffles Place, customers have the ability to customise their own salads and pick from a wide range of tantalising pre-designed ones, such as the Zesty Smoked Salmon Salad ($14) and the Big Vegan Bowl ($12). Additionally, what's unique is its selection of protein – they cook their chicken sous vide for that extra juiciness and flavour without compromising on the healthy factor.
The Rabbit Hole Salad Bar is located at 1 Raffles Place, One Raffles Place #04-30. Open Mon-Thu 11am – 6pm, Fri 11am – 5pm, Sat 12pm – 3pm. Closed Sun.
The Daily Cut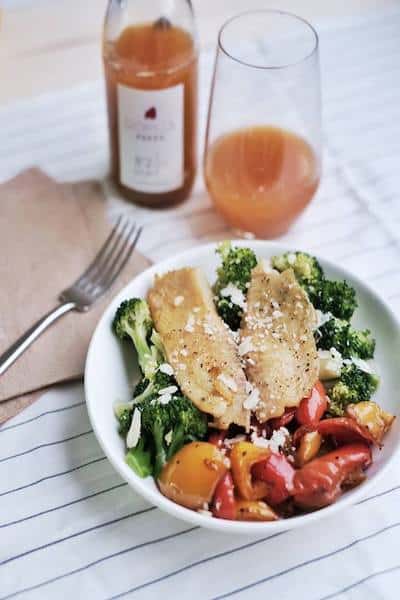 You call the shots over at The Daily Cut, where you get to customise your own salad with a wide range of guilt-free toppings. Choose from proteins like tofu or rib-eye steak, carbohydrates like sweet potato or brown rice, and supplements like asparagus, sous-vide eggs, and zucchini. Top your salad off with dreamy dressings such as ginger-ponzu and mango-habanero, and you're all set.
The Daily Cut is located at 1 Raffles Place, #B1-31 One Raffles Place. Open Mon-Fri 11am – 2.30pm, 6pm – 8.30pm, Sat-Sun 11am – 3.30pm.
Kitchen by Food Rebel
The lunch menu at Kitchen by Food Rebel is full of amazing organic meals, such as the nutrient-dense hormone-free Chicken Protein Bowl ($19), Zoodle (zucchini noodles) Bolognese ($18), and Sustainable Barramundi with Asian Sesame Greens ($21). Even the coffee here will leave you feeling recharged – the aromatic Chai Tea Latte ($6) will provide you with metabolic boost.
Kitchen by Food Rebel is located at 28 Stanley St, Singapore 068737. Open Mon-Fri 8am – 6pm, Sat 9am – 3pm.
Workplace Espresso
Workplace Espresso aims to nourish with its fresh and healthy mixture of Asian and Middle Eastern infusions. The menu boasts both signature pre-constructed and DIY rice bowls filled with crisp greens and grilled proteins, hearty pita pockets, cakes, muffins, and coffee supplied by Two Degrees North Coffee Co.
Workplace Espresso is located at Marina Bay Financial Centre Tower 3, 12 Marina Boulevard #01-08, Singapore 018982. Open Mon-Fri 7.30am – 8pm.
Ninja Cut
This Seah Street café sure knows how to get us to eat our greens – by cooking them alongside some tantalising fusion dishes. A must-try is the Oh My Cod, a rice bowl topped with honey-glazed carrots, pickled beets, asparagus & edamame, and a generous serving of baked miso cod. Filled with tons of Omega-3, the Waikiki Surf salad topped with chunks of yuzu-marinated salmon, avocado, cherry tomatoes, ebi shrimp, and an onsen egg also makes for the perfect pick me up.

Ninja Cut is located at 32 Seah St, Singapore 188388. Open Mon-Fri 9.30am– 9.30pm, Sat-Sun 9am – 6pm.
Herbivore
Established in 2010 way before the clean eating fad, Herbivore stands as Singapore's first Japanese vegetarian restaurant and has since become beloved by vegetarians and meat-eaters alike. Standouts include the wholesome Asparagus Bento Set ($27), which consists of pan-fried asparagus and mushrooms, grilled eggplant and soy-based tonkatsu, mock-tuna, and salmon sashimi, as well as the nutritional powerhouse that is Natto Soba ($12). They've even perfected the art of making mock-sushi and mock-meat!
Herbivore is located at 190 Middle Rd, #01-13/14 Fortune Centre, Singapore 188979. Open Mon-Fri 11.30am – 3pm, 5pm – 10pm, Sat-Sun 11.30am – 10pm.
Grain Traders


Grain Traders allows customers to build their own rice bowls and savour wholesome comfort food. For $16, enjoy a choice of grain, a serving of protein, hot veg, and two portions of cold veggies garnished with toppings and dressings. Aside from the typical brown and Japanese rice, opt for bulga wheat, soba noodles or even a bed of super greens, while protein and veggie options include Grilled Striploin Steak, Seared Marinated Tuna, and Charred Furikake Corn.
Grain Traders is located at 138 Market St #01-01 and #01-03, 100 Tras St. Open Mon-Fri 8am – 8pm, Sat-Sun 11am – 8pm (100AM only).
Whole Earth
Whole Earth has become Singapore's only plant-based restaurant to be awarded the prestigious Michelin Bib Gourmand Singapore Award in 2017. With Thai-Peranakan dishes such as Nonya Curry (lovingly prepared and slow cooked with shiitake mushrooms and potatoes), and the Enchanted Forest (monkeyhead mushroom and fresh broccoli topped with an angelica root and wolfberry sauce), customers will be able to relish delectable dishes with a familiar twist.
Whole Earth is located at 76 Peck Seah St, Singapore 079307. Open Mon-Sun 11.30am – 3pm; 5.30pm – 10pm.
Outside the City
Lean Bento
Established in 2014, Lean Bento prides itself in whipping up wholesome meals that are low-calorie, high-protein, halal, and gluten-free. Talk about ticking all the right boxes! What stands out about Lean Bento is its dedication to natural flavours and real ingredients, meaning that you will never find flavour enhancers or food substitutes like reconstituted eggs in meals here. Must-tries include the Sea Salt Salmon Bento and the Honey Chicken bento, both of which are served with a blend of multigrain sushi rice, curdled scrambled eggs, and truffle edamame beans. If you have a sweet tooth but crave a healthy option, we say go for the Matcha Protein Waffles & Matcha Protein Gelato with Homemade Cacao Drizzle – it contains an impressive 11g of plant protein, which is equivalent to half a regular protein shake.
Lean Bento is located at 43 Holland Dr, Singapore 270043. Open Mon-Fri 10am – 9pm, Sat-Sun 10am – 6pm.
The Lawn
Love your greens but want don't to skimp on your protein? Then The Lawn's got you covered, as the Lion City's only specialty salad and grill café allows you to pair your favourite perky greens with some premium grills, such as emperor snapper, maple-infused chicken breast & Char-grilled prawns. What's more, the lush greenery and open spaces of Biopolis surrounds the café, making it the perfect place for busy professionals to relax, rewind, and enjoy a nutritious lunch. The Lawn is also offers breakfast items like hearty omelettes and grilled toasts – ideal for early birds.
The Lawn is located at 31 Biopolis Way, #01-07, Nanos, Singapore 138669. Open Mon-Fri 10.30am – 9pm, Sun 10.30am – 4pm. Closed Sat.
The Bento People
The Bento People was founded by a doctor turned accidental chef, who has managed to entice people to eat healthily through providing bento box options that are as nutritious as they are delectable. With each bento starting from $9.80, you could say that we're drawn in by The Bento People's affordability, but the star of the show would be its wide selection of homely Asian ingredients, such as the tender Chinese Herbal Chicken Breast, fragrant Tofu and Edamame in Masala Curry, and Quinoa Lemak (White Quinoa with virgin Cold Pressed Coconut Oil).
The Bento People is located at #02-17 CT Hub, 2 Kallang Ave, Singapore 339407. Open Mon-Fri 11.30am – 3pm, 5.45pm – 8.45pm, Sat 11.30am – 3pm. Closed Sun.
Haakon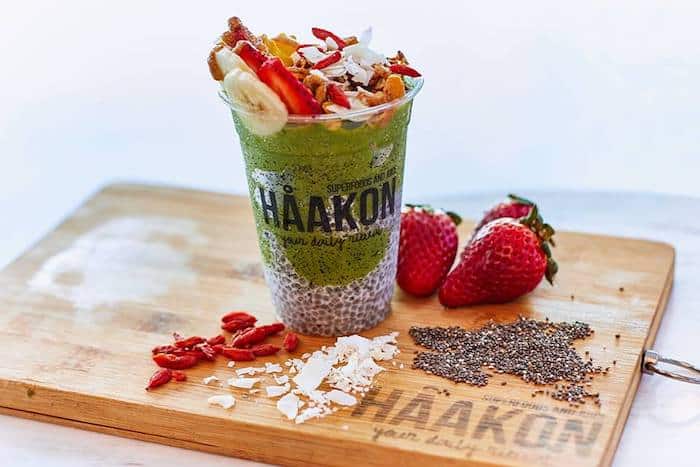 Promising wholesome meals fused with fresh Scandinavian influences and zesty tropical flavours, scour Haakon's variety of super smoothies (choose between acai, protein, green or specialty ones) and cold pressed juices for the perfect pick-me-up, and then opt for one of the many Superfood Smoothie Bowls ($7.90). Haakon also serves unique Scaninavian-inspired bites, such as Lingonberry & Brunost Toast, and Coco Cream and Waffles, featuring Haakon's signature Scandi-batter waffles.
Haakon is located at 118 Holland Ave, #01-03 Raffles Holland V, Singapore 278997. Open daily 10am – 10pm.
Vegan Burg


This radical San Francisco vegan burger chain opened its very first Singapore outlet in Eunos, and has been inspiring plant-based diets ever since. With options like the Smoky BBQ Burger ($9.90), Char-Grilled Satay burger ($9.90) and Avocado Beetroot Burger ($9.90), Vegan Burg's menu appears as indulgent as any other burger joints'. However, every burger is made it with fibre-fueled buns, GMO-free patties, artisanal produce, and cholesterol-free sauces, meaning that you can relish 'fast food' knowing that you're doing good to your body.
Vegan Burg is located at 4 Jalan Eunos, Singapore 419502. Open Mon-Sun 11.30am – 10pm.