City Nomads' Favourite Local Artisan Jewellery Brands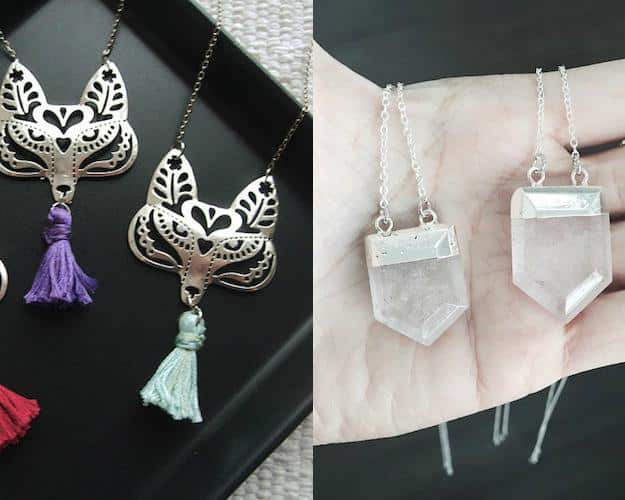 PUBLISHED June 10th, 2015 04:00 pm | UPDATED August 1st, 2017 11:22 pm
The local craftsmanship scene has certainly been booming, thanks to the likes of events hosted by The Local People and Public Garden, and one of our favourite things about them is the emergence of jewellery shops. No matter what style of accessories you don, these jewellery stores on this list will certainly have something that catches your eye.
By Invite Only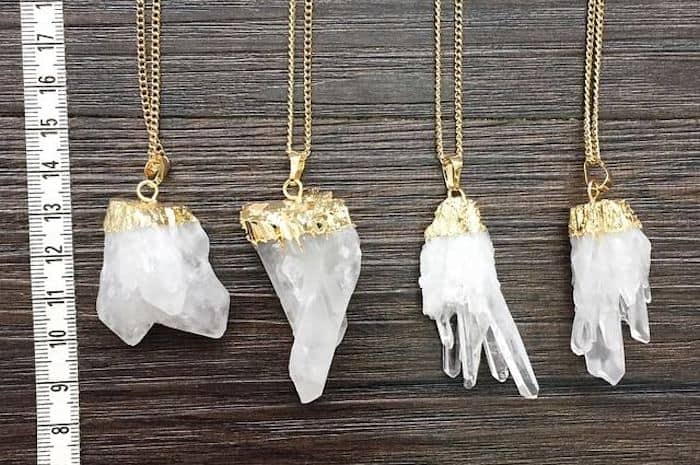 Founded by Trixie Khong in 2009, By Invite Only has become one of Singapore's leading indie jewellery brands renowned for handcrafted pieces that incorporate raw crystals and unique semi-precious stones. The brand's belief that jewellery should 'exist to embellish' is certainly reflected in the designs of many pieces, all of which exude an air of elegance and sophistication.
Diliya B.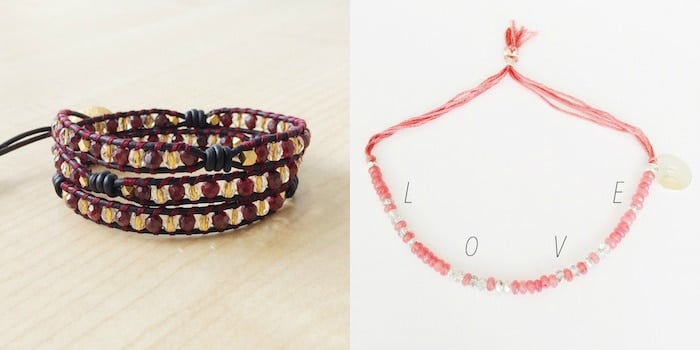 Diliya B.'s handmade pieces are vibrant and bold, yet elegant. We love her seasonal collections; from pieces with 'XOXO' and 'Love' spelt out in Morse code with beads for Valentine's Day, to delicate turquoise bracelets for the summer (great all year round for Singapore!), it means that you'll be able to find a piece to match whatever you're wearing, no matter what time of year.
Oftryingtimes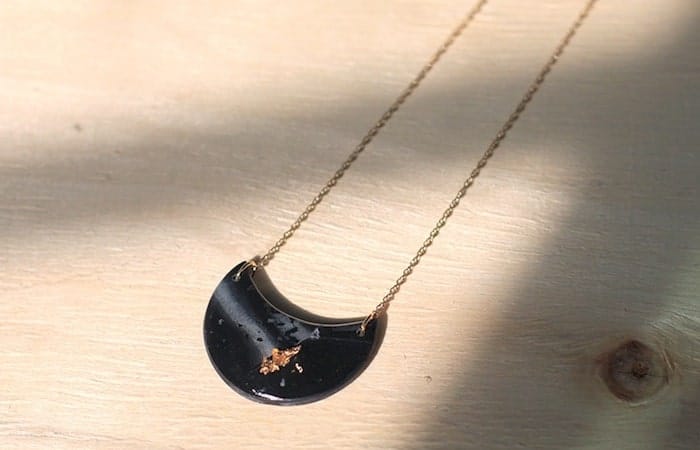 Oftryingtimes' offerings are inspired by the events of founder Pixie T.'s personal life, resulting in pieces that are both conceptually and aesthetically fascinating. The signature '& sleepless nights' collection emerged from her days of watching the moon change when she was too worried to sleep; with her marbled polymer clay pendants taking on the shapes of crescent and half-moons. The range features simple moon-shaped pendants, available in both black and white, which are flecked with glistening gold metal leaf, making it the perfect accessory for those who wish to add something chic and minimal to their outfit.
Stelliyah
Stelliyah's range of jewellery, or wearable art, as the brand would like to suggest, is lovingly crafted with a combination of traditional metal-smithing techniques and self-trained jewellery techniques. The brand's admiration of 'the organic meets the man-made' manifests in the variety of materials and textures in their pieces, with the roughness of natural stones complementing the polished surface of sleek brass beads in a fashion reminiscent of architecture.
Amado Gudek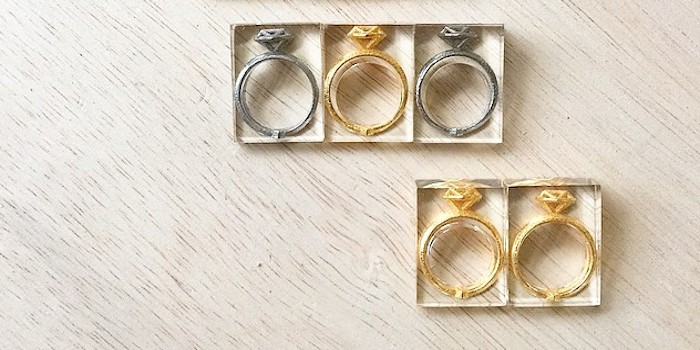 Amado Gudek speaks to the activist inside all of us. Crafted with environmentally friendly bioresin, biodegradable green plastics and mixed media, Amado Gudek designs are fresh and original, with each collection making a political statement about the environment. For instance, the 'Diemonds Fauxever' collection raises awareness of the negative impact and consequences of diamond mining (especially common in warzones) and the whimsical 'Sea Invaders' collection draws inspiration from coral, which remain one of the species most badly affected by the growing pollution and rising temperatures.
Saught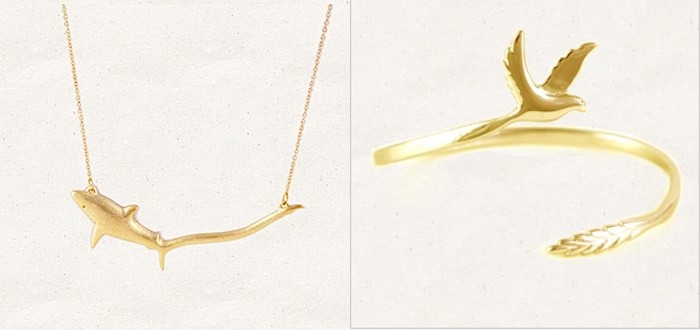 Not only do we love Saught's classy designs, we wholeheartedly support their cause – spreading peace and helping to break the poverty cycle through the creation of their wares. Local artisans using redeemed artillery shells and unexploded ordnance in developing countries craft all of Saught's pieces; meaning that they're guaranteed safe work environments and a steady income.
Our favourite picks from this social business are the Dive Thresher Shark Pendant (USD$ 109.90) and the Pursuing Peace Gold Bangle (USD$99.90), both of which aim to promote peace and courage respectively.
Knack Knack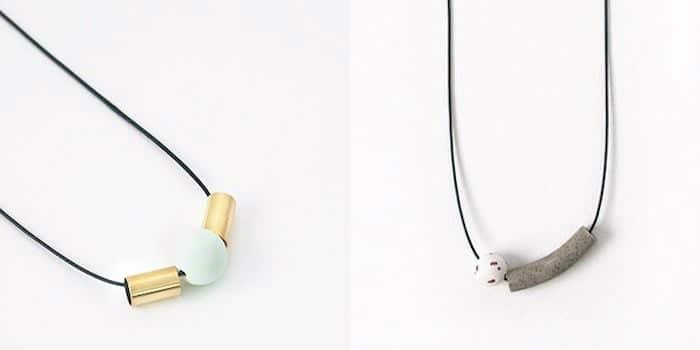 If the current raw stone/boho trend isn't really up your alley, then you should definitely check out Knack Knack's minimal chic line. Fresh and playful, Knack Knack's jewellery pieces are crafted by hand, and made with oven-baked clay. We love the simplicity of the shop's offerings, and we can totally picture them going with any sort of everyday outfit.
Dria Jewellery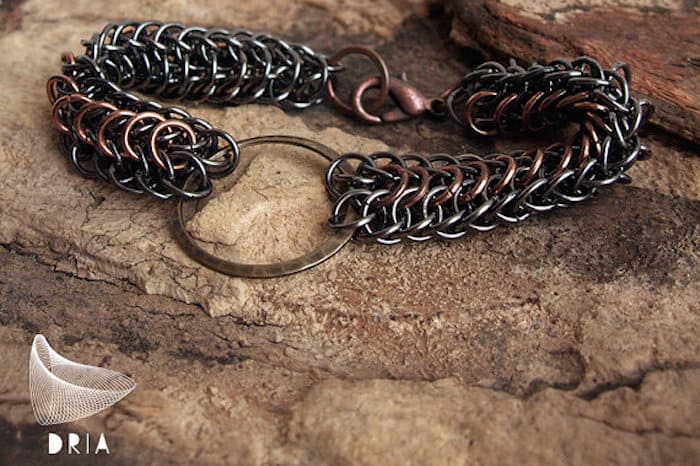 Dria Jewellery's bold pieces would be great for those who love spunkier accessories. We commend the line's distinctive wire wrapped designs, as well as owner-designer Shu Ying for going where very few jewelers have gone before – working with chainmaille. We predict the Steampunk Chainmaille Bracelet ($61.11), which features salvaged gunmetal jump rings, will be a hit for the adventurous, while the Fox Spirit Tassel Necklace ($18) will suit those who are fond of things a little more bohemian.
Citystate Beads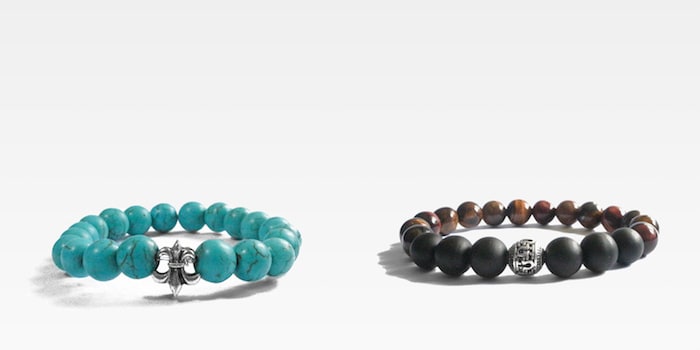 At Citystate Beads, first-rate materials and modern aesthetics come together in the form of quality and affordable bracelets. With bracelets made from a myriad stones like frosted onyx, white turquoise, and hematite, and a multitude of distinctive charms like lava stone and pewter crosses, there's something that'll fit your personal aesthetic. Plus, you can opt for a customized piece at virtually no extra cost – great for those who like one-of-a-kind jewellery.
Tessellate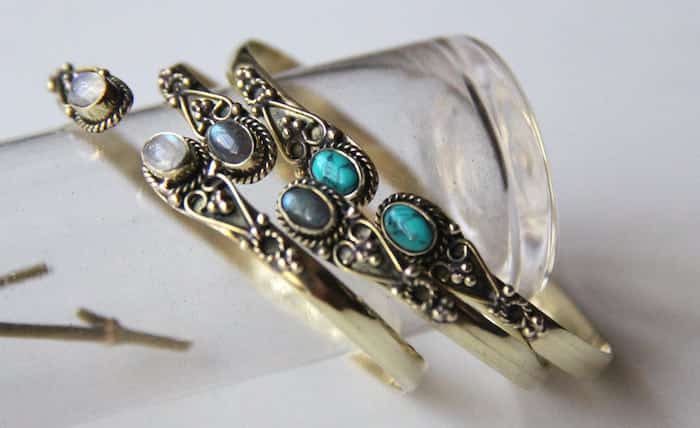 Inspired by the owner May's travel experiences, Tessellate's jewellery pieces are exotic and edgy, yet elegant. Most of them feature semi-precious stones – an ode to May's friendship with a shopkeeper in mountains of the Indian Hichimal Pradesh state, where she first learnt about the qualities and origins of various stones. Best part? 8% of the profit from sales of sterling silver jewellery and $3 USD for every piece sold from the 'Hope' Collection will be donated to Indian NGO Fior Di Loto, which will improve the lives of over 300 girls living in the villages surrounding Pushkar.
Header Images from Dria Jewellery and By Invite Only.
Thumbnail Image from Stelliyah.