Cook & Brew: The CBD's Answer to Gourmet Burgers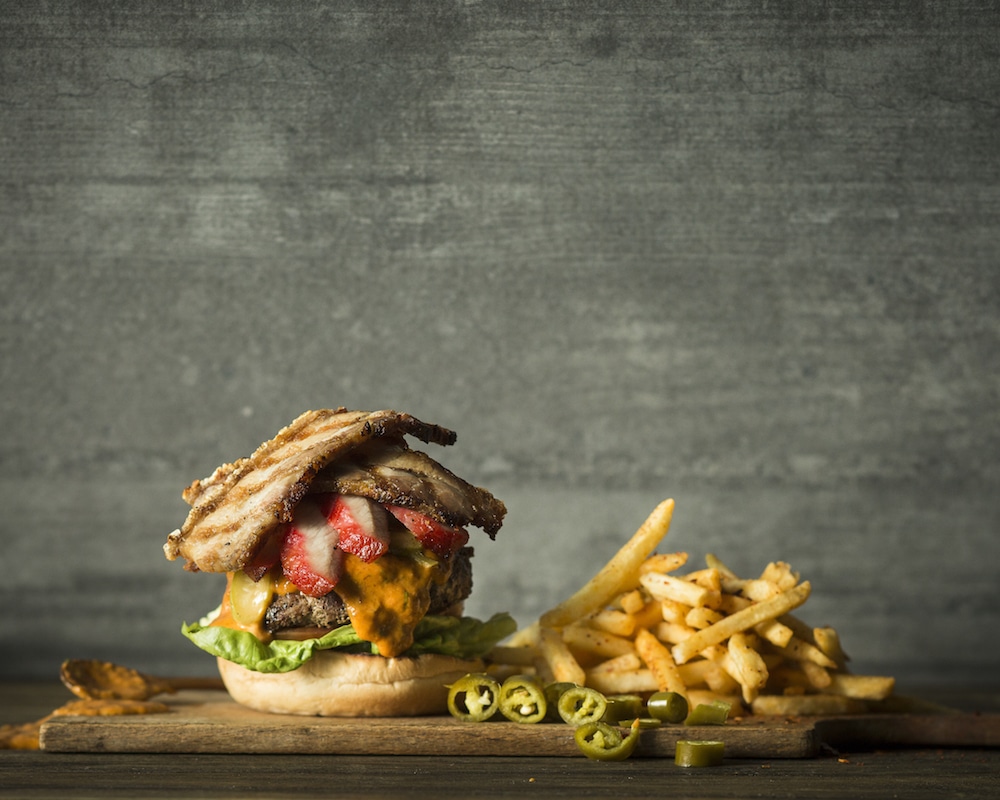 PUBLISHED March 10th, 2016 07:05 am | UPDATED May 23rd, 2017 06:39 pm
We're no strangers to the immensely popular (especially with the CBD lunchtime crowd) Cook & Brew, a contemporary gastro bar located on the 33rd floor of The Westin Singapore. This time, it's to try their new gourmet burgers, which are undoubtedly great additions to the menu for pairing with the bar's wide selection of craft beer.
Floor-to-ceiling windows separate Cook & Brew's breezy outdoor lounge from its stylish dining room; yet wherever you choose to sit, an impressive view of Marina Bay promises to take your breath away.
Headed by Canadian-born Executive Chef Aaron Foster, Cook & Brew is definitely playing up the on the classic and comfort food angle. We started with the Whipped Buffalo Milk Ricotta ($12), a creamy blend of Italian cheese paired with truffle honey and grilled bread. Deliciously thick and rich, the ricotta was incredibly enjoyable, especially when slathered onto the hot and fluffy pieces of bread.
Unfortunately, the same cannot be said of the Heirloom Tomatoes & Plums ($17). While we appreciated the addition of the gorgonzola cheese dressing and pecan brittle to this classic dish, the heirloom tomatoes lacked its usual sweet, beautiful punch, leaving the entire purpose of this dish defeated.
Nevertheless, Cook & Brew saved the day with the Montreal Burger ($34). Stuffed with tender smoked meat, lettuce, tomatoes, and red onions, this burger definitely has an edge over your usual cheeseburger, for sure. Although the patty was slightly dry, this was our favourite burger out of the three.
As the name goes, the Hawker Burger ($32) takes on a local tone with char siew-style pork jowl, crispy pork belly, and sambal mayonnaise. Sounds like a potential recipe for disaster, but it was a tasty burger. Last but not least, a unique combination can be found in the the Broccoli & Bacon Cheeseburger ($29). Creamed broccoli marries double-thick bacon in this creation, and this combination is savoury enough not to be boring.
We also managed to lay hands on a dinner-only dish, the Polenta & Dutch Veal Brisket ($42). While the veal is gorgeously juicy and tender, the aftertaste might put off some people who aren't used to eating the meat of a calf's breast.
Overall, Cook & Brew has shown that it deserves its popularity. While we'd love to see them continue tweaking their menu, its snug ambience, splendid view, and stockpile of over 100 different craft beers makes a visit to this CBD gem worth your while.
Cook & Brew is located at The Westin Singapore, Level 33, 12 Marina View, Asia Square Tower 2, Singapore 018961, p.  6922 6948. Open Mon to Thurs 11am-12am. Fri 11am-1am. Sat 5pm-12am. Sun open for private events.
Top Image: Hawker Burger
Check out more at Singapore's best burgers! and The Disgruntled Brasserie: Communal Dining at The Club Hotel