Day Trips From Seoul: Jeonju, Everland, Ansan, Bukhansan National Park, DMZ, and More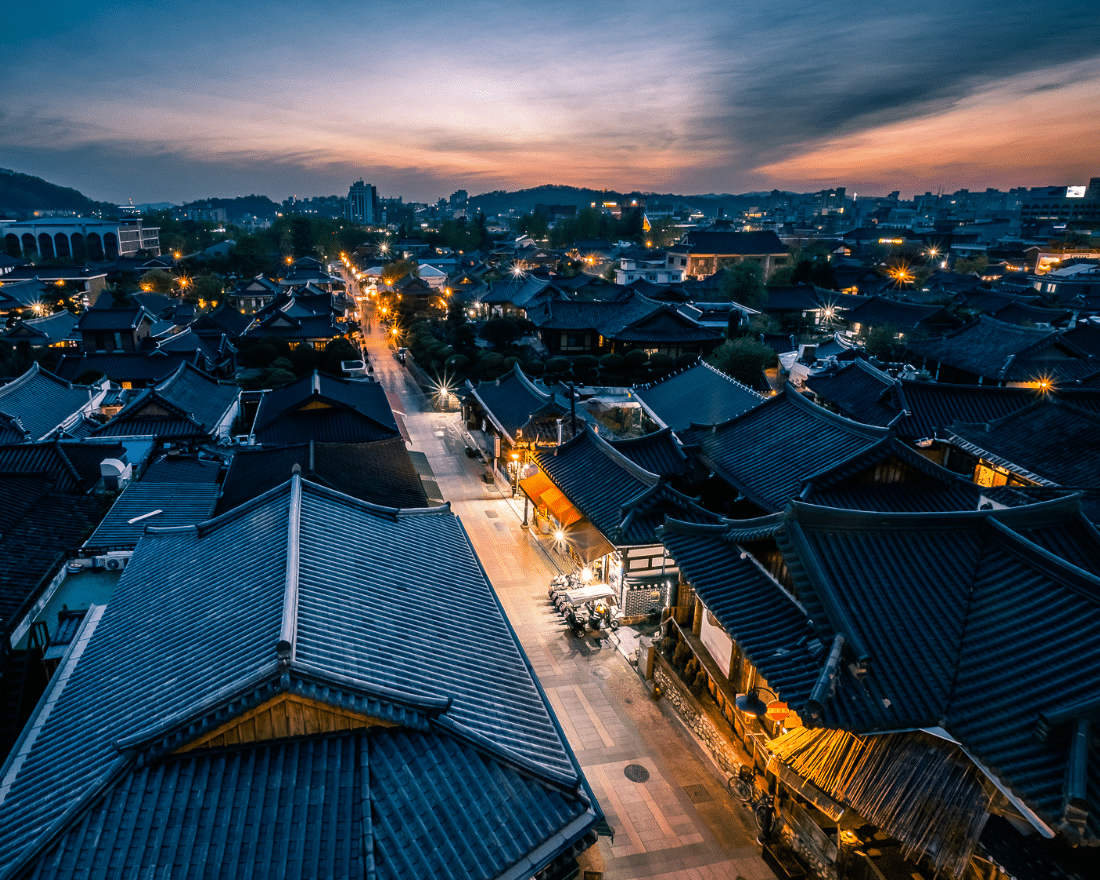 PUBLISHED December 19th, 2018 06:00 am
There are more than enough things to do in Seoul — no question about that. But where's the joy in travel if you don't get out of the capital and see what else the country has to offer? Away from the neon-lit hipster streets of Hongdae and packed Myeong-dong lies a different Korea: one of tradition, culture, and incredible nature. Here are some of the best day trips for a jaunt outside of the Korean capital.
The Heritage Enclave: Jeonju
The Bukchon Hanok Village in Seoul is charming, but it doesn't hold a candle to its counterpart in Jeonju, which is home to over 800 traditional Korean hanok houses. Some two hours away by train, Jeonju is a welcome change of pace for the weary, with plenty of intimate historical attractions in the city. Visit the Hanok Life Experience Hall to garner insights into daily life of the past, and of course, rent a hanbok of your own for your Instagram selfie needs. Don't miss out on the Gyeonggijeon Shrine, where you can see portraits of King Tae-jo, the man who founded the Joseon Dynasty; the colourful murals in the Jaman Mural Village; or the Omokdae pavilion up a steep hill.
Jeonju's cultural offerings extend to food as well. Aside from wine and kimchi museums, the small city is widely attributed as the birthplace of bibimbap, a mixed rice dish of vegetables and meat — so you know what to absolutely order.
Get here: Jeongju from Seoul is quite a ride, so it's wise to start early the day early. Depart from Yongsan Station on the KTX towards Jeonju Station, which costs ₩30,600/USD$27 and takes about two hours.
Korea's Largest Theme Park: Everland
Visiting Seoul in spring? Everland, a two-hour journey from the city, is a must-go — if only to see its amazing Four Seasons Garden dedicated to tulips, daffodils, and hyacinths. Heck, even autumn time has its own charms. As South Korea's biggest theme park, Everland has been compared to Disneyland and Universal Studios, with five themed zones (Global Fair, Magic Land, American Adventure, European Adventure, and Zootopia) and over 40 exciting rides for the thrill seekers, as well as tamer ones for kids. In true theme park fashion, there are outdoor parades, cheery music, and generally good vibes all around.
Get here: If you're not on a tour, the easiest way is by subway from Gangnam Station to Jeondae Everland Station, though you'll need to change lines several times. Alternatively, you can take bus 5002 from Gangnam Station's Exit 10, which takes approximately one hour and costs ₩2,500/USD$2.30.
Everland is open Sun-Thu, 10am – 9pm, Fri-Sat 10am – 10pm.
Nature Escape: Bukhansan National Park
Bukhansan is located just north of Seoul, but it might as well be on the other side of the country. This beautiful national park boasts some of Korea's best hiking trails, with an assortment of creeks, granite mountains, and vistas that will take your breath away. Not at peak fitness? Don't worry — an easy 3.4km Bukhansanseong trail for beginners will lead you to Baegundae Peak, which happens to be the tallest peak (at 836 metres) in the park.
It's not all nature too. You will find Silla Kingdom's King Jinheung Sunsubi Monument on Bibong Peak, as well as the incredible Bukhansanseong Fortress along the mountain's ridges. Sangunsa Temple, built by the famous monk Won-Hyo, as well as numerous other temples and rock-carved buddhas occupy the area.
Get here: Hop onto Line 3 of the Seoul Metro to Gupabal Station, then board Bus 704 to various stops along the Bukhansan National Park.
Thrill Tour: Korean Demilitarized Zone (DMZ)
A trip to the infamous Korean Demilitarized Zone (DMZ) can be stressful, or it can be a whole lot of fun. All it takes is a relatively short trip up from Seoul to find out. This four-kilometre strip of land is what separates the borders of North Korea and South Korea, and while border guards play the staring game, you can take a peek at what happens on the other side. A good number of tours will take you around the Dora Observatory, where you can peer through binoculars, and even through the infiltration tunnels built by North Korea for a now-thwarted surprise attack on Seoul. If you're lucky, you might even get to visit the Joint Security Area, as you get up close and personal into North Korean territory via a large conference room. Just remember, don't point your camera at that watchtower or someone might just think it's a gun — we kid.
Get here: You didn't think you could just enter independently, right? A trip to the DMZ is only available as part of a guided and supervised tour. Needless to say, It's worth paying for a more comprehensive tour.
K-Drama Haven: Gapyeong
Made famous by no small number of Korean dramas, this cosy town is home to some incredible natural sights. Its iconic public garden, the Garden of Morning Calm, is the largest in Korea, and features not just a traditional Korean garden, but also a Chinese water garden and Japanese bonsai garden — in other words, it's the ultimate photo opportunity.
Fans of Winter Sonata will easily recognise Nami Island in Gapyeong, which is incidentally one of the top spots for viewing autumn colours in the area. Rent a bike and cycle through the forests, or take a stroll by the lake beneath the large sequoias trees. Did we mention Gapyeong also has its own Petite France complete with a mini Eiffel Tower? This is truly one for the romance books.
Get here: Thanks to the ITX high-speed train, the journey to Gapyeong is now just 58 minutes. The train (₩6,000/USD$6) is the quickest way from Seoul, and departs from Yongsan Station regularly each day.
Culture Trip: Ansan
Where there are immigrants, there are good food — and few places in Korea has as large an immigrant population as Ansan. Closer to Southeast Asia in feel than the rest of the country, this is where locals go to discover flavours and cuisines from outside. Street signs are now in Mandarin and Vietnamese, and kimchi is switched out for Sichuan spices along with other Asian herbs and medicines. The best place in Ansan to eat is the Wongok-Dong district, where you will find endless rows of restaurants and street food vendors.
As for cultural attractions, you won't go wrong with the Byeolmangseong Fortress, a ruined stone castle of the Joseon dynasty, Ansan Lake Park, and the Gyeonggi Museum of Modern Art.
Get here: Ansan connected to Seoul by rail via the Seoul Subway Line 4. It's also the cheapest and one of the fastest ways, taking you from Gyeongbokgung Station to Daehwa Station in 45 minutes and ₩2,200/USD$2. From Daehwa, take a 15- to 20-minute (approximately ₩25,000/USD$22) cab ride across the river to Ansan.