Fung Kee Hot Dogs: Scandinavian-Asian Dogs with Negronis and Champagne at Orchard Towers, Singapore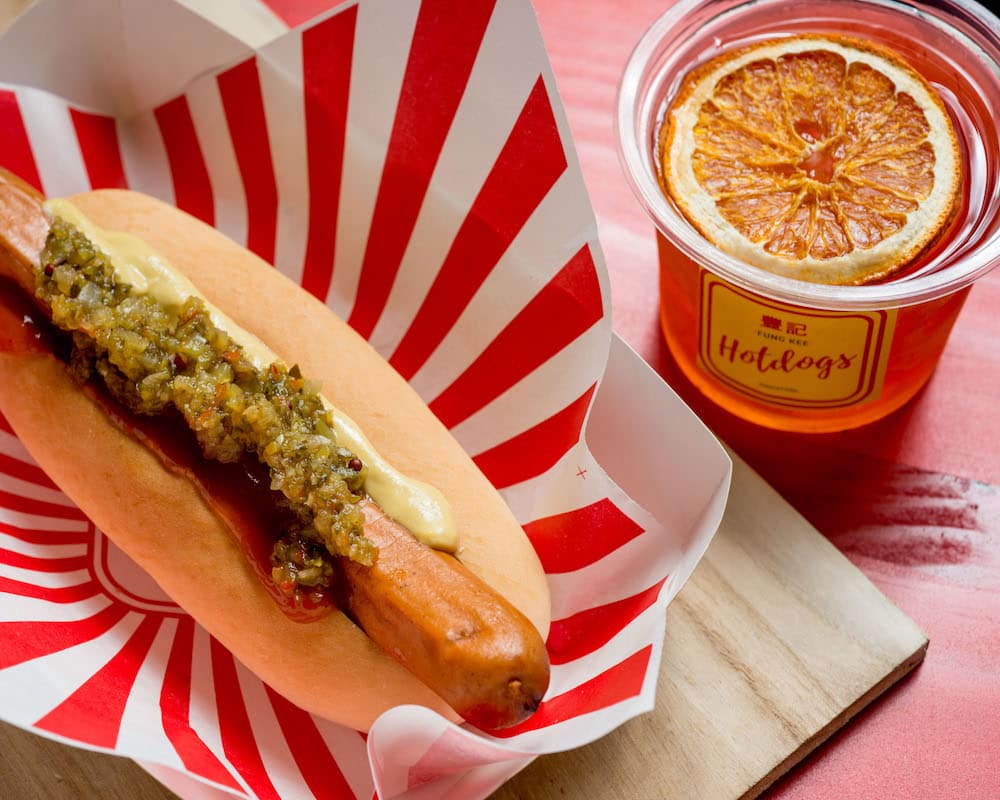 PUBLISHED December 20th, 2018 04:00 am | UPDATED May 18th, 2020 04:23 pm
When you think of Orchard Towers, what comes to mind? If it's "Thai food" and "four floors of whores", we don't blame you – their offline marketing is that well done. That said, on the fourth floor now sits a neon-lit hot dog joint by Knut Randhem, who has left the swankier back bars of Butcher Boy and CÉ LA VI for the authentic grunginess of Orchard Towers.
Having grown up in Denmark and cut his teeth bartending across Europe, it's not surprising Fung Kee serves up smashing Negronis and champage (read: Dom Pérignon) alongside them affordable dogs.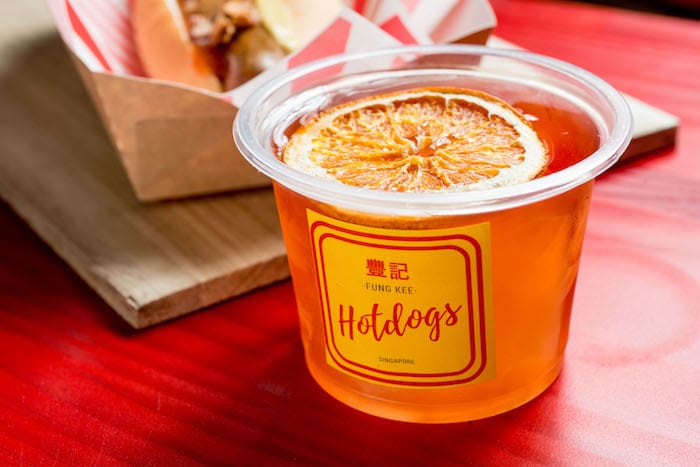 Their menu sports three types of hot dogs – the Classic ($8), a Scandinavian style smoked pork sausage with a nice snap when you sink your teeth in, the classic filled with Swiss Cheese ($8), and a Vegan ($8) option made from mushroom and soy. Don't expect the meat-free option to be as juicy as the other two, and there're no fancy buns here. The lightly toasted white bread allowed the toppings to shine.
Ketchup, mustard, and crispy onions are all complimentary with every purchase of a hot dog, so the purists are all set. We enjoyed having the Classic with Fung Kee's Remoulade ($1) but if you're looking for something spicy, try your hot dog with the Szechuan Chilli ($3) sauce balanced with the acidity of the Boston Pickle ($1).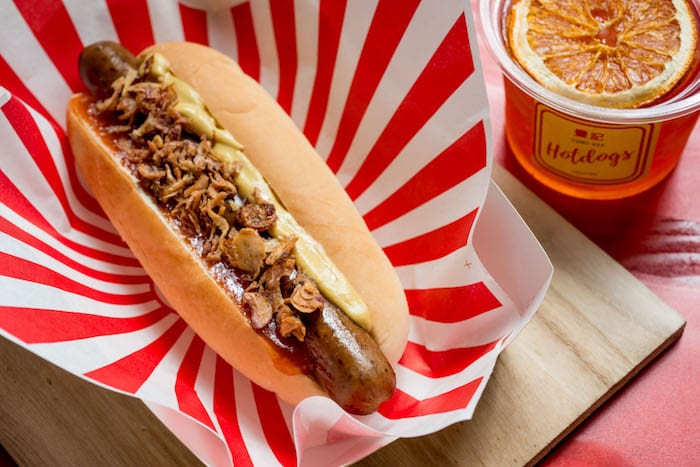 For sides, there are gourmet Potato Chips ($3) if you need more carbs, but we highly recommend their lightly seasoned Flæskesvær ($8) – more commonly known as pork scratchings – which are addictive, to say the least.
We mentioned Negronis ($14) – and they're easily the best cocktails you can get in the building. Made in a classic 1:1:1 ratio of gin, sweet vermouth, and Campari, the bittersweet tipple packs a good punch and we appreciate the use of a solid, clear ice cube. Other alcoholic drinks include G&Ts ($12), champagne ($18 per glass), and Pabst Blue Ribbon beer ($10).
Compared the myriad experiences you can have at Orchard Towers, Fung Kee is pretty tame, but at least it's a guaranteed delicious one. We hear they're also opening up in the Duxton neighbourhood so keep your eyes peeled.
Fung Kee Hotdogs is located at #04-23 Orchard Towers, 400 Orchard Road, Singapore 238875. Open Mon-Thu 7pm-2am, Fri-Sat 7pm-3am, Sun 7pm-2am.