Durian 101: A Guide To Owning the Best of This Year's Bumper Crop Available in Singapore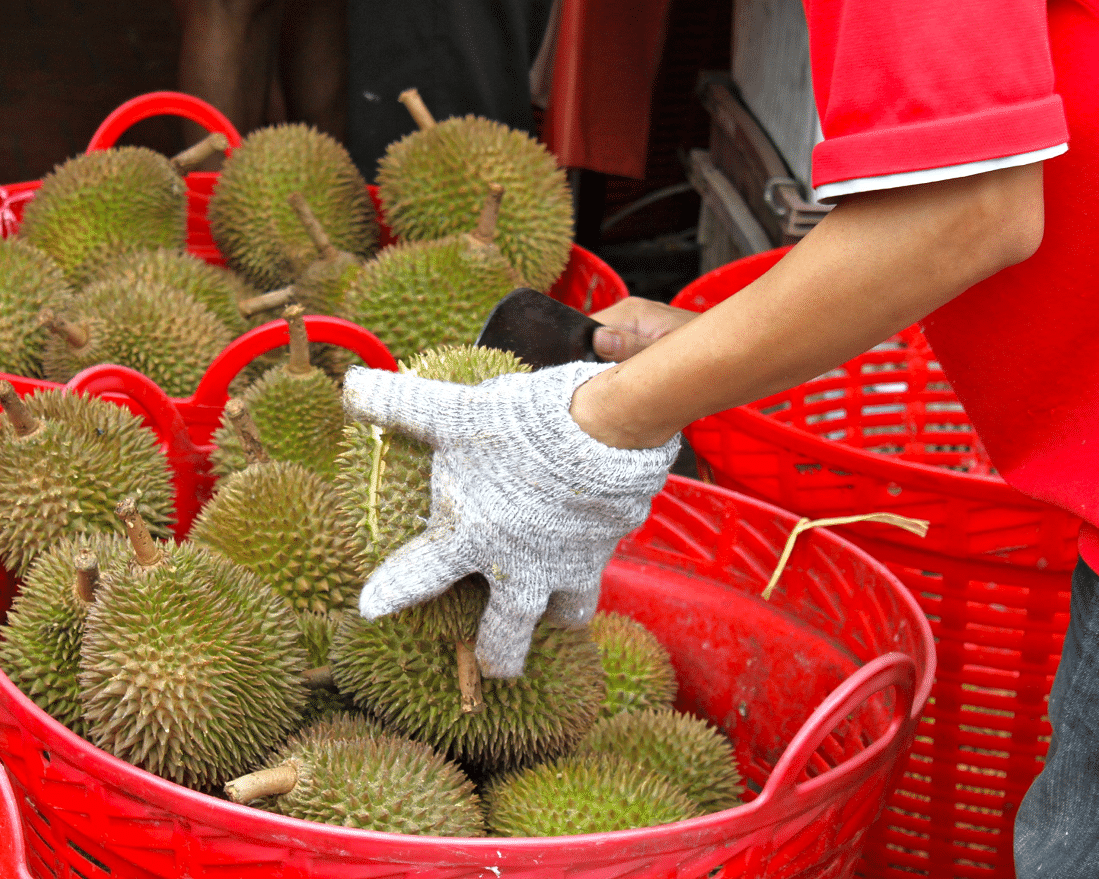 PUBLISHED July 23rd, 2019 06:00 am | UPDATED March 26th, 2020 10:41 am
If you don't get slightly miffed when you see people dry heave at the whiff of durian – are you even local? Just like cocktails, The King of Fruit have their own brand of classics, hybrids, and bespoke specials. So read on, if you want to get to know our national fruit a little better and show off some know-how the next time you decide to drop by Geylang.
How Do I Choose The Perfect Durian?
Regardless on which type of durian you're looking for – more on that later – there's a general rule of thumb to selecting your very own thorny treat.
Stalk the Stalk
Go for fat, intact stems and avoid anything broken or hacked down. Younger (fresher) fruit have a bright green stalk under the woody exterior, but you'll have to be a little subtle and not gouge out every fruit you pick, lest you feel the wrath of stall uncles.
Judge It by Its Cover
Older fruit generally don't look as green and take on a brown exterior, but that doesn't necessarily mean it's a bad fruit. Instead, check the base to ensure that the fruit hasn't already opened on its own, and make sure the spikes are green at the base with a little brown at the tips, so you know it's fresh but also old enough to be ripe.
Shake It
In the immortalised words of Shakira: You know my hips don't lie, and I'm starting to feel it's right. While durian obviously don't share the same anatomy as the Colombian superstar, giving it a good shake is pretty tell-tale for whether the fruit is ripe for the taking. Go for something that has a little rattle but also still maintains some squish (i.e. ripe but not dry flesh). The durian should also feel lighter than it looks, as heavier ones could have dropped when unripe or waterlogged.
The Durian Directory
Aside from famous favourites like Mao Shan Wang and D24, not many of us know the King of Fruit as well as we'd like; for example, did you know that there are over 200 cultivars of durian in Malaysia alone, and the "D" in D24 or D101 only belong to officially registered strains?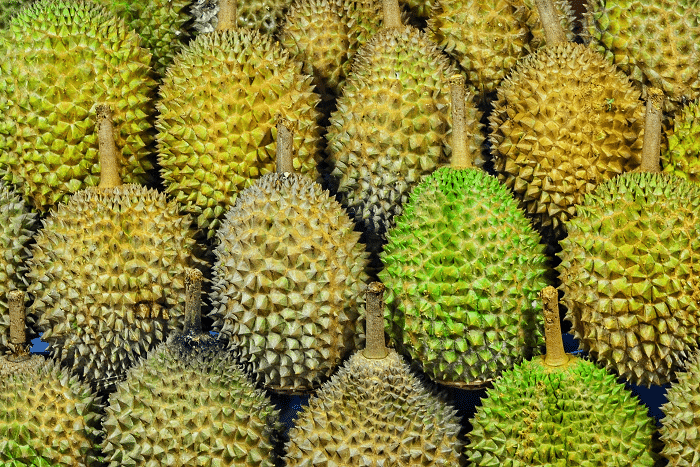 Mao Shan Wang
Named after the King of Rock and Roll, mao shan sang comes for the Pahang region of Malaysia, and is commonly referred to as a great standard to set against other durians you'll eat in your life. Lightly bitter in taste, its texture is thick and creamy, almost custardy.
Jin Feng (Golden Phoenix)
Physical proof that good things come in small packages. Jin feng may be small, but has great value for money because of its small seeds and thin husk, making the flesh-to-weight ratio higher than other cultivars. Sharp and bitter in taste, the deep-yellow flesh isn't as buttery as mao shan wang.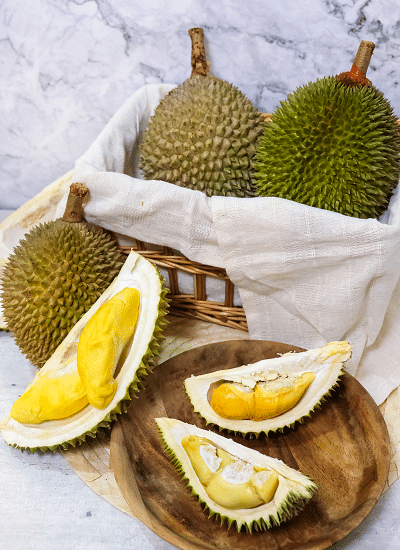 D24 Sultan
The D24 has a good balance of sweet and bitter, with smooth and creamy flesh. More so than the others, it has a pungent fermentation that results in more alcoholic notes.
Tekka
The Tekka variety from Pahang carries hints of floral notes with sweet flesh that's occasionally bitter. Sometimes known as the Green Bamboo, they're pretty much wildcards, with irregular shapes and seeds. But when you land a good one, you'll know.
Black Pearl
Slightly bitter and milky in texture, the Black Pearl is a very rare cultivar from Johor. Their small, pearl-like seeds are encased in pale, almost grey flesh that leans more towards bitter than sweet.
Black Thorn
Even rarer than the Pearl is the ever-elusive Black Thorn. Kelvin Tan, Chief Durian Officer at 99 Old Trees by Fook Gor Durian Farm, tells us that when Black Thorns come rolling in the shop, they get snapped up in a matter of minutes. Round in shape with thick and orange-red flesh, durian enthusiasts love it for the intensely bitter flavours and amazing texture.
Get Some
Kelvin advises, "Don't pick the durian, pick the durian seller." And for those who've had their own personal trauma from being kotoh (scammed) by fruitsellers, you'll know what he means. So if you aren't too sure of how to choose a good durian or simply don't want the hassle of doing so, check out these options.
Durian Omakase
This year's durian season is estimated to last till 31 August 2019. To get the most of the season, drop by 99 Old Trees for a fruity flight of stupendous stink. Their SukaWa experience promises locals, tourists and everyone in-between a curated selection of at least six cultivars (depending on the harvest). Lasting up to an hour, this includes unlimited portions of Mao Shan Wang or D24 durians, homemade drink and desserts, with a one-for-one exchange for bad seeds to get you the most out of each dollar.
The deets: Each session is priced at S$60++ per person, lasting from 45 minutes to 1 hour, limited to two sessions per week, three days advance reservation required.
99 Old Trees is located at Block 46 Owen Road, #01-277, Singapore 210046, p. +65 9822 2495. Opens daily 11.30am-9pm, and 11.30am-11pm during durian season.
Delivery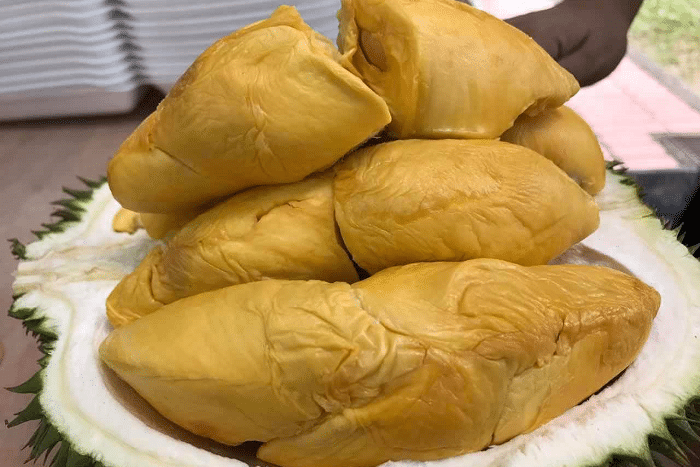 The King of Fruit is a finicky thing to eat. Sticky fingers and smelly mouths are expected, and with the ban of durians on public transport, it isn't easy bringing them home to enjoy, either. Thankfully, durian delivery is the new normal, so you'll be able to steep in the fumes in the comforts of your own home. We recommend:
227 Katong Durian: p. +65 9751 4828. Flat rate delivery charge of S$30, with free delivery over S$200 spent.
Durian Culture: p. +65 9180 1080. Flat rate delivery charge of S$16, with free delivery over S$300 spent.
99 Old Trees: Order online. Flat rate delivery charge of S$9.90, with free delivery over S$150 spent.
Melvin's Durian: p.+ 65 8869 0781. Flat rate delivery charge of S$12, with free delivery over S$80 spent.
Top photo courtesy of Travis.