How to Spend Three Days in Vang Vieng, The Picturesque Riverside Town Three Hours from the Laotian Capital of Vientiane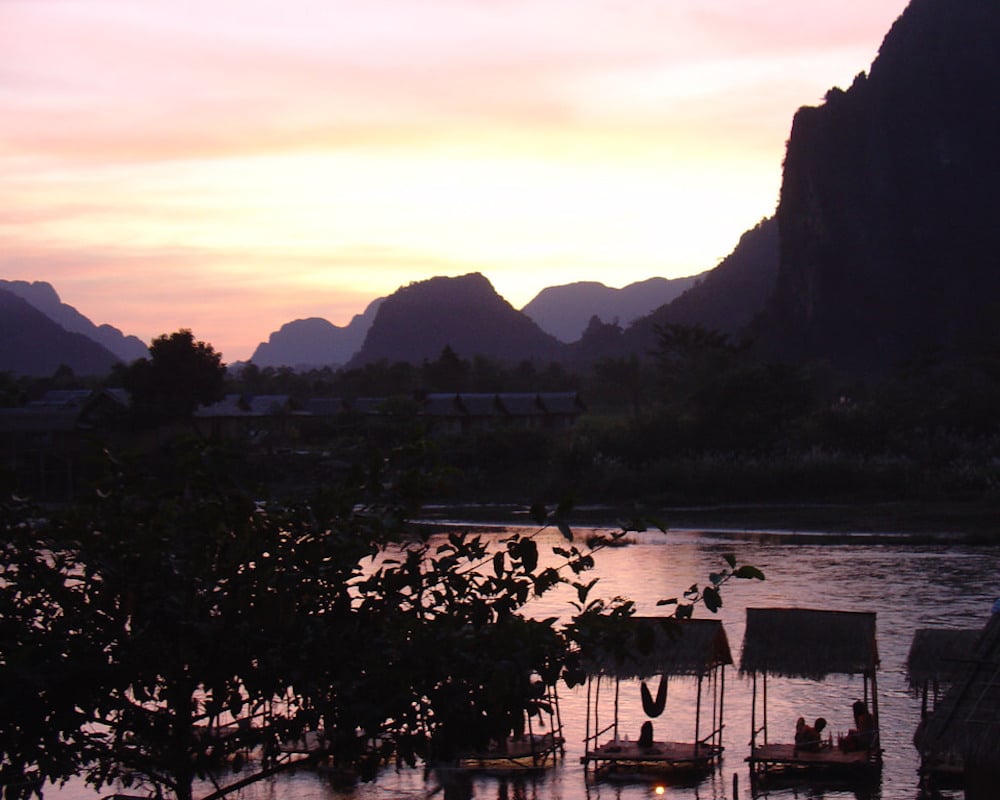 PUBLISHED July 23rd, 2018 12:04 am
After falling in love with Luang Prabang, Laos' UNESCO World Heritage town filled with gorgeous temples, our next destination was Vientiane. On the way, however, we stopped at the riverside town of Vang Vieng. The town might have risen to prominence as a rowdy backpackers' destination, but a clean up of its unruly party scene has steered the focus back to the main draw: the postcard-pretty scenery that lies beyond the outskirts of the town. For city dwellers, it's a refreshing change up from the dreariness of the concrete jungle: there are meandering rivers for kayaking, waterfall pools for dipping, alluring caves for exploring and more.
Kayak down Nam Song River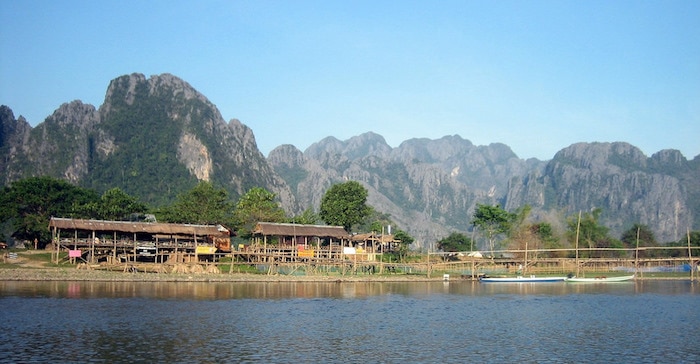 A kayaking experience along the Nam Song River comes accompanied with views of towering limestone karsts, abundant greenery and traditional houses. Come in the morning when it's considerably cooler, and while the river is still quiet as most of the riverside bars have yet to open. You could hire a guide for a kayaking tour of the river, or join in a more comprehensive, full-day program that includes a visit to the water caves.
Go river tubing
Thankfully, tubing across the river isn't the raucous affair that it once was during Vang Vieng's heyday as a party destination. You can still join in the party and drift from bar to bar during the mid-afternoon if that floats your boat; otherwise, head out earlier in the morning for the unparalleled experience of having the river and its scenic surroundings all to yourself (save for a handful of kayakers).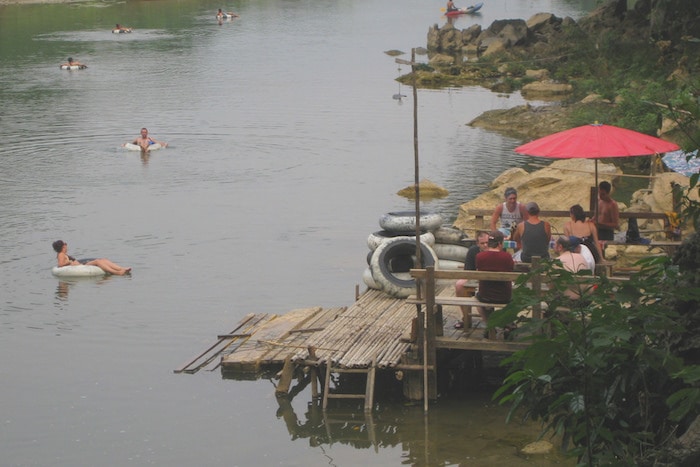 It typically takes about three hours to drift languidly down the river during dry season, or you could get off the tube and paddle mid-way to speed things up. Once you hit the stretch of the river lined with bars and restaurants, hop off for a break to fuel up with lunch or a drink.
You'll easily find operators offering tubing experiences peppered all around town, but there's also the option of renting a tube directly from the main vendor in the village. The warehouse is easily noticeable due to the numerous tuk-tuks lined outside waiting to transport vacationers to the starting point along the river.
Explore the mysterious caves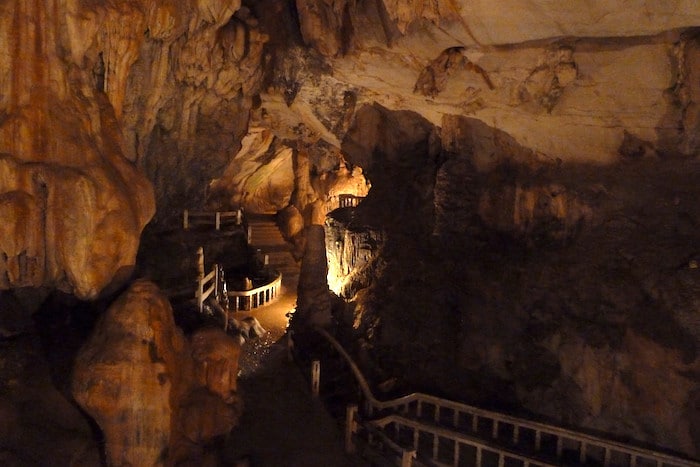 Located northwards of Vang Vieng lies the Tham Sang Triangle – a site where four caves are situated within walking distance of each other. Visit the attraction as part of a half or full-day tour, but if you prefer exploring at your own pace, the caves are accessible via cycling or a tuk-tuk ride. Hire a guide upon arrival if you're looking for a more comprehensive tour of the caves.
Of the four caves, Tham Nam is the highlight: during the wet season, visitors may rent a tube to float through the cave. It's a popular activity, so come prepared to drift along the cave with fellow holidaymakers. There are typically fewer visitors after noon, and the quietness adds a thrilling, mysterious element to the tour. The remaining caves of Tham Sang, Tham Hoi and Tham Loup are explored via foot.
Visit Kaeng Nyui Waterfall
Kaeng Nyui Waterfall boasts a 30-metre drop, three cascades, and a sparkling pool you can plunge right into to cool off from the heat. There's two ways of getting to the waterfall: by a tuk-tuk or a bike. If you're opting for the latter, do note that it won't be an easy ride, since the pathway is rocky and largely unshaded.
Essential tip: while the waterfall is spectacular during wet season, it dries up to a trickle during the dry season so there won't be much to see then.
Hike up Phangern Mountain Viewpoint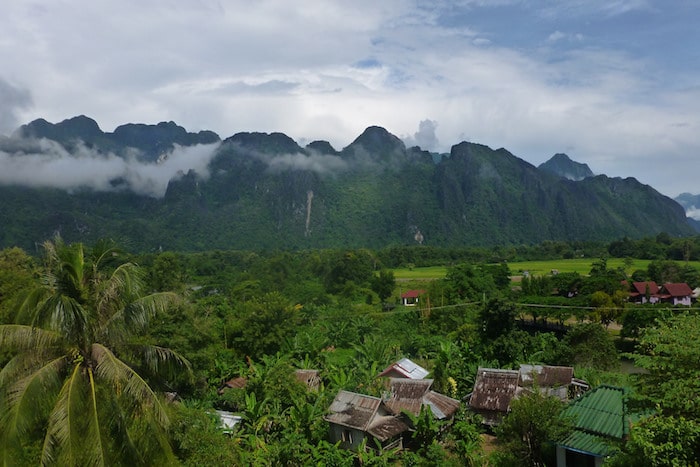 Vang Vieng's picturesque landscape is best enjoyed from an elevated vantage point – and the best spot is undoubtedly Phangern Mountain Viewpoint. The views make the hike well worth the effort, even if it isn't a walk in the park – the trail leading up isn't well-paved, the path gets steep and rocky for a portion of the hike, and it feels particularly strenuous hiking in the sweltering heat and humidity.
But there a couple of ways you can make the hike less challenging: start off early to avoid the mid-day heat, bring plenty of water, and ensure that you have enough time to take plenty of breaks along the way. You could also stop at the first viewpoint (most visitors arrive here after a 45-minute hike); ascending up to the topmost viewpoint requires an additional 30-minute hike.
Discover the scenic countryside via bike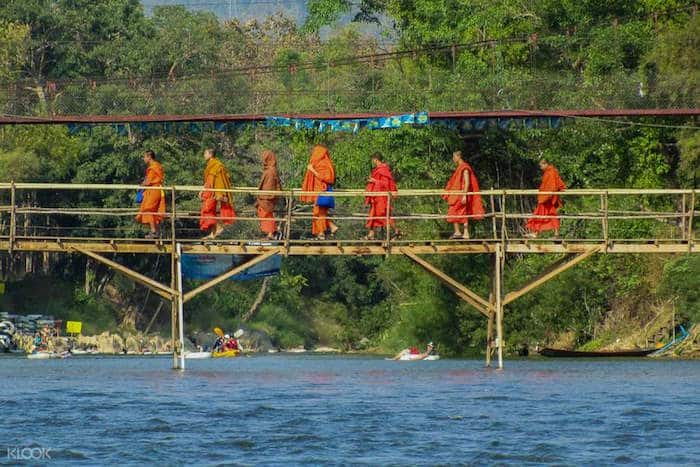 Getting about on two wheels is a great way to discover Vang Vieng's bucolic countryside scenery. Intrepid travellers may rent a bike and ride off on their own, but there are cycling tours available if you prefer exploring with a guide or in a group. Cyclists often take the loop that leads out to Tham Poukhan cave and the Blue Lagoon.
Pro-tip: Mountain bikes with gears are recommended, since you'll be riding on unpaved roads once you're out of the town centre.
Experience Laotian spirituality at the local temples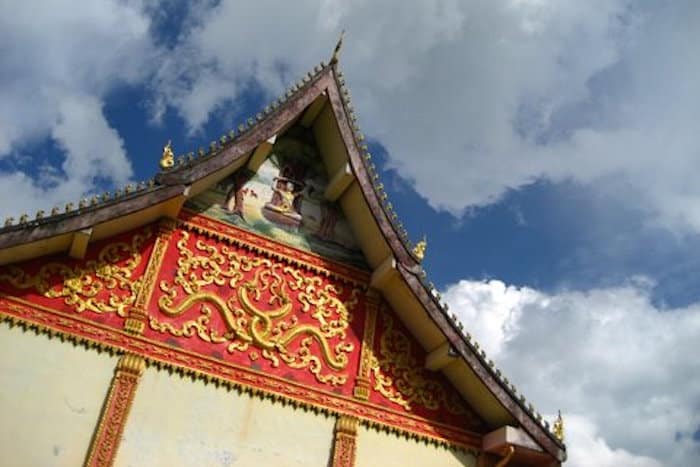 Vang Vieng's temples may not be as ornate as the more widely known monuments in Vientiane or Luang Prabang, but the sites exude a sense of serenity, and are a great option for spending a relaxing afternoon in town while you await sunset. Check out Wat Done Hor, the oldest temple in Vang Vieng, as well as Wat That for its decorative nagas and colourful entrance arch.
Unwind with cocktails and a spectacular sunset show
Pass over the thumping techno music and crowds of the backpacker bars along Nam Song River – Restaurant du Crabe d'Or offers an elegant riverside experience with its beautifully appointed dining spaces, wonderful ambience and sweeping vistas out to the river and limestone mountains. Stay on for dinner after you're done with sundowners to enjoy the restaurant's scrumptious selection of traditional Lao and French fare.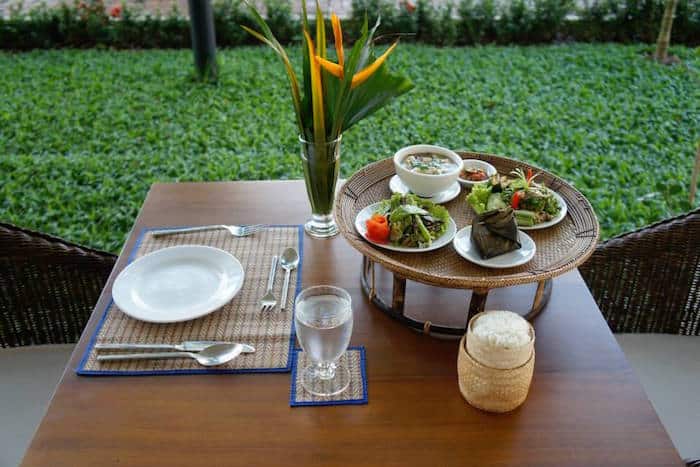 For a different experience – less fine-dining, more chilled-out and fuss-free – head over to Earth Bar. Nestled away in a stunning hillside setting, the bar offers uninterrupted views over a lush landscape and makes an excellent spot for sunset drinks. The vibes are artsy and relaxed, and you'll rub shoulders with fellow diners tucking into burgers, salads or snacks out in an atmospheric, lamp-lit garden.
This post is written in collaboration with SilkAir.
---
SilkAir, the regional wing of Singapore Airlines, currently operates about 400 flights a week to 53 destinations in 16 countries. The destinations SilkAir operates to are within a six-and-a-half-hours flying duration from Singapore, with the furthest destination being Cairns in Australia. Come October 31st, SilkAir will be operating to its newest destination, Hiroshima, Japan. At the moment, the combined Singapore Airlines and SilkAir network covers over 100 destinations in 36 countries.
SilkAir's positioning as a premium, short-to-medium haul regional carrier gives it a unique appeal amongst leisure and business travellers in Asia. Whilst offering carefully selected meals, a full bar service and complimentary in-flight entertainment, SilkAir places great emphasis on providing attentive, friendly and relaxing service. The carrier's regional flair is expressed through both its cabin crew and its cuisine – ensuring that your experience of the destination you're heading to begins when you step onto our plane.
For more information on flights to Vientiane, see here.
Top image courtesy of amanderson2.