Fresh Oysters and Splendid Cocktails at Bukit Pasoh's Humpback: Review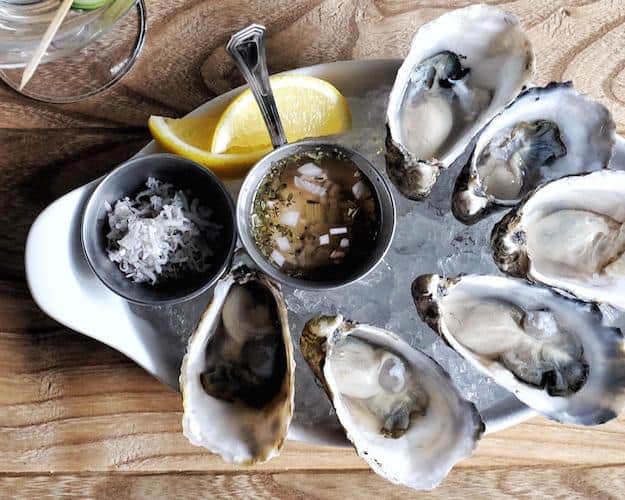 PUBLISHED September 9th, 2015 04:00 pm | UPDATED June 16th, 2020 02:52 am

Hunters of the ocean, wayfarers of continents, and conquistadors of Singapore's food & beverage scene, Indra Kantono & Gan Guoyi (owners of Jigger & Pony and Sugarhall) are currently riding the waves of success with Humpback, their latest dining establishment cloistered in the trendy district of Bukit Pasoh.
A seafood restaurant and a craft cocktail bar rolled into one, this swashbuckling eatery was inspired by the husband-and-wife's jaunt to the fertile estates of the Hama Hama oyster farm in America's Pacific Northwest, where slurping freshly shucked oysters in freezing waters is pretty much the norm.
With shades of blue paint and simplistic wooden tables gracefully dominating the interior, it wasn't so difficult to imagine a troupe of sailors gathering raucously along the bar table, just as how we would picture an officer's mess room to look like aboard a ship or at a naval base.

Shigoku Fat Bastards
Kicking off our dinner was a plate comprising of three different variations of oysters, the fleshy Shigoku Fat Bastard, the curvaceous Totten Inlet, and the petite Kumamoto, all of which are priced at $6 each and sourced from the profuse Washington coast. Our favourite mollusk was the Shigoku Fat Bastard, with its firm, yet luscious tissue emancipating a supreme briny tang that was extremely delicious in every manner. That being said, do check out their oyster happy hour promotion, where it's just $2-3 a pop from 5pm to 7pm!
A plate of Kale ($14++) from Humpback's garden-based section of the menu followed the oyster session. This super food came in two variations in the dish: fresh and crispy (fried then dehydrated). With fresh kale marinated with buttermilk and topped off with slices of pears and servings of pecan nuts, it's flavour was nothing short of spectacular.

Kale with Buttermilk, Kale Chips, Pear And Pecans
To really appreciate Head Chef Polo Seah's culinary ingenuity, however, one must definitely try the beautifully roasted Chicken Breast ($14++). Though simple in nature, the poultry meat was grilled to perfection, with every scrumptious morsel of tender flesh joyfully breaking down in the mouth. Also, try the Cabbage ($14++), where the spicy, cheesy lobe of cabbage sprinkled with crunchy quinoa will completely alter your perspective on the veggie.
Other dishes worth punting on include the Rainbow Trout ($16++). Served with egg yolk, almond milk, and pickled mustard seeds, it's great even for the #eatclean crowd. Our only gripe was that it was slightly cold when served, but we put that down to the sous vide method and a full restaurant. The Baby Blue Mussels ($18++), submerged in hearty kombu broth and mixed with edamame, was undeniably umami, but the pork was a little too pungent for our taste. The Burrata ($14++) was pretty darn tasty with their homemade salsa verde.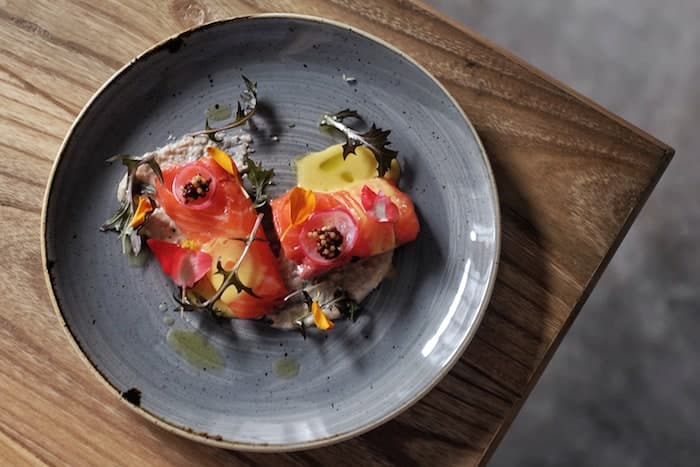 Rainbow Trout, with Egg Yolk, Almond Milk and Pickled Mustard Seeds
Humpback also boasts an expertly curated tipple list, with Bar Programme Director Aki Eguchi the driving force behind the cocktail selection. Ably assisted by Senior Bartender Long Yishu and Associate Manager Tron Young, Eguchi has come up with a signature cocktail list that covers a medley of 12 white spirit-based drinks, ensuring that customers have the perfect accompaniment for a seafood feast.
Overall, we adore this seafood restaurant for bringing something new to Singapore's culinary scene. With their diversified menu of affordable sharing plates and tasty cocktails, we wouldn't be too surprised to see Humpback making an even bigger splash in the future.