10 Things To Do in Vientiane, The Cosy Capital of Laos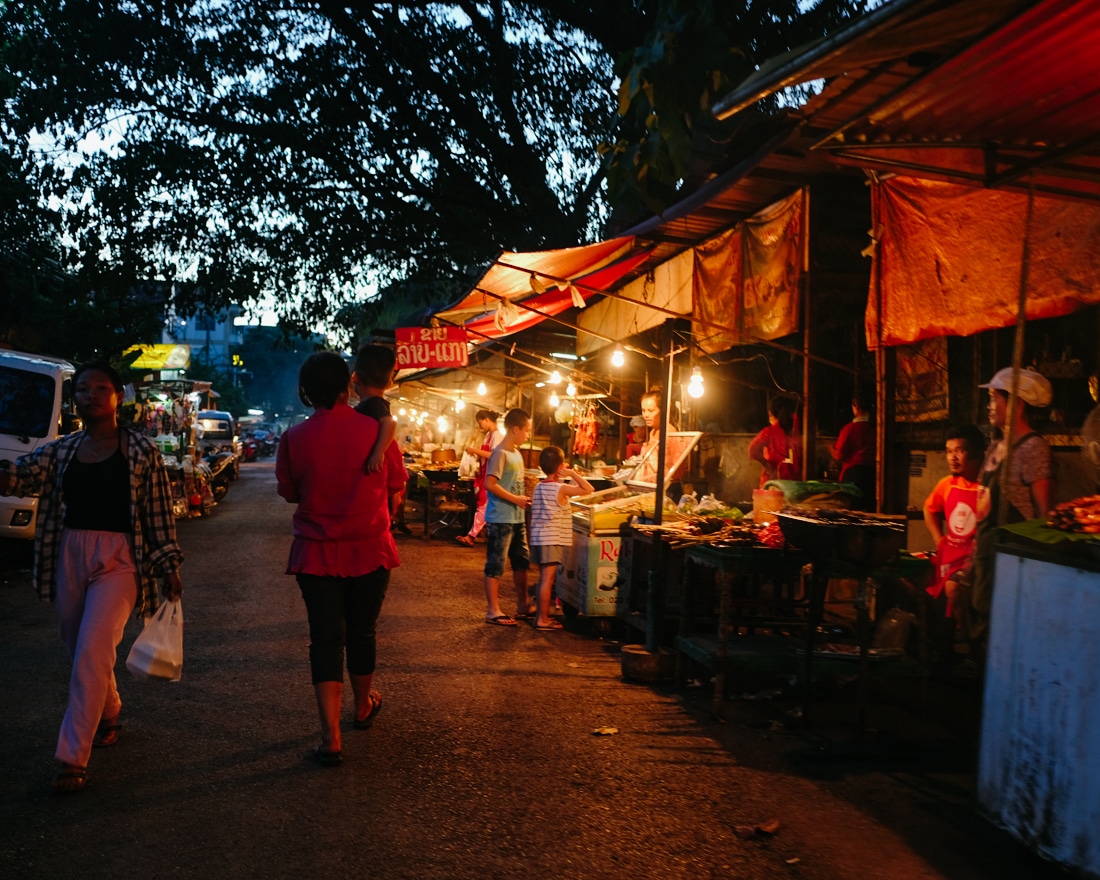 PUBLISHED August 9th, 2018 06:00 am | UPDATED August 23rd, 2018 09:38 am
When you want to experience genuine Laotian culture without needing to travel very much, aside from Luang Prabang, the Laotian town that is also a UNESCO Heritage site, Laos's laid-back capital city is a good bet. Critics might argue that Vientiane has changed – there are now slick luxury hotels, nightclubs, and SUVs rolling down the street – but really, it's a healthy boost for the economy. Under it all, the small city remains a sleepy centre of French colonial influence and timeless Buddhist calm. Vientiane won't quite have the buzz of Bangkok or Hanoi, but when you bother to take a look around, it's full of charming surprises: from age-old temples to cafes galore and local crafts boutiques.
How long do you need to spend in Vientiane? We reckon three days is enough in this cosy capital, but who knows if you end up booking a couple of extra nights here!
Climb Vientiane's own Arc de Triomphe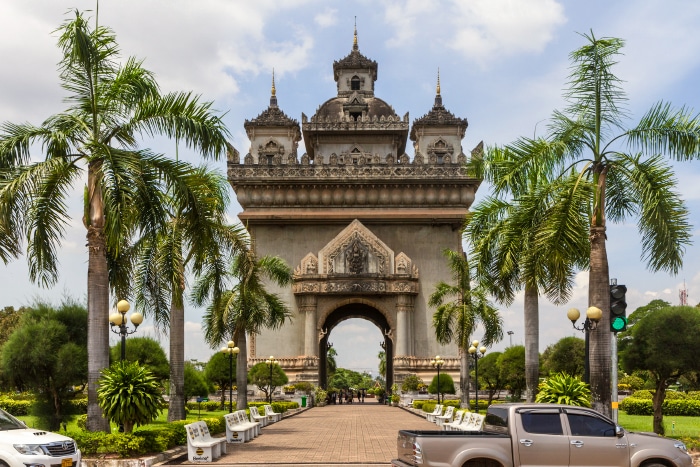 If you pass by the centre of Vientiane, there's no way you're missing the majestic Patuxai Victory Monument, the most distinct landmark  penetrating the city skyline. Dedicated to the Laos who were killed trying to gain independence from France, as well as from Siam and Japan even earlier on, the massive concrete arch looks like the iconic Arc de Triomphe in Paris. Go closer and you'll find that it's intricately designed with religious images aligned with Buddhism (think lotus leaves and nagas) rather than neoclassical Roman influences.
At the top, five towers in traditional Laotian style round off the monument. For a small fee, how about climbing up (or taking the lift) for some glorious vistas of the cityscape? Head down at sunset for the best views.
Learn some traditional skills
Want to stimulate your body and mind? Connect with Laotian culture by taking a traditional natural dyes class at the Houey Hong Vocational Training Centre for Women – and no, you don't have to be a woman to participate. Dye your own silk scarf at 100,000 kip per person, or opt for a one-hour weaving introduction (50,000 kip). MasterChef wannabes and those more adept in the kitchen can sign up for a cooking class (from 500,000 kip per person) with restaurants and groups like Khop Chai Deu and Tuk Tuk Safari.
Visit the COPE Visitor Centre

Visiting a rehabilitation centre might not be your idea of sightseeing, but this one is well worth a trip. COPE is an inspiring organisation that helps Laotian families and victims of leftover buried explosives from the devastating US bombing campaign during the Vietnam War. The COPE Visitor Centre is a museum of sorts with a great multimedia exhibition, including an excellent documentary. Entry is free, but be sure to donate something to help survivors with prosthetics and rehabilitation. Proceeds from ice cream (get the chocolate!) also go towards the cause, and in the stifling heat, we say eat all the ice cream you want.
Eat the local cuisine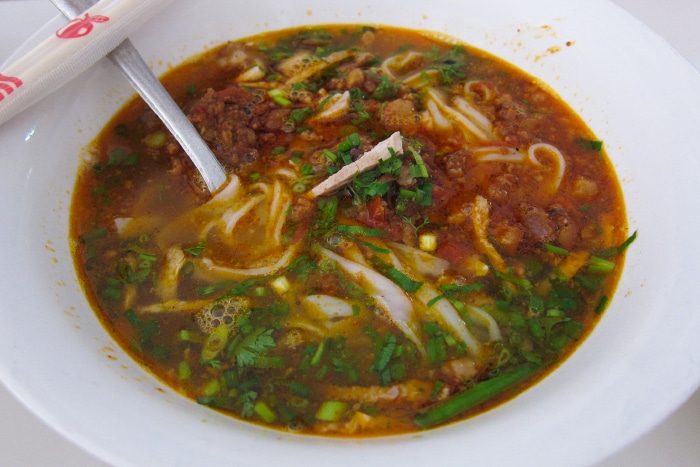 Of the different types of noodle soups in Vientiane, khao piak is without a doubt the most recognisable dish that can be found nearly everywhere. With variations from stall to stall, what you can always expect is chewy round white noodles in piping-hot pork broth with deep-fried shallots and pieces of meat. Order some laap (traditional Lao meat salad) or fish amok from restaurants like Amphone and Pha Khao Lao. The latter in particular specialises in Lao- and Thai-fusion cuisine. You can also try the assortment of street carts peddling everything from barbecued meat to icy desserts and meat buns, popular among hungry workers and students on their break.
---
How about taking a day trip out from Vientiane to the neighbouring riverside town that is Vang Vieng?
---
Traverse the night market for souvenirs

Snuggling around the curve of the Mekong River, the Night Market is an expansive length of red and blue tents where vendors peddle anything under the sun. There are traditional paintings, wood crafts, electronics, trendy clothing, food stalls, and even authentic Laotian outfits to be found. Better than those touristy souvenirs at the airport, right? Even if you're not planning to buy anything, it's a worth a visit to rub shoulders with the locals, and even practice your bartering skills.
Enjoy the rich thick Lao coffee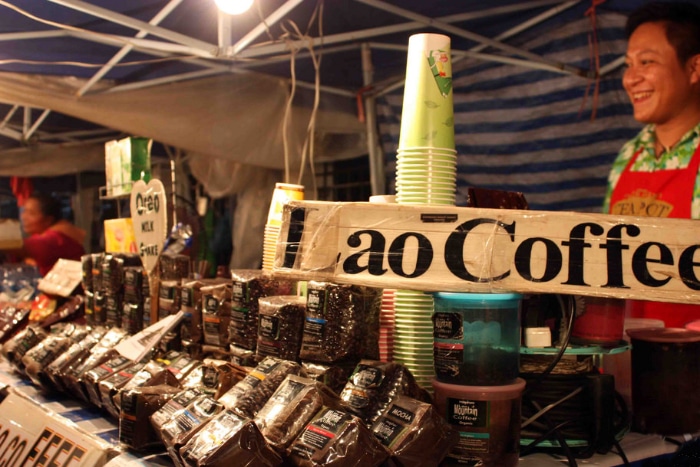 Cool buildings are not the only things the French left behind. They also brought coffee and croissants, a perfect match if there ever was one. The majority of stalls here make their brews from locally-grown plantations, including the verdant Bolaven Plateau in Southern Laos. Expect quality robusta and arabica beans brewed into cafe nohm, a sweet concoction with condensed milk. Western-style artisanal cuppas can be found at the likes of Japanese-run cafe The Little House (try their decadent truffles too), Common Grounds, and speciality roasters Le Trio Coffee from 15,000 kip.
Feel spiritual at the Buddha Park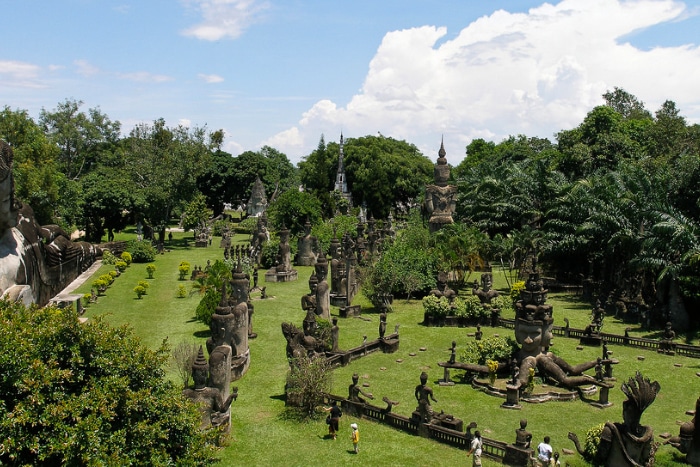 Into religious sculptures? Go to the famous Buddha Park, or Xieng Khuan, located 25km out from the city via public bus or tuk tuk. Built by a monk who studied both Buddhism and Hinduism in 1958, the park boasts over 200 elaborate statues and sculptures, including a 40-metre tall reclining Buddha image and another of Indra, the king of Hindu gods riding on a three-headed elephant.
Have a drink by the Mekong River
What we love about Vientiane is that there's no crazy traffic and no need need to hurry around. Take a seat along the banks of the Mekong River or huddle under a tree at Chao Anouvong Park with an icy-cold bottle of Beer Lao in hand. A tall bottle costs as little as 15,000 kip in most shops and restaurants! If you prefer, The Spirit House bar along the river offers potent shots of Lao-Lao, the local rice whisky that hits you before you realise it.
Shop for exotic Laotian crafts

For what it lacks in the megamalls that have pervaded other Southeast Asian capitals, Vientiane makes up for in markets, quaint craft shops, and galleries. This is where you find authentic hill tribe crafts and silks, jewellery, and home-furnishings that will make your house absolutely Pinterest-worthy. Check out Talad Sao Morning Market and Vangtong Evening Market for everything from cheap knickknacks to expensive wood carvings of Buddha images, while shops like Saoban Crafts and CAMACrafts bring in products from social enterprises in Laos that provide work for marginalised women.
Admire the Buddhist temples
The concentration of wats, or temples, are not as replete as in Luang Prabang, but are they any less beautiful? Surely not. Must-visit wats include Wat Ho Phra Keo, former home of the Emerald Buddha, as well as Wat Sisaket, which sees a large tower and open courtyard with more than 200 different pieces of ceramics on the walls. If you only have time to visit one, make it the stunning golden That Luang. Also called the Great Stupa, it is the national symbol and country's most sacred religious structure. Take your time admiring the high fortress-like walls, two temples, and 148-feet main stupa, the top of which is decked in gold leaf.
General tips for travelling in Vientiane:
While it is relatively easy to get around town by foot, another way to see the city is to rent a bicycle from just USD$2.50 a day.
It is advisable to carry around small change as many drivers, vendors, and shopkeepers don't keep large bills on hand.
Bargaining is acceptable in places or situations where there is no fixed price, like tuk tuks or at markets, but remember to smile and do it politely. Generally, you can go down to 20% to 30% of the initial price, but don't go overboard.
Learning to say hello in Lao, or sabaidee ("sah-bye-dee") will get you a long way in Laos. Similarly, say thank you with kawp jai ("kop chai").
This post is written in collaboration with SilkAir.
---
SilkAir, the regional wing of Singapore Airlines, currently operates about 400 flights a week to 53 destinations in 16 countries. The destinations SilkAir operates to are within a six-and-a-half-hours flying duration from Singapore, with the furthest destination being Cairns in Australia. Come October 31st, SilkAir will be operating to its newest destination, Hiroshima, Japan. At the moment, the combined Singapore Airlines and SilkAir network covers over 100 destinations in 36 countries.
SilkAir's positioning as a premium, short-to-medium haul regional carrier gives it a unique appeal amongst leisure and business travellers in Asia. Whilst offering carefully selected meals, a full bar service and complimentary in-flight entertainment, SilkAir places great emphasis on providing attentive, friendly and relaxing service. The carrier's regional flair is expressed through both its cabin crew and its cuisine – ensuring that your experience of the destination you're heading to begins when you step onto our plane.
For more information on flights to Vientiane, see here.