Just Opened November: 10 New Restaurants and Bars to Check Out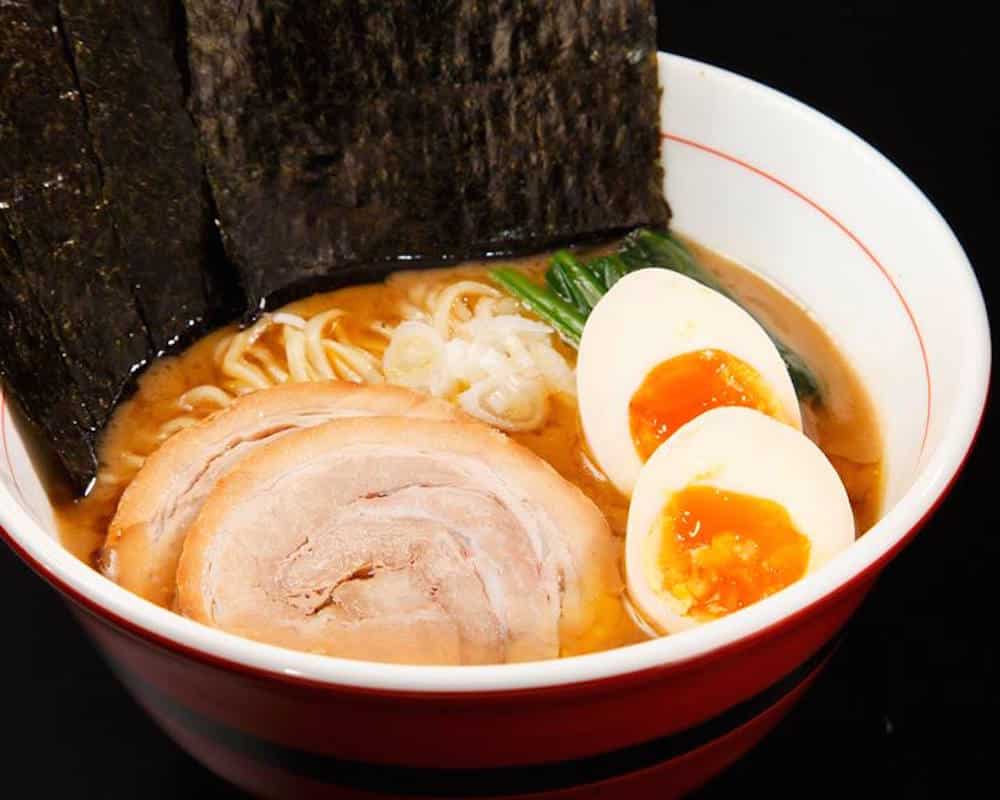 PUBLISHED November 20th, 2014 04:00 pm | UPDATED May 18th, 2020 04:47 pm
Even as we start winding down for the year-end festivities, the openings in Singapore's dining scene are still flying fast and furious. This month, we have a few firsts in Singapore for you guys: first fugu (puffer fish) restaurant, first Korean tapas bar, and first superhero-themed diner. There's also another awesome ramen shop and Sarnies' all-new concept for you to conquer!
Sear
Decked out in leather, metal, and dark wood paneling, Sear is tres sophisticated, especially with its 45th level view of the CBD. The stars at this modern American steakhouse, part of the multi-concept collective 50RP, are definitely the Wakanui Hormone Free 21 Days Aged NZ Hereford Sirloin ($88, 300g) and the 450 Days Grain Fed Australian Jacks Creek Wagyu Ribeye ($70, 250g). While we can't tell you whether the Certified Kobe Ribeye ($340, 250g) is worth the money, we can say we also fell for the sidekicks, Creamy Sweet Corn with Corn Kernels ($16) and Homemade Lemon Rosti ($15).
Sear is located at #45-01/02 Singapore Land Tower, 50 Raffles Place, Singapore 048623. Open Mon to Fri 12-2.30pm & 6-11pm, Sat 6-11pm. Closed Sundays.
Hungry Heroes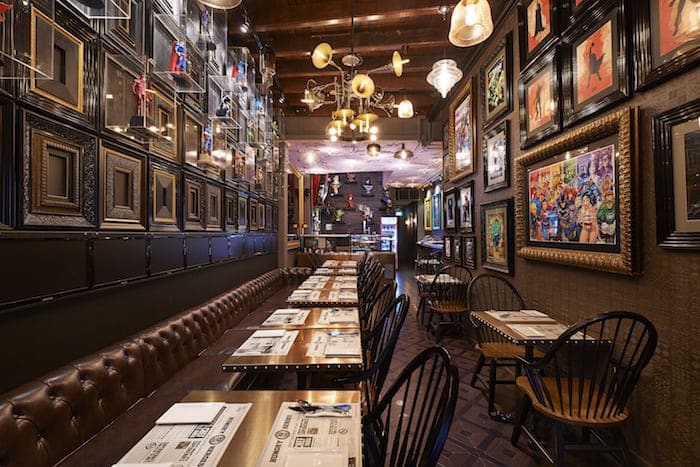 We were awed the minute we walked into Hungry Heroes' shophouse space. The first level looked like a superhero museum, and the second level, which doubles up as a retail space to the owners' art business, channels the pop-art theme. Food-wise, we're looking at a manly (read: meaty) menu of Meat Fury's Signature Pork Ribs ($16 for half rack, $30 for full) and Veal Osso Bucco ($16). If you're heading over with a couple of hungry pals, they have value-for-money communal platters for sharing. Beer geeks, check out their well curated selection of craft beer like the Deschutes River Al ($15 per pint) and the Rogue Mocha Porter ($13 per bottle).
Hungry Heroes is located at 33 Tessensohn Road, Singapore 217656. Open Mon-Fri 4pm – 12am, Sat 11am-12am, Sun 11am-11pm.

Takumen
Serving up one of our favourite food groups – ramen – is the newly opened Takumen along Circular Road. An online ramen delivery service in Japan, their first overseas outpost in Singapore is dishing out 6 popular brands of ramen from the motherland. Noteworthy are the more unique Do Miso (from $17.90), a Ginza brand made with FIVE types of red miso in a pork and chicken based soup, and the Hajime (from $14.90), a light-but-creamy chicken soup ramen for the soul. Pssst, they serve their ramen in both the authentic Japanese version and the tamer Singaporean version – we say go for the former!
Takumen is located at 66 Circular Road, Singapore 049420. Open Mon-Thu 11.30am-3pm & 5.30-10.30pm, Fri 11.30am-3pm & 5.30pm-12am, Sat 5.30pm-12am, Sun 11.30am-3pm.
iO Italian Osteria
We're not usually fans of mall restaurants, but the new Hillview2 in Upper Bukit Timah is rammed full of great restaurant concepts. One of the best among them is iO, a modern Italian osteria and bar concept by the same people behind the superb Sicilian Duxton Road stalwart, Etna. Authentic and reasonably priced (almost all mains are under $30), we highly recommend their marvelous small plates, especially the Crispy Golden Seafood in Semolina Crumb ($9) and Rice 'Arancini' ($9), a deep fried rice ball with a melting mozzarella centre.
iO Italian Osteria is located at #02-01 HillV2 Shopping Centre, 4 Hillview Rise, Singapore 667979.
SYNC Korean Tapas Bar
Singapore's first Korean tapas bar actually brings something new to the already-congested Serangoon Gardens neighbourhood. With accessible prices (we're looking at a set of 4 plates for $29.90!), the interior reminds us of the cafes we've been to in Seoul. So you can expect a gorgeous environment to have your Hite beer with Crackling ($9.90), their super-addictive umami cod chips. The Samgyupsal ($10.90) is a delicious-yet-healthier take on the usual char-grilled pork belly, since it comes with scallion salad and chili yuzu dressing at SYNC. We also like the texture of their Dak Gar-Bi ($38.90, serves 3), a spicy chicken paella that uses Spanish bomba rice.
SYNC Korean Tapas Bar is located at 12 Maju Avenue, Singapore 556690. Open 3pm-12am daily.
D.Bespoke is another one of those places we don't want to like because it just exudes luxury in an almost over-the-top manner, but we couldn't help but start fawning over the epically long bar with an incredible selection of spirits, Japanese whiskies, calvados, and rums. Plus, the immaculately dressed bartenders just exude Ginza style and finesse. The Manhattan is probably one of the best we've ever had, and the glassware, frankly, is glassware porn. Now that's we've finished raving, you do need to know that there's a minimum spending of $60 per person, which, trust us, is quite easy to hit anyway. Check out our full review here.
D. Bespoke is located at 2 Bukit Pasoh Road, Singapore 089816. Open 6pm-1am daily.
Beer Brisket Wings
As the name goes, this new American diner-bar along the increasingly gentrified Circular Road is your new go-to place for wings, smoky beef brisket, and American craft beer. Prices are really affordable, ranging from $14 for half a dozen Bloody Good Wings to $18 for Brisket & Sweet Potato Fries. They also have a value lunch set at $15++; you get soup, grilled chicken wing, with 4 options for (the beef brisket included!) mains and a side (go with the bastard collard greens). On top of having a decent range of craft beers, tippleholics can look forward to classics like Barrel Aged Old Fashion and Mint Julep (both $15).
Beer Brisket Wings is located at 31 Circular Road, Singapore 049387. Open Mon-Fri 11.30am-2pm, 5.30-11.30pm, Sat 6pm-12am. Closed Sundays.
FUKU
Nestled in the Mohamed Sultan district, FUKU is apparently the first restaurant outside of Japan to serve fugu all year-round in kaiseki style (full-course set meals). Potentially fatal if prepared wrongly, you can be rest assured that FUKU's chefs have more than 20 years of experience handling the famed fish. Those who've tried fugu would be glad to know they're bringing in most prized species – the Tora Fugu (Tiger Puffer Fish). Guests can expect fugu to be presented as Tessa (paper-thin slices of sashimi), Karaage (deep fried), Yaki (grilled), and Tecchiri (hot-pot), amongst others. Prices range from $150 for 6 courses to $580 for a 9-course Wild Fugu set.
FUKU is located at 14 Mohamed Sultan Road, #01-01, Singapore 238963. Open 6pm-11pm daily.
The Tiong Bahru Club Singapura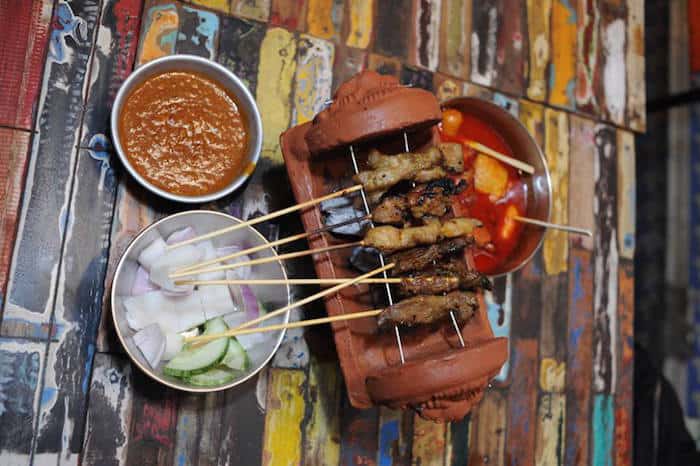 While we were sad to lose the kopitiam that was home to Loo's Hainanese Curry Rice (now at 71 Seng Poh Road) and Sum Long Teochew Braised Duck (now at 53 Ubi Avenue 1), this heritage-style vintage bistro and taproom at least retained the nostalgic vibe. On top of a diverse menu that represents the multiculturalism of Singapore – they have everything from Soto Ayam ($10.80), Devil's Chicken Curry ($16.80), Claypot Rice ($14.80), and Lamb Raan Buns ($18.80) – the owner Jerry Singh also owns Chaiholics at Chevron House, so they offer more than 10 different types of Chai.
Tiong Bahru Club is located at 57 Eng Hoon Street, #01-88, Singapore 267208. Open Mon-Thu 8.30am-11pm, Fri-Sun 8.30am-11.30pm.

The folks behind Sarnies and The Lokal are in the limelight again with their new 'pimp my balls' concept. Diners will get to customize their meatballs ($19.50) with 5 types of meatballs (including Wagyu beef & rosemary and Iberico pork & fennel), sides like fresh papadelle, and sauces. On top of their current small plates menu, their lunch menu featuring meatball subs, wraps, and salads in December. The airy space and retractable glass doors makes it a good chill-out spot after work for the CBD-ites.
Club Meatballs is located at #01-35 China Square Central, 20 Cross Street, Singapore 048422. Open Mon-Thu 11am-12am, Fri 11am-1am, Sat 5pm-12am.

Top Image: Sear and Takumen