Keystone Restaurant – Fine Dining with one of Singapore's finest Chefs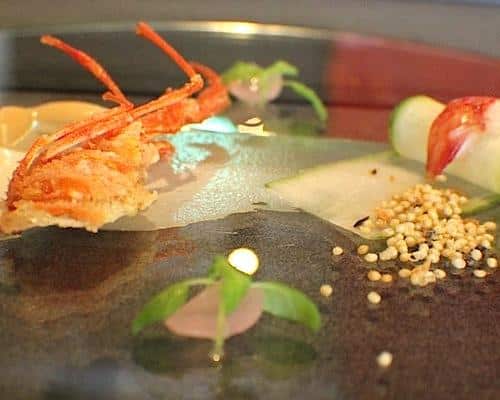 PUBLISHED March 20th, 2013 02:07 am | UPDATED February 2nd, 2016 06:44 am
Keystone has been on my personal restaurant 'hit-list' for a while now. Every now and then it would pop up in conversations amongst chats with F&B professionals….Well, last week I finally got myself together and went over for lunch to try their lush 10 – course degustation menu.
Regular readers might know that I am not usually a fan of 'fine dining'. Yes, I can appreciate the quality of ingredients and the presentation in many establishments, but I know I speak for many when I say that toll on the wallet is seldom worth it, and frankly the food isn't usually that amazing, just pretentious, leaving me feeling a bit like old tea – bitter. Keystone is one of the very few exceptions to this rule. A real treat in this tiresome star-rated restaurant world.
Is Keystone expensive? Yes, quite. The 10 course menu is $155++. But is it worth it? Absolutely. Throughout this indulgence of a lunch, I was constantly impressed and amazed as creations of the new Executive Chef, Immanuel (Singapore-bred and only 25 years old!!!) dazzled my palate.
I know this might sound silly, but I have a strange theory about bread: If you dine in a restaurant that bakes their own bread, and it's fabulous – served steaming and delicious – the rest of what's to follow will likely be superb. This is exactly what happened. The Rosemary charred focaccia with volcanic salt that was served up on arrival was so delicious it's worth mentioning!
Being a 10 course meal, forgive me if I jump to the highlights, but at the time, the Oscierta, Gambas and Black Pig were excellent, complex and tasty. But for me, what came out on top were the following:
Starting with the Tako. Octopus is not high up on my list of favourite foods. I usually find it too chewy, lacking flavour and just plain unimpressive. Not so here. The carpaccio-thin sliced tako is just superb both in flavour, and texture. The fact that it's rested on top of some perfectly cooked risotto makes it even better. What makes it great is the crispy calamari with a hit of smoked paprika, giving the dish an extra crunch.
Another hugely impressive dish was the Caesar. It's difficult to imagine a Caesar salad being impressive. Well how about a deconstructed Caesar salad with homemade dressing and sliced Iberico ham? Got your attention now?
However, the real piece de resistance was yet to come…Kagoshima beef shortrib. Exquisite like a fine wine. Complex, juicy and utterly delicious. It's the kind of dish you close your eyes when eating to concentrate and enjoy the flavours that much more. The side of corn was uninteresting, however the polenta cake made for a beautiful tool to soak up the beefy sauce.
To finish up everything was a long snake-shaped Opera cake. Served with a dollop of espresso ice cream, crunch nuts and some fresh fruits. It was an excellent end to one of the best meals I've had in a while.
After the meal, I had the pleasure to chatting with the humble Chef Immanuel. For someone to be only 25 years old, already Executive Chef and to be as talented as him is no mean feat. In this Nomad's opinion, within a few years this Singaporean Chef's name will be on everyone's lips. I suggest you try his food now before the secret is out.
---
Written by The City Nomad
On this occasion, the meal was compliments of Keystone Restaurant