Stunning Vineyards and Winery Estates in Asia to Visit on Your Next Regional Vacation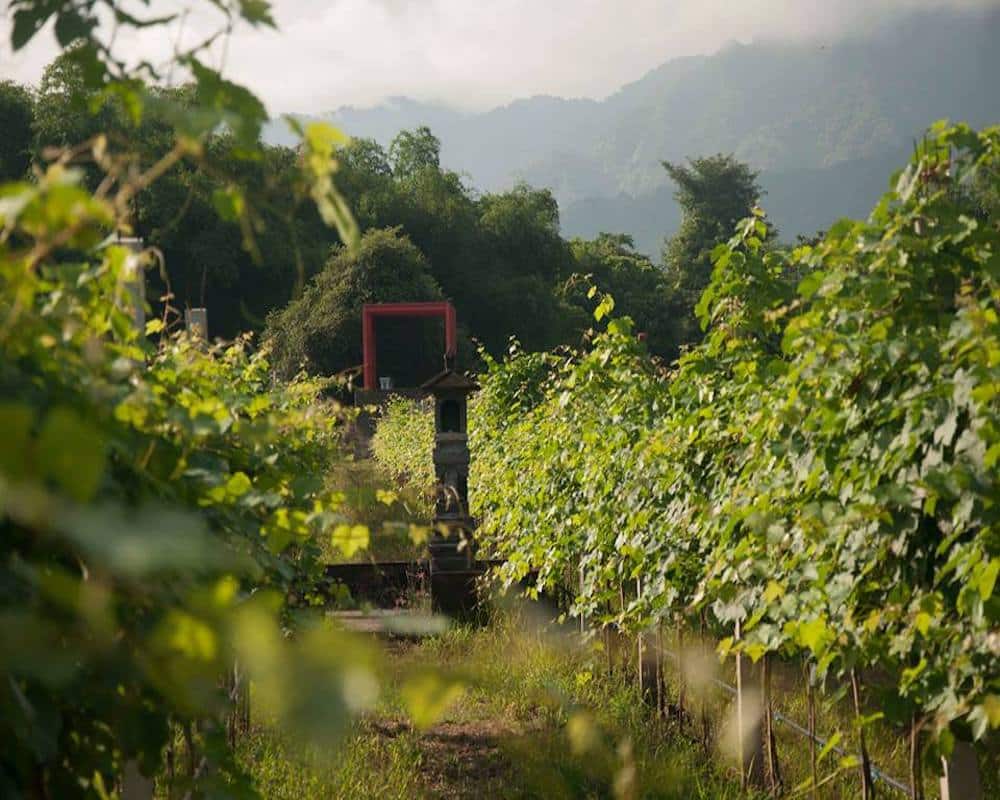 PUBLISHED January 24th, 2018 03:10 pm | UPDATED May 18th, 2020 08:35 pm
While many of us associate wine making with the likes of Bordeaux or Napa Valley, it's important not to overlook the growth of promising vineyards in our East Asian neighbours. Countries like Myanmar, Thailand, and even India are home to areas with climates suitable for grape growing and harvesting. And they are well worth a visit for wine lovers for an insight to the growth of viticulture in Asia (and to sample as much wine as humanly possible, of course!).
Thailand
GranMonte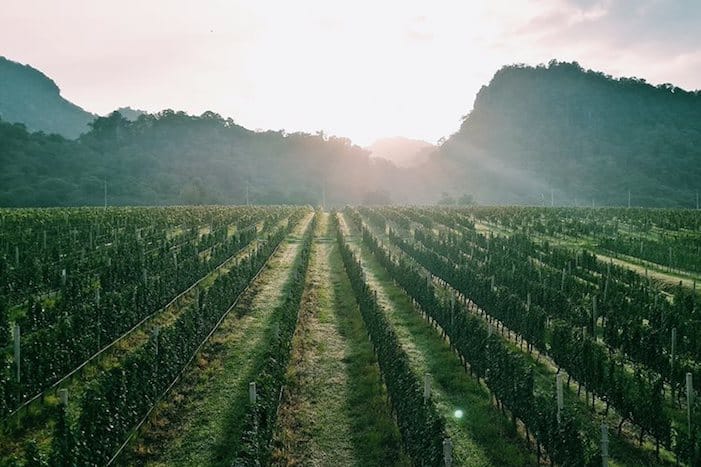 Nestled in Asoke Valley, the popular GranMonte Estate is a scenic vineyard estate with the ideal microclimate to sustain the growth of high-quality grapes. The estate produces a wide variety of grapes such as Syrah, Cabernet Sauvignon, Chenin Blanc. The estate's viticulture and winemaking techniques are modified to suit the conditions of Thailand's soil and climate, so you know you'll be sampling only the finest of Thai wines! A tour at the GranMonte Vineyard will allow visitors to explore the vineyard from the comfort of a tour trailer, and get a closer look of winemaking operations, fermentation tanks, barrel rooms and more.
GranMonte Estate is located at 52 Moo 9 Phayayen, Pakchong,
Nakhon Ratchasima, Thailand 30320, p. +66 44 009 543. See here for wine tour schedules.
PB Valley Estate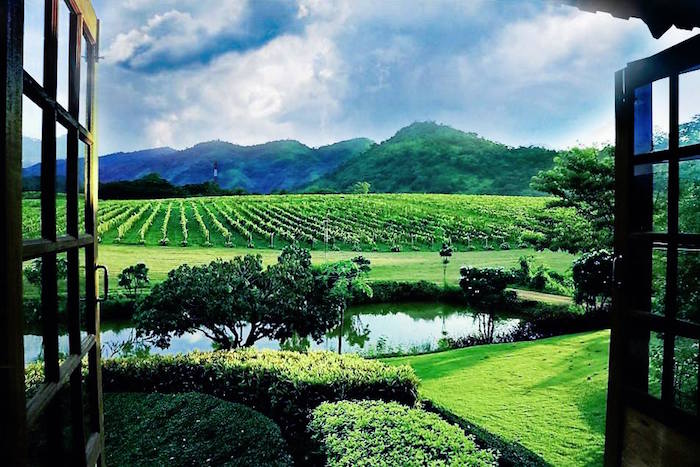 Just a 15 minutes drive from GranMonte Estate, PB Valley Estate is located on the edge of the Khao Yai National Park, and has been producing wine since 1998. Now maturing over 150,000 litres of wine each year, the quality of the estate's grapes owes itself to the cooler climate that comes with being over 300 metres above sea level, as well as the dedication of the estate's European winemakers. As a result of such an ideal climate, wine enthusiasts are able to visit all year round and witness the growth and harvest of fresh table grapes all year round.
PB Valley Estate is located at 102/2 Moo 5 Mitraparp Road, Payayen, Pakchong,
Nakhon Ratchasima, Thailand 30320, p. +66 81 733 8783.
Myanmar
Red Mountain Estate Vineyards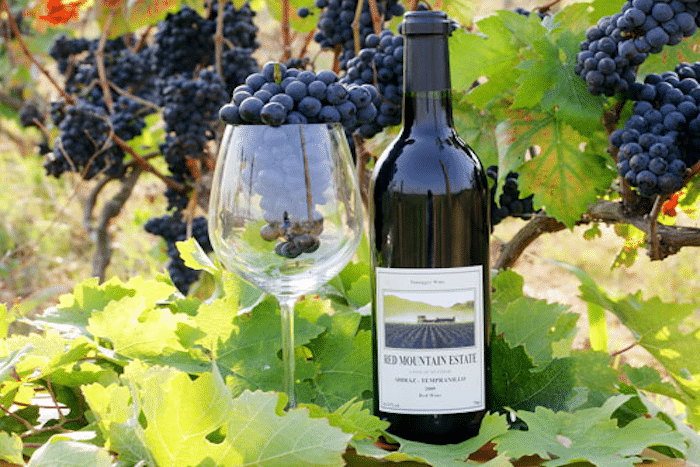 Easily accessible from the tourist hotspot of Inle Lake, Red Mountain Estate Vineyards combines Myanmar's cool climate and rich soil with the experience of French winemakers to produce some of the country's best wines. Here, visitors will be able to learn more about the estate's winemaking processes or simply do a wine for a taste of what Myanmar has to offer. We recommend cycling out from town – bicycles can be rented at US$1 for a day – as the terrain is manageable. They also have a restaurant dishing out local dishes so stay for a meal with a spectacular view.
Red Mountain Wine Estate is located at Taung Chay Village Group, Nyaungshwe Township, Southern Shan State, Myanmar, p. +95-081-209366.
Aythaya Vineyard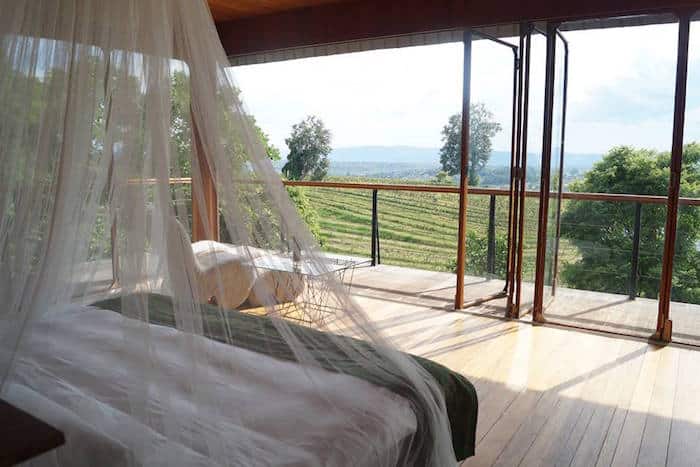 Myanmar's very first vineyard was set up by a German business man in 1999 with vines imported from Europe. Located close to the northern shore of Inle Lake, its calcareous soil and ambient climate make it the estate another ideal microclimate for grape growing. Tastings and tours are hosted daily, allowing visitors to sample the signature Aythaya Red and White wines, which are known to pair beautifully with the sweet-sour flavours of local cuisine. The estate also boasts its Sunset WineGarden Restaurant and the Monte di Vino Lodge – perfect for a romantic getaway.
Aythaya Vineyard is located at Htone Bo, Taunggyi, Southern Shan States, p. +95 95212830.
Bali
Hatten Wines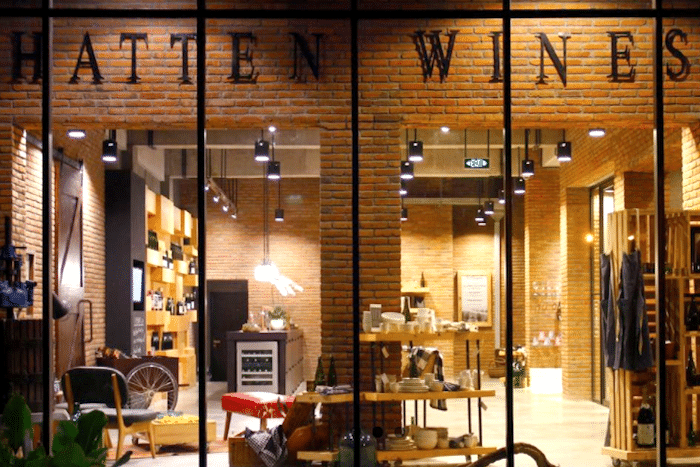 Braving Indonesia's harsh tropical climate, Hatten Wines has been making wines in Bali since 1994. Hatten Wines is most known for the fresh Rosé wine it's been making since inception, and has recently been awarded Winery of the Year for 2017 by the Asian Wine Review. Don't have time to visit the vineyard located on the north coast of Bali? You can still check out the impressive Hatten Wines Building that not only functions as the winery's headquarters, but also doubles up as a bustling wine hub for wine classes and wine tastings.
The Hatten Estate is located at Jl. Raya Seririt-Gilimanuk, Desa Sanggalangit, North Bali – Buleleng, Indonesia, p. +62 812 3964 5077. Hatten Wines Building is located at Jalan Bypass Ngurah Rai No. 393, Sanur Kauh, Bali, Indonesia, p. +62 361 472 1377.
India
Sula Vineyards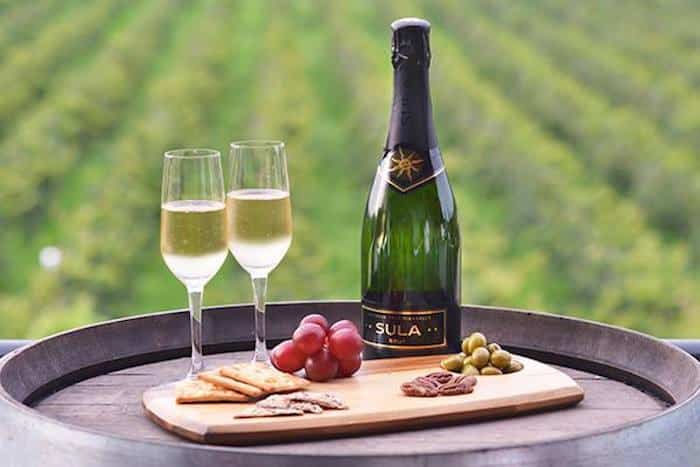 First established in 1999, the soil at Sula Vineyards is of volcanic origin, so types like weathered basalt and red laterite combine combine with the area's cool climate combine to create the ideal conditions for growing premium grapes. Sula Vineyards produces a plethora of wines – red, white, rose, and sparkling- and the vineyard's hourly tours go into more depth about the 5 key stages of wine making. What we like about Sula Vineyard was its belief in sustainable business practices and many of the estate's workers come from disadvantaged communities.
Sula Vineyards is located at Gat 36/2, Govardhan Village, Off Gangapur-Savargaon Road, Nashik, Maharashtra 422222, India, p. +91 253 302 7777.
Hokkaido
Occi Gabi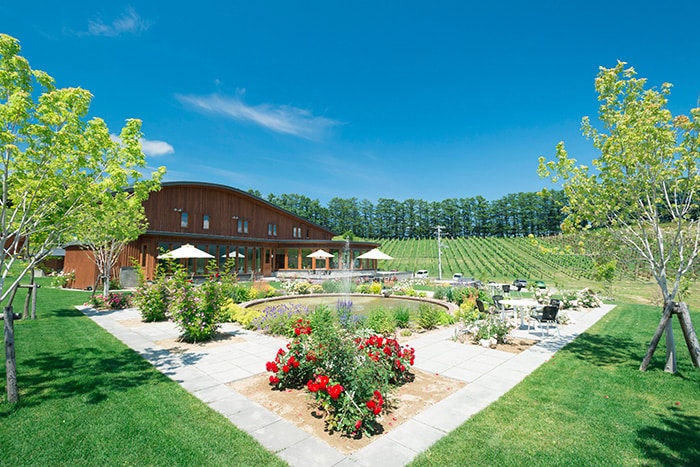 Situated one and the half hours by train from Sapporo, Hokkaido, Occi Gabi produces fine German style wines from local Japanese grapes, a hat tip to the owner and winemaker's abundant winemaking experience in Germany and Austria. The winery is stunning to visit any time of year; the on-site restaurant has floor to ceiling panels that allow you to admire flourishing fields in spring and summer, and the snow-covered vineyards in autumn and winter. The 5000-yen guided tour also includes a meal with recommended wine pairings: an absolute steal for those who wish to sample the wine together with local produce.
Occi Gabi is located at 635 Yamadacho, Yoichi District, Hokkaido, Japan, p. +81 135 48 6163.