Hair Salon Review: Chez Vous Launches #RightColourMatters for Asian Women in Singapore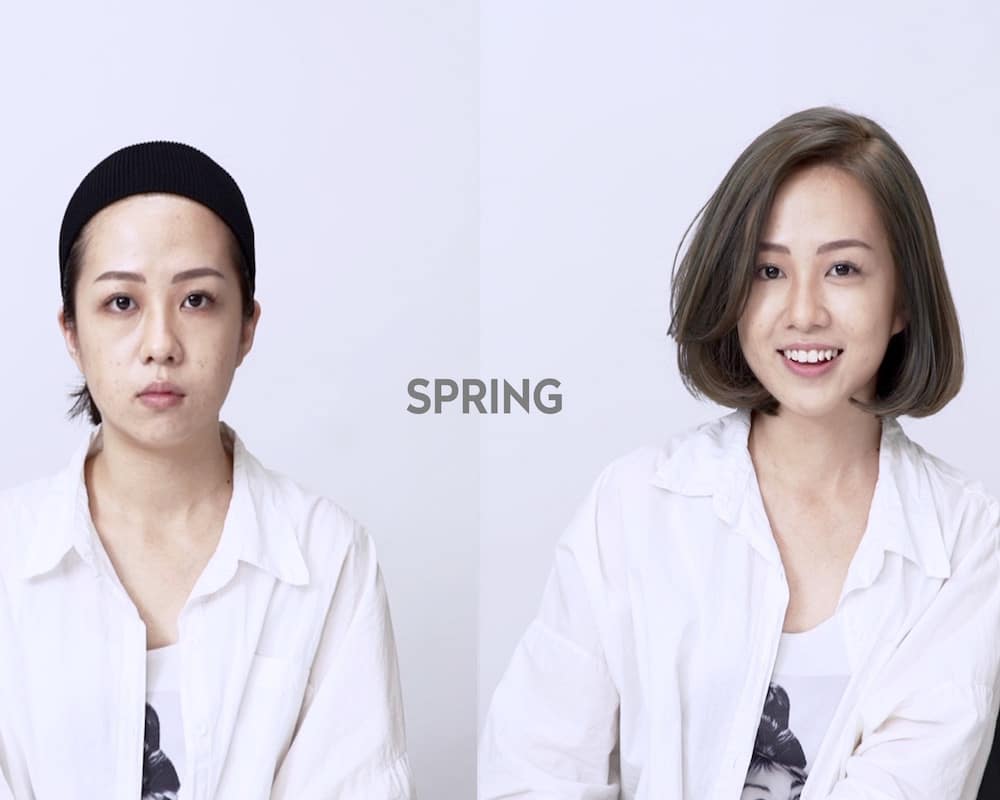 PUBLISHED May 2nd, 2018 06:30 am | UPDATED May 18th, 2020 05:05 pm
A hair salon in the heart of Orchard Road doesn't get to its 23rd birthday without pulling out all stops for its customers. And the hair salon in point is Chez Vous, founded in 1995 by partners Thomas Teo and Riz Tan, formerly of the famed FOX Salon. The unique selling point of this Ngee Ann City salon is that only hair directors are allowed, so any individual stylist has more than a decade's worth of experience in the industry and are exceptionally qualified to recommend what to do with your hair.
We were mighty impressed the first time we visited four years ago (where I ended up getting my hair bleached and dyed a pretty blue-green ombre); we returned recently, intrigued by their three new services created in partnership with frequent collaborator Goodwell for Asian women. There's #GlassHair inspired by the Korean trend of flawless "glass skin" to combat our tropical climate while #FakeAsh achieves the Insta-worthy look without severely damaging hair. And then there's #RightColourMatters, where one's hair can be dyed in corrective colours to complement skin and facial features (sadly, ash doesn't look good on everyone).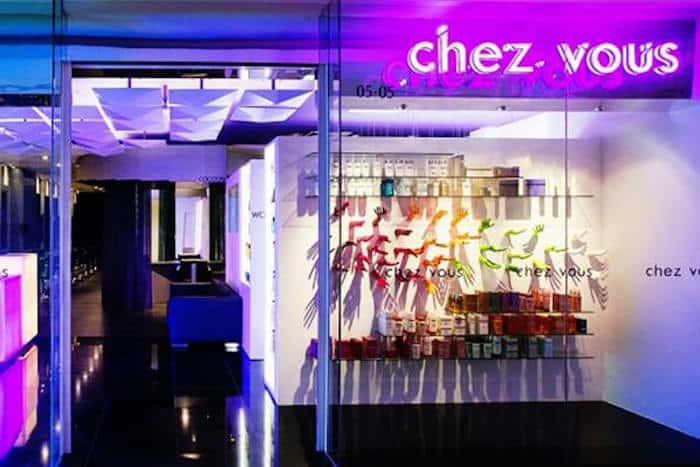 When approaching the front of the salon, the multi-coloured beckoning hands might look a little creepy, but they actually represent the teamwork and camaraderie of the Chez Vous family! Besides Laduree teas and organic nibbles to keep you occupied in case your stylist gets held up with another client, they also have a variety of cell phone chargers to keep you well-juiced and even an iPad so you can Netflix and chill. As I took a seat at one of their plush styling pods, my stylist Veyond rocked up and we started delving into the science of choosing the correct hair colour for me.
#RightColourMatters
The idea of the campaign started when Asian women started waving looks from online beauty guides at the Chez Vous team as examples, even though these guide usually feature Caucasian and Hispanic models (the token Asian is typically either very fair or sports a bronzy tan). However, the issue with skin tone goes beyond the colour of one's skin. Let us explain.
Since the tresses frame one's face, it makes sense that the hair colour – be it your basic browns or greens, blues, and reds – reflects light into one's face. And the point of #RightColourMatters is to find the right hair colour such that the light reflects favourably. For instance, skin imperfections like underage circles reflects from the blue in hair, while red reflects the sensitive spots on one's face. We learn that hair colour can also 'correct' one's facial features to look more two- or three-dimensional, or even to take attention away from the face.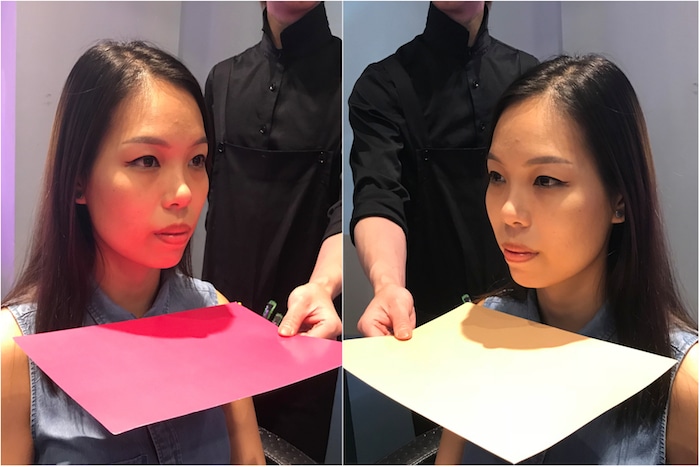 The methodology of the service is simple but effective; it involves putting different coloured paper under one's face to create the light reflection that would happen if the undertone of the hair colour was the same. It might or might not be apparent but red makes my face look rounder – I finally understand why older women have a yen for red hair, as it potentially corrects the loss of collagen – while yellow leaves me looking more sallow. The cool colours of blue and green does good for my facial features, but on the other hand, I have to agree that the skin tone turns ashen and a lot older, which is obviously undesirable.
We strike gold with warm peach, which brings out my tan. At this point, Veyond suggests that if I wanted to jump on the ash bandwagon, we could combine the warm peach and the green, conditional on the health of my hair. Unfortunately, my hair was not up for bleaching yet again (I've done it thrice in the last four years), so I settle on a warm brown with coppery highlights. It's not the most exciting, but it definitely stands on the professional end of the hair colour spectrum without being boring.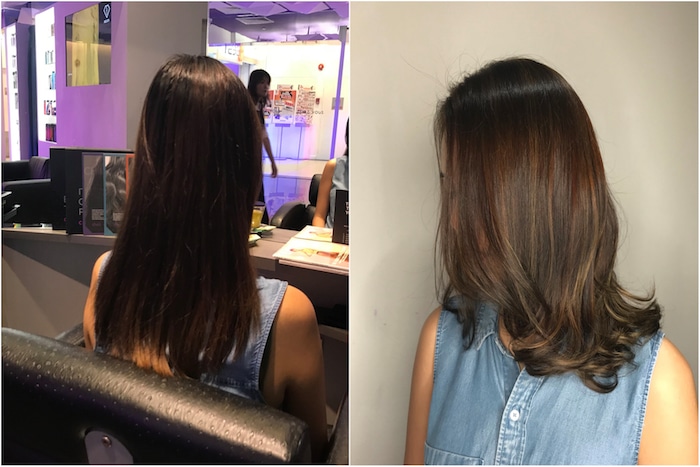 The fact that Chez Vous takes a serious pride in helping people look good and take care of their hair is evident in the dying process. Known that the last couple of inches of my hair was previously bleached, Veyond was a lot gentler with the use of ammonia in the dye, with only 3% at the ends as compared to the 9% at the roots.
The best part? From now till July 2018, the #RightColourMatters Launch Special means you get to try the service at a more affordable rate. Priced at $299++ for above shoulder length hair and $399++ for below shoulder length hair, guests can expect a haircut, a #RightColourMatters Diagnosis, and a 3D Colour and Highlights or Balayage. Complimentary items include a Goldwell BondPro+ Hairshots (worth $55) and an Express Revitalizing Supreme Therapy (worth $205).
Chez Vous is located at #05-05 Ngee Ann City Podium, 391 Orchard Road, Singapore 238872, p. +65 6732 9388. Open Mon-Fri 11am-8.30pm, Sat 10.30am-7pm, Sun 11am-6pm.