Parties, Events, and Things to Do During The F1 Grand Prix 2018 Season in Singapore This September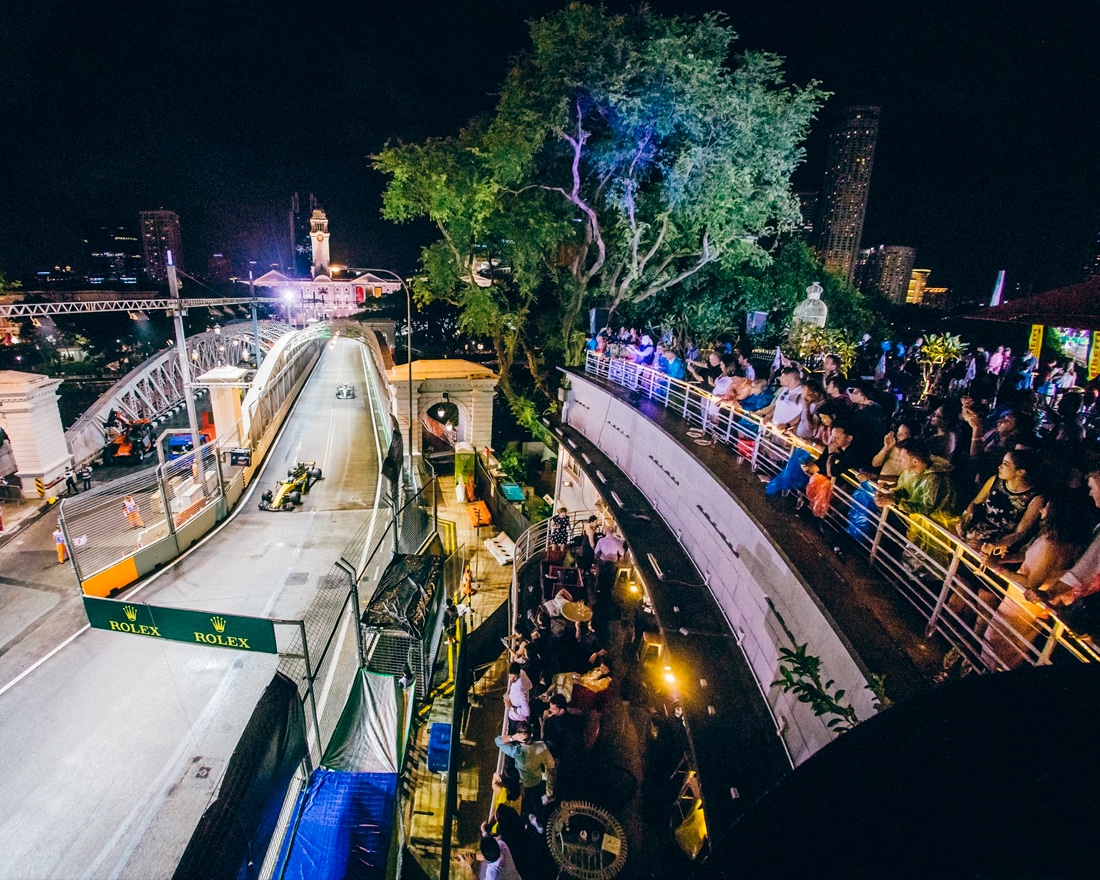 PUBLISHED August 23rd, 2018 11:23 am | UPDATED August 30th, 2018 02:13 pm
Mark your race calendar, because the streets of Singapore are going to be a blazin' this September during the annual Formula 1 Grand Prix extravaganza. It's been a good 11 years on since our small city state started hosting the world's most extravagant sporting competition, and there's no doubt the parties are getting wilder and the entertainment even better with fantastic booze, food, and music. We don't know which team is going to win, but you can be a winner too when you take a pit stop at these eight exhilarating happenings.
1-Altitude presents The Circuit

Put your dancing shoes on for a revving weekend at 1-Altitude, because what better way to catch it all than 360° views at the world's highest alfresco bar? Aptly titled The Circuit, this is one party for viewing the night race in all its glory, made even better by thumping beats from renowned German DJs Cuebrick and MOGUAI. Expect three days of jam-packed activities, including the annual Altimate Circuit Party and Heineken's More Than A Race Party, culminating in an epic race-day celebration presented by Champagne Carbon!
When: 14 to 16 September 2018
Where: 1-Altitude, 1 Raffles Place, Singapore 048616
Price: From $68 nett (inclusive of complimentary pour and F1 cocktail), call +65 6438 0410 or make your reservations here.
Dive into the future with CE LA VI's Futurebound

Prepare to get transported to another world with CÉ LA VI's 'Futurebound', defined by futuristic portrait studios, dazzling LED installations, and an explosive dancefloor where the party goes on all week long. Foodies can also indulge in exclusive Race Week set menus, from $198++ for a Modern Asian five-course meal by Executive Chef Joey Sergentakis with dishes like Bigeye Tuna Tartare and Rice Flake Crusted Lobster Tail.
Once fuelled up, go full speed ahead to the Club Lounge for a stellar line-up of celebrated DJs, from LA's DJ Primetyme at the Johnnie Walker 2118 Party (13 September) to Red Bull Racing's Official DJ EROK on 14 September and internationally renowned DJ and producer EDX on 15 September. On the big race day, it's a Noon To Moon party with Fleetmac Wood before two-time Grammy nominated producer Dirty South takes over for the grand finale.
When: 12 to 19 September 2018
Where: CÉ LA VI, 1 Bayfront Avenue Marina Bay Sands Tower 3, Singapore 018971
Price: From $38++ per person, available here.
A 'Va Va Vroom' party at Lulu's Lounge

True to the venue's reputation, Va Va Vroom looks set to be an adrenaline-filled three day affairs of sensuous live performance and naughty routines. Oh, and flirty cocktails too. One key highlight is a visit from Australia's leading burlesque darling, The Sugar Dutchess and Fifi Fontaine. Throw in more jazz, funk, and soul acts, drag queens, gogo dancers, and DJs from Matteblacc on stage, and you've got quite a scandalous thing going on.
When: 14 to 16 September 2018
Where: Lulu's Lounge, 7 Raffles Blvd, Singapore 039595
Price: From $35 nett per person (complimentary on 16 September), available here.
Rock it out with star-studded F1 Live Concert

What do Mandopop prince Jay Chou, British pop star Dua Lipa, and Dutch dance music legend Martin Garrix have in common? For one, all of them will be down in Singapore to headline the iconic Formula 1 2018 concert at the Padang. It's an annual gig that's brimming with star power, and expected to draw in more than 60,000 music fans each night. Other major acts in the lineup include former Oasis frontman Liam Gallagher as well as American alternative rock band The Killers – marking the group's first show in to Singapore.
When: 14 to 16 September 2018
Where: Padang, Singapore 179861
Price: From $78 nett per person for single-day walkabout access, available here.
Waterboathouse returns with Circuit de 1919: A Pirelli Edition

For the second year in a row, hobnob with fellow race lovers at Circuit de 1919, where you'll find an Pirelli exhibition as well as a mouth-watering buffet filled to the brim with international and local cuisine. You automobile fans will jump at the chance to view the private exhibition of the brand's famous tires, while those who just want to soak in the atmosphere can relish in the Waterboathouse's unbeatable vantage point of the race track. There will be premium drinks, live band performances, and for sure, there will be cars whizzing by before your eyes.
When: 14 to 16 September 2018
Where: 1919 Waterboathouse, 3 Fullerton Rd #03-01, Singapore 049215
Price: From $75 nett per person, call +65 6538 9038 or email to [email protected].
Zouk Presents Checkpoint: The F1 Weekend Super Sprint

Miss your joystick and button-mashing days? Go full throttle with Zouk's Checkpoint, a banging three day after-party inspired by the golden age of 8-bit video games! The lineup starts  with resident veteran Hong's CODE on Friday, and carries on into the weekend with Dutch DJ- producer luminary R3HAB and throwback special, Total Recall on Saturday. Closing up the series? It's a special performance by the handsome British R&B crooner Jay Sean, plus a rather special guest, on Sunday.
When: 14 to 16 September 2018
Where: Zouk, 3C River Valley Road, The Cannery, Singapore 179022
Price: From $40 nett per person (free entry for first 100 guests on 16 September) at the door
Endless partying at Singapore's pinnacle: Sky Grande Prix 2018

The Sky Grande Prix, back for its seventh year, is five nights of endless partying and epicurean indulgence of the highest standards. Happening at the Martini Bar at Grand Hyatt Singapore, each night boasts a distinct theme, from the Gourmet Pit Stop with a spectacular spread based on the countries where the Grand Prix is being hosted, to a Glamour Pit Stop dedicated to the best fashion and beauty brands around Singapore and beyond: Joseph Ribkoff, Fervor Montreal, and more. We hear there's even a sugar daddy networking session going on, if that's your thing!
When: 12 to 16 September 2018
Where: Grand Hyatt Singapore, 10 Scotts Rd, Singapore 228211
Price: From $48++ per person (includes 1 drink), available here.
Race-themed vibe dining at LAVO

Ignite your race weekend with an exciting party bash at LAVO, Singapore's newest vibe-dining restaurant. Start with a dinner party on 14 September and then carry on to the weekend with an all-day Italian American brunch or live screenings of the race action over dinner on 15 September. That's not all too, look out for Saturday Soiree, the restaurant's weekly party series turned into a special F1 edition. On the big race day, how does a dinner buffet with free-flow champagne and beers and snazzy dance beats by DJ Miles Slater sound?
When: 14 to 16 September 2018
Where: LAVO, 10 Bayfront Ave, tower 1, Singapore 018956
Price: From $178++ per person, call +65 6688 8591 or email to [email protected]
Top Image: 1919 Waterboat House