Best Cafes and Restaurants for Brunch in Pererenan, Canggu's Cozy Beachfront Village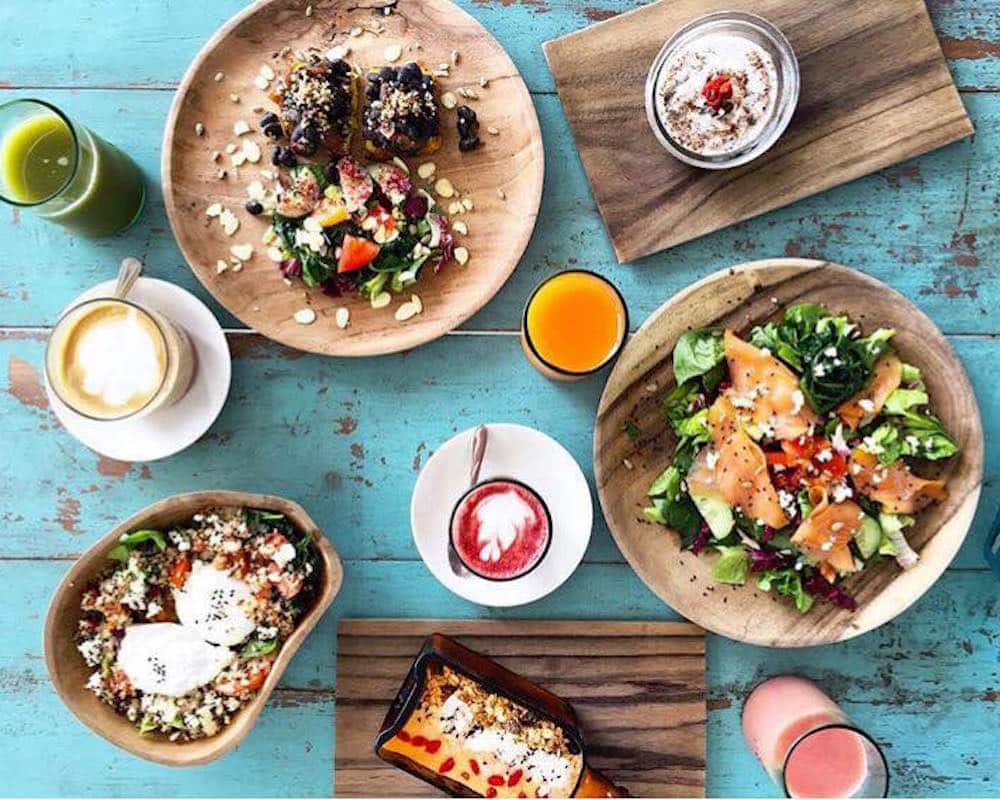 PUBLISHED August 23rd, 2018 06:00 am | UPDATED May 18th, 2020 05:35 pm
While its tranquil cliff beaches and surf spots such as Mengening and Seseh are not foreign to most of the Southern Bali residents, the growing number of brunch spots and cafes in sleepy Pererenan is something we're looking forward to. This laid-back neighbourhood is not far from Seminyak and Canggu, making it the perfect pit stop before and after a beach day out to relax over coffee and a hearty (or healthy) brunch.
Kinoa Clean-Eating Concept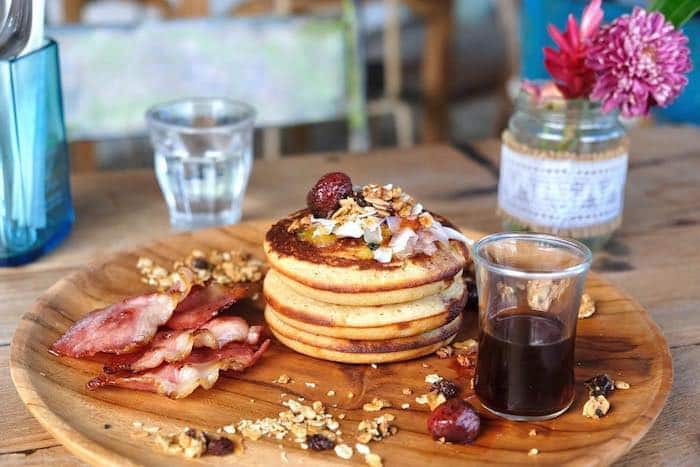 Located only 400 metres away from Pererenan Beach, this adorable family-run eatery serves a variety of organic, vegan-friendly and gluten free dishes on their breakfast and lunch menu. Expect to be warmly greeted by mother and owner Erlin (along doggos Rainbow and Lolly!) the moment you walk into the space that stretches into a backyard lawn with seats. Try their organic omelet – best had with an additional side of smoked salmon – their Three Sisters Salad from the greens list, and their signature Kinoa Breakfast Island. Coffee is served by Hansel, the charming surfer boy of the family, and all the beautifully crafted cakes and pastries are creations of talented baker daughter, Arielle (which is also the reason you should check out Thyme and Caramel).
Kinoa Bali is located at Jl. Munduk Kedungu No. 29, Canggu, Denpasar, Bali, Indonesia, p. +62 361 9075612. Open Mon-Sat 8am-3pm. 
Rise & Shine Café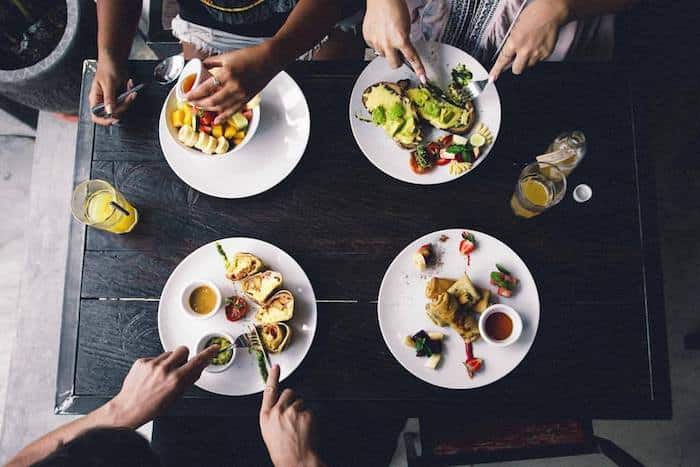 Definitely one for the early risers and surfers! Located the nearest to Echo Beach and the neighbouring surf spots and surrounded by paddy fields, Rise And Shine Café is the perfect energy-charging pit stop before or after hitting the beach. Look out for healthy dishes with an Asian touch, including The Free Bird, a Bánh Mì-style sandwich with chicken and avocado, Banana Pancakes, and their Brekkie Burrito. The charming open patio space is graced with this rad abstracted landscape mural by Australian visual artist Brad Eastman.
Rise & Shine Cafe is located at Jl. Padang Linjong No 71A, Canggu, Bali, Indonesia. Open 7am-3pm daily.
Front Café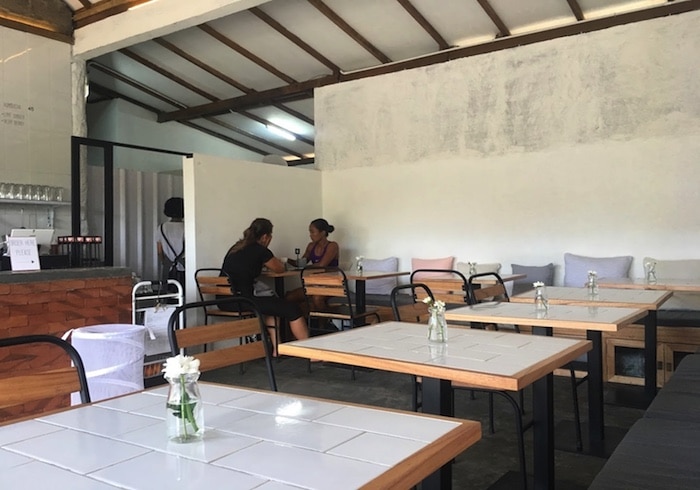 This little cozy corner on the right side of Jl. Pantai Pererenan is fairly easy to miss if you're going too fast on your bike, but its hearty brunch menu surely makes Front Café unforgettable. A quaint, no frills cafe, their most loved dishes include both meaty and vegetarian options featuring free range eggs, from the Smashed Avocado & Beetroot Humus and Whipped Omelet & Cashew Pesto to the Grilled Chicken Pressed Sandwich. Those with a sweet tooth, go for their Brioche Toast, Cacao Bowl, and Pancake. Front Café also serves amazing house blend coffees of Javanese and Sumatran beans that are also available for purchase.
Front Cafe is located at Jl. Pantai Pererenan No. 72, Canggu, Denpasar, Bali, Indonesia, p. +62 818-871-688. Open 7.30am-2.30pm daily.
Premier Surf Resto and Bar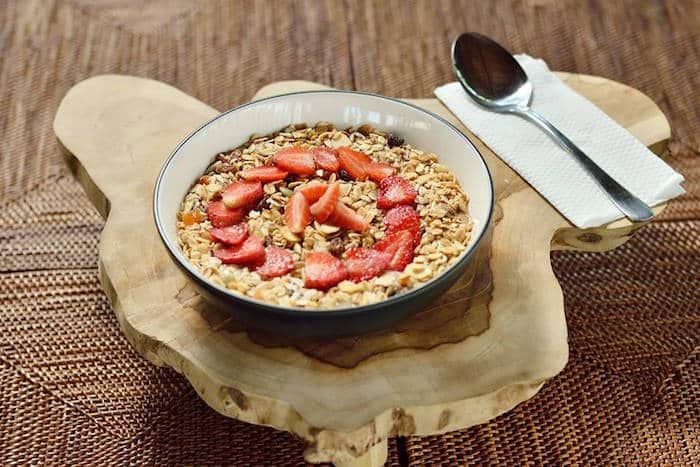 Serving mostly hungry surfers on a daily basis might be the reason for their generous portions of food; so unless you are a big eater, sharing is the key! Part of Premier Surf Camp, this poolside eating spot boasts strong island vibes with the Balinese architecture and a wooden gazebo. They serve a variety of Western brunch plates such as eggs on toasts, a hearty chicken salad, and burritos, as well as a lunch menu stocked with burgers, thin crust pizza, and pasta. Their selection of smoothie bowls is pretty legit too.
Premier Surf Resto and Bar is located at Premier Surf Camp, Jln. Pantai Pererenan No. 133, Mengwi, Bali, Indonesia, p. +62 361 8482653.
Born Bright
The charming beach shack café by the sunflower farm in the heart of Pererenan is a happy place to be, both during the day and in the evening. Their flavorful farm-to-table meals feature Western and Indonesian cuisines, using only the freshest organic ingredients. From their breakfast delights – think Brekkie Salad Bowls, Banana Pancake, and Green Omelet – to lunch and dinner picks such as Soto Ayam, Aussie Beef Burger, Slow-cooked Pork, Roast Chicken, and Vegan Nachos for sharing. Don't miss out on their regular Sunday music afternoons and their daily cocktail promo happening 4-6pm!
Born Bright is located at Jl. Pantai Pererenan No. 150, Pererenan, Mengwi, Kabupaten Badung, Bali 80351, p. +62 822-3793-7500. Open 7am-10pm daily.
Top image: Kinoa Clean-Eating Concept