Pollen Turns 5: The Gardens By the Bay Restaurant Celebrates With a Special Tasting Menu
PUBLISHED August 3rd, 2017 01:00 pm

There are plenty of dining options at Gardens by the Bay if you're looking for a good meal, such as Majestic Bay Seafood Restaurant for great seafood and dim sum, or Satay by the Bay for local food. But out of all the restaurants and café in the sprawling gardens, Pollen has become iconic for being located itself the Flower Dome itself and for serving up beautifully plated dishes using modern European techniques and influences from over the world.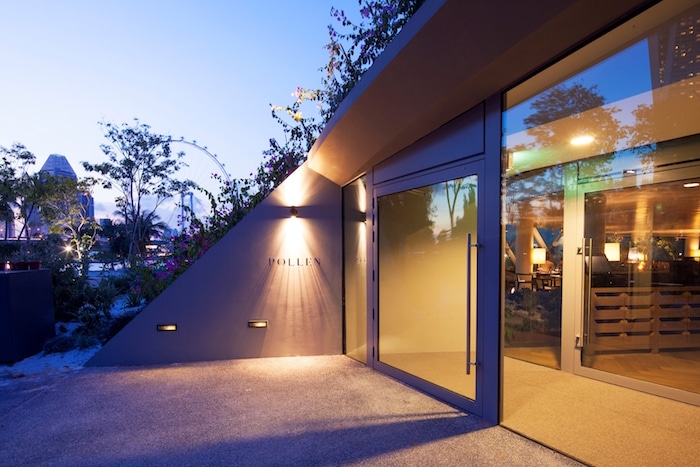 The elegant restaurant turns five this month – no mean feat considering Singapore's unforgiving culinary landscape – and will be celebrating their anniversary with a special tasting menu. From 17 to 21 August 2017, diners can look forward to a five-course journey inspired by five stories of the restaurant and that of Executive Chef Steve Allen. Dinner is priced at $155++ per person with beverage pairing whilst the lunch menu is available at $75++ per person for three courses, also with beverages.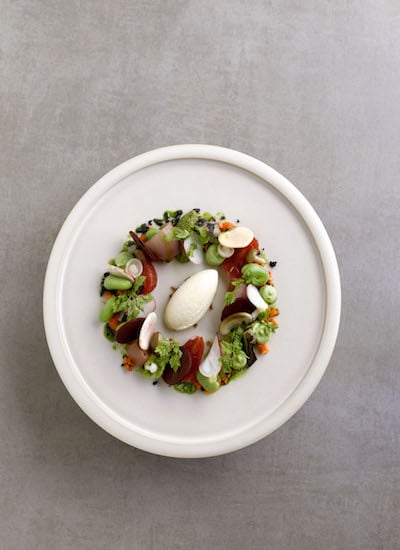 The first course shines the spotlight on Pollen's Garden, which featured 15 seasonal vegetables and herbs like tomatoes, burnt artichokes, peas, broad beans, girolle mushrooms, and radishes prepared in in a variety of ways (raw, pickled, roasted, burnt, and compressed!). Along with a tarragon-based pesto, the greens are artfully arranged in a multi-sensory ring around a savoury bagna càuda (an Italian dip of mainly garlic and anchovies) ice cream. Paired with a sparkling rose made in-house with Hendrick's gin, rhubarb juice, and basil, we were definitely off to a good, refreshing start.
The next course – my personal favourite – pays tribute to Sous Chef Carmine's Italian background, with the key elements coming from different regions Italy (like his family!). This surf and turf combination of Langoustine & Lardo featured torched and olive-smoked langoustines from Abruzzo sitting on lardo di Colonnata (traditionally cured with herbs and salt) from Tuscany and housemade smoked ricotta that represents Sicily. There's also fried zucchini and zucchini flowers from Napoli. Chef Carmine added hazelnuts and quinoa for more textural contrasts and the lovely, tangy orange wine from Palermo cuts through the fattiness of the lardo and the creaminess of the langoustine perfectly.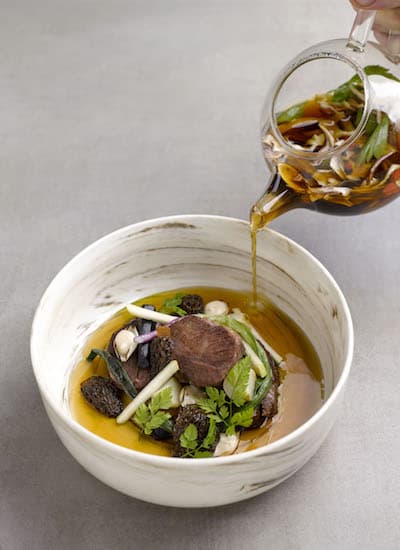 Chef Steve finally gets his turn with the third course of Sea & Sand, which was inspired by the memories from his childhood while growing up in Eastbourne, a seaside resort city on the south coast of England. The lightly torched New Zealand Akoara King salmon is undoubtedly the star, after being half cured and poached in seaweed water. Paired with ikura, brown crab and celery, and cured scallops with flavour boosts from the smoked mussel emulsion, pink grapefruit gel and freshly shaved fennel, it was an enjoy (edible) representation of the English seaside experience. Save a sip of the hot infusion of white grapes, lime leaves, and fresh jasmine flowers to cleanse your palate for the next course of Beef Cheek Tea, paired with a red wine from Cotes du Rhone.
If you're thinking that sounds like a twist on bak kut teh, it's because it is – but it also takes cues from the classic British recipe of boiled beef with carrots. Chef Steve's wife hails from Klang in Malaysia, so it's no wonder that his favourite Malaysian and Singaporean dish is the pork rib dish that the town is famous for. In fact, the custom blend of herbs and spices for the beef consommé that is poured over fork tender, slow cooked beef cheeks is sourced from Klang. All the techniques used in preparing this dish was on point, but I much prefer my peppery bak kut teh to the herbal so I'm not a huge fan of the broth.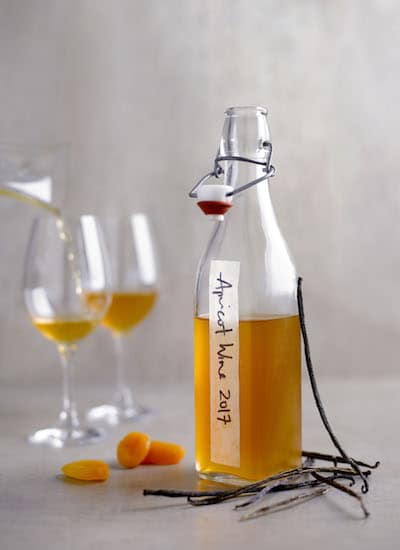 Pre-desserts are usually tart and refreshing, so I was quite surprised by Chef Steve's pre-dessert of a fruit-infused English afternoon tea that turns to jelly when milk ice cream is added. Not what I expected but I enjoyed it tremendously. Dessert comes in the form of Cherries, a deconstruction of the Singapore Sling cocktail. The fresh cherry salad comprises of macerated cherries with lemon zest, rosemary and lemon balm sitting in warm cherry jus and topped with a dome of liquid nitrogen frozen cherry parfait. It comes with a delicious pineapple sorbet and goat's cheese on a Sablé Breton cookie dotted with DOM Benedictine-macerated cherries. A complementary glass of homemade apricot and vanilla wine was the, well, cherry on top.
Pollen might seem to be more popular for its afternoon tea sessions on the terrace for its Flower Dome vibes, but there's no better time than their fifth anniversary to dine in the main dining room if you haven't experienced it yet. Plus, you get to arrive in style (and a zappy tour of the gardens) with their limousine buggy service, which runs every five minutes from the arrival plaza.
Pollen is located at Gardens by the Bay, 18 Marina Gardens Drive, #01-09, Singapore 018953, p. +65 6604 9988. Open daily except Tuesdays, 12pm-3pm (last order 2.30pm), 6pm-10pm (last order 9.30pm).

Top Image: Langoustine & Lardo