Restaurant Review: Contemporary Americana at OverEasy Fullerton, Singapore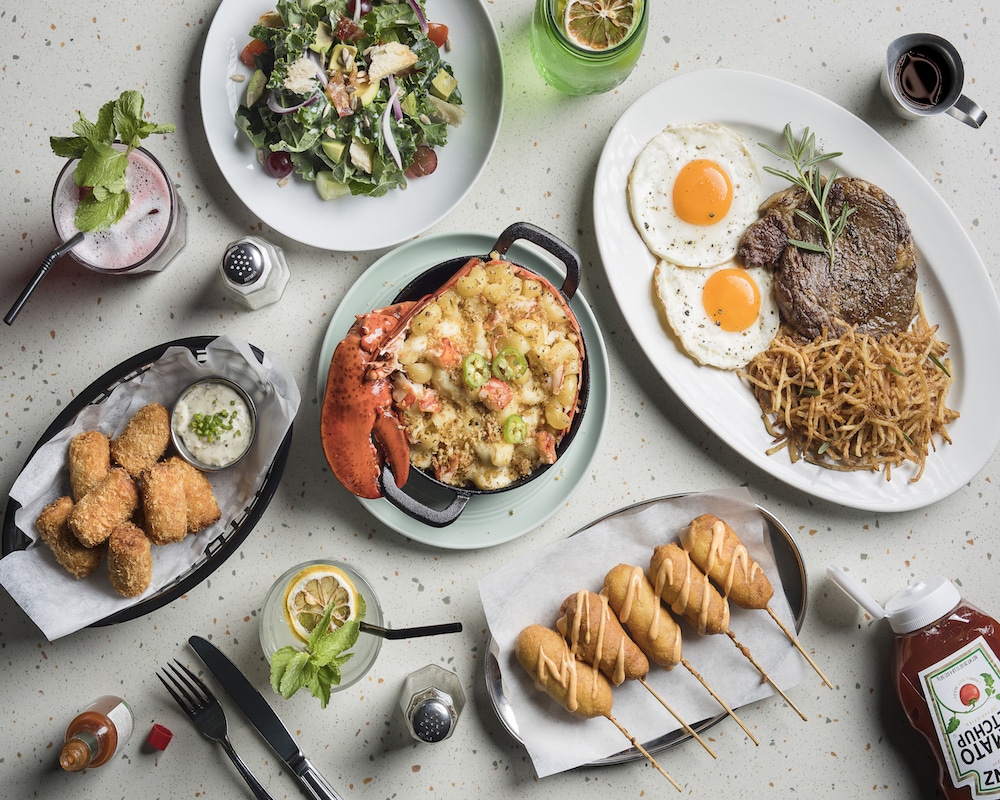 PUBLISHED December 31st, 2017 08:00 am | UPDATED May 18th, 2020 04:24 pm

Like most people my age, I stumbled upon OverEasy years ago, when hunger pangs struck in the middle of a night out at The Butter Factory. The memory of scarfing down their piping hot, rich, and gooey Truffled Mac & Cheese with Wild Mushrooms ($18) is the reason why I still pop down after hours for food, even though the club shut its doors more than two years ago. They celebrated its eighth birthday last month, and we noticed the interiors and the food menu has undergone some major updates – think free to play arcade games, a more cheerful setting with red-and-white tiled flooring, and fun dishes added to the lineup – so we returned to fully experience the American diner once more.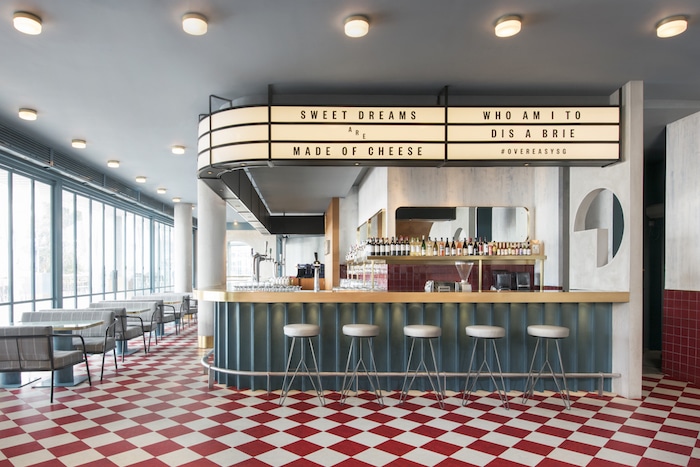 The new modern American diner look by Hui Designs is definitely eye-catching, with a movie-set quality with the powder blue diner booth seats, clean geometric shapes and a light box above that bar that resembles retro motion picture cinema signage. On the dining side of things, the overhaul was led by Lo & Behold Group's Culinary Director Chef Daniel Sia (previously Chef-Owner of The Disgruntled Chef). With quality, heart-warming comfort food in mind, he and the team have come up with fun, contemporary versions of American diner classics.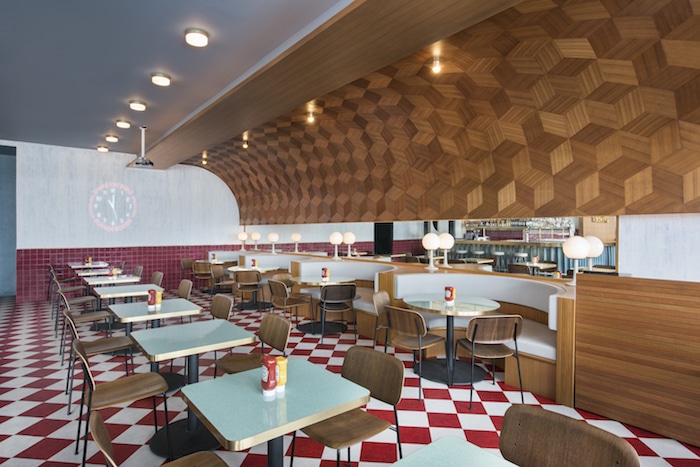 For instance, the Lobster Tater Tots ($16) elevates the nostalgic potato dish (hands up if you went to primary school in Singapore and the vendors sold them as hashbrowns) with Maine lobster and chives. Served with aioli, the tots were crunchy with just a hint of lobster in flavour and texture. Amongst its other bedfellows in the small plates section, the Smoked Cheddar Jalapeño Corn Dogs ($14) is a winner with a tasty sriracha mustard and fluffy jalapeño cornmeal batter. If you love your spice, don't leave without trying their Spicy Buffalo Wings ($16) with three levels of heat to choose from – wimp, hot stuff, crazy mofo. They also have a spicy wing roulette that contains chicken with a level-10 sauce, which we hear is a hit at birthday dinners and bachelor nights.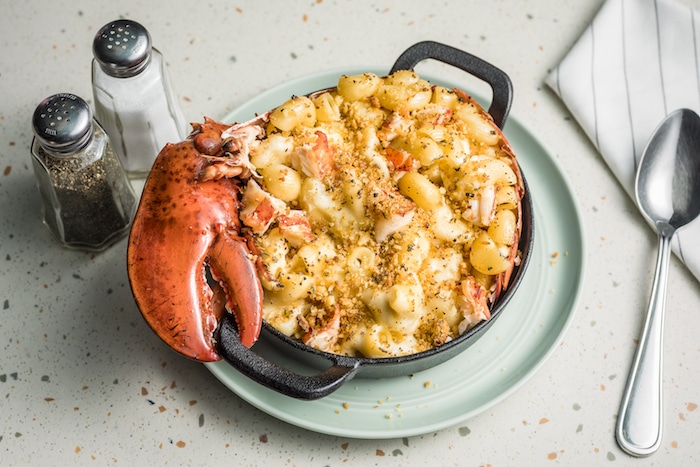 Maine lobster makes another appearance in the Truffled Lobster Mac & Cheese ($48); this time, the crustacean is cooked in white wine and lobster shell broth before being served with macaroni in a creamy mix of parmesan and gouda. East Texan barbecue is usually characterized by meat that falls off the bone, cooking over hickory wood, and a sweet tomato-based sauce. OverEasy Fullerton tries to achieve it with its spices-seasoned Baby Back Ribs ($32 for half rack, $58 for full) spending more than 12 hours in the sous vide, before being baked in a housemade smoky bbq sauce and served with charred romaine and grilled corn. Despite not spending any time on the barbie, the meat does fall of the bone and the sauce is satisfactory, which we reckon is a more than adequate offering by a diner (as opposed to a restaurant marketed as a BBQ joint).
Ardent fans of OverEasy's burgers can still lay their hands on two signatures still on the menu – The Truffle Burger ($28) and The "To-Die-For" Burger ($24) – but they've also hopped on the trendy Fried Chicken Sandwich ($24) bandwagon with the new menu. The combination of crispy buttermilk fried chicken thigh, slices of Japanese cucumber, housemade coleslaw, and chipotle mayo between two halves of a buttery brioche bun is not new, but at least it's done well here. Speaking of sandwiches, the folks at OverEasy have also launched a new brunch menu available all day on weekends, and the Eggslut Sandwich ($18) is the must-try of the lot. Their take on the Los Angeles breakfast sandwich – think fluffy scrambled eggs, streaky bacon, red cheddar, caramelized onions, and chipotle mayo – it's pretty much everything when you're having a hangover.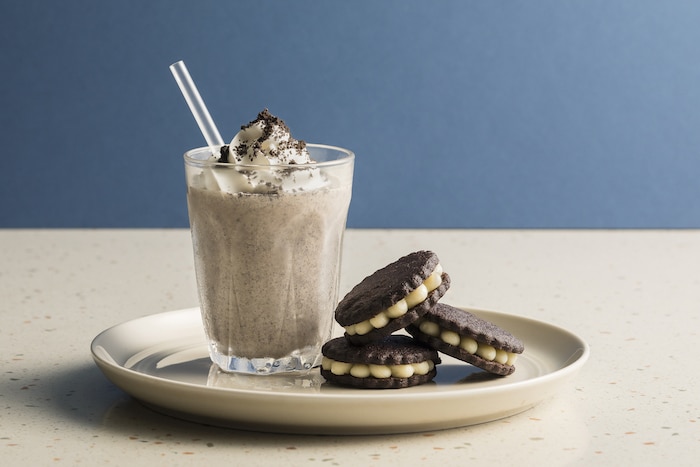 Our entire meal has been hearty and indulgent, and we didn't see a reason to stop with dessert. Ending off with Grandma's Cookies & Cream ($16), where dark chocolate shortbread filled with white chocolate is served with the restaurant's signature Oreo milkshake, encapsulates what it's like to dine at OverEasy. It's familiar, it's fun, and it's nostalgic – they all count towards the dining experience that you'll be hard-pressed to find elsewhere.
OverEasy is located at 1 Fullerton Road, #01-06, Singapore 049213, p. +65 6684 1453. Open Mon 5pm-1am, Tue-Thu 11.30am-2.30pm, 5pm-1am, Fri 11.30am-2.30pm, 5pm-3am, Sat 5pm-3am, Sun 2pm-11pm.