Restaurant Nouri: Ivan Brehm and Unlisted Collection's Intimate Crossroads Kitchen on Amoy Street, Singapore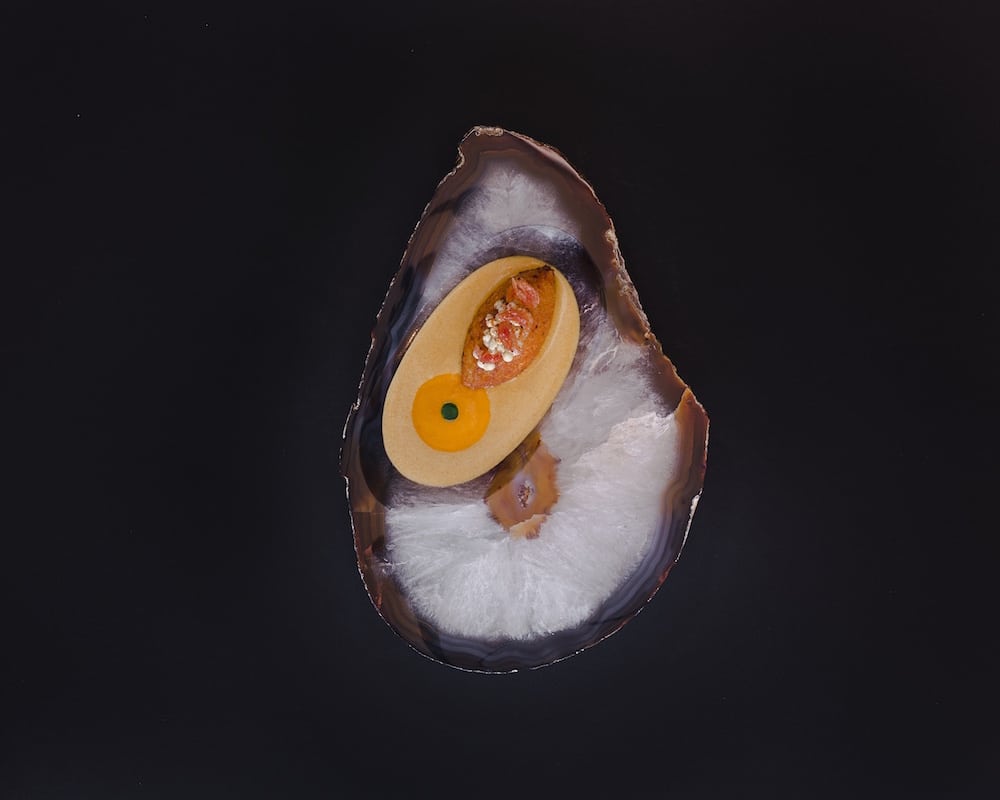 PUBLISHED November 11th, 2017 10:34 pm | UPDATED December 21st, 2017 03:02 pm
When Chef Ivan Brehm announced, he was going to leave The Kitchen at Bacchanalia, having let the restaurant to its Michelin Star in 2016, many were surprised as the general consensus was that he was the restaurant (that said, Chef Luke Armstrong is doing really well and the restaurant held onto its star this year). However, surprise turned into anticipation following the whispers that he was going to open up his own place – in collaboration with Unlisted Collection, a group with a knack of picking chefs to back. Five months after Nouri's opening on Amoy Street, we visit to learn more about this project that highlights the shared history of humanity with modern techniques and presentation.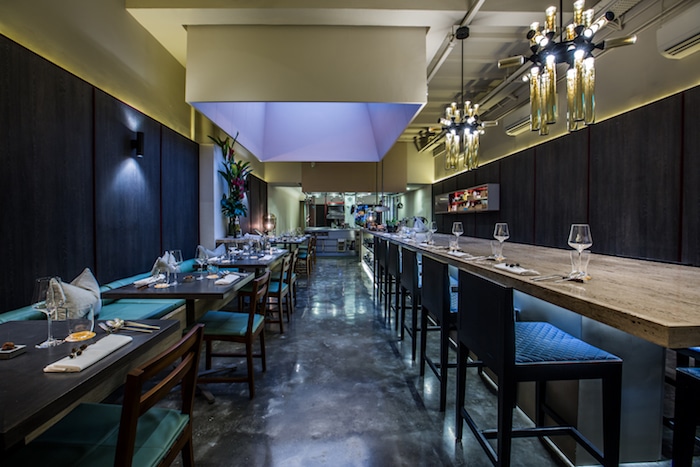 With a name based on the Latin word for nourishment, the restaurant is rooted old hospitality ways – it's no coincidence that 'restaurant' has been used to describe meat based broths intended to 'restore' a person's strength since the Middle Ages. Those who enter the threshold of Nouri are invited to break bread (quite literally) with Bread and Broth, their restaurant is a clean, yet umami laden bowl of vegetable broth made from iceberg lettuce, celeriac, celery, mushrooms, leeks, onions, and fennel by the way of steam juicing. The broth is served with rye sourdough and steamed silken cheese finished with nutmeg and lemon. The latter is a nod to tofu and panna cotta, and of course, a prime example of Nouri's crossroads cuisine, which is inspired by shared common traits of different cultures around the world. In this case, whether you're European or Asian, crossroads cooking transcends culinary and cultural boundaries.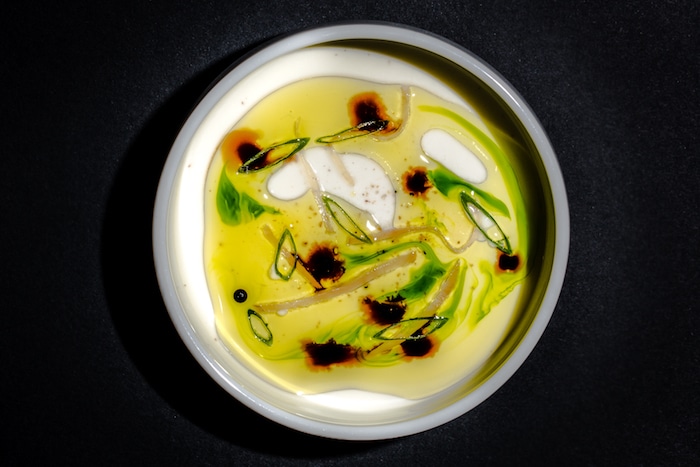 The tasting menus at Nouri are available in five courses (140++) and seven courses ($170++), and our first dish was equally comforting. If you remember (being forced) to eat oats and milk as a child, Tomato and Oat is a throwback to that – and the love that brought it to you, years ago. The freshness and acidity from the tomatoes and other fresh and fermented berries from the tomato family (tomatillos, cape gooseberries, and cherry tomatoes) are balanced by the creamy burrata from Puglia and an earthy oat broth. Garnished with a petai leaf and drops of basil oil for fresh, savoury flavours.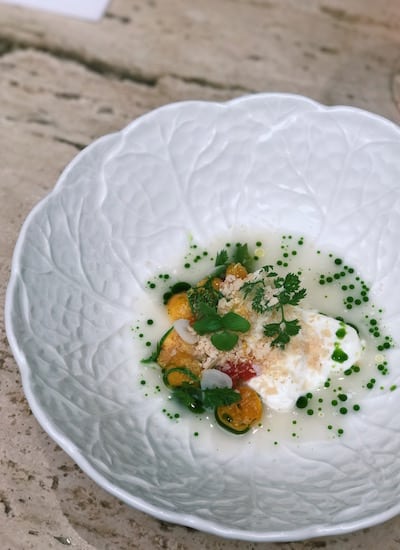 Almost every cuisine has a type of bean paste used and one of Nouri's signature dishes showcases a white pinto bean version from Chef Ivan's native Brazil in the form of a fritter with ginger and onions. Visually stunning, the fritter sits in the middle of concentric circles of turmeric and coconut curry and vatapá, a paste made of bread, dried shrimp and virgin palm oil. A thought provoking dish where everything is familiar but new at the same time, the Acarajé and Vatapá was a joy.
The next dish stood out for me because I enjoy its inspiration – Sichuan hotpot – a little too much. Sichuan cuisine developed a distinctive personality as a result of perfecting and appropriating different cooking techniques and ingredients. Dressed in Sichuan spicy oil, the black truffle and black trumpet puree, maitake mushroom, and mandarin orange duxelle, are served with a Brazilian chili mushroom consommé tableside. The peppercorns add a little heat and numbness, which actually enhance the lovely aromas of Mushroom.
We have absolutely nothing to nitpick with Nouri's version of a roast Chicken either. Brined and sous vide in chicken stock, thyme and bay leaves, the delicious smokiness comes from a tamari (a Japanese soy sauce traditional made as a byproduct of miso paste) and honey glaze, as well as a short stint under the blowtorch. It's served with a sauce made with an emulsion of fermented tomatoes and olive oil, bois boudrin style.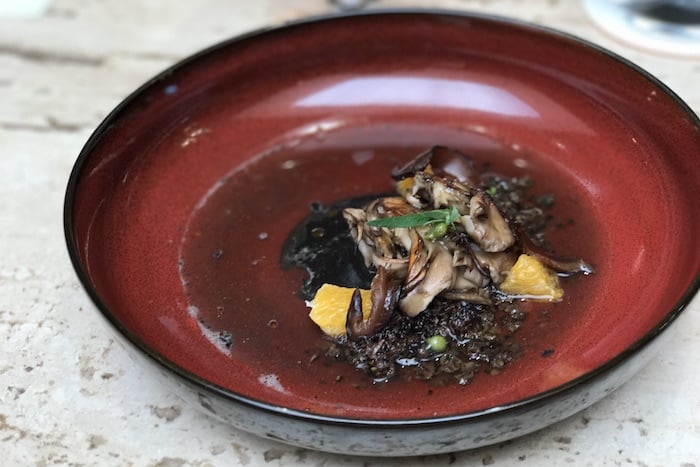 Black Pepper Fish, the last savoury dish of our tasting menu is another signature of Chef Ivan's, featuring local grouper grown by a HP Executive turned fish farmer. The grouper is caught to order and delivered to the restaurant within hours, and goes into the sous vide at 52 degrees with a sticky fish reduction emulsified with grape seed oil. The sauce, inspired by the Basque pil-pil, helps the fish stand up to the Sarawak black pepper sauce infused with Tahitian vanilla.  Grouper, fillet, stock from bones and head that glaze the fish. Black pepper sauce and Tahitian vanilla. The picked carrot seared on the plancha makes a refreshing break between bites of the firm, coated morsels.
A last thing to highlight about this intimate kitchen is Restaurant and Beverage Manager Matthew Chan's wine list, which puts more emphasis on organic, biodynamic, and natural wines – in particular, the rose and the orange wines. Prices start from $17 per 150ml glass, $53 for a 500ml carafe, and $75 per bottle.
There are many great restaurants to dine in style in Singapore, but not all will have you in substance as well. Nouri is one of them: you'll learn something when every course arrives, every dish is a conversation topic, and has the potential to bring you might bring you on a most subliminal trip down memory lane. And Chef Ivan Brehm has once again proven himself one of the most original chefs in Singapore.
Nouri is located at 72 Amoy Street, Singapore 069891, +65 6221 4148. Open Mon 6pm-12am, Tue-Fri 11.30am-3pm, Sat 6pm-12am. Closed Sun. Last orders for dinner at 10.30pm.