Restaurant Review: Cantonese and Sichuan Flavours Anew at Min Jiang Goodwood Park Hotel, Singapore
PUBLISHED November 21st, 2020 04:06 pm | UPDATED November 29th, 2020 12:08 am
If you've been to the Goodwood Park Hotel branch of Min Jiang before, you might step in now and think that you're in the wrong place. Gone are the austere dark panelling and pristine white table settings, making way for cream walls and caramel-coloured wood accents, as well as trendy ceramic crockery that adds a pop of modernity to this traditional Chinese establishment.
This isn't just a physical rejuvenation but a mind-body transformation, with the new interior accompanied by an equally refreshed menu that brings a whimsical and contemporary touch to their hallmark Cantonese fare. However, their purpose still remains in serving up the best of Cantonese and Sichuan flavours in Singapore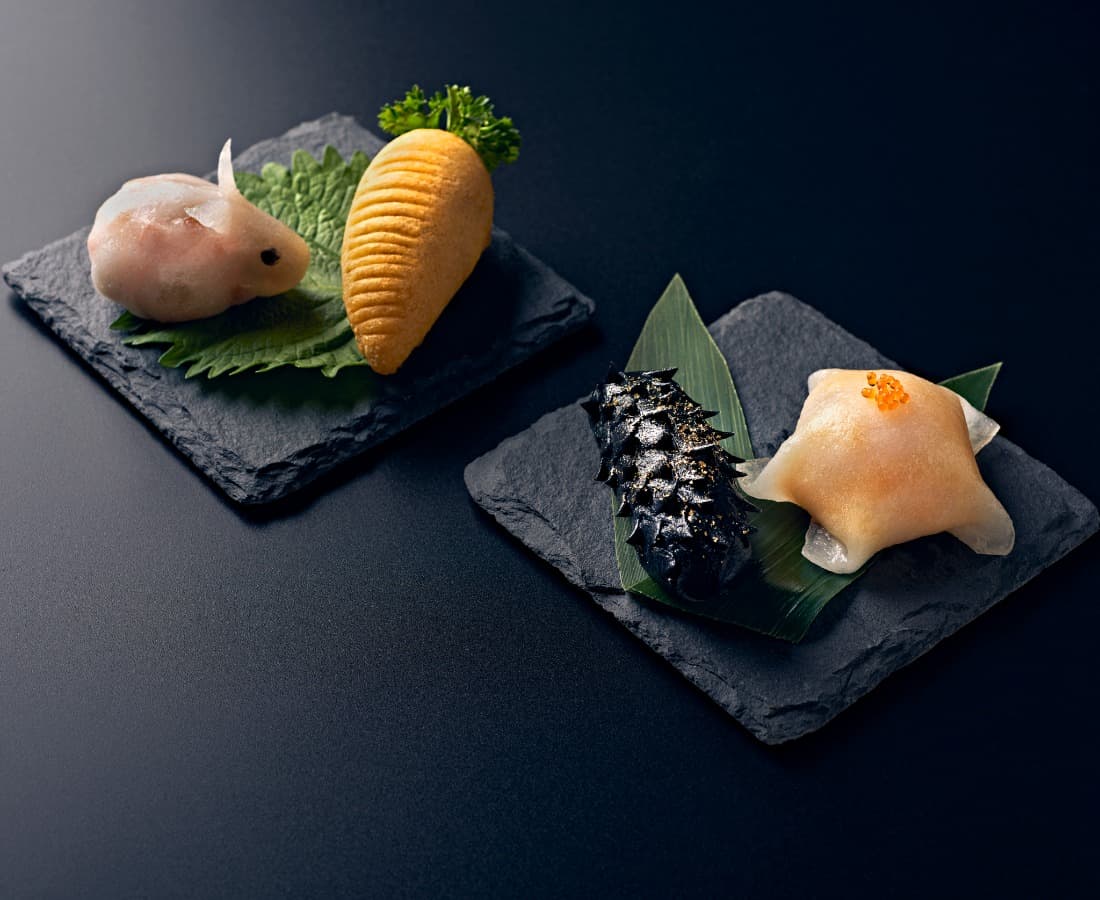 Dim sum is a cornerstone of Min Jiang's menu, and their newest addition to the menu adds a playful touch to this dish. The Min Jiang Dim Sum Duo (S$8.80), half of the Land and Sea Quartet, is comprised of a rabbit and carrot; that is, a rabbit-shaped steamed prawn and carrot dumpling and a carrot-like char siew and pine nut pastry. This duo tastes just as good as it looks, the 'rabbit' dumpling light and fresh with a bit of crunch and the crumbly and buttery 'carrot' pastry full of a rich and sweet char siew.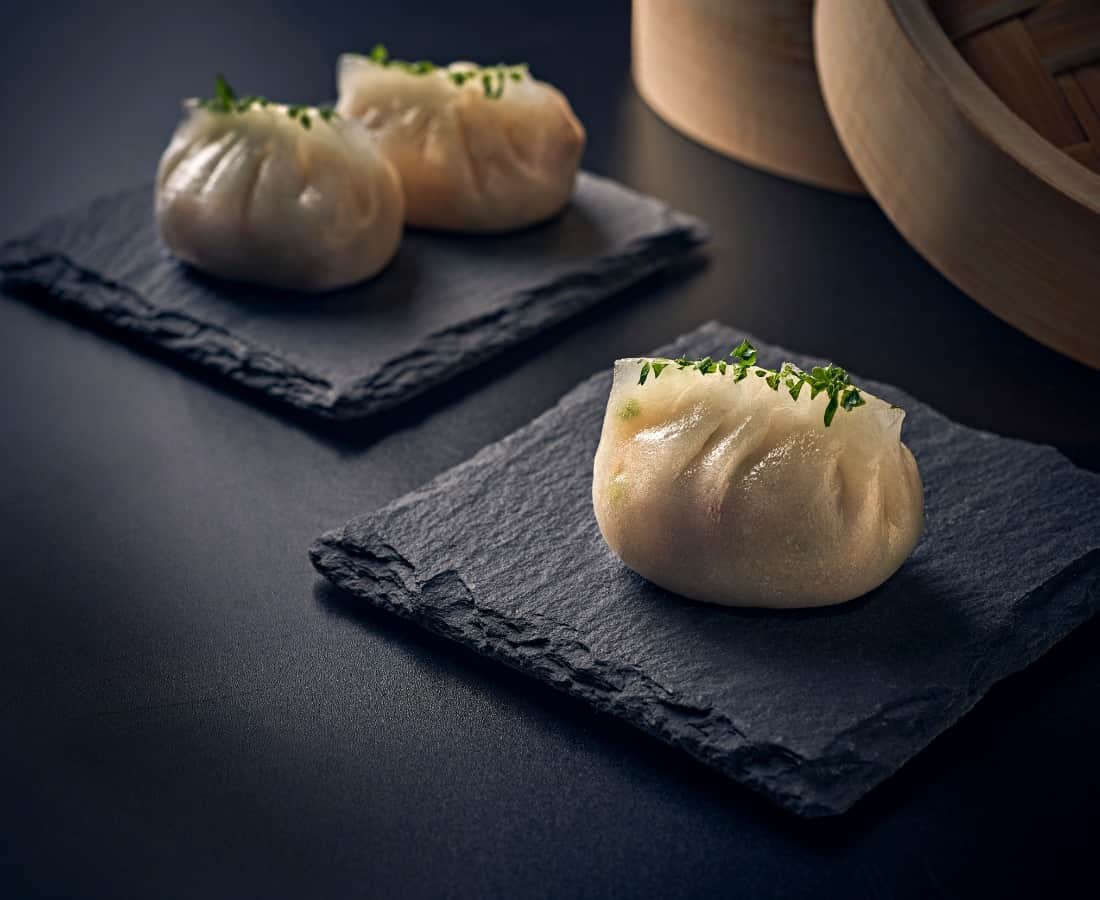 Their dim sum carts — a rare find in Chinese restaurants today — are also a joy to watch, evoking nostalgic childhood memories of lunches out with the family. These carts are laden with steaming goodies like the Steamed Teochew 'Fen Guo' (S$6.20, three pieces), one of Min Jiang's vegetarian offerings with mock meat, turnip, and chives.
Min Jiang fans will be happy to see a classic on the menu, the Spicy Sliced Red Garoupa Soup with Preserved Cabbage (S$18). Reminiscent of a hot and sour soup, the broth is full of umami from a seasoned chicken stock that's boiled with deep-fried red garoupa fish head and bones. A hit of spice from three different chilis — chili padi and two types of dried Sichuan peppers — gives it that signature Sichuan heat.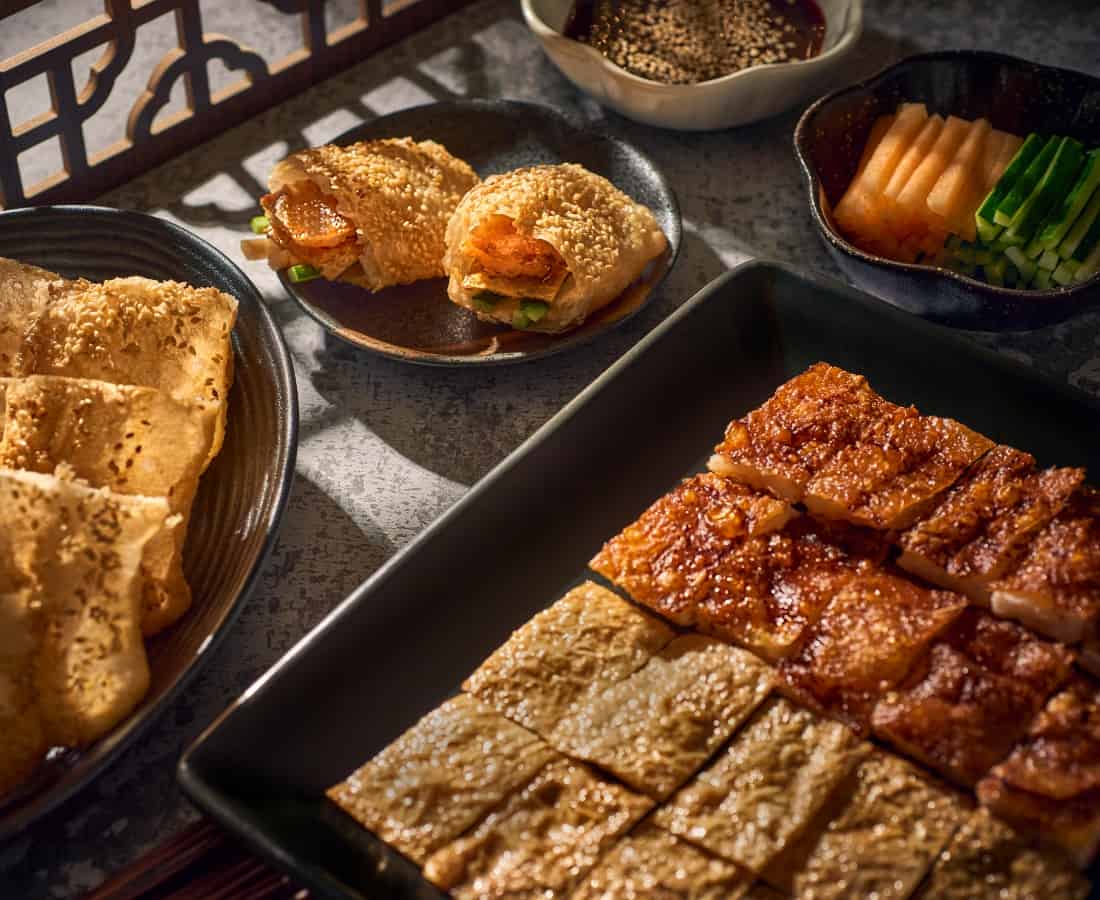 An unexpected favourite was the Roasted Chicken Skin with Prawn Paste in Sesame Pockets (S$36/72), a delicious result of an incredibly complicated and labour-intensive cooking process. The skin of the chicken must precisely be removed in a single piece, after which it is blanched to tighten and thoroughly dried before being coated with potato starch and seasoned, then stretched and air dried. The skin is then seasoned once more before being deep fried and cut into small pieces. Imbued with a complex, smoky, rich flavour, this dish might be small, but it might be the most luxurious bite of your meal.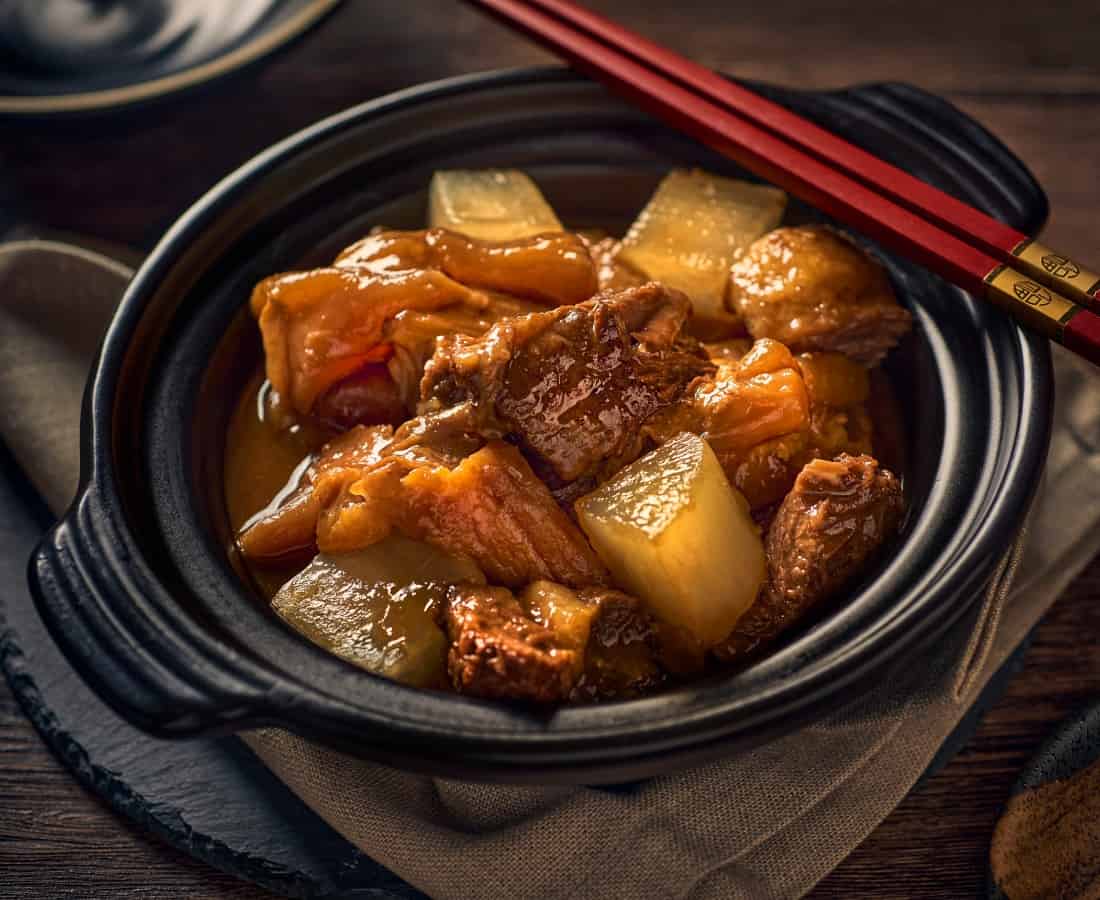 Next up, a luscious Slow-Braised Beef Brisket, Tendon, and Radish (S$36/72). The tendon, brisket, and radish are all separately slow-braised for different amounts of time, allowing each ingredient to reach its optimal texture and flavour saturation, and eventually finished together to ultimate tenderness. Definitely a hearty dish made to share.
Flying solo or in a smaller group? The Braised Noodle with Spring Onions, Ginger and Yabbies (S$16) is a great option, with a thick and flavourful superior broth coating wanton noodles topped with a juicy braised yabby – a crayfish-type crustacean. The subtle sweetness of the seafood is a perfect complement to the substantial broth, making for a dish that isn't too heavy. That means there's definitely room for dessert.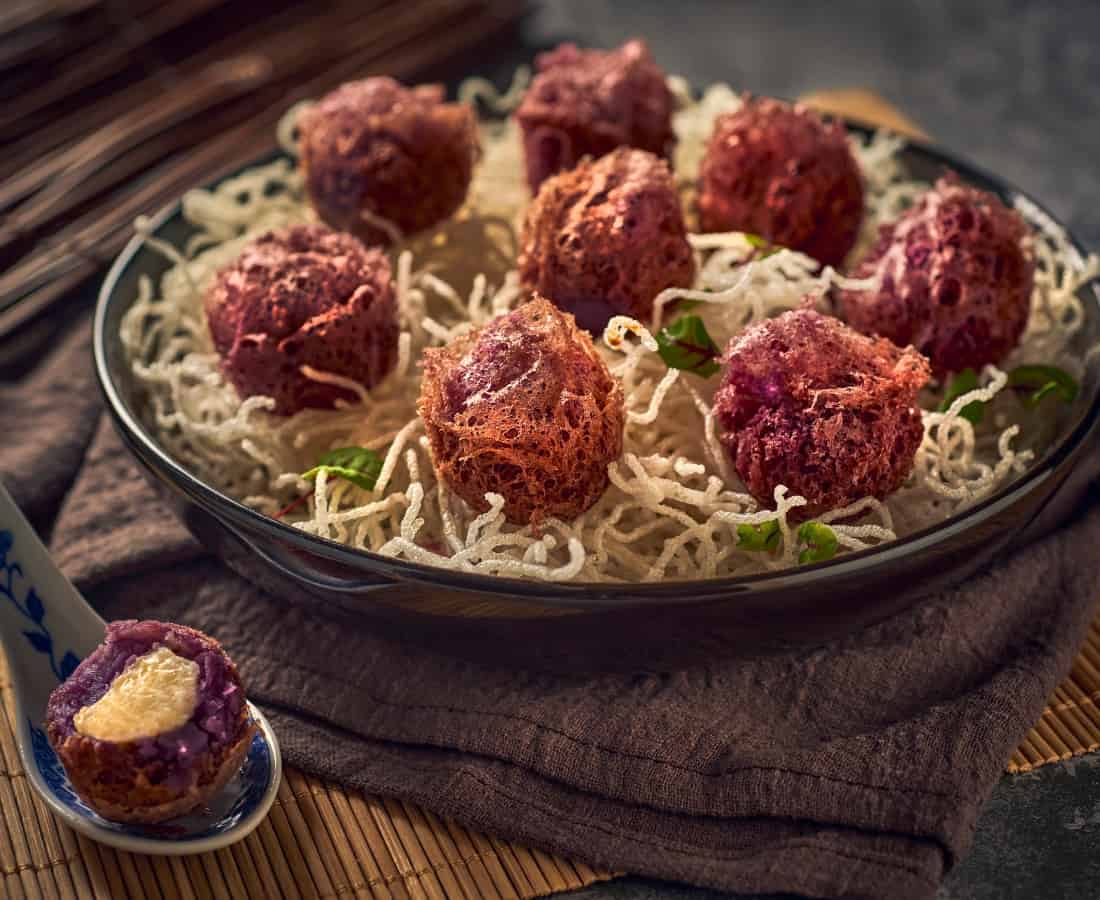 Min Jiang's Deep-Fried Purple Sweet Potato Crispy Milk (S$20) is a twist on the classic crispy milk. Sweet, creamy, and indulgent, the milk filling is encased in soft and subtly sweet Japanese sweet potato, drizzled with a gula melaka and toasted coconut syrup for a Singaporean twist.
Min Jiang Goodwood Park Hotel is located at 22 Scotts Road, Singapore 228221, p. +65 6730 1704. Open Mon-Sat 11.30am-2.30pm, 6.30pm-10.30pm, Sun 11am-2.30pm, 6.30pm-10.30pm.