Restaurant Review: Celebrity Chef Ian Kittichai Launches Health-focused Khum Hom at Mövenpick BDMS Wellness Resort, Bangkok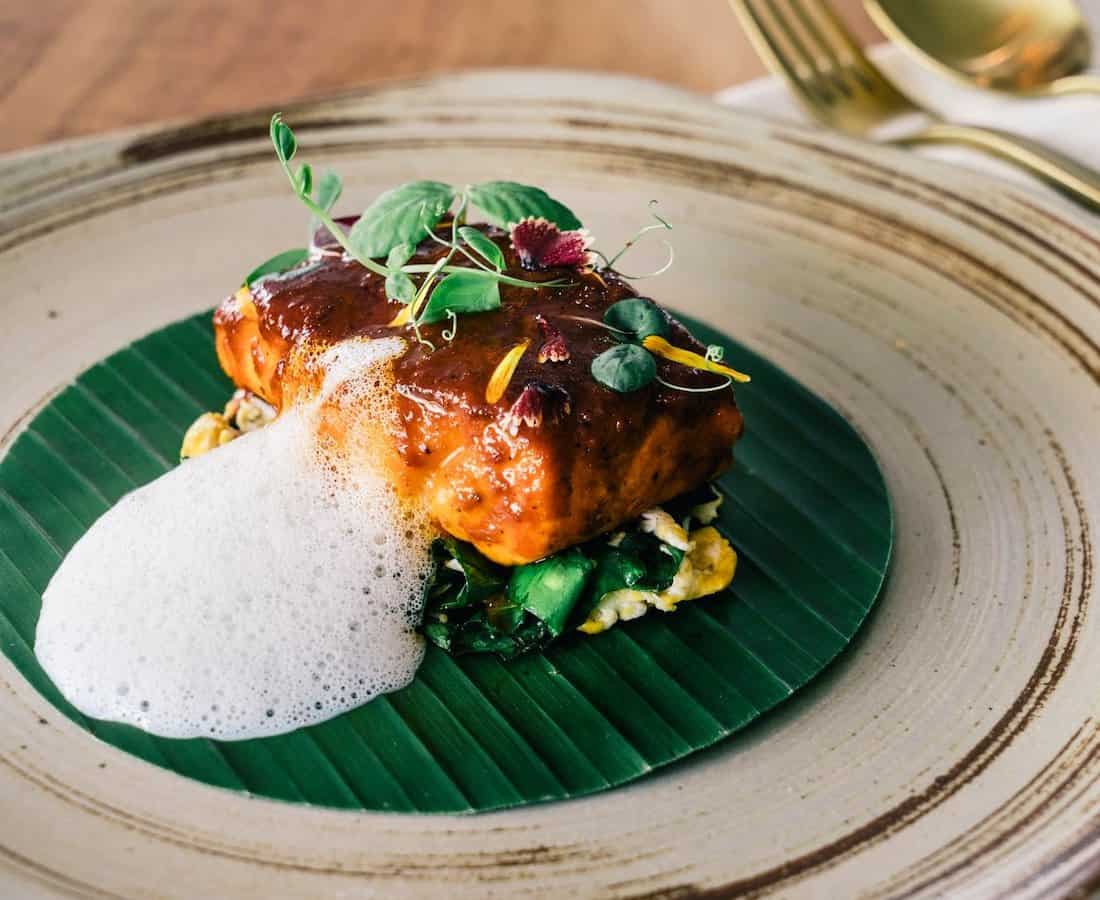 PUBLISHED June 12th, 2020 06:00 am
Let's face it: Thai food is not inherently healthy. A plate of pad thai uses swathes of oil, and don't get us started on that crab omelette. So to open a health-focused Thai restaurant like Khum Hom is no easy feat. Then again, if one man can do it, it's celebrity chef Ian Kittichai, the award-winning chef, author, and television personality (Iron Chef Thailand, MasterChef Thailand) known for his sensible approach to cooking. Oh, he also runs award-winning restaurants like Issaya Siamese Club, Namsaah Bottling Trust, and several overseas concepts in Singapore, New York City, and Mumbai.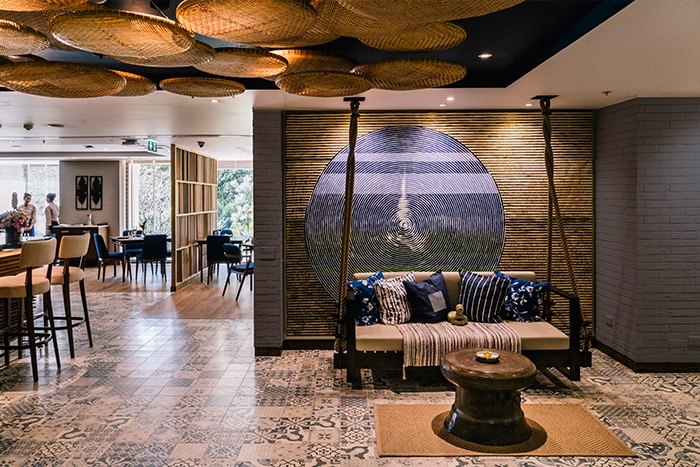 This is the first time that Chef Ian has collaborated with a hotel in Thailand — the restaurant is located on the lobby floor of Mövenpick BDMS Wellness Resort — let alone a hotel that's all about holistic wellness. So the whole healthy eating makes sense. Khum Hom specialises in using ingredients to bring a contemporary twist to classic recipes from each region of Thailand: north, northeast, central, and south.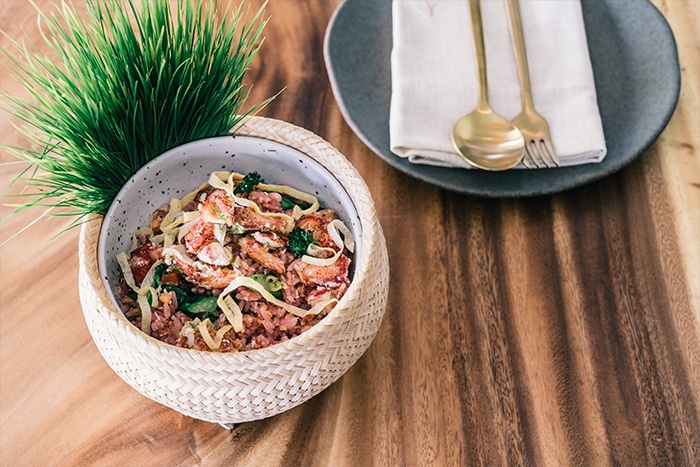 And yes, there's more to Thai cuisine than tom yum and green curry. His 'Farmer's Menu' utilises local organic ingredients in plant-based, gluten-free dishes such as Yum Hed (THB340), a salad with hedgehog and king oyster mushrooms, or Kao Pad Rodfai (THB340). The latter is traditionally a common street food sold by the side of the train routes in Thailand, but Chef Ian turns it into something quite sophisticated. Think wok-fried rice coloured pink with organic red dragon fruit for a gentle sweetness, complemented with lobster and mild strips of organic egg. The dragon fruit is an especially nice touch, replacing the chemical-packed pink fermented beancurd you typically see in this dish.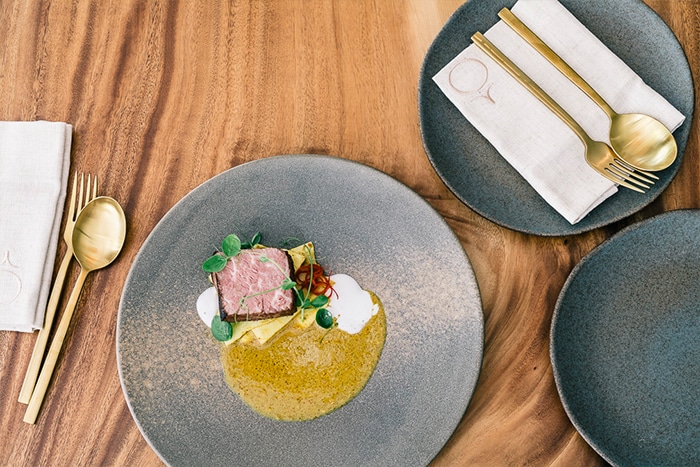 There's a four-to-five-course 'Tasting Menu' (from B1,990) where you'll find creations like Pla Nuang (THB710), a steamed red grouper fillet dish that's vividly aromatic thanks to a herbaceous and umami-packed chilli lime broth that infuses into the firm yet flakey fish. It's like clear tom yum soup that's lighter and easier to drink without choking on spice. Or the Poo Nim Ha-Rod (THB350), a pretty deep-fried soft shell crab dish waddling in a shallow bed of chilli cashew nut milk. The dressing is tangy and seeps into the battered crab meat for a whole lot of savouriness.
The highlight is a deeply aromatic yellow curry of short rib (Gaeng Kua Neua, THB910) that we later learned takes an incredibly long time to prepare. The curry is flavour-packed thing made with pounded turmeric, lemongrass, and cumin seeds among others, then braised together with local wagyu (it's falling off the bone by now) for three days straight before being served with preserved heart of palm. The dish is smooth, chewy, and crunchy all at once.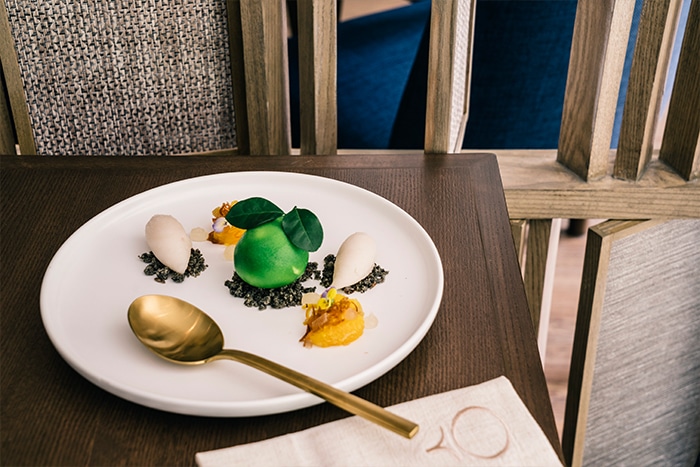 Close off your meal with Som Chun, a traditional Thai dessert of seasonal fruit in syrup — only Chef Ian's version is a lot more modern, in the form of a pandan-flavoured sphere encasing a bitter orange cheesecake. The whole thing is flanked by lychee sorbet, crispy shallots, and young ginger, which makes for a very interesting texture. The trick, we're told, is to get a bit of everything in one scoop.
Khum Hom is located at 2 Wireless Rd, Lumpini, Pathumwan, Bangkok 10330, p. +66 2 666 3333. Open Wed-Sun 12pm – 3pm, 5.30pm – 10pm.