Restaurant Review: Ganglamedo Brings Tibetan Inspired Cuisine and Healthy Vegetarian Hotpot To Craig Road, Singapore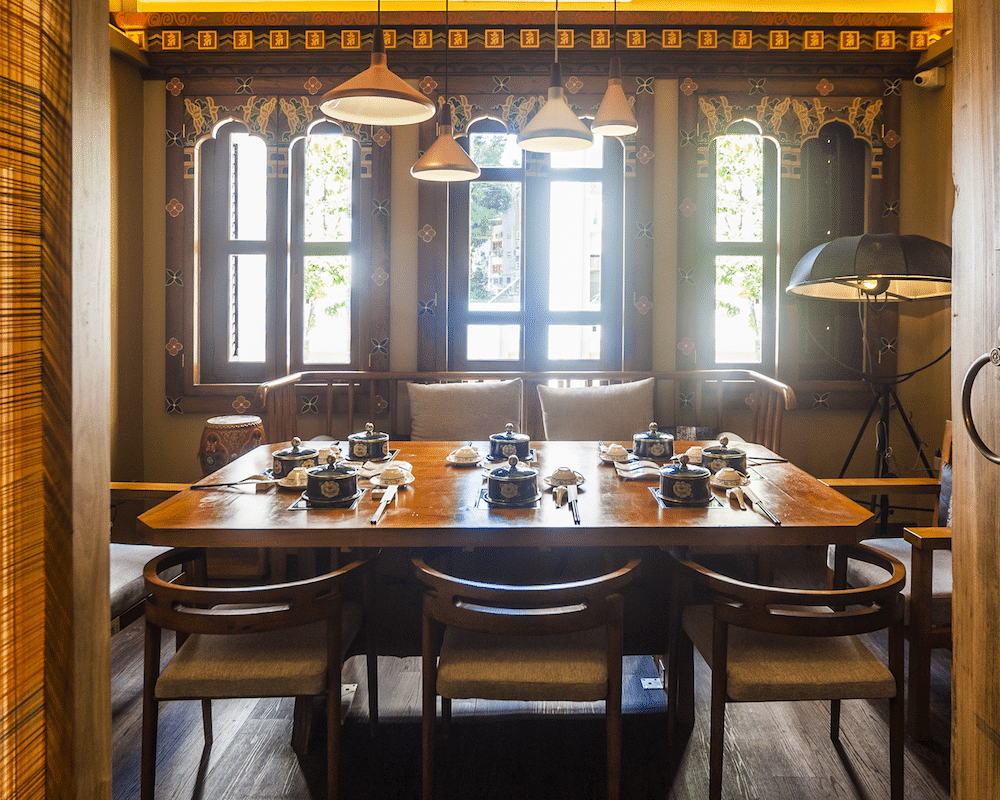 PUBLISHED July 6th, 2018 02:00 pm | UPDATED July 7th, 2018 07:26 pm
Stepping into Ganglamedo, you immediately enter an oasis of calm. The soothing spa music playing in the background and the energy crystals undoubtedly make you feel more relaxed in this three-story shophouse. The Tibetan inspired decor and warm welcoming tones of gold and amber exude a quiet luxury. Prayer bells and traditional bronze artefacts give the place character, making it easy feel that you've perhaps entered a warm hospitable Tibetan home.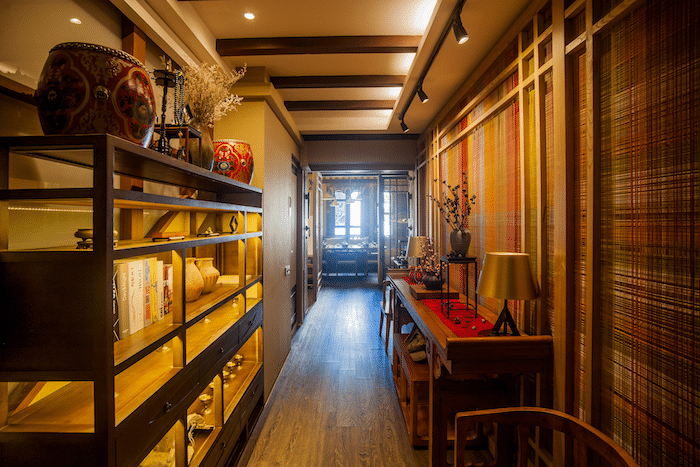 Seating an intimate 44, there are vibrantly coloured blinds that offer booth-like privacy to dining parties, and there's also the option of a cosy private dining room for eight on the third floor. The kitchen is helmed by a Singaporean chef who spent five months training in a Tibetan restaurant in China. Meaning 'snow lotus' in Tibetan, Ganglamedo adheres to the basic principles of Tibetan cuisine, pure and mindful eating but is tailored to suit a more cosmopolitan palate.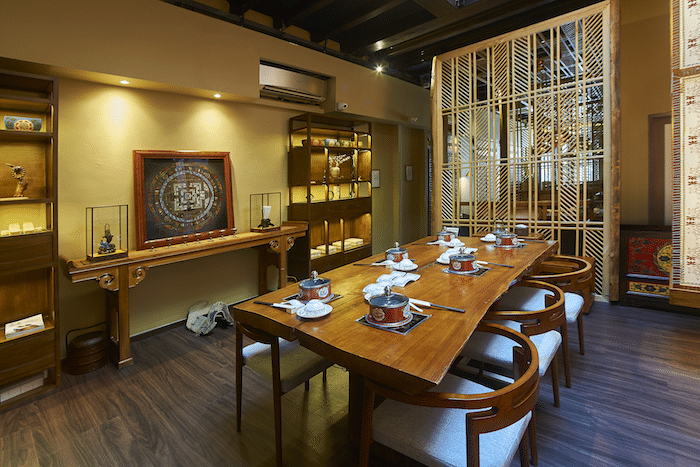 The vegetarian food served at Ganglamedo does not try to imitate the taste of meat but rather harnesses the natural flavours that exist in the organic plant-based ingredients. It's not often you come across a vegetarian restaurant with this philosophy, however philosophy is one thing, and making it work is another. How does their menu measure up for both meat and non-meat eaters?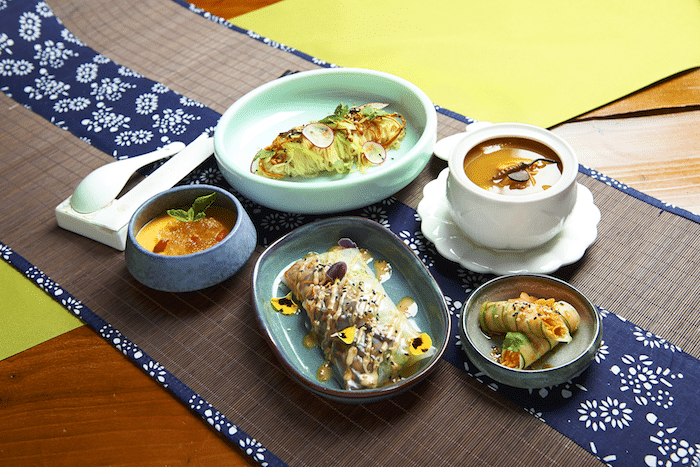 The main choice one has to make is between a five-course vegan or vegetarian set priced at $49.90, or a more luxe Cordyceps version for $88. Should you opt for the latter, it starts off with a bowl of assorted seasonal fruit and a cold appetiser dish that consists of thinly sliced cucumber wrapped around shredded heirloom carrots, enoki mushrooms, and orange cordycep flowers. Light on flavour, they freshen your palate and prepare it for what is to come.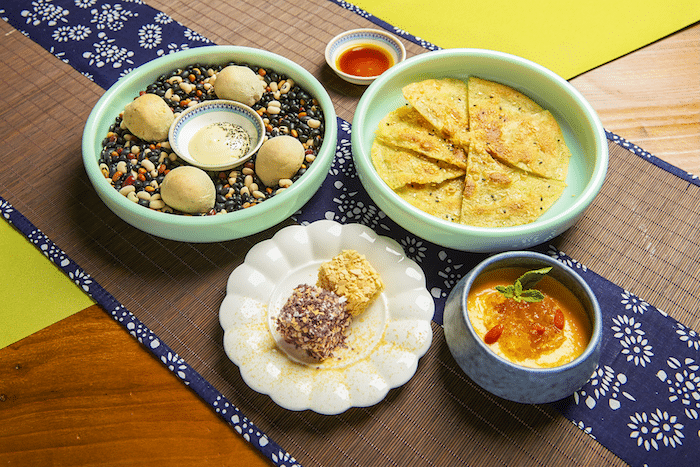 We should mention that a la carte options are available, but consists mainly of side dishes, including the Pan-fried Morel ($20) – think hand-crafted tofu made in small batches (8-12 servings a day) fried to perfection served alongside a whole wild morel mushroom, a single stalk of green asparagus, and Cordyceps flowers. One of the Chef's signatures, you'd need to call in advance to reserve a serving. Also from the a la Carte menu is the Sesame Mochi Bread ($8 f0r 4 pieces) with mayonnaise dip. These gluten-free balls made from glutinous rice flour have an uncommon chewy texture that takes some getting used to, and tastes more like a dessert than a savoury item. An interesting addition to your meal, nonetheless.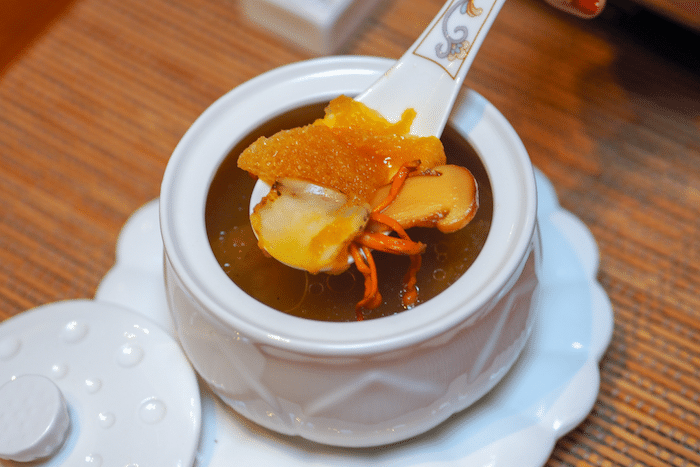 It is hard to believe the Naqu Cordyceps Double-Boiled Soup ($68) does not have a meat stock. Expecting a much lighter soup, I was pleasantly surprised by the depth of flavour present. With black truffle, matsutake mushrooms and bamboo fungus, this nourishing soup is one of my favourites from the menu.
The individual Pure Vegetarian Hotpot In Tibetan Style ($35) comes with a variety of broths to choose from, such as the Tibetan Tea and King Oyster Mushroom, Hot and Sour, Tomato and White Pea broth. I opted for the first, which is much lighter and cleaner than the usual Hotpot broths we are accustomed to. For ma la lovers, you are covered with the Hot and Sour broth that has a delayed  kick and infuses the assorted vegetable platter with flavour. It comes with rice or noodles and we recommend going for the Tibetan Noodles that have a wonderful texture and bite.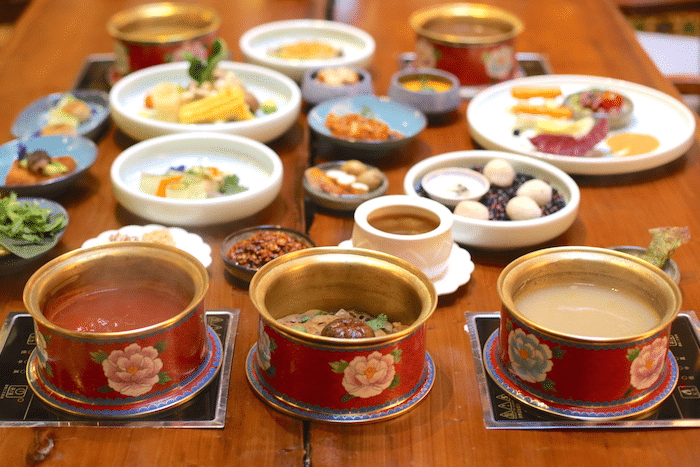 The Noodles with Chinese Truffle and Cordyceps (included in the Cordyceps set) is another hit. These homemade noodles pack a full flavoured punch thanks to the truffle oil and perfectly al dente strands. This wholesome dish hit all the right spots and truly impressed me with how flavourful a carb-centric vegetarian dish can be.
The desserts, however, marred the experience. The Winter Pumpkin Cake ($5) has a kueh-like texture; and while cereal confetti used to coat it adds a nice chew, it doesn't provide satisfaction or pleasure that should come from eating dessert. The same goes for the Peach Gum with Golden Paste and Wolfberry ($10), a forgettable,  thin pumpkin cream.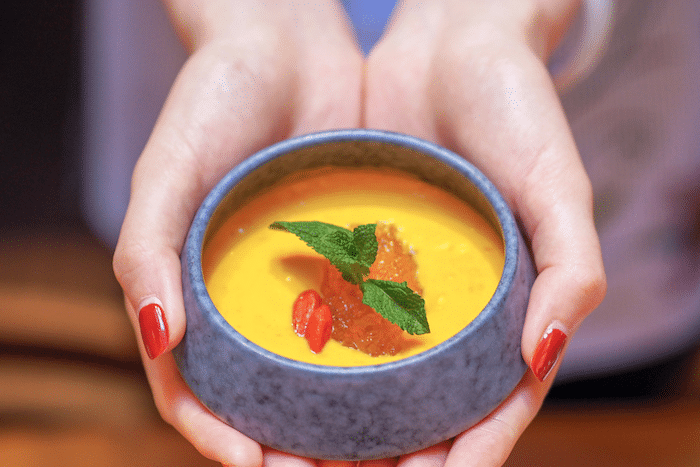 There's no heaviness or self-loathing (that I usually experience from overeating) after this feast. Ganglamedo is the place to go when you need to relax and unwind while enjoying some clean, wholesome food that will nourish and soothe the body.
Ganglamado is located at 40 Craig Road, Singapore 089678, p.+65 6423 9788 or +65 9651 9788. Open daily 11.30am-3pm, 6pm-9.30pm.
Top Image courtesy of Ganglamedo