Restaurant Review: French Fine Dining In A Home At Vianney Massot Restaurant, Singapore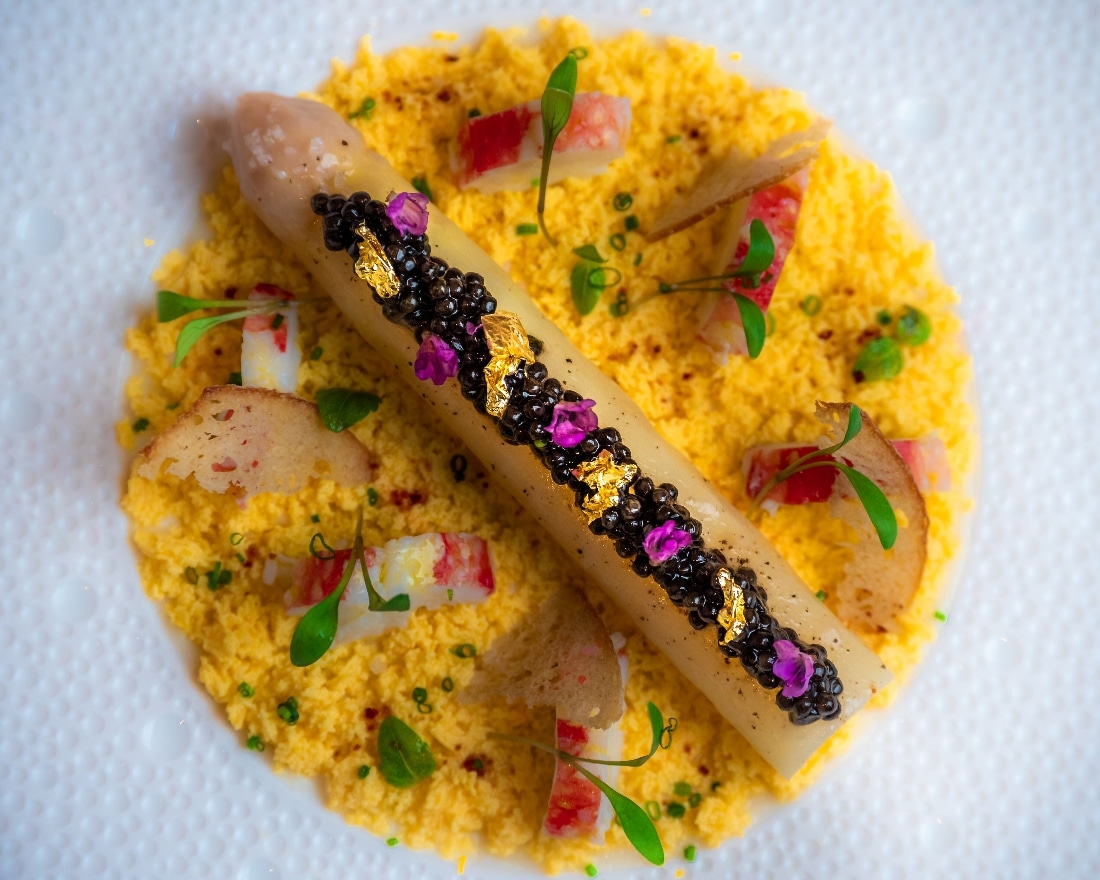 PUBLISHED July 16th, 2019 05:00 am | UPDATED February 7th, 2020 01:15 pm
There's something about French fine dining that exudes luxury – maybe its the creamy veloutes, delicate palates, or just the butter of it all. After years along the busy HongKong Street as Bacchanalia, the now rebranded as Vianney Massot Restaurant, is bringing meticulous, seasonal French fine-dining back to our attention.
It's not every day that you walk into the premises of a Michelin-starred establishment where the chefs greet you prior to being seated. But is that homey experience that Vianney Massot wants to create. Journeying through is akin to visiting a friend, and in this case, his home for dinner. Stylish and modern, the 20-seater resto uses round tables to replicate the comforts of home. Even the open-concept kitchen is located near the doors.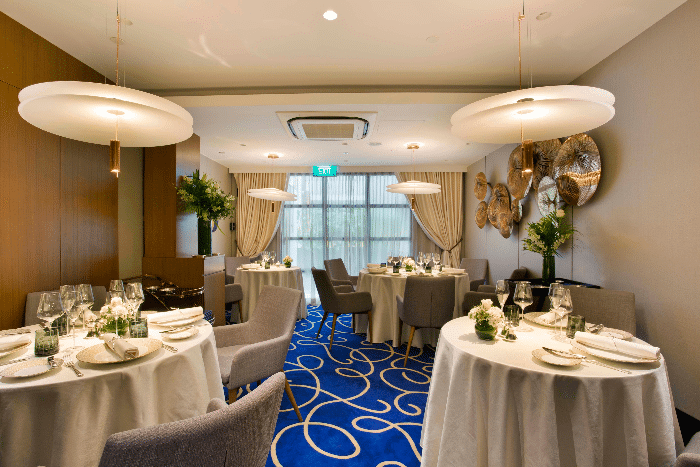 The food experience begins with their three-tier bread trolley, loaded with baskets of freshly baked breads and pastries. You can choose between a mini baguette, comet cheese bread, mini croissant, or just pick them all since they're bite-sized. They are warm, delicious, and served with extraordinary Beillevaire butter freshly scooped from a bell jar.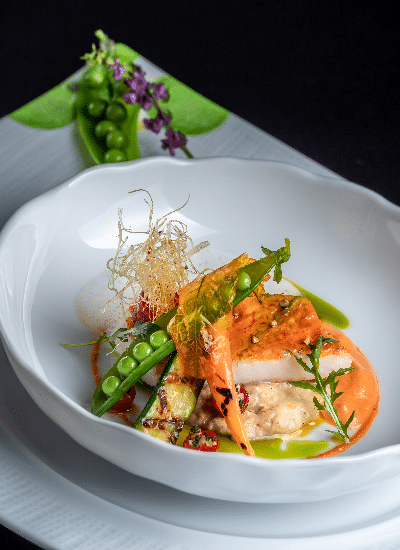 Guests can choose from a two-course lunch menu, starting from $68++, up to a seven-course degustation menu from $338++. It's a produce-driven selection of appetizers plated so delicately, they look too pretty to eat. We start with Le Caviar Impérial, featuring small green peas on crustacean cream, with imperial Sologne caviar and lobster jelly. The crustacean cream is so smooth it glides across the tongue, and the sweetness of the peas balances the saltiness of the seafood and caviar nicely.
Try their spring special L'Asperge Blanchede Provence, a whole white asparagus stuffed with imperial caviar from Sologne and live king crab from North Hokkaido. It looks like a freshly-bloomed garden, garnished with premium ingredients for a light yet flavourful taste. You can't go wrong with the Asian-inspired Le Kinki, paired with roasted vegetables and spicy eggplant caviar. The Japanese kinki fish is lightly seasoned with curry oil for that extra fragrance, and it's a generous cut that's tender and extremely satisfying.
For their mains, the Rossini-style Le Veau de Lait is a classic that doesn't disappoint, with thick cuts of veal tenderloin and foie grass. The sides pleasantly balance an otherwise meaty meal: melty-soft potatoes, fresh green asparagus, and maitake mushrooms from Japan. Oh, they also offer a Premium Wine Pairing Experience ($228++) for a complete French dining experience.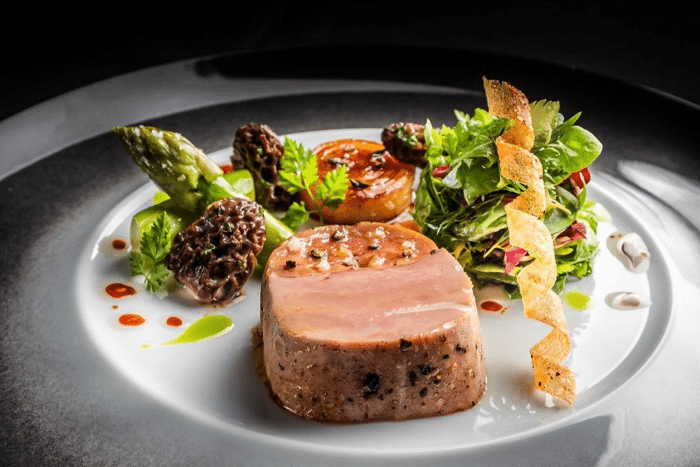 Considering the lavish quantities in every dish, it's hard to not feel stuffed after all that mouth-watering goodness. Thankfully, Vianney Massot Restaurant gives the solution with their palate cleaner La Pastèque. With watermelon, minty cucumber granite, and light yogurt sorbet, this pre-dessert is a refresh from the rich and savoury so far. Keep some room for dessert, because they have a dedicated dessert chef to end the meal with a bang. Designed like a cute beehive, Le Nid d'Abeille is a sweet treat of crispy meringue with honey parfait, paired with lemon sorbet and yuzu mousse for that citrusy aftertaste.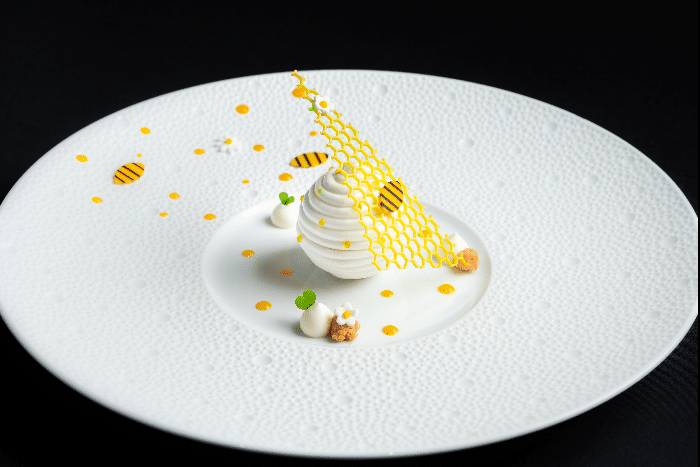 Extremely filling and gratifying, it's an unforgettable experience that lingers on your palate long after the sumptuous meal. No doubt, the talented folks at Vianney Massot know what they're doing, and they deliver the best of French cuisine.
Vianney Massot Restaurant is located at 39 Hong Kong Street, Singapore 059678, p. +65 6909 6360. Opens Wed-Sat 12-2pm, Tue-Sat 6.30-10pm. The spring menu will be available till 21 June. Tasting menus are available, with 2-course lunch menu priced from $68++ and 7-course degustation menu from $338++. A la carte dishes are available during dinner only.