Restaurant Review: JAM at Siri House Strikes Home with Shared Plates and a Cocktail Trolley in Dempsey Hill, Singapore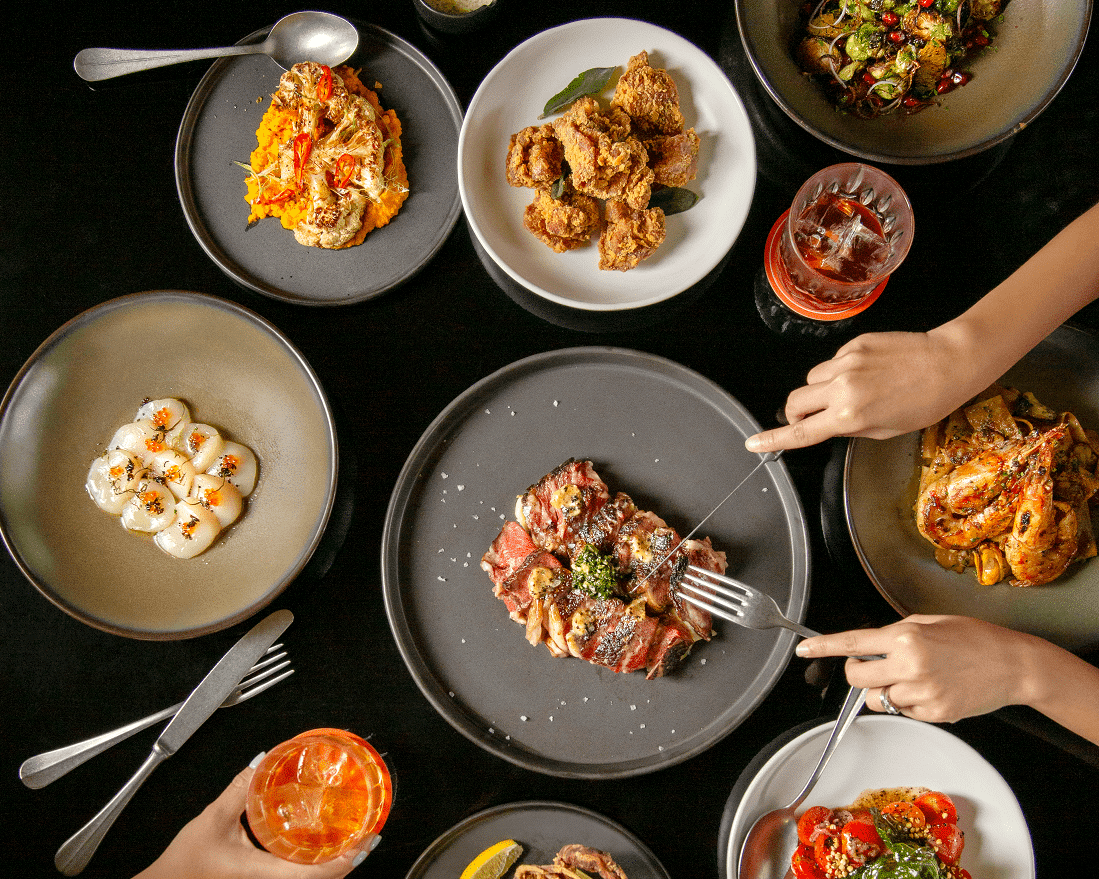 PUBLISHED March 1st, 2019 06:15 am | UPDATED May 18th, 2020 03:15 pm
It's a little out of the way from your usual town haunts, but a trip to JAM at Siri House is definitely worth the travel. Tucked away in Dempsey Hill, Siri House is Thai luxury property developer Sansiri's attempt to bring together all the elements of a Sansiri living environment: cool people and design, art (check out the cool installation by Thai artist Gongkan), retail, and food. The last is where JAM comes in.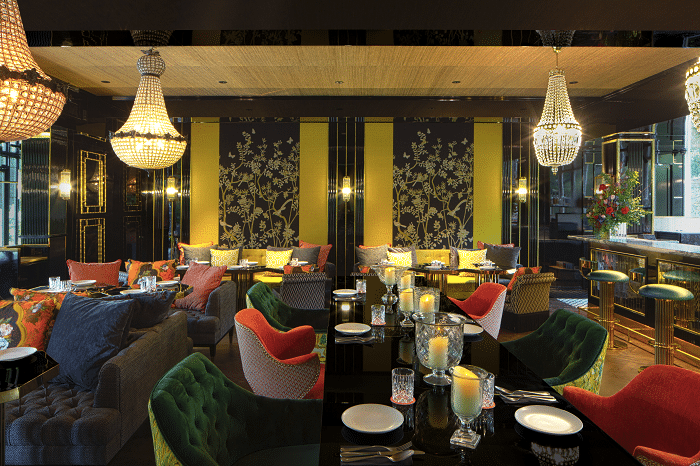 Armed with a cocktail bar overseen by Sunday Punch's Mark Tay and Yap Hwee Jen and a kitchen helmed by Chefs Ming Tan (Park Bench Deli, formerly Lolla) and Jeremy Cheok (ex New Ubin Seafood and Garang Grill), we suggest wasting no time in settling into a coveted seat at the bar counter to soak in the true artistry and passion the folks here have for food. Otherwise, the rest of the 42-seater restaurant guarantees a plush time with your pals with rich Italian velvet, deco jacquard motifs, and fauvist-inspired floral prints on the custom furniture.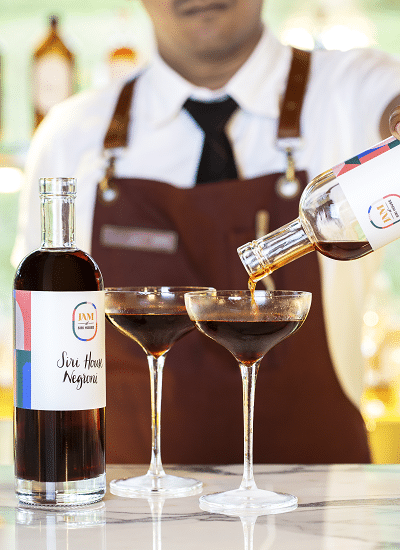 The homely vibe is set from the start, where guests are greeted with JAM's cocktail trolley loaded with bottled cocktails and aperitifs.
A manifestation of the notion of having cocktails at home before dinner, take your pick from pre-batched tipples like the well-balanced and full-bodied Siri House Negroni ($13). The sweet aroma of Thai red tea wafts under your nose with every sip, followed by an astringent finish that doesn't turn us off like one sometimes get in earl grey cocktails. Or go for the Umemi ($13), which gathers green tea-infused vodka, umeshu, and lime in an appetising and citrus-packed cocktail.
Just note that cocktails from the trolley are served in half portions so you don't have to ruin your dinner (or you could just try another flavour). While you wait, the cocktails are also served up with crazy-addictive popcorn, lovingly prepped with beef fat and umami salt.
The one-page food menu is split simply between plates, mains, and desserts, though diners should definitely give Chef Ming's intriguing specials (we saw eel custard once) a whirl.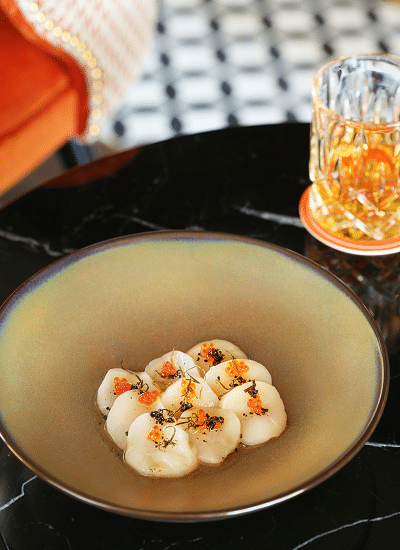 To start, think thick cuts of fresh hand-dived Hokkaido Scallop ($30) drizzled with a bright yet light yuzu and truffle dressing. Bursts of umami from the trout roe and the crunch of kizami kombu add both texture and flavour to this faultless sharing starter. The relatively large portions also mean your bucks are going to be pretty well spent here.
The hearty, oven-grilled Cauliflower ($18) was a pleasant surprise with its combination of sweet curried carrot mash, champagne vinaigrette, and almonds while the Chicken in a Biscuit ($12) gives you a savoury chicken fat cookie topped with spiced cream cheese and crisped chicken skin.
Basically, Chef Ming has taken the things we love about chicken and compressed them into one mind-blowing, bite-sized snack.
For mains, you can't go wrong with the good produce and classic flavours you'll find in the Beef ($98). Think USDA Prime Ribeye, dressed with kombu-infused butter for a little umami, with a dollop of fresh salsa verde on the side that cuts through all the fat. The Pappardelle ($33) pairs hand-made pasta with a full-flavoured sauce; the reduction made from cooking down prawn and lobster heads in butter for a whopping eight hours. Extremely filling and satisfying, it's worth ordering to share between two or more even if you're really stuffed.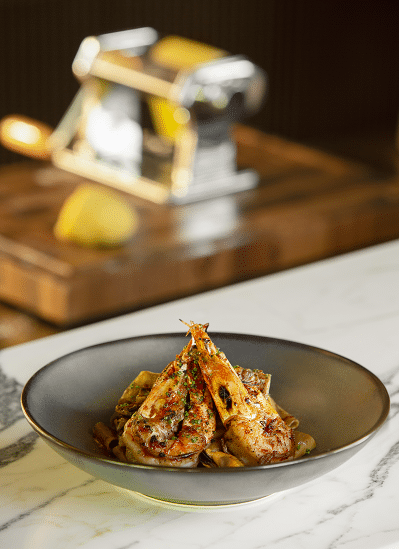 Desserts are lovingly crafted by Pastry Chef Charis Wong, who balances the sweetness in clever ways and surprising ingredients. The Pavlova ($17) features tangy mandarin-yuzu curd and sour cream ice cream. The tart, creamy finish is balanced by seasonal fruit; in our case, grapefruit added another layer of citrus and a touch of bitterness.
Looking for something denser and darker? S'mores ($18) is the ultimate way to go. Egg-free marshmallow between home-made cinnamon biscuits is complemented by Valrhona Manjari dark chocolate and raspberry puree adds tartness. Finished with a sprinkle of sea salt, this dessert delivers big flavour in one (messy) bite. If you're too full for sweets, opt for dessert in a glass with Melting Port Rum ($24). This one strongly smells of caramelised burnt butter in white port, garnished with a sweet peach tuille to finish.
One of the best meals of 2019 so far, the folks at JAM at Siri House know what they're doing. Without unnecessary fanfare and focusing purely on delivering great flavours, the dishes are diverse and stunning. Every component on the plate is crucial to the dish, so you won't find yourself picking out random flowers from your food (unless they need to be there).
JAM at SIRI HOUSE is located at Blk 8D, #01-02 Dempsey Hill, Dempsey Road,
Singapore 239672, p.+ 65 9667 0533. Open 11.30am-2.30pm, 6pm-10pm daily.