Restaurant Review: M Social's Beast and Butterflies Serves Up A Side Of Whimsy With Their Revamped Menu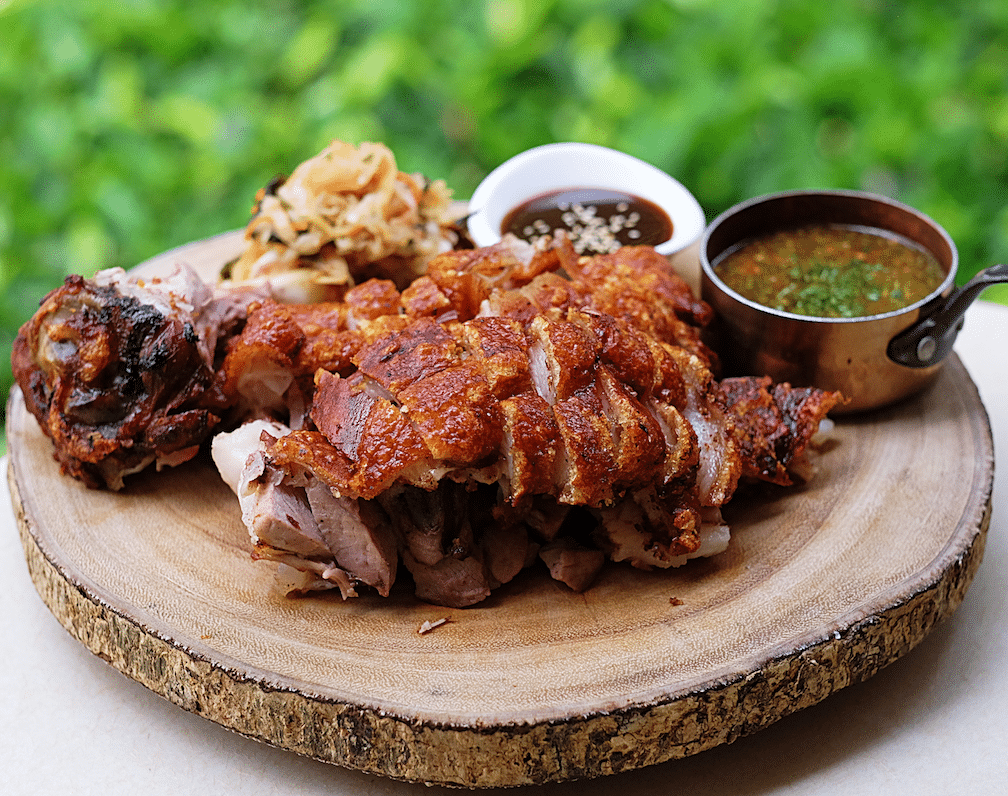 PUBLISHED April 21st, 2018 06:00 am
From the moment you step foot in M Social Singapore's Beast and Butterflies in Robertson Quay, you will be taken in by French designer Phillippe Starck's whimsical design of the place. Unlike many bars and restaurants that seek consistency in their design, here, it's all about the unconventional with mismatch furniture, lighting fixtures like lava lamps alongside chandeliers that create bold colours and 40 interactive tables screening contemporary art. What may seem like too much somehow works to create a fun and energetic atmosphere.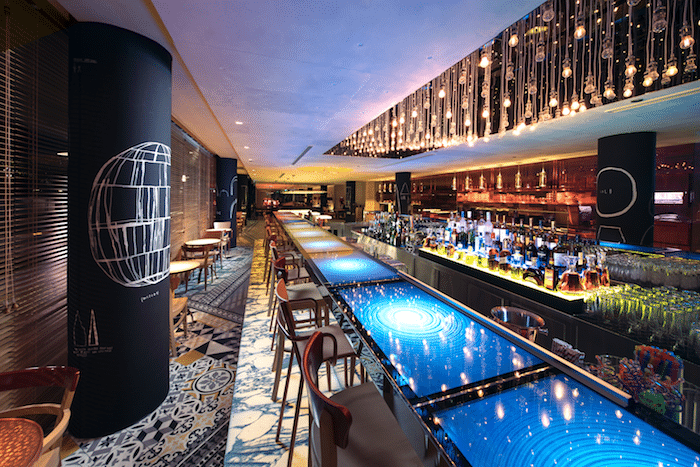 A similar approach is adopted with the food where Executive Chef Bryce Li gets creative by adding innovative twists to well-loved Asian dishes. The revamped menu divides dishes into two categories, 'Beasts' feature hearty and robust dishes while the dishes under  'Butterflies' are prepared with lighter cooking styles intended to accentuate the natural flavours of fresh ingredients.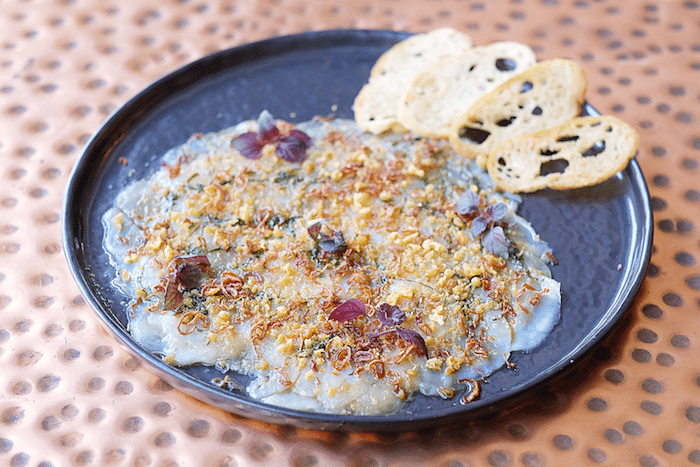 The strong Cantonese influence is apparent from the starter of Scallop Carpaccio ($26). Resembling the raw fish salad usually eaten with rice porridge, the sashimi grade Hokkaido scallops are dressed with yuzu and sesame oil before being topped with crispy garlic bits and fried shallots. We wished there were more croutons because the shellfish with all its toppings can get quite salty towards the end.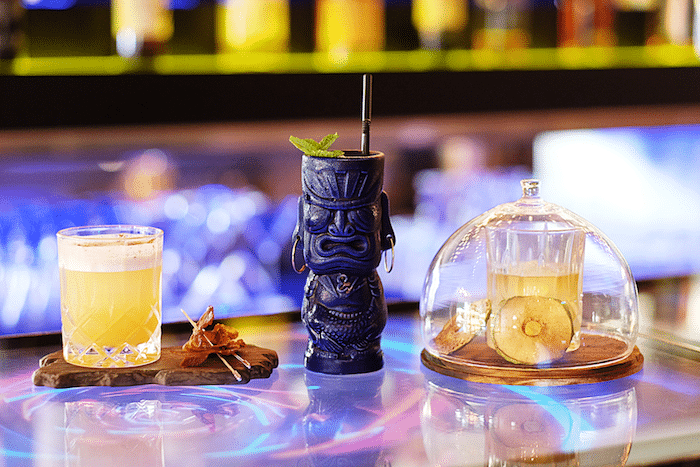 If you're itching for an alcoholic beverage, consider trying one of their seven new Asian-inspired cocktails ($19) on the menu. Each one is served with complimentary Chicken Rice Popcorn, whose subtle yet tangible flavour makes it incredibly addictive. We like the idea of the Cuban Nyonya, where pandan-infused rum is muddled with gula melaka, fresh lime, calamondin, and mint leaves. However, it was a tad too strong on the gula Melaka, which overwhelmed the other flavours.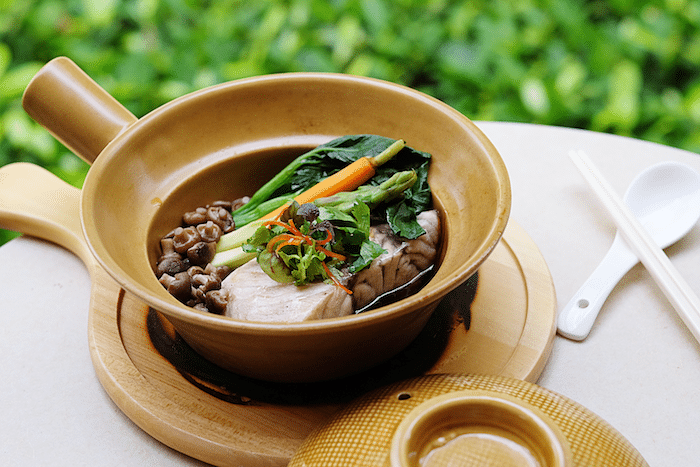 For a more substantial dish, the German Style Crispy Pork Knuckle (half portion $26; full portion $36) did not disappoint. The skin was roasted to a crispy crackling exterior while the  meat remained deliciously tender. Choose to dip it in the sweet and thick Peking-style Hoisin Sauce or the Thai Nam Jim sauce; we hear the latter can be spiced up to cater to diners with different palates. The Scallion Soy Barramundi ($26) was another hit at the table with its fresh, firm, and flaky barramundi flesh. The sautéed Hong Kong choy sum was a little overcooked but the shimeiji mushrooms, asparagus, and carrots were nicely done. Rice is a must for this dish to soak up all that sauce in the claypot.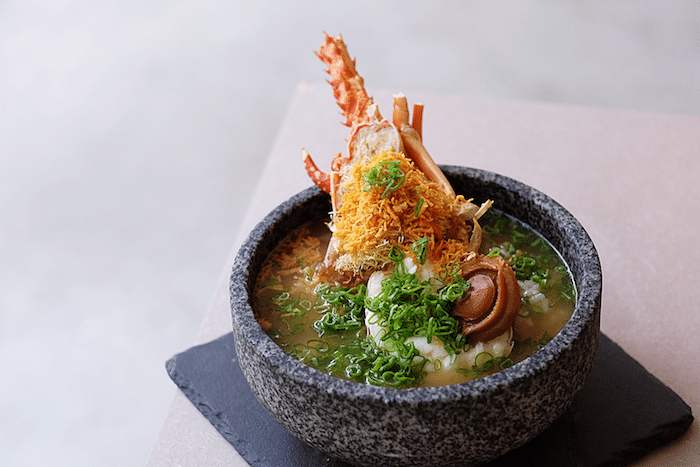 We were not blown away by the Szechuan Lamb Steak ($38). It was a lot sweeter than expected and the meat, while tender, did not leave an impression. The pairing with a coconut-infused sweet potato mash didn't make sense with an over-the-top sweetness to what's sounds like a savoury, hearty dish. The signature Teochew Style Lobster Porridge ($38) is comfort food with an upgrade, lifting our spirits with a flavourful crab broth hat has simmered for eight hours, half a lobster, a few slices of abalone, shreds of dried scallop and rice porridge topped with fried shredded ginger, scallions, crispy conpoy and bonito flakes.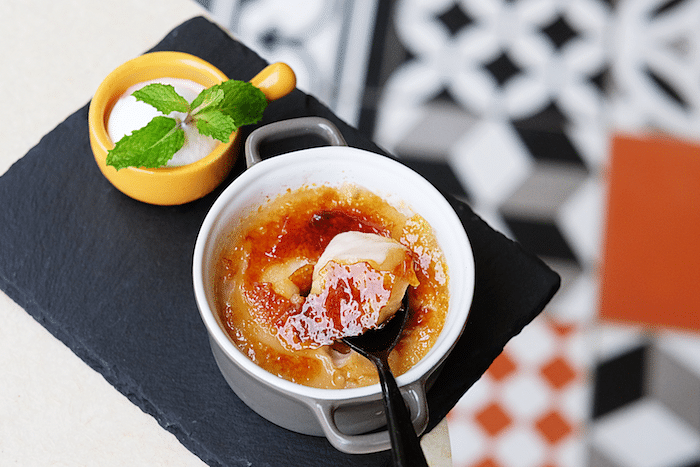 For dessert, we shared a Yam Brulee ($12) that can be considered an Asian take on Créme Brulee or a Western take on Orh Nee (Teochew yam paste). Either way, it was delicious with the contest between the cold coconut ice cream and the velvety yam. The Chocoholic ($12) was less impressive since the the hot Malibu Chocolate sauce didn't melt well to reveal the ice cream and banana within. Although the intended visual experience failed, the rich dessert passed the taste test with the bitterness of the chocolate balancing nicely with the sweet banana.

Beast and Butterflies is located at M Social Singapore, 90 Robertson Quay, Singapore 238259, p.+65 6206 1888. Open 11.30am – 2.30pm, 5pm-10.30pm daily.